10 Clever RV Storage Ideas using Bins and Baskets
Every RV owner knows organizing your RV and finding storage is an ongoing issue. What suits your needs now may not work next season. We change, and our organizational needs change.
This article highlights some clever uses of inexpensive plastic bins and baskets to help organize your RV and improve storage.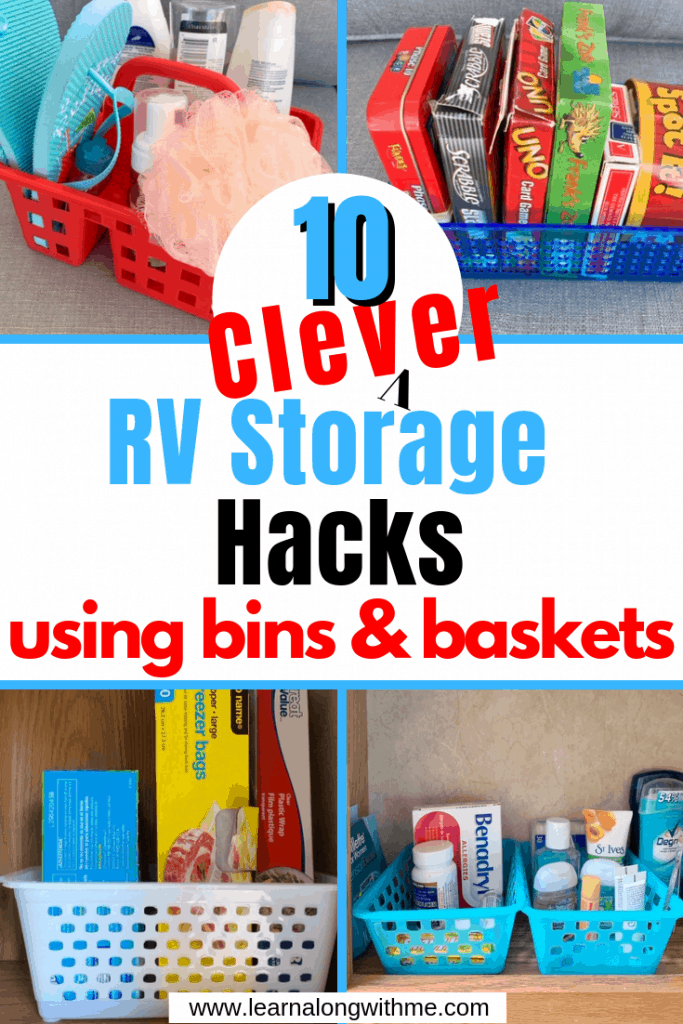 Many people are trying to minimize their plastic use, and I am as well. If you take care of your plastic bins and baskets they should last for many years. Try looking for plastic bins made from recycled plastic (which is harder to find than I expected), or bins made from natural products like seagrass or bamboo.
This article contains some affiliate links. This means if you click a link and buy a product I'll receive a small commission at no extra cost to you. The money helps support the website and my family. Thank you. For more information please see the Disclosure page.

RV Kitchen Organization Ideas Using Plastic Bins
The storage opportunities for plastic bins in an RV kitchen are almost endless. You can use them in your fridge to corral condiments, you can put your favorite spice bottles into one and keep it in the cabinet, and you can even use them in your drawers as drawer dividers.
Let's look at some other storage solutions for your RV kitchen.
1. Storage Bin for Food Wrap
Many RV's do not have enough drawers – at least not enough drawers compared to what you're used to at home.
So sometimes you have to get creative and using a plastic bin to contain your food wrap products is a great start.
2. Plastic Bin for Dish Clothes and Towels
Storing your clean and dry dish clothes and towels in a plastic bin like this is great if you don't have much drawer space and if you don't want to toss them under the sink cabinet loose.
3. RV Kitchen Tension Bar Shelf with Dollar Store Bins
This is a clever ideas. Instead of drilling into her cabinets and installing a wooden shelf this RV owner used two tension rods to create a shelf, and then placed some plastic bins on top.
This is just another example of the awesome RV organization solutions you can create using tension rods! And no tools required!
RV Cleaning Supplies Bin
4. Cleaning Caddy
You can create your own little cleaning caddy like the one shown below.
And having a handle allows you to tuck it into awkward cabinets and still be able to retrieve it easily.
My friends have something similar in their RV, but they just have a simple plastic bin with some sponges and natural cleaners (like vinegar in a spray bottle).

RV Bathroom Plastic Bin Organization Ideas
There are so many small items in a bathroom! Just think about it for a sec, you've got, deodorant, hair clips, elastics, floss, medicine, creams, razors, and the list goes on. It can be a real pain trying to sort through those things if they're all loose in a medicine cabinet or cabinet.
5. Medicine Cabinet Containers
Lightweight plastic baskets like the ones shown below are an inexpensive way to bundle "like" items together in the medicine cabinet. And small baskets can fit into most cabinets, drawers or medicine cabinets.
6. Plastic Shower Caddy with Handle
A shower caddy like this works extremely well if you camp at parks that have shower facilities. You can carry your toiletries with you in one convenient basket.
And note the shower sandals. If you're showering in a public facility keep your feet protected from foot fungus and viral warts.
7. First Aid Kit in One Plastic Bin
Your family's first aid kit will depend on your particular needs and knowledge. If you are doing potentially risky activities in remote places then you'll want a more extensive first aid kit. (And the training to know how to use it!)
The picture below shows a simple first aid kit for typical scrapes and cuts.
If you want to read a review of First Aid Kits on Amazon to see what'll suit your family, click here.

8. Feminine Hygiene Products
Have all your needed feminine hygiene products in one convenient basket. This particular basket closes so you push down the lid, tuck it into a cabinet and stack other baskets on top of it for the weeks you don't need them.
9. Sunscreen and Bug Spray Basket
Having your sunscreen and bug spray in one basket – where everyone knows where to find it! – is a great space and time saving organization solution.
Miscellaneous RV Storage Ideas using Bins and Baskets
10. Board Game Storage Basket
Most of your favorite camping memories aren't made in front of the TV or iPad. They're time spent playing and interacting with family.
Board games provide a great opportunity to do that.
The picture below shows a convenient storage solution for board games: just toss them into a plastic basket!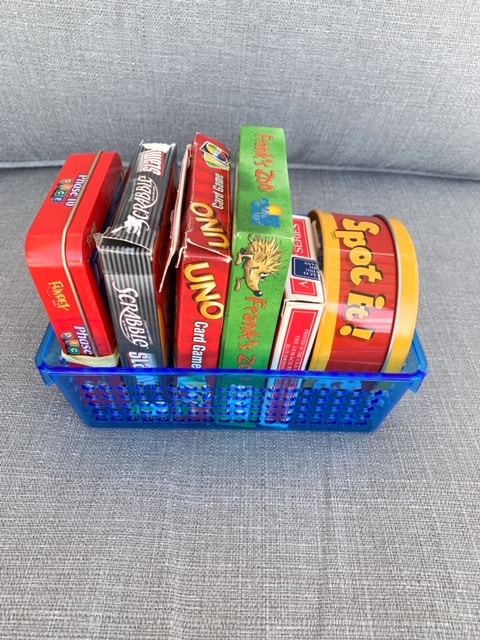 Other Ideas for Using Plastic Bins & Baskets in your RV
To store socks and underwear in your bedroom
Plastic totes with locking lids for tools in the under-belly storage
The set of bins below is made by Sterilite and is for sale on Amazon. They currently have a good rating of 4.1 stars out of 5 on Amazon. They come with a white lid so they are stackable.
Check out our other RV Organization Articles
Thank you for taking the time out of your busy day to read this. It is greatly appreciated.