When summer winds down and fall begins it brings with it a ton of great Fall porch decor decorating ideas! As the leaves turn orange and fall to the ground it makes us reflect on the summer and harvest we just had and the need to prepare for the winter ahead.
Fall stirs up feelings of coziness, it goes well with rustic and natural looks, and of course the color orange.
This article contains affiliate links. If you click a link and buy something I may receive a small commission at no extra cost to you. As an Amazon Associate I earn from qualifying purchases. For more information please see the Disclosure page.
We've done some research and came up with 11 great Fall porch decor items that generally involve farming or pumpkins (at least to some extent), and then of course we've touched on Halloween too.
We hope you enjoy these inspiring items.
Rustic Pallet-wood Pumpkins (Etsy)
I discovered these wooden pumpkins on Etsy. Very cute homemade look to them.
Wooden Pumpkin Plaques Handmade from Barnwood and Pallets (Etsy)
These wooden pumpkins are decorated with silk flowers and leaves. It helps add some visual appeal to just plain wooden pumpkins. The wood has a nice lightly distressed look.
If you wanted a closer look at this fall porch decor idea, you can click here to see it on Etsy.
Scarecrow Hat – Door Hanger (Etsy)
This rustic, burlap scarecrow hat would add charm to any front door or porch wall in the Fall.
It is handmade by the Etsy seller PrairieLandCreation, owned by Dawn. She has lots of other very charming products but some of them are over the $100 limit I set for this article. But if you're now curious you can click here to see her other Etsy listings.
Wooden Pumpkin Set (Columns??). (Etsy)
I collaborated with my sister on this article, and sometimes when you work together you don't agree on certain things. This was one of the things we didn't agree on.
I personally don't see how these wooden columns are "pumpkins" but my sister thinks they are "so cute." (I think those were her words.)
And I definitely respect that people have different tastes.
So I included these too just in case you, the reader, absolutely loves them. 🙂
Cute Inviting "Farm Fresh Pumpkins" Floor Mat (Etsy)
Do you have the same old tired "Welcome" mat all year long? Maybe it's time to pumpkin spice things up a bit.
Door mats provide an easy opportunity to change up the look of your porch very simply: you just toss it on the ground.
Hello Fall Wooden Vertical Sign. (Etsy)
I like how this sign is vertically positioned so you can tuck it in the corner next to the door or into the corner of the porch.
The seller on Etsy has some different stains that you can choose for your sign.
Reversible Vertical Signs – Can use All Year Long (Etsy)
This Etsy seller has a great idea with these reversible signs. One side of these signs has a choice of charming fall sayings and drawings on it (first picture below), and the other side can either say: "Welcome", "Home Sweet Home" or "Welcome to our Home" (second picture below).
So you can display these signs all year long. I love that you can use it for all seasons. I don't have a lot of room to store things to just bring out once a year…so that is why I like the ideas of a multi-season welcome sign.

Farmhouse Pumpkin Bucket. (Etsy)
This galvanized metal bucket looks excellent with a nice bouquet of orange flowers. This product is available for purchase on Etsy by clicking here.
Fall Burlap & Jute Wall Banner. (Etsy)
This banner with its muted colors would look great tacked to your porch wall hanging above some of the more colorful orange pumpkin signs shown above.
Colorful Fall Throw Pillow Covers for Porch Chairs (Amazon)
I discovered these adorable throw pillow covers on Amazon. These pillows would really brighten up the chairs or bench on your covered porch.
I still think it'd be wise to keep them under a covered porch. Please note they are just the pillow covers. They are 18″ x 18″ so they'll fit a standard 18″x18″ pillow. Just keep that in mind that you don't get the pillows too.
Click here to see more pictures of these cushion covers.
Burlap Decorative Halloween Pillow. (Etsy)
I know I'm blurring the lines here a bit between Fall and Halloween, but this pillow look awesome on your porch during the month of October. This Made in the USA pillow is burlap with cotton and polyester filling.
Cute Ghost Lawn or Porch Decor. (Etsy)
This wooden display is only 18″ tall and 16″ wide so it won't overpower your other Halloween decorations…it will complement them.
I hope you have an amazing Fall and take in all the beautiful colors and warm meals this crisp season has to offer.
Up Next:
7 Essential Fall Porch Decor Elements (can you guess what they are?)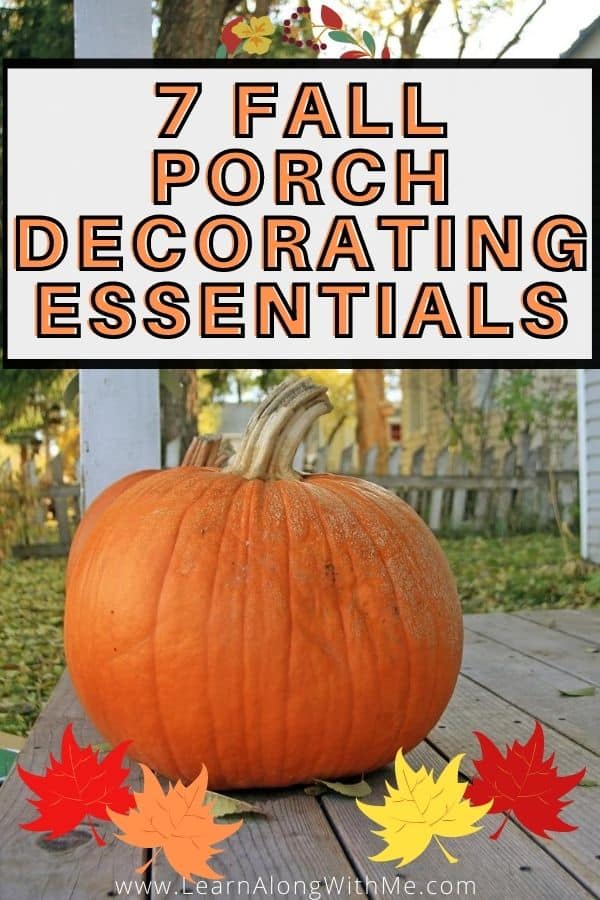 And if you want some DIY Inspiration check out:
And 9 Delightful Fall DIY Wreath Ideas
7 welcoming Fall Porch Doormats