The Paleo diet continues to be very popular. And a lot of people want paleo dinner ideas for families (not just for themselves). It may seem overwhelming at first – what do you mean no grains, dairy or beans! – but when you and your family start feeling better you'll realize it's worth it.
This article contains affiliate links. If you click a link and buy something I may receive a small commission at no extra cost to you. As an Amazon Associate I earn from qualifying purchases. For more information please see the Disclosure page.
Meal Planning for the Paleo Diet
In order to follow through on any eating plan it requires some planning.
But right now, you may be "programmed" to eat a certain way, or to reach for certain foods when you're hungry or snacky.
To avoid giving in to cravings you need to have some meals planned for your family.
Check out this free printable weekly meal planner template. It'll help keep you organized.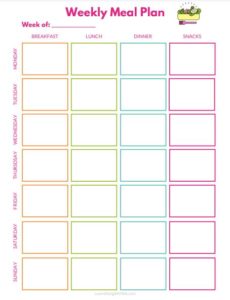 For me, my first exposure to the Paleo diet was doing a strict 30-day Paleo diet challenge. I didn't cheat and I didn't make any excuses.
That isn't to say it was easy. It was definitely simple (which is good for people like me 🙂 ), but it wasn't always easy.

I found LUNCH to be the hardest part – the trickiest meal of the day. (Check out my post on Paleo lunch ideas.)
I grew up a sandwich and soup person. If I didn't have any thing to eat for lunch I could always whip up a sandwich quickly.
But bread is not allowed on Paleo (at least grain-based breads).
So I had to adapt.
Why am I talking about Lunch when this post is about Paleo Dinners?
The reason I'm talking about Paleo lunches in this Paleo dinner post is because I found the easiest way to maintain my Paleo diet at lunchtime was by eating left-over Paleo dinners. Without a doubt.

So this article provides some great Paleo dinners for families (or just for yourself) to try, and then you can make extra to eat as leftovers.
But I'm not a great cook you say…
Neither am I.
But here are two things about that:
You don't need to be a chef or great cook to make good Paleo dinners
Just because you don't know how to do something, it doesn't mean you can't learn
Were you born knowing how to brush your teeth or drive a car?
No. You had to learn.
So just because you haven't learned to cook YET, it doesn't mean you can't learn a few tricks here and there.
I never knew how to cook either. But I learned that a recipe can be my friend. Sounds obvious right, but I just never "got into them."
I wrote a whole article talking about how I learned to cook (click here if you want to check it out).
But the basis of that article on 5 Tips to Learn to Cook are:
Read the recipe through first. Do you have all the ingredients?
Prep the ingredients (dice, slice, chop, etc…). Get everything ready.
Then follow the steps one by one.
Lets Start the List of 11 Mouth-watering Belly Slimming Paleo Dinners for families
Paleo Dinner Recipe #1 – Tuscan Garlic Butter Salmon
Strictly speaking, butter isn't really allowed on a Paleo diet because it is dairy.
But you could substitute Ghee for butter because most Paleo books I've read allow Ghee because almost all of the dairy proteins have been removed.
Full recipe is available here. It is from eatwell101.com
They claim you can make it 30 minutes of less. And that is what I like…after a long day I don't want to be cooking all night. Doesn't it look delicious!
Paleo Dinners Recipe #2 – Lemon Garlic Butter Shrimp with Zucchini Noodles
Yum!
This dinner is Keto too (low carb) because you're using Zucchini noodles and not grain-based noodles. To make it a strict Paleo dinner use Ghee instead of butter.
Full recipe is available here.
If you want a quick-cooking meat then look no further than shrimp. This stuff cooks fast. So pay attention! 🙂

How to make Zucchini Noodles?
If you're wondering how to make zucchini noodles or other low-carb vegetable noodles, you should check out the "Spiralizer."
It is a "manual" option so you have to crank the handle to spiralize the vegetable into noodles.
We have a very similar one at our house but ours is made by Westmark. Below is a picture of the one we have. You can check it out on Amazon by clicking here.
In all honesty I don't use it very much. And the reason is not that it's bad, it's just that I have a kitchen appliance that does the job for me.
We have a T-fal Fresh Express (shown below) that I use most of the time to make veggie noodles. The length of the noodles isn't as long as a manual Spiralizer, but I don't really care: I hate slurping up long noodles anyway.
Back to the List of Mouth-watering Paleo Dinners for Families
Paleo Dinner Recipe #3 – Hamburger soup
Bonus point to you if you can see what is not Paleo about this picture?
Did you find the non-Paleo additive?
That's right, the cheese!
But don't worry, the cheese is just a potential topping and not a requirement. Just omit it and you've got yourself a Paleo dinner!
The full recipe is available here.
Paleo Dinners #4 – Blackened Chicken and Avocado Salad
This is a simple, yet delicious Paleo dinner with seasoned and blackened chicken served over a crisp salad with avocado for some natural plant-based creaminess.
Yummy.
I hate complex, long drawn out recipes but this one is a straightforward recipe with minimal preparation required.
Click here for the full recipe.
Paleo Dinner Recipe #5- Slow Cooker Lemon Garlic Butter Chicken
I love slow cookers (aka crock pots).
Set 'em and forget 'em is my favorite approach to cooking.
And on a hot day who wants to have the stove on anyway!

This recipe uses chicken thighs, and I don't know if you've ever slow-cooked them before but you'll be amazed at how much juice comes out of them!
If you put them in your slow cooker with no added liquid, I'll bet your crock pot will be quarter full with liquid by the time its done cooking.
Once again, in order to make this a strict Paleo recipe you'll want to substitute Ghee for butter. But probably even a touch of coconut oil would work. And you could just try omitting it because as I mentioned above chicken thighs are juicy.
Full recipe is available here.
Here is another easy to follow slow cooker chicken thighs recipe.

Paleo Dinner #6 – Slow-Cooker Pork Roast
Continuing on with the slow-cooker Paleo recipes, we have one for slow cooked pork roast.
I love slow cooking because it is easy, and because the meat comes out so tender you can cut it with a fork.
And this recipe is cool because you don't need to brown the meat ahead of time or anything like that.
Full recipe is available here.
Paleo Dinners Recipe #7 – Low Carb Pot Roast Slow Cooker Recipe
This slow cooker recipe gives you details on how to create a juicy, tender slow-cooked pot roast.
To get the results the authors get, there are a couple steps beyond the simple slow-cooker "dump" recipes.
For instance, they suggest to brown the meat before you put it in the slow cooker.
If you've got the time, give it a try.
Full recipe is available here.

Paleo Dinners #8 – Grilled Fajita Chicken Kabobs
What a great summer recipe! Good excuse to get outside and do some barbecuing.
When you tell people you are on a Paleo diet they think all you do is eat meat.
What you'll soon discover though is that on a Paleo diet you will probably eat more vegetables than you ever have in your life.
Just look at the beautiful colors you'll be eating. You could truly "eat the rainbow" with this recipe.
Full recipe is available here.
Paleo Dinner Idea #9 – Grilled Rosemary Lemon Chicken
Here is another recipe for grilling on the barbecue.
But the authors of the recipe say you can do it in the oven…click here to see the full recipe then scroll down to the comments section and you'll see how to cook it in the oven.
The creators of the recipe used chicken thighs and drumsticks for the same reasons that I like them: they are juicier than chicken breasts.
Chicken breasts can dry out quite fast so you have to know how to cook them. Whereas, I find the thighs and drumsticks a little easier for a beginner cook to make.
Another reason I like chicken thighs is the lower price. At my local grocery stores I can usually find chicken thighs (with or without back attached) for about quarter of the price of chicken breasts.
Paleo Dinners #10 – Shrimp Cakes Recipe
You wouldn't think the words "seafood" and "cakes" would go together, but holy cow is there some good seafood cake recipes out there.
And this is one of them.
Instead of using wheat flour, the ladies from SimplySoHealthy.com have used almond flour instead. This makes it a nice Paleo dinner.
You could serve it with a side salad, veggie noodles or cauliflower rice.
Full recipe is here.



Here is a Paleo Salmon Cakes recipe that you may be interested in…it says you can just use canned salmon. Nice and easy.

Paleo Dinner Idea #11 – Leftover Turkey (or Chicken) Soup Recipe
If you have prepared a whole chicken or turkey, or even just pieces of the birds then you can use the leftover meat in a soup.
A soup like this is great way to help minimize food waste. And therefore a great way to help your food budget.
I do this all the time after I've cooked up some chicken, or after Thanksgiving or Christmas dinners.
It's a good way to use up some extra vegetables in your fridge too.
Instead of having your veggies go bad just toss them in the soup.
Full recipe is here.
Conclusion
In this article we've highlighted 11 delicious Paleo dinners for families, and most of them are easy to make.
If you create a meal plan around these Paleo dinners, and repeat your favorite recipes a few times over in the month, you'll have a full 30 days worth of Paleo meal ideas.
And if you make a big dinner you'll be able to have some as leftovers for lunch.
As I mentioned, I find lunch to be the trickiest Paleo meal.
But with these 11 recipes of Paleo dinners for families in hand you'll be all set to overcome the obstacles thrown at you as you embrace the Paleo diet.
Up Next:
3 Quick Paleo Lunch Ideas for your midday meal
7 Proven Paleo Pancake Recipe Ideas (yummy Paleo breakfast options)
7 Tasty Paleo Smoothie Recipes