Do you have shoes scattered everywhere? Shoes tossed around not only looks cluttered, but they're a tripping hazard too. In this article we'll look at 13 shoe rack ideas to help you get your shoes organization tidy and under control.
This article contains affiliate links. If you click a link and buy something I may receive a small commission at no extra cost to you. As an Amazon Associate I earn from qualifying purchases. For more information please see the Disclosure page.
List of helpful Shoe Rack Ideas
Below you'll find several shoe rack ideas that can help you organize shoes in your entryway, mud room, garage, living room, or wherever else you need to store you shoes.
Shoe Rack Organizer with Wood Seat Top
This shoe rack is cool because the wooden top doubles as a bench. It says it can support 198 pounds. (Seems like a very specific number doesn't it?)
It has an industrial-looking metal frame but topped with the nicely stained wooden top.
CLICK here to see more details about this shoe rack on Amazon.
Shoe Rack with resin slats
They claim you can store up to 9 pairs of shoes per unit (so 3 per shelf), and you can actually stack the units. So you can buy a couple of them, stack them up, and you'll be able to stack all the family's shoes in one place.
The rack is just under 13 inches deep, so that gives you an idea how far out from the wall it will stick out.

Shoe Cubby Organizer with Bench Top
This shoe organizer has 24 cubby holes to stash away your shoes. And you can sit on the top of it to help slip your shoes on and off.
From what I can gather from the product description it is made of laminated wood. And it is 15.5″ deep so that is how far it'd stick out from the wall.
Maybe I'm wrong, but I think a shoe organizer made from wood laminate would be better suited to a dry climate…I don't like the idea of putting wet, muddy shoes in a cubby like this. (But if you've done it please let me know how it works.)
The white wall shelf shown in the picture above is sold separately (but it would help complete the organization of your front entryway).
CLICK here to see more details of this shoe rack on Amazon.
Metal Shoe Rack with Adjustable Shelves
The cool thing about this shoe rack is that the shelves can either lay flat, or be slanted. In the picture above it shoes them in the slanted position. But if you look closely you can see the holes in the frame along the back if you wanted your shoes to sit flat.

Modular Cubes Shoe Rack
A cube system like this provides a variety of storage configurations. If you need a narrow but tall tower to store you shoes you can do it. If you need a low, but wide shoe rack, you can do it.
It gives you options, and people love options. Click here to see this shoe rack on Amazon.
Over the Door Hanging Shoe Organizer
These over-the-door hanging shoe organizers allow you to take advantage of "dead space": the space behind the door.
I personally wouldn't want to use this on the back of an exterior door of my house. I think the hangers would impair the weatherstripping on my door and allow wintery winds to whip in.
But if I lived in an apartment I would consider this. Or…if I did use it in my house I'd screw hooks into a wooden door instead of using the provided hangers. Or I'd get some quality Command Hooks to adhere to a metal door and hang the shoe rack from that.
Have you used one of these?? If so, what did you think?
Narrow Shoe Rack Tower
Do you only have a small narrow space for a shoe organizer?
If so, then a narrow tower like this may suit your needs. I like the look of this one. Looks good, and functional too.
CLICK here to see more details on Amazon.
Bamboo Shoe Rack
This one may be just another shoe rack, but I love the look of it. It'd go well in a light, eco-friendly natural home.
And I like the hooks on the side. You could hang bags, purses, or even wet mitts on them.
It is too wide for our space, but its cool-looking none the less.
Entryway Organizer (shoe rack & coat rack in one stand)
This metal rack provides the convenience of having a shoe rack and coat rack in one unit. It has 18 hooks, one rail along the top, and 3 shelves for shoes at the bottom.
If you are looking for a multipurpose entryway organizer you can click here to view this one on Amazon.
Industrial / Rustic Style Shoe Rack (Etsy)
I love the Industrial look of this shoe rack that I came across on Etsy. It looks like it should hold up to work boots, snow boots or anything else a hard-working family can throw at it.
The seller, ColdSteelCreations, is fairly new to Etsy (as of July 2019 anyway), but the products look amazing.
Rustic Wooden Shoe Rack (Etsy)
Yes, this is another standard shoe rack, but I think it's far from ordinary. I love doing woodwork projects like this, but my problem is I don't finish them! I came across this one on Etsy.
It is available in a variety of stains. The stain bove is dark walnut.
Related Article You May Like: Homemade DIY Farmhouse Coat rack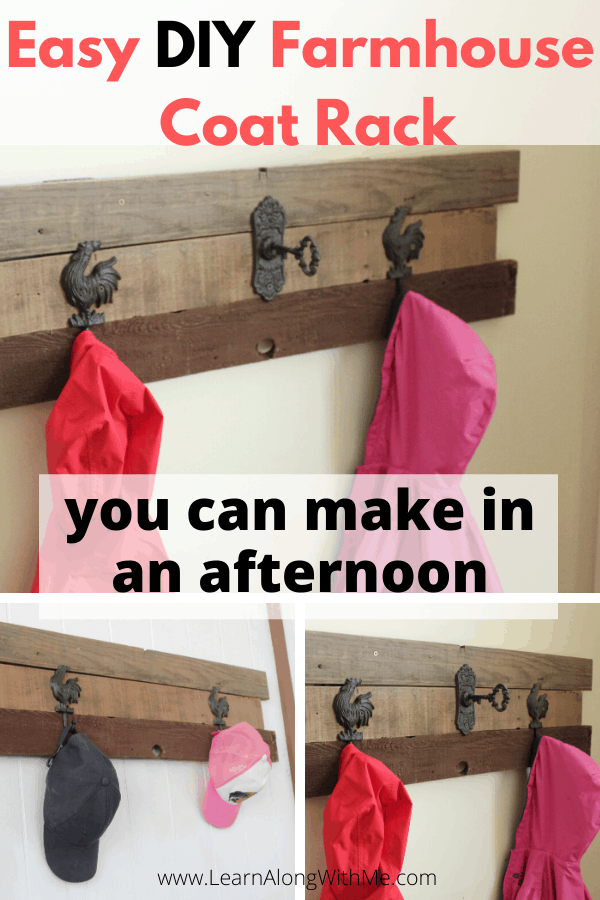 Wall-mounted Shoe Rail
I had never seen something like this before. It looks so clever.
I'm by no means a style expert, but I think a simple design like this would go well in a variety of decorating styles. This shoe rail is available on Etsy.
Homemade DIY Shoe Rack
I made this shoe rack many years ago. Over time it has doubled as a stepping stool, toy display and overall staple of my home. With our growing family, it doesn't fit our needs anymore.
It was easy to make, and wasn't too time consuming. Because if a woodwork project takes too long, I'll often stall out and not work on it anymore.
The engraving shown in the picture below did take longer, but even it is a fairly quick process. I am not an artist as you can tell by my flowers, but it adds some personality to it.
Here is what it looks like without shoes on it.
I hope you've found these shoe rack ideas inspiring. And hopefully one of these options will fit your front entryway or living room.
If you have a DIY solution that others readers would appreciate, please comment below.
Thank you.
Up Next:
33 Living Room Blanket Storage Ideas
Remote Control Holders – tired of losing the remotes in your living room?
Do you have a dog? If so, organize their toys and supplies with these Dog Toy Storage options
Thank you for checking out my article. I hope it helped you.
Tim from LearnAlongWithMe.com
Tim worked in construction for a few years before going to university. Then he worked as a community pharmacist for 10 years and now works as a full-time writer and online publisher. He has experience in several different, far-reaching lines of work.
"I sincerely hope you find the articles helpful and informative."
Tim from LearnAlongWithMe.com