Is your small bedroom driving you a little crazy? Just because a bedroom is small doesn't mean it has to be cluttered. We'll look at 13 space-saving small bedroom organization ideas and products to help maximize your small space.
This article contains affiliate links. If you click a link and buy something I may receive a small commission at no extra cost to you. As an Amazon Associate I earn from qualifying purchases. For more information please see the Disclosure page.
Declutter (First step)
If you're wondering "How do you organize a small bedroom with a lot of stuff?" Perhaps you should be asking yourself if you need all that stuff.
So the first thing to remember is don't organize and store what you don't need or want. So declutter.
Get rid of, or donate clothes, accessories and books that you don't need.
Do we really need all this stuff in our room and in our life?
For some inspiration I suggest watching "Tidying Up" the Netflix show about the organizing guru Marie Kondo. (Check out some of her tips that I followed further below.)
If you prefer to listen to her ebook, you can listen to it with your free Audible trial. Click here to get it started.
Think Vertical
The second important thing to keep in mind is you need to maximize vertical space.
Don't just think about square footage: think of cubic footage.
How do you create storage in a small bedroom?
The largest area hog in our bedroom is… the bed!
Now unless you're Dracula you probably sleep lying down and not hanging from the rafters. So you need a bed. So if you're wondering how do you create storage in a small bedroom…you should think about under the bed (or above?).
Can you make better use of the area below your bed?
A Queen bed takes up about 33 square foot of space in your room. Now that is area. But if we're thinking 3-dimensional, if you have an 8-foot ceiling, the Queen bed is taking up 260 cubic feet of space.
Now I'm not saying you should put your bed 3 feet from the roof, or that you mount storage shelves above your bed. But if that's what you need to do, then do it.
Why do we always live our lives the way others do, even when that doesn't suit our life?
So you want to get a loft bed and you're an adult. Then go for it. Or if you want to elevate your bed slightly to get some drawers under the bed, then do it.
Many of us that have partners will have a tough time getting the significant other to agree to our "crazy" (yet practical) ideas.
So I've researched and accumulated some more conventional small bedroom organization and storage ideas.
Fabric Under Bed Storage Bags
I came across these storage bags on Amazon. They are 8″ high so you'll need at least that much room under your bed. And if you don't currently have that much clearance, you can check out these bed risers.
The bags have a clear "viewing" window so you can remember what you tossed in there and they have a handle so you can yank them out for easier access.
They'd be a good choice for stashing seasonal clothes and bedding like sweaters and fleece sheets, then bathing suits and light sheets.
Under Bed Shoe Storage Cube
I hadn't really thought of storing shoes under my bed, but this product definitely has me considering it.
It comes with a clear, zippered top so dust stays off of your shoes.
It is about 6.5 inches high. If you have bigger feet though, I doubt you'll fit a pair of shoes in each little cube. If you have big feet you may only be able to fit one shoe per cubby.
Whether this product makes sense for you will depend on how many shoes you actually need to stash away under the bed.
But it doesn't really have to be for shoe storage does it. You could put accessory in here like rolled-up belts, scarves, off-season items like mittens, tuques, scarves, etc…

You may also like…
13 space-saving Twin Bed with Storage options (great for small rooms)
Vacuum Bags for Small Bedroom Organization
Depending on where you live you may have seasonal clothes and bedding. When it is out of season you can put these fabric items in a vacuum bag and suck them down to a smaller, more manageable size.
Vacuum bags are a good answer to the question of "how do you organize a small bedroom with a lot of clothes?"
You use the vacuum bags to 'suck' the clothes down into a small package. Then once you collapsed the size of the clothes or bedding you can tuck them under your bed.
Vacuum bags are something I really like, and use, but I honestly haven't had great success finding a good brand. The ones I've purchased in the past are from Walmart.
I'll vacuum the air out of the bag, seal it, and then a few days later the air has seeped back in and it's bloated up like me after I've pigged out on a bag of pretzels.
So instead of giving an individual recommendation, I'll point you to Amazon's vacuum bag search page.
If you have a brand that you love and that works really well please let me know in a comment.
Nightstand with Drawers
I like how you can put stuff into the drawers and have them out of sight.
I'm too embarrassed to show you my nightstand, so I'll show you this one I found on Amazon. I like the design of it, and it's popular, but I'm not sure if I like the color.
Here we go, here is the same nightstand in white.


Headboard with Shelving
I've never had a headboard with shelving. But it looks pretty cool. (Do you smack your head off the shelves when you lay down at night?)
I've never really thought about ordering furniture from Amazon, but that is where this headboard is from.
You may also like these over bed storage ideas…
Bedside Caddy
While we're still talking about beds I'll mention bedside caddies. They are multi-pocketed organizers that hang down beside your bed mattress and give you a spot to put books, glasses, and whatever else you may need.
The one above from the company "Life is Beautiful" can attach to your bed using Velcro. I don't personally own one of these (because I have a nightstand), but it looks like you stick a Velcro patch to your box spring or mattress, then attach the bedside caddy's Velcro to these patches.

Will a bedroom storage chest work at the foot of your bed?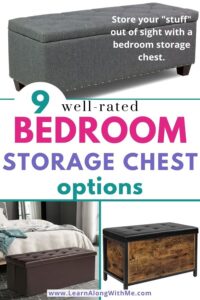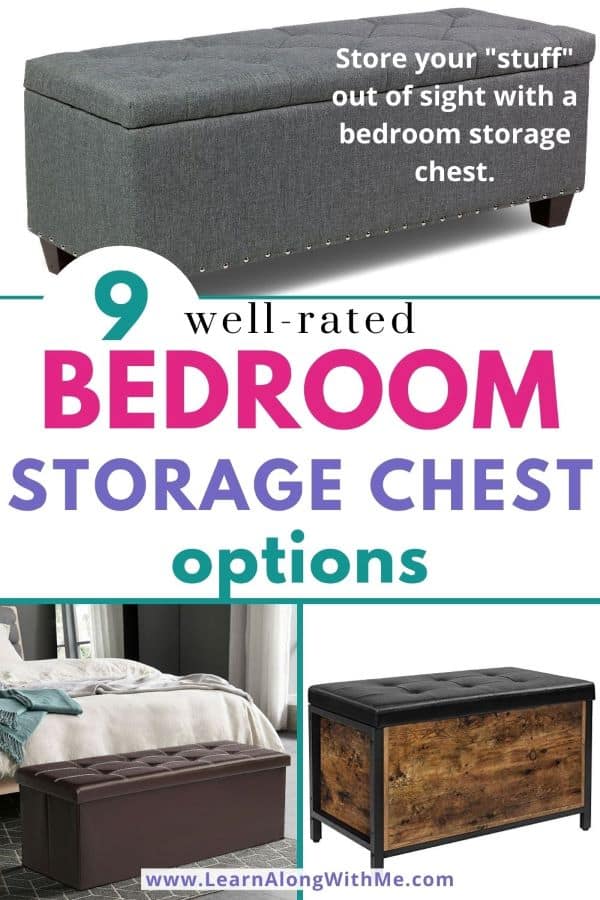 Corner Shelves (Etsy)
Corner shelves are another great way to make use of "hard-to-use" space that'd otherwise be wasted.
You can make your own corner shelves quite easily, or you can find them at most local retailers.
I came across the wooden floating corner shelves (shown above) on Etsy. They are thick and reviewers say they are easy to install and sturdy. And because they are so thick it gives them a sense of intention and belonging: like you put some thought into the purchase and didn't just throw up some cheap stuff on your wall.

Metal Wall Baskets are an attractive small bedroom organization idea
I first came across this product when I was researching an article for "RV Bedroom Organization Ideas", because those are obviously small bedrooms too.
People have used these to hold everything from baby supplies, to books, to plants and way more.

I see the width of these "extra large" baskets are 15.25 inches. That isn't wide enough to hit the wall studs on the usual 16-inch on center walls. So you'll have to use drywall anchors which will limit how much weight you can put in the baskets.
Or you could mount a strip of wood (like a 1″x2″ board) horizontally to the wall and have it hit the studs, then mount the basket to your wood strip. This would provide a better hold.
Another great thing about baskets like this is you can clearly see what is in them.
You could mount them to the back wall of your closet and use them to store small items like belts, socks, and even jewelry boxes.

"Back of the Door" Organization Ideas
The space behind the back of the bedroom door is generally just thought of as 'dead space' – if it's thought of at all. But in a small bedroom there are several ways you can use this wasted space by getting some hanging organizers.
Hanging Laundry Hamper
Is your dirty laundry piled up on the floor in your closet? No, I'm not psychic it's just the place almost everyone has it. But why? It is almost like a custom. There are other options though, such as this hanging laundry hamper.
The hamper shown above is popular on Amazon. I wondered about its durability – it is made of mesh so I thought that might make it weak yet I've read it holds up quite well.
Coat Hooks for Robes, Scarves, Purses, etc…
Over the door hangers slip over the top of your door and provide great storage opportunities for bath robes, house robes (great for winter mornings), scarves, purses and pretty much any thing else that can be hung up.
The one show above will fit doors up to 1.75″ thick. The problem we've run into in the past though is some of our door jambs are too tight. The door won't close with a hanger on it.
So check the gap between the top of your door and the door jamb before you invest in an over the door hanger. Make sure it'll fit and you can still close your door.

Back of Door Pegboard Organization Station
Now this one may seem a little "Bob Villa" but it could be a great option for customized storage.
I always thought of pegboards as something you use in the garage or craft room. But you can utilize their versatility in your bedroom too.
The pegboard set shown above is two pieces of pegboard that are 13.5″ wide and 22″ high. So you could screw them to the back of your door, one on top of the other, or perhaps side-by-side. Just be careful if you have hollow core door because if you do, this won't be able to hold as much weight as a solid door.
You may be able to screw them to the wall at the back of your closet too.

Hanging Shelving Unit
Here is another organization idea that you may associate with the kitchen pantry, but it can be used in the bedroom as well.
This over the door shelving unit can hang from the top of the door, or be screwed to the door.
(Ignore the food items in the picture below and imagine your bedroom stuff in there.)

Dresser Drawer Dividers/Organizers
Dresser drawer dividers can be a good way to help keep your clothes organized.
They are useful for containing small items like socks, belts, scarves, and underwear, but the ones shown below even allow you to organize larger clothes too.
The dividers shown below are adjustable bars that slide to fit your drawer and lock into place.
Another option for drawer dividers is the fabric bin style dividers. These are enclosed baskets that you place your clothes inside and you can use them in your dresser drawer or even in your closet.
Fold your Clothes Smaller (Konmarie method)
So I mentioned at the start of this article that I really like the Netflix show, "Tidying Up" with Marie Kondo.
One of the things she suggests is to fold your clothes smaller: basically fold them into tight little packages.
After watching the first episode of her show I decided to tidy my dresser. The results are below.
So, as you can see the Konmarie method of folding greatly reduced the amount of space my shirts took up in the drawer. So this is another answer on how to organize a small bedroom with a lot of clothes – fold them smaller.
But I also got rid of several shirts that I didn't wear, and would probably never wear.

Here are my personal thoughts on Marie's approach.
Pro's of Marie Kondo's approach
Prompted me to declutter
frees up space in the drawer
Cons
I can't see what is on my shirts
more time-consuming method of folding clothes

Just like anything in life, I think there are pros and cons to the "Konmari" (as in Kondo Marie) method.







Other Small Bedroom Organization Ideas and Tips
Get rid of clutter in your room
Ask yourself if you need all the stuff in your room. Do you need it at all? If you do need it, does it need to be in your small bedroom?
Being able to clean out your bedroom and get rid of some of your "stuff" will make your space feel larger.
Is there money hiding in your bedroom?
You could have several hundreds of dollars in clothes, books, jewelry and in other items just sitting in your room that you never use anymore.
Go through your items and see if you could list them on a site like Facebook Marketplace or Craigslist. The money you make could help you buy some of the cool small bedroom organization ideas I've mentioned. 🙂
Remember to always be safe when it comes to selling items to people where they have to come to your house. We often just use the honor system and if we know "Jane Doe" is coming to buy some clothes from us, we'll put the clothes in a bag and hang from our door knob. Then "Jane" can slide the money under the door or put it in the mail slot. If she doesn't want the clothes she can just put them back on the knob.
Obviously use your own judgement and discretion.
Use Mirrors to make your space seem larger
Using mirrors to help reflect the light will make your room seem larger, and brighter.
What about the closet?
You'll notice I haven't even mentioned the closet yet.
That is because I have a couple other articles dedicated to closet organization.
Here is one on DIY Closet shelves and organization ideas, and here is another one pertaining to closet hangers and other "no-tool required" closet organization hacks.
CONCLUSION
Researching this article on small bedroom organization ideas, I've come to a few conclusions:
Declutter your room. Take out what doesn't need to be in there. "Organized junk is still junk."
Assess your needs. What is it that you need help organizing? Is it clothes, books, bedside stuff, blankets, etc…
Think vertical. You may have a small bedroom in terms of square footage so you'll need to think vertically and take advantage of wall space, space above and below your bed, and behind your bedroom door.
Think beyond dedicated "bedroom organization ideas." You'll notice I listed items like pegboards and pantry shelves, and these are usually used in other rooms, but why not bedrooms?
Up Next:
53 Closet Organization Ideas (to finally get your closet organized!)
Milliard Tri Folding Mattress (will this space saver work for you?)
13 space-saving Twin Bed with Storage Options (great for small rooms)
Check out my DIY article on how to build a cheap headboard using laminate flooring.
I hope you've found this article on small bedroom organization ideas inspiring and helpful.
Thank you and take care.
Want to find this again in the future? Pin the Image below to Pinterest