Is your garage a cluttered mess? This article features some brilliant garage storage ideas to help you tame the chaos. And then hey, you might even be able to park your car in your garage!
This article contains affiliate links. If you click a link and buy something I may receive a small commission at no extra cost to you. As an Amazon Associate I earn from qualifying purchases. For more information please see the Disclosure page.
Garage Organization – Declutter first
But before you just buy shelves to stack your stuff on, ask yourself if you really need that stuff.
I know while hauling everything out of my carport I found multiple bottles of antifreeze and windshield washer fluid. I know these aren't expensive items but buying duplicates or triplicates is a waste of money.
Last night I went through my tote of automotive parts, and I had car parts for cars I don't even own anymore.
Organizing Long-handled Tools and Long items
in this section we'll look at some clever ways to organize long-handled tools and other long items.
Broom and Long-handled Tool Holder
The broom holder in the picture above is by a company called "home-it."
It is available on Amazon. It is very popular organizer. Because my rake handles are about as thick as broom handles I think this would work well for garden tools too.
Wall-mounted Organizing Rails
There are a lot of wall-mounted garage organizers like this on the market. You can find them at most hardware stores. This particular one (in the photo above) is made by Ultrawall. It quite popular and available on Amazon.
It seems like a good start if you have a bunch of long-handled tools.
DIY Ceiling Chains
I initially saw this in an issue of Family Handyman magazine that works for open ceilings with exposed joist spaces. They attach a chain from one ceiling joist to another so it spans the joint space: repeat this about 4 feet away.
Now you have created a netting to hold your long pieces up off the floor and out of your way. It could work for old skis, pieces of pipe or lumber.
Or you could simply screw a scrap piece of wood to the joists to span the gap and repeat about 4 feet away.
Organizing Automotive Items and Tools
Dedicated totes to hold automotive parts
I was tired of looking all over for my spare car parts. So I used an old Rubbermaid tote to hold my automotive bits and pieces. So now as long as I can find the tote I can find my car parts.
Metal Tire Racks
I don't know if this is a problem in your part of the world, but up here in Canada we have summer tires and winter tires. So this means regardless of the season we always have a set of tires laying around.
To get them off the floor you can purchase these wall-mounted holders. The product shown in the picture above is made by HyLoft and is available on Amazon. It claims it can hold up to 300 pounds.
Wall-mounted Wheel Hangers
What is cool about the wheel hangers shown above is that they support your tire by the metal rim, and therefore your tires are not sitting on the rubber.
Will this work for your garage?
Organizing Sports Items and Bikes
The garage storage ideas in the following section are all about trying to organize bikes and sporting goods.
Vertical bike hoists
RAD cycles makes a bike lifting system that attaches to the ceiling and you hoist the bike up off the floor. It is available on Amazon if you want more details.
Bike hooks for vertical hanging from the ceiling or from the wall
This 6 pack of heavy duty bike hooks claims that each hook can hold 105 pounds. Now that would be one tugboat of a bike! They have big threads on the screws that you would screw directly into a wall stud or ceiling joist.
If you want more bike storage ideas, check out this article contains 11 Clever Bike Storage Ideas.
Cargo webbing to contain balls
Wrap some cargo netting around your shelves and tuck the sports balls behind the webbing.
Sports Organizer Rack by Lynk
I've seen various DIY attempts to contain sporting goods, but Lynk Sports makes a sports organizer that has shelves for your basketballs, soccer balls, etc… plus it has clips on the side to hang your baseball bats or tennis rackets.
Click here for more details on Amazon.
Sports Organizer by Rawlings
The sports equipment manufacturer Rawlings also makes a popular sports organizer. It hangs from the wall to provide up to 50 pounds of sports storage. You may be able to find it at your local sporting goods store, or you can see more details for it at Amazon.
Do you need help organizing your golf bags?
Check out these 9 handy Golf Bag Organizers to help protect and store your golf bags and gear
Organizing Home Renovation Materials
Metal Shelving units (to hold paint cans, caulking, tools, etc…)
The product description for these metal shelves made by AmazonBasics and available on Amazon states that each shelf can hold 350 pounds. (But this depends whether or not you are using with wheels or without.)
That is a lot of paint cans! I have also seen similar shelves in pretty much every hardware store so you can check your local store to see if they have a size that suits your needs.
Garage Spray Can Organizer – use wall stud space
Here is a simple way to organize spray cans in your garage. If you have unfinished 2X4 walls in your garage then the space between the studs is a great area to build a small shelving system. You can easily store your spray paint cans in here.
Large PVC pipes attached to the wall to store lumber and decorative trim pieces
Use a roll of perforated metal strapping (aka pipe hanger) to screw a piece of PVC pipe to the wall. Then you can put pieces of lumber, decorative trim (like baseboards) or other reno materials into the PVC tube.
Organizing Tools and Hardware
Get yourself a toolbox, organize it, and put your tools back where they belong!
An awesome toolbox is worthless if you still can't find your tools. You wouldn't put your underwear in your t-shirt drawer in your dresser would you? Then why would you put a screwdriver in with your wrenches?
Your local hardware or auto parts store will sell floor-standing tool boxes. Many tool chest sets are three pieces with a large base on wheels with cabinets or drawers, a middle section with pull-out drawers and then a top toolbox with drawers and a lift-up top. On some versions the top piece can be removable so you can throw in the tools you need for a particular job and then head off-site to do the work.
The toolbox below only has two drawers and lid, but it looks cool and its unique because it comes in a variety of colors.. I hadn't heard of Viper Tools but I saw them on Amazon and man they make some cool stuff.
Above is the middle section of the toolbox.

Here is the big base that has wheels and stands on the floor.
Click here to see what other color tool boxes they have available on Amazon.
Hooks to attach ladder to the wall
I don't know about you, but my step ladder is always in my way. I feel like when I move it to one spot, I just need to move it again because its in my way.
But hooks like this will solve that problem because it gives the ladder its own spot! Depending on your situation you can hang ladder vertically from the wall, or horizontally.
PVC pipe to hold items
There are many cool DIY storage tips using PVC pipes to store tools and hardware. One example is cutting a short piece of PVC in half lengthwise just over the midway point, so that it will look like a home-made broom clip and then screw that to a wall. It can act as a clip for pipe clamps.
Or you can keep the PVC pipe intact and mount it horizontally to the wall, and then stuff your pipe clamps inside the pipe.
Use Pegboard to organize tools
To organize your tools you can purchase some pegboard and screw it to your garage wall. A pegboard system like the one shown above by "Wall Control" is designed to be screwed directly to a wall (finished wall or stud wall), and doesn't requires a spacer behind it.


Below is photo from Wall Control's Instagram page showing one of their pegboard systems being put to good use.
If you already have some pegboard on your garage walls you can buy a variety pack of pegboard pegs from Amazon to help you organize more tools.
Hardware Organization Bins
It can be a real pain in the butt, and time waster when you can't find a washer or a screw that you need.
You can buy a pre-made organization rack and get started sorting out your hardware. Many hardware stores sell organizing racks like this, but if you can't find one I have provided a link to Amazon for the one shown above.
There are various DIY ways to organize hardware including:
using old fishing tackle boxes
screw jar lids to underside of wooden shelves so that you can screw and unscrew the jar (filled with hardware) from the stationary lid
cut milk jugs in half and use the bottom to hold your hardware
reuse your old coffee tins
reuse baby food jars to contain screws, washers, etc…
Do what YOU need to DO
You are an individual. You have individual quirks and hobbies.
I knew a guy who built a helicopter in his garage! Other people just use it as a room to store their empty beer cans.
Everyone's garage organization and storage needs are different. So be you!
As you can see in the picture above this woodworker created a shelving unit that neatly stored his chisels, planes and other tools.
DIY Screwdriver Holder Shelf
To make an easy screwdriver holder you can drill multiple holes into a small wooden shelf and place your screwdrivers down into the holes.
DIY Homemade Wrench Rack Organization Strip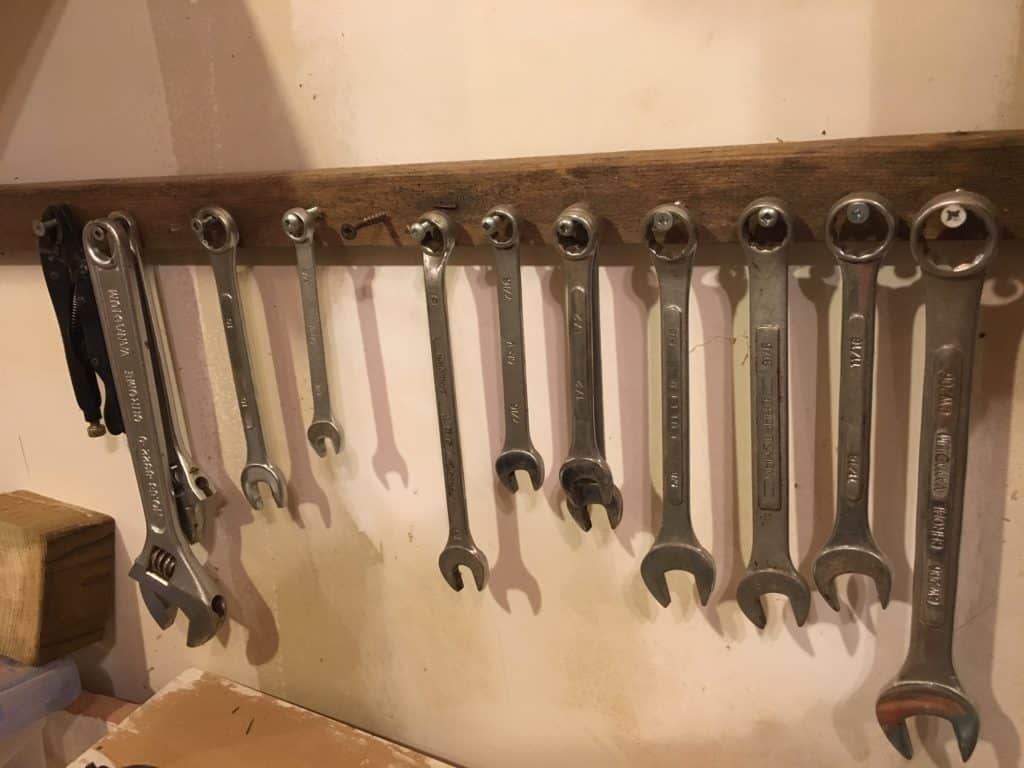 Here is a simple homemade wrench organizer that I put in my parent's workshop.
It took me about 3 minutes to make and it allows you to actually find what you're looking for.
So if your wrenches are all over the place, an easy to make homemade wrench rack like this can help you get organized.
Check out these other Wrench Storage Ideas….
Organizing Seasonal Items (like Christmas totes)
DIY Wooden shelving units
I made these shelves for my laundry room, but they'd work just as well in your garage. Click here to check out how I made these strong wooden shelves.
Have Dedicated, Color-coded Seasonal Totes and Boxes
Collect all similar items and place them inside a dedicated, labelled tote or box.
You want to be able to find your Halloween decorations quickly? Then put it in an orange tote.
Christmas items? Put them in a red or green tote.
Then place your nicely organized totes onto your shelves.
Wall-mounted Shelves
If you want to keep your floor clean and uncluttered you can screw shelves to your garage walls. You can buy the mounting angle pieces from any hardware store or even Ikea.
If you wanted a designed and dedicated garage shelf, there is the one below by RhinoShelf available on Amazon.
Free-standing metal shelving units
Here is some "Instagram inspiration." The homeowner uses metal shelving along one wall of her garage to great effect. Just look at how many totes she has tidily stored in there!
I'm not sure where she got those shelves, but they look strong and secure.
Plastic shelving units
There are a variety of plastic resin shelving units out there. I have been trying to reduce my plastic footprint (since reading the National Geographic "Planet or Plastic?" magazine) so I haven't purchased new plastic shelves in quite awhile. The one benefit to these types of shelves is they are quick and easy to resemble.
If you know of any plastic shelving units made from recycled plastic, please let the other readers know and comment below.
Organizer for Christmas lights
One of my favorite scenes from National Lampoon's Christmas Vacation is when Clark hands his son Russ a massive rat's nest of christmas lights and says, "little knot here."
To help out homeowners a company called Santa's Bags has created a Christmas lights organizer bag.
Now if only the Griswolds would have had that back in '89.
Extension Cord Organizer and Winder
I didn't even know these things existed until I saw this one on Amazon. What a great idea!
Overhead Garage Storage Racks – Attach to the ceiling!
The overhead garage storage rack shown in the picture above is from a company called Fleximounts.

A unit like this would act as a good base unit to build around. They claim it can hold 450 pounds and you can even attach hooks underneath to hang bikes and other items.
It is a great place to store totes of seldom used things or seasonal items. With an overhead storage like this you wouldn't have to trip on your Christmas tree in the spring when you're trying to dig out your lawnmower.
Below is a photo from Instagram where the homeowner makes good use of overhead garage storage. (I don't know what brand of overhead shelves they use, but it gives you an idea of what you can accomplish.)
Garage Storage Cabinets
I have really noticed an increase in popularity in garage cabinets lately. One day I want to get a cool garage storage systems like the one above.
Just imagine your garage with a wall to wall system of awesome of cabinets!
What I like most is the work bench top. And with adequate storage in the cabinets I'd have no excuses for having a clutter work surface.
Or you could just buy some second hand kitchen cabinets and install them in your garage. You could put down a liner into the bottom of the drawers to protect them from your metal tools.
More Garage Cabinet Ideas
Below are a couple great examples of garage cabinets that I found on Instagram. Pretty inspiring!
Examples of Garage that Utilize various Garage Storage Ideas
As a finishing touch for this article I'll share some awesome examples from Instagram of garages that utilize these different garage storage ideas to great effect.
I like how in the garage below they keep all the totes tight to the wall using a large shelving system and they also have some cabinets and even drawers.
I like how they labeled the totes in the photo below: such a little thing that can make a huge difference.
I hope you have found some motivating ideas and products to get your garage clean and organized.
Now that you've seen all these ideas…
which idea will work for you?
Thank you.
Up Next:
17 helpful Outdoor Shelves to store your stuff (good variety of ideas)
9 Golf Bag Organizers [to protect and store your golf gear]