Is your little one turning five? In this article we'll look at 19 fun 5 year old birthday party ideas. Not all of these party ideas will work for your birthday child. But hopefully at least one of them will help you out with party planning and make organizing your child's special day easier…and more fun.
This article contains affiliate links. If you click a link and buy something I may receive a small commission at no extra cost to you. As an Amazon Associate I earn from qualifying purchases. For more information please see the Disclosure page.
5 Year Old Birthday Party Ideas – let's start the list
Below are some fun birthday party themes and party ideas for 5-year olds. Of course, all kids are different. A fun theme for one child may be a terrible idea for another child.
You know your child best.
Have a read through all the party ideas and find the one that'll work best for your little one.
Set up an Obstacle Course
Our little girl love obstacle courses. It seems like most little kids do.
It allows them to test their physicality and motor control while having a great time.
You can set up an obstacle course in your backyard or at a local park.
Without spending much money you can keep the kids entertained and playing in the obstacle course.
Petting Zoo
Goat kids are so hilarious and spunky!
So are 5 year old humans.
So why not combine them together for your 5-year old's birthday party.
Organize a Treasure Hunt / Scavenger Hunt
Kids love finding and discovering things.
For a fun birthday party activity you can either create a treasure hunt with a treasure map for kids to find treasure, or you can set up a scavenger hunt with clues sprinkled around the house or yard.
They are both really similar ideas and they are party ideas you can do at home or at the park for little money.
Do you have a winter baby? If so, check out…
Winter Birthday Party Ideas for Kids (to help inspire you if your child is born in the winter)
Host a Pirate Party Themed Birthday Party
Ahoy matey! Rrrr, It's time for you parents to get creative with a pirate-themed party.
If your little one loves pirates you could host a pirate party.
Ask the party guests to dress up like pirates and join in on the pirate birthday celebrations.
You can set out pirate themed decorations like the pirate table cloth shown below.
The kids can do fun activities such as walk the plank and find the treasure.
For walk the plank you can put a piece of tape on the floor and have them "balance" as they walk along it.
You could draw a treasure map that leads to a treasure hidden in your home or in your yard.
The treasure could be a pirate birthday cake or other tasty treat.
Play at a Local Park
If your child is born in the Spring, Summer or Fall then hosting a birthday party at a local park can be a great way to get the kids outside to run around. (This is also true if you live in an area with mild winters.)
It makes it even easier if the park has playground, but if it doesn't you can still have fun.
You could have relay races, 3-legged races, potato sack races, tag, or ball games such as soccer or dodgeball.
We live across the street from a playground and we regularly see parents hosting their child's birthday party there.
Host your child's birthday party at home with classic party games
There are lots of classic games you can play right inside your home such as musical chairs, freeze dance, pin the tail on the donkey and more.
And if your child loves board games you can pull out some easy, child-friendly games like snakes and ladders and CandyLand.
Rent a Bounce House (aka bouncy castle)
If you have a flat and grassy area in your backyard you can look into renting a bounce house for the kids to play on. A bounce house is sometimes called a bouncy house or bouncy castle.
Having one of these set up in your yard provides a fun way for the kids to get exercise. (And burn off their energy.)
Host a Pool Party
We all know swimming is great exercise and most kids love it. Hosting a pool party can be a fun way for the kids to have a blast and splash around.
The downside to having a pool party with children so young is that the kids' parents will likely have to go in the water too unless you have extra help and supervision to ensure the safety of everyone.
Some parents may not to be willing to go in the water especially if they don't know you too well.
And you may want to implement a life jacket rule: they have to wear a life jacket when they're in the water.
Have an Arts and Crafts Party
Most kids love to draw, paint, sculpt clay and create crafts. Why not take advantage of this and have an arts and crafts birthday party.
You could set up different stations with age-appropriate crafts such as painting (including the always popular finger painting) and play-doh.
Plus, you could even have them create a craft to take home in lieu of a goody bag.
If you don't already have tons of craft supplies at home you can buy a craft set like the one below.
Have a Garden Party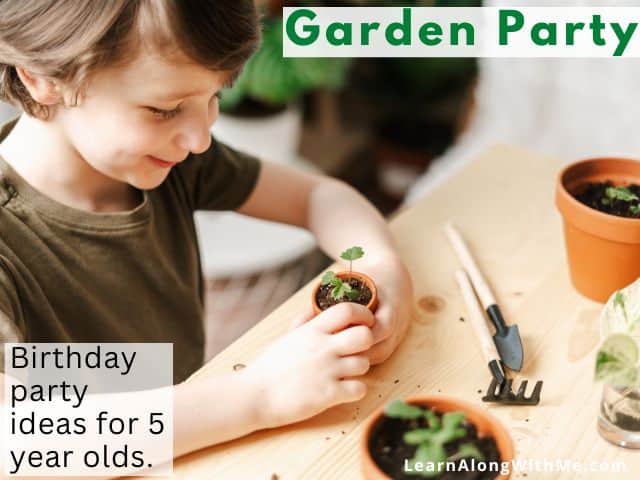 If you're looking for outdoor birthday party ideas, have a look at your backyard. Do you have a garden? Gardens can be fascinating places for children.
You could have a variety of flowers and vegetables in starter pots and then let the kids make their own planters.
They could decorate and paint the pots before planting.
Instead of sending the kids home with a bunch of plastic toys they probably won't play with, you can send them home with their plants.
Head to the Bowling Alley
If your local bowling alley has lane rails (bumper rails) to prevent gutter balls, then bowling can be a fun activity for a fifth birthday.
And many bowling alleys have arcade games and food concession too.
This option is best for small groups because most bowling alleys cap the number of players per lane to 6 players.
Check out your local bowling alley to see if they have specials on birthday parties.
Host a Paw Patrol party
Does your little one still like Paw Patrol?
If so you can host a Paw Patrol party. There are Paw Patrol decoration sets you can get (like the one above) to help decorate your place with plenty of pup personality.
You could play games like "Pin the tail on Marshall" and dance your own version of the Pup Pup Boogie.
Have a Sports themed Party
If your 5 year old loves sports you could arrange to have some fun sports activities right in your backyard or at a park.
I came across these inflatable sports targets on Amazon. I think it would be fun for kids to toss the inflatable football or baseball at these targets.
If your child loves soccer you can get a ball and put some small nets up in your backyard and let the kids play.\
It is a rather cheap birthday party idea that little kids will still love.
Let the kids decorate their own cupcakes
Decorating their own cupcakes isn't a party theme, but it is a fun activity for kids to do at a 5 year old's birthday party.
This is a actually super-fun for older kids too. We did this at my daughter's birthday…I think it was her 10th birthday and the kids loved it. (And it kept them busy for awhile.)
Bake the basic cupcakes then have a selection of icing and toppings that the kids can put atop their cupcake.
Host a Lego Themed party
Our friend hosted a Lego themed birthday party for her son a couple of years ago and it was really fun.
She had party decorations similar to the ones above, and she went to a bulk food store to buy some candy that looked like Lego. Then she put the candy atop a cake. Voila…a Lego cake.
Have a Dinosaur themed party
A lot of kids fall in love with dinosaurs.
If your little one loves dinos then you could host a dinosaur themed party. You can get dinosaur birthday party supplies like banners and table clothes, and then get a dinosaur cake topper to complete the cake.
You could play a dinosaur version of musical chairs where the kids have to stomp around like dinos while the music plays.
You could get a triceratops picture (or draw one), and play pin the nose horn on the triceratops.
Have a Unicorn Party
Our 5 year old loves unicorns! For her 5th birthday we got a local bakery to make her a Unicorn kitty cake. It turned out really well. You can see a picture of it below.
If your child loves unicorns (or unicorn hybrids like a unicorn kitty) then you could host a unicorn themed party.
You could play unicorn ring toss (product shown below), or pin the horn on the unicorn.
Make a splash with a Mermaid Party
Mermaids are another mythical creature that popular with young kids. If your child loves mermaids you could host a mermaid themed party.
Make some teal or seafoam green icing and place a cool mermaid cake topper upon it (like the one below).
Have a beach party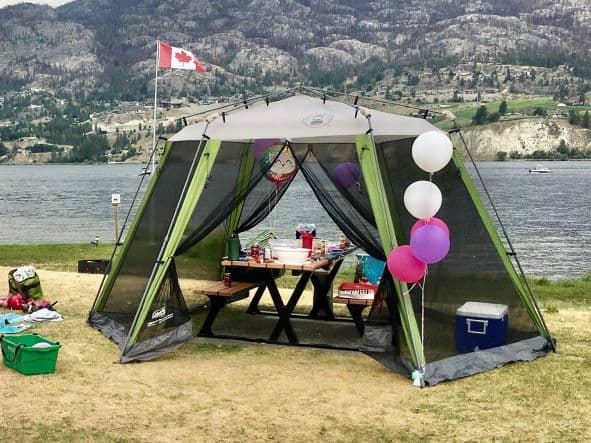 If you have a summer baby or live in a warm area, you could bring the kids to the beach for a beach party.
Our daughter is a winter baby, but since her party was cancelled due to an illness, we decided to make up for it by throwing her a beach birthday party in the summer.
We put up a bug tent around a picnic table and kept the cake and food inside the tent.
The kids got to play on the grass, play in the sand, and go swimming too. It was fun.
I hope you've enjoyed this list of great birthday party ideas for 5 year olds.
Will one of them work your little one's birthday?
You May Also Like:
If your child born in the winter? Check out these Winter Birthday party ideas for kids