RV'ing can be so fun, but it can also be so frustrating trying to live in a small space (even if its just for the weekend). I have put together a large collection of 61 RV Organization hacks and RV storage ideas to help you organize and enjoy your 'home away from home.'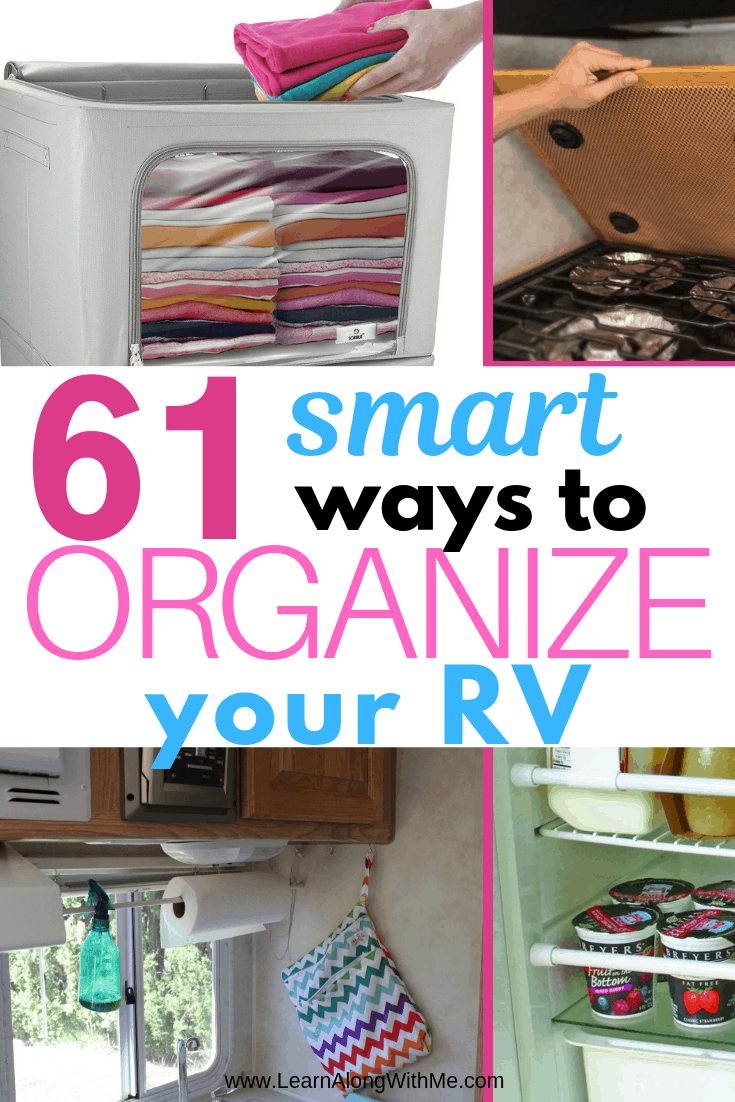 Do you love Pinterest?
This article contains some affiliate links. If you click a link and then buy a product I receive a small commission at no extra cost to you. As an Amazon Associate I earn from qualifying purchases. Thank you. For more information please see my Disclosure page.
My sister and my friends allowed me to snap some photos of their RV's, so that's what you'll see in some of the pictures and some of the others I've discovered on Amazon and other sites.
Enjoy the list of RV Organization Ideas
I have separated the ideas into the broad categories of RV Bathroom organization, RV kitchen and then RV bedroom organization ideas.
RV Bathroom Organization Ideas
We'll start with organizing the RV bathroom. This can be a tiny space, and whether you have a wet or dry RV bathroom will determine what storage solutions you can and can't use.

1.Hanging Mesh Shower Curtain Organizer
This is a large, 15-pocket mesh shower curtain organizer that you can hang from your shower curtain rod or from the back of your bathroom door. It is made of mesh so you can hang it on the wet side of the shower curtain. It is designed for the water to drip out and not pool in a pocket.
2. Wall-mounted Toothbrush Holder
The counter-top space in your RV bathroom may be small to non-existent.
A wall-mounted toothbrush holder like this one will keep your toiletries off the counter yet still within easy reach.
If you have a wet RV bathroom just be careful what you store in here. (These things are very popular and RV'ers buy them up like crazy.)
Will this work for your family?
3. Waste basket – hangs over the cabinet door
Sometimes you can squeeze a small garbage can next to your RV toilet, but if there isn't room you could look for an option like this one.
Click here to see more pictures and get more information about size.
4. Wall-mounted, or cabinet-mounted Vintage Metal Baskets
These are incredibly versatile baskets. Campers put them in different rooms and they'll have a completely different purpose. Some people mount these onto their wooden bathroom cabinets to hold face clothes, or extra toiletries.
5. Sliding Basket Organizer – great for inside a cabinet and "hard to reach" areas.
Just imagine this basket filled with extra shampoo, soap bars, toilet paper, toilet cleaner, mouth wash and more, and then you'll start to realize just how useful this could be under your bathroom sink.
6. Towel Rack styled like a wine bottle holder
These look cool. If you don't want to screw into a wall, you could screw into your wood bathroom door (if you have a wood bathroom door). (Or maybe even use Command Hooks to hold this towel rack to your RV walls.)
7. Elegant Swing-out Towel Rack
Here is another towel rack, but this one swings out from the wall. I think it is quite nice looking and can hold up to 3 towels. (It will require screwing it into a solid surface though…perhaps the side of a wooden cabinet?)
8. Toilet Paper Holder used as a Towel Holder
I know this is designed to hold toilet paper, but just imagine it as a towel holder.
That is what some campers do.
It'll do the trick and keep the towels from accumulating on the bathroom floor in wet mess.
This popular one from KES requires you to screw into the wall, but there are other options out there that use an adhesive. (But you'd need a strong adhesive to hold up a wet bath towel.)
9. Paper Towel Holder used to Store Toilet Paper
In the above example we looked at a toilet paper holder used to store something else (towels), and here we are looking at something else (paper towel holder) used to store toilet paper.
Feels like backwards day or something. 🙂
10. Command Hook Towel Holders
Nothing really fancy about this.
Just the leaders in adhesive holders making a towel holder – perfect for the RV bathroom when you don't want to screw anything into the walls.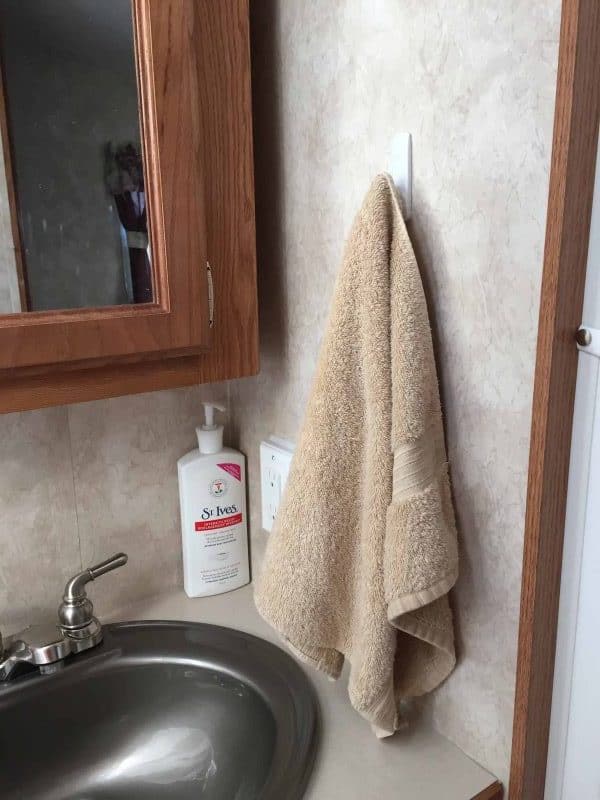 And instead of white like the picture above, you can get it in a Satin Nickel look.

11. Tension Bar Shelves
I was a bit surprised when I first put this picture on Pinterest.
The pin really took off and people really seemed to like the simplicity of this RV bathroom storage idea.
And no tools required, and no drilling into your walls.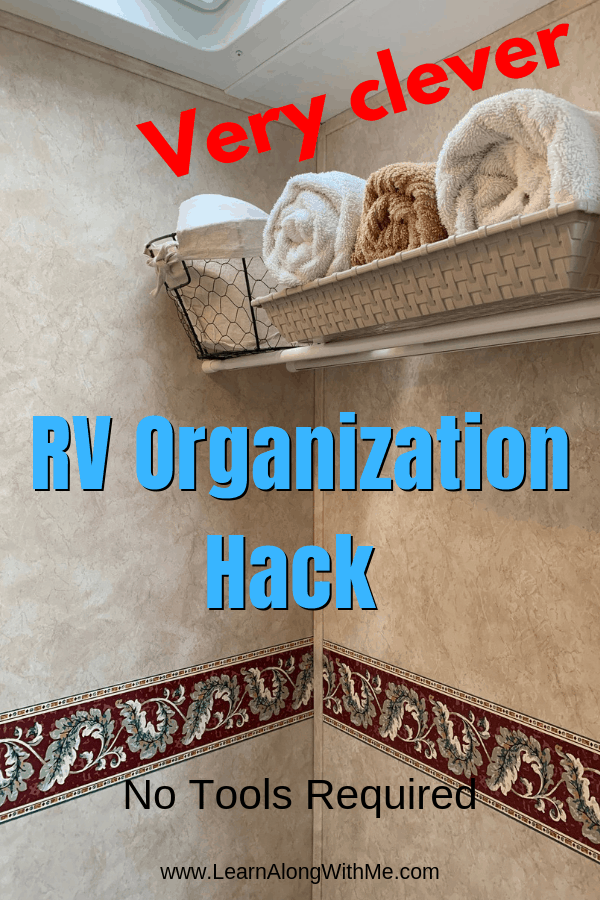 And check out the baskets…nice and tidy. The tension bars allow you to make your own RV shelves without screwing into the walls.
This option is best for seasonal sites or other RV's where they don't move very often. Just remember to take the baskets off the shelves on travel days. (Set them on the floor when you're driving.)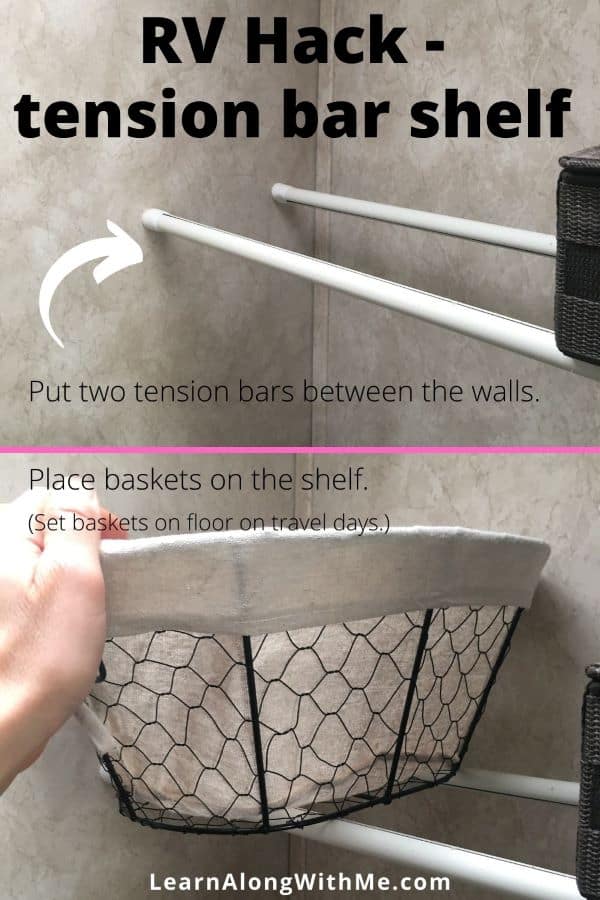 12. Seagrass Baskets
If you don't already have baskets you could get some seagrass baskets like the ones shown below.
You could store your extra toilet paper or towels in one and then set it on your tension bar shelf. (I realize you won't have counter-space but make your own tension bar RV shelves.)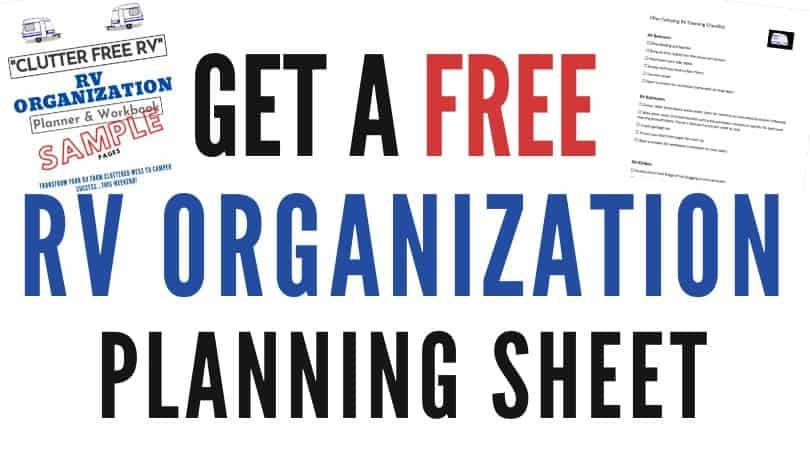 13. Hanging Shower Caddy
This one can hang right from the shower head itself, or from the shower door or rod.
And it can be rolled up and brought with you to the campground's shower facilities.
If you don't want to hang it from your shower head, then you could adhere a strong command hook to the wall and hang it from that.
Make your entire shower curtain into an organizer!
With this 9-pocket shower curtain by Maytex, your shower curtain becomes the organizer. Such a cool idea.
Do you have a shower curtain in your RV?
Will this work to help you organize your RV bathroom?
14. Shower Soap, Shampoo & Conditioner Dispenser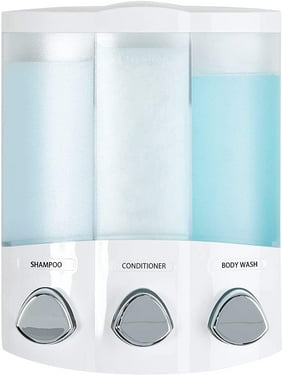 Leave the bulky shampoo and conditioner bottles at home.
No need to pack them with you when you have this dispenser.
Just fill up the soap chambers before you set out on your voyage and you won't have to trip over shampoo bottles on your shower floor anymore. It adheres to walls…not screwed.
These things sell really well…but will it work for you??
15. Shower Shelf
This is a pretty straight-forward but useful RV bathroom organization idea. All your showering needs will be close at hand with this stainless steel shower shelf (painted black). It is also available in silver.

16. Shower Organizing Kit (nice Chrome look shelves and hooks)
If you want to take it a step beyond just having one shower shelf, you can look into getting an entire set like this one. This set uses suction cups – not adhesive – to stick to shower walls.
Click here to see more details of this organizer set.
The picture above shows the large shelf "in action." Will this work on your shower walls though?
17. Over-Door-Organizer for Personal Items and Bathroom Products
Even though these products are often marketed as hanging shoe organizers, they are very useful and handy for other purposes.
You could hang it over the door, or on the dry side of the shower curtain. They are one of the best camper organization ideas because you can also cut them to suit your needs.

Click here to see a similar hanging organizer on Amazon.
Travel Size Accessories like a folding Portable Hair Dryer
Some people live in their RV full-time or for months at a time. For people that spend a lot of time in their RV (and have to look presentable sometimes), a travel-sized hair dryer can help cut down on clutter in their small RV bathroom.
This small, folding hair dryer by BaBylissPRO is a popular, well-rated travel hair dryer.
18. Narrow Bathroom Garbage to go beside toilet
Most RV trash can ideas require you to have narrow garbage cans like the the small, narrow, foot-activated lid like the one shown above in my friend's RV bathroom.
The garbage can in the picture above is by MainStays, which is available at Walmart.
Below is a link to a popular narrow bathroom garbage that would fit in most RV bathrooms (made by Umbra).




Want more RV Trash Can Ideas? Click here to check out our dedicated article.
19. Over the Toilet Shelves (rustic look)
If you are comfortable screwing into your RV walls then some hanging over-the-toilet shelves like this will provide you some nice additional organization space.
These are flat shelves, so they'd be better for stationary RVs or infrequent trips.
(If you are going to drive with these shelves, just take the items down before driving and put them all in a basket and stash them in your bathtub until you get to your destination.)
20. Tension Bar Inside the Shower to hang Wet towels and Toiletries
This idea is from a Tension Rod Organization ideas post I wrote. They are incredibly versatile organization items. (But if condensation is a problem in your RV you should try to hang wet clothes outside.)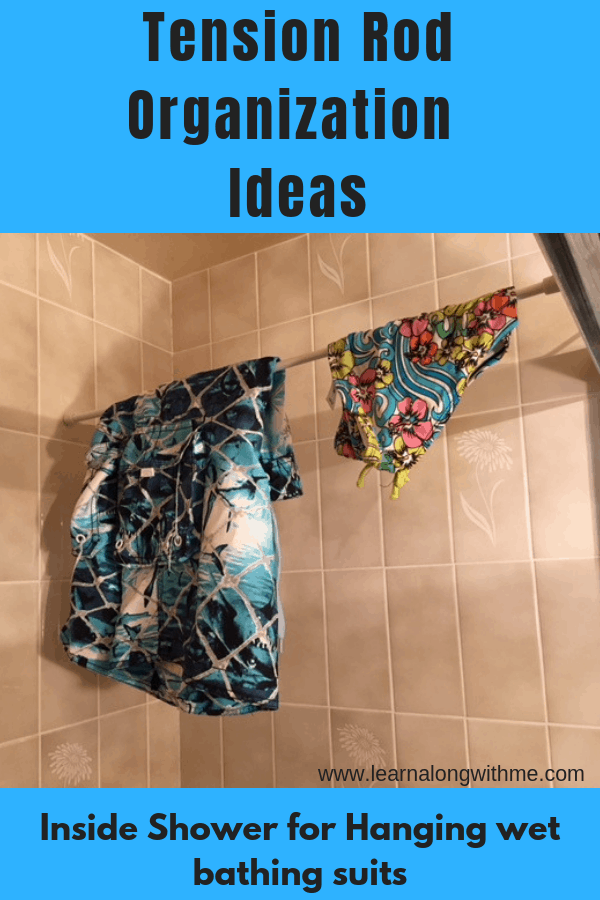 21. DIY Toiletries Holder
This is a simple DIY RV storage idea made from an empty milk jug.
You can either hang it from your shower curtain, or from a second tension bar installed in your shower (like the one above).
It is an easy DIY RV organization hack.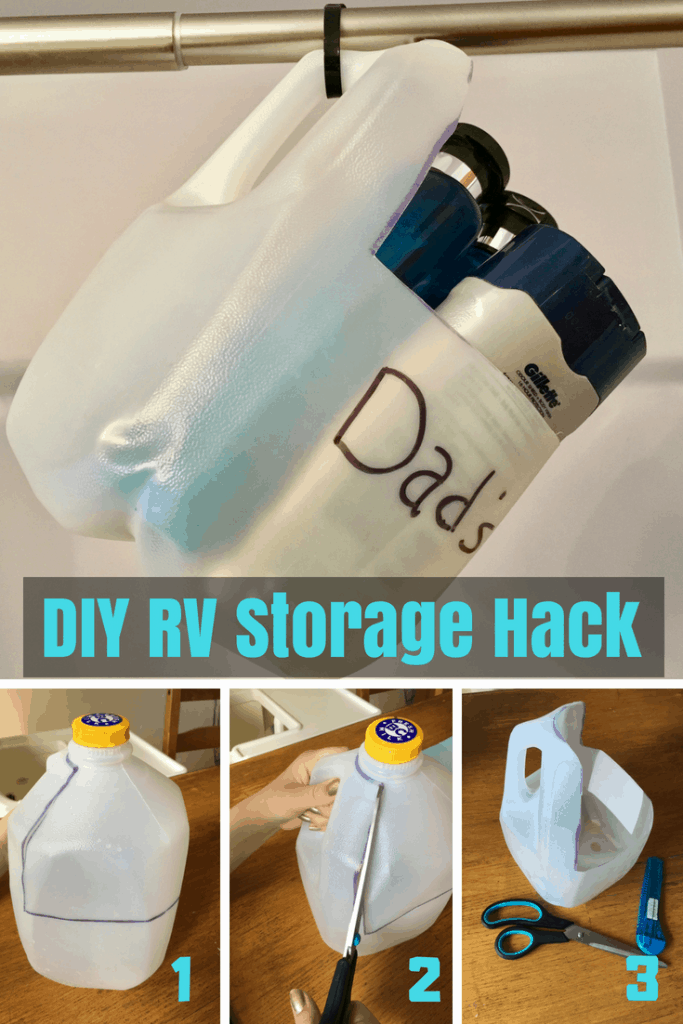 If you've finally had enough of your cluttered RV, check out this bundle today.
22. Over the Door Robe and Towel Holder
If your RV has room between the door and the door frame, these can make a great towel and robe holder.
They can be a very useful RV organization idea.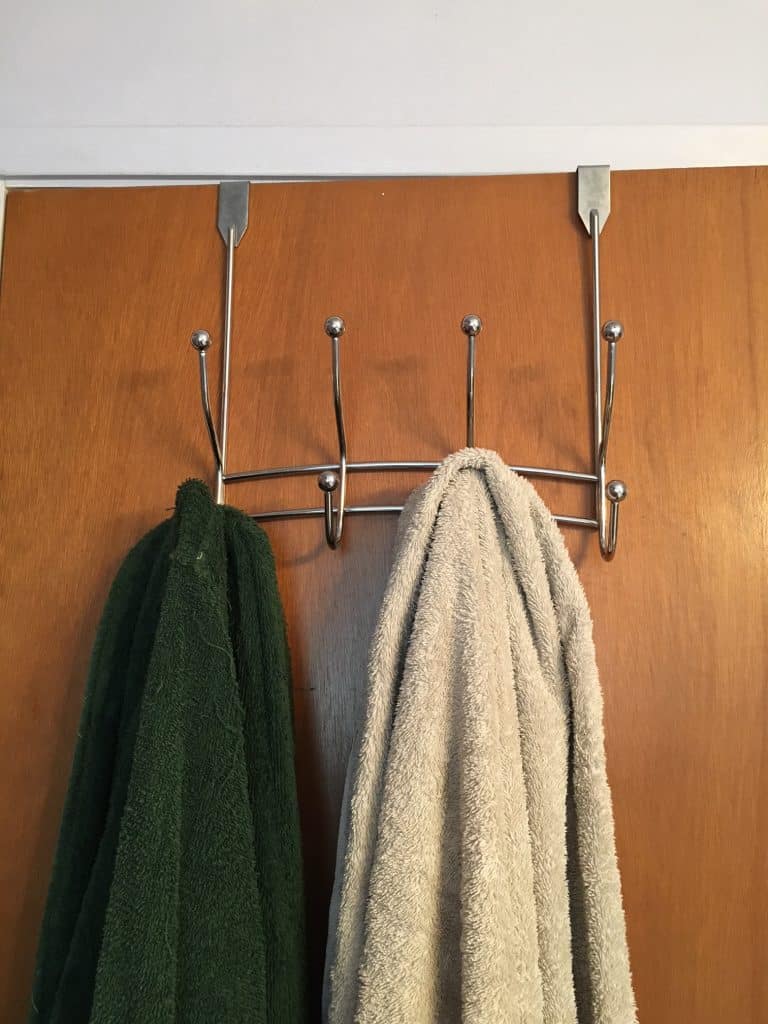 23. Chrome Toothpaste and Toothbrush holder
I know I already showed a toothbrush holder above, but this one has a different look, and what is cool about this one is that it can be used on the countertop, or on the wall. So it is versatile.
Everyone has different preferences on how they want their RV bathroom to look.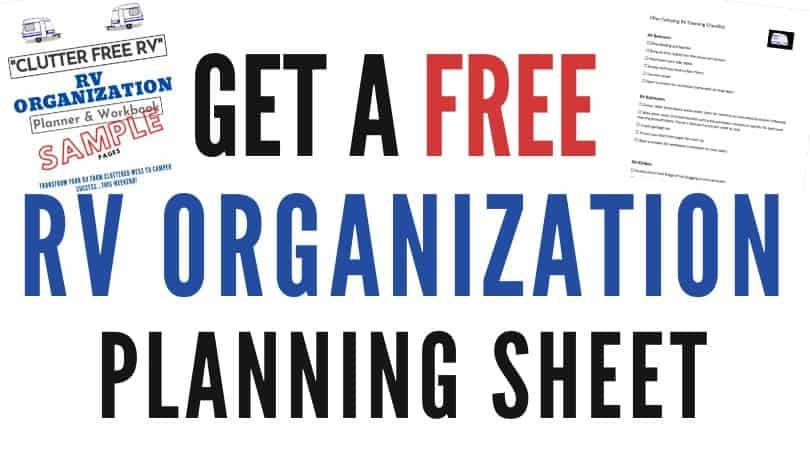 RV Kitchen Organization Ideas
The next set of RV organization ideas are RV kitchen organization ideas.
And because many campers spend a good amount of time in the kitchen – especially on rainy days – this small area can be a large source of frustration.
I hope some of these ideas can make your cooking and cleaning a more efficient experience.

Article continued below…
You may like this video I put together about RV kitchen storage ideas.

24. Slide Out Organizer for under the RV kitchen Table
Stick one of these to the underside of kitchen table and you've got yourself a little "drop zone" for keys and phones and also a storage spot for playing cards and stationary. They are marketed as office supplies, but they work well for knick knacks.

25. Under-Cabinet Tray
I know it's hard to tell what this does by this picture, but it screws to the underside of an upper kitchen cabinets. Most RV's have wooden cabinets so I know a lot of RV owners don't mind screwing into the wooden cabinets to mount a storage idea like this one.
Here is another organization idea for keys, stationary and other small items.
Click here to see more photos of great small item organizer.

26. Upright, vertical Dish Holder
Help keep your RV kitchen cabinets tidy and organized with these compact RV cabinet organizers that hold your plates upright.
Will these help you organize your RV dishes?
27. Wall-mounted Magnetic Spice Jars
The next few RV kitchen organization ideas involve spice racks. This one here has a magnetic base that you mount to the wall and then stick the spice jars to it. It helps you save countertop space. It is a 12-pack of jars so it should allow you to spice up lots of camping meals.
Click here to see more details of this space-saving spice jar set.

28. Modern, acrylic Spice Shelves
Another cool looking spice rack. This is popular spice shelf that will also help clear up counter space.
29. Spice Rack Clip Strips (mount to inside of cabinet door)
Perhaps this is more what you're looking for? You can mount it inside the door on your kitchen cabinets so the spices won't be in view all the time. You clip the spice jars into the mounted strips. It mounts to the wall or inside a cabinet using 3M adhesive tape.
Click here to see more details of this spice rack on Amazon.

30. Food Wrap Organizer (mount inside kitchen cabinet door)
I recently discovered this food wrap organizer on Amazon. Looks cool. It has the little "pockets" for each type of food wrap that you may use. You can screw it to inside a kitchen cabinet door, or you can mount it to a wall. (It does require screwing though.)
Here is another 'over the door' organizer you may like, but this one just hangs from the cabinet door…not screwing needed.
31. Beeswax Wraps – Sustainable, less plastic RV'ing
Just because you're RV'ing or camping it doesn't mean you have to leave you eco-friendly mindset at home.
You can use less plastic while cooking in your RV by using beeswax wraps to cover and store your food.
32. Corkboard mounted inside Cabinet door as Organization Center
Do you always have a pile of paper, notes and business cards tossed around your RV?
If so, this is a handy way to keep them organized.
Take a corkboard like the ones shown above, cut it to size of your cabinet, and then mount inside a kitchen cabinet door.
Then if you get a brochure, business card or write a note, you can stick the paper to the corkboard using a push pin.

33. Screw Jars to underside of Kitchen Cabinets
This can be a great way to store tea bags, sugar, spices, and other kitchen staples.
Clean out some empty food jars – baby food jars are a good size – and then screw the lids to the underside of your kitchen cabinets.
Then put your items into the glass jars and screw the jars onto the mounted lids.
It is a good way to keep things off the kitchen counter.
34. Nesting Bowls
Nesting bowls like this are a nice, compact way to have multiple kitchen bowls without having them scattered throughout your kitchen cabinets. This is a popular, 9-piece set from Joseph Joseph. The photo above shows what is included in the set and the photo below shows them nicely nested together.
35. Dish Drying Rack (in the sink)
A dish drying rack like this one from Camco sits in your RV sink. It is a good way to help keep your counter-top clear and usable. (But if you do want to set it on the counter, it comes with a drip tray.)
We use one in our pop up camper, and what I like about it is how portable it is. If the campground we're staying at has a dishwashing station I can bring this along and use it to hold the cleaned and rinsed dishes. (And I can even let the dishes dry outside if I want.)
Will this work for you?
Click here to see more details on Amazon.
36. Paper Plate Dispenser
Do you like occasionally using some paper plates for guests, grandkids, or picnics? This paper plate dispenser mounts to the underside of your kitchen cabinets so you can easily reach them.
Want to see more details? Click here.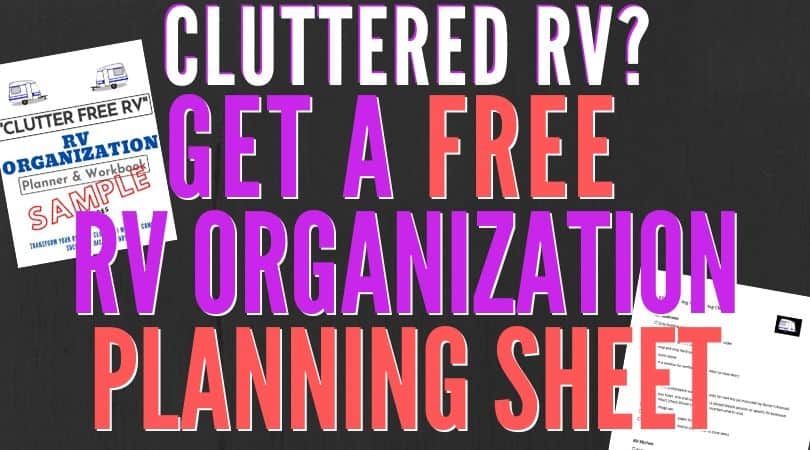 37. Adjust Cutlery Tray for Kitchen Cabinet
Your RV's cutlery drawer may not be the same width as your friend's RV.
But this company (OXO) has thought of that and they make an adjust cutlery tray. So you can adjust it to suit your needs and have a nice organized cutlery drawer. It can extend from 9.75″ wide to 16.25″ wide.
Whether it stays organized is up to you. 🙂 The photo above shows it pushed together (contracted), and the picture below shows it extended to fit a larger drawer.

38. Instant Pot Duo (7 in 1) – 6qt
How is this an organization item?
Well, it's more of a decluttering item.
Because an Instant Pot can replace several small kitchen appliances, and it even has a sauté function so you could even leave most of your fry pans at home too. It has lots of functions that may seem overwhelming at first, but read the instruction manual, get a descriptive Instant Pot recipe book and you'll be on your way.
I read that one full-time RV'er who works at "Trailer Life" magazine also highly recommends mulitcookers (like the Instant Pot) for RV kitchens.
39. Vertical Knife Holder (the Knife Safe)
Screw this knife holder to your kitchen wall, or to the inside of a wooden kitchen cabinet, and you'll always have your blades within reach. You can get it in different colors too if you don't like beige.
40. Sliding Drawers for Under the Kitchen Sink Cabinet
A unit like this could help you organize under the kitchen sink cabinet (if it'll fit).
There is a top shelf to store items, and two sliding drawers. It could a good place to keep your cleaning supplies. The smaller drawer could fit cleaning sponges, bar soaps, and more small items.
It would also make convenient sliding shelves for your RV pantry.
If you want to see the size of this unit, click here.

41. Plastic Bins – Simple RV Cabinet Storage Idea
Here is a simple RV organization idea that my friends use. They have some plastic bins that they place inside their RV kitchen cabinets.
You can store "like" items together and then just pull the whole bin out for easy access. Because they're cheap and easy to get, it makes plastic bins one of the best camper organization ideas.



For more ideas on how to organize your RV using plastic bins click here.





Reuse Old Plastic Containers
A cheap RV storage idea is to reuse your old plastic containers to hold stuff. Like in the picture above where an old Lysol container is being used to hold garbage bags. This RV owner keeps this under the kitchen sink so it's within easy reach and it helps to organize her under-sink area. Doing something like this is a simple and cheap way to organize your RV.
42. Vertical Organizer for RV Kitchen Items (by YouCopia)
Having pans and other cookware stacked on top of each other can be a hassle to access the one your want.
And depending on the cookware you have, stacking them may damage their surface. A vertical organizer like this one solves both those problems and makes a great RV kitchen cabinet organizer.
It allows you to easily pull out the item you want, and it helps prevent scratching.
This is there "expandable" model. They also make a standard, non-expanding model.

43. Plate Stackers to keep your Plates stationary (Camco Stack-A-Plate 43601)
Many RV'ers wonder about RV dishes storage: they want to know how to store and protect their dishes.
You could get plastic dishes but if you want regular dishes check out this Camco Stack-A-Plate.
These look like a clever idea to keep your plates stationary in the cabinet during travel days. I wonder if it would help minimize rattle during travel?
I guess you could tuck a cloth rag between the plates and the plastic stacker to further minimize vibration.
(For more RV dish storage ideas click here to see my article on this topic.)






44. RV Fridge Bar
The word "RV fridge bar" may sound like you're converting your fridge into the liquor cabinet (bar), but what I'm referring to is this product that stops your food from shuffling around during travel. Pretty clever.
(And people use these tension bars for other things too…like orienting it vertically to organize a kitchen cabinet!)
Click the picture above to see more details on Amazon.
45. Stove top Wooden Cover (The "Silent Top")
You can lay this on top of your stove, cut all your veggies (when you use the cutting pad with it), prep your meal, then remove it when you need to access your burners. It is a clever way to increase counter-top space (and we know that can be lacking in an RV!).
Plus, this one has "silencing feet" that are intended to help quiet the rattle of RV stove tops.
Want to keep better track of your camping trips? (check this out)
46. Sink Cover Cutting Board
Here is an other good way to add more counter-top space to your small RV kitchen.
You place this cutting board over one of your sinks. It even has a small cutaway hole to drop the food scraps into the sink for later cleanup. Many RV's already have sink covers, but if yours doesn't, check this popular one out.
This isn't the same cutting board, but in the picture below you'll see my friends trailer and how they maximize counter space by using a cutting board/cover over top of their sink.
47. Mini Pantry Organizing Shelf
A lot of the RV kitchen organization ideas so far have been about organizing cookware, but what about organizing food in your RV pantry?
Well here is a mini pantry shelf from Simple Houseware that you could use to store canned goods inside a kitchen cabinet. If it'll fit in your RV, it makes a good RV pantry storage idea.
48. Wire Shelf inside Kitchen Cabinet for Food storage
Here is a clever way to increase RV pantry storage. A simple wire shelf helps you maximize the vertical space in your cramped RV pantry. You can find these raised shelves at most retailers.
49. Lazy Susan inside a Kitchen Cabinet
These allow you to easily get at your foods in the RV kitchen cabinets, and lazy susans make convenient RV pantry storage ideas. This is a 12-inch size with dividers and raised edges so it should minimize shifting during travel days.
Will a lazy susan help you organize your RV kitchen?
50. Magazine Holder for Cutting Boards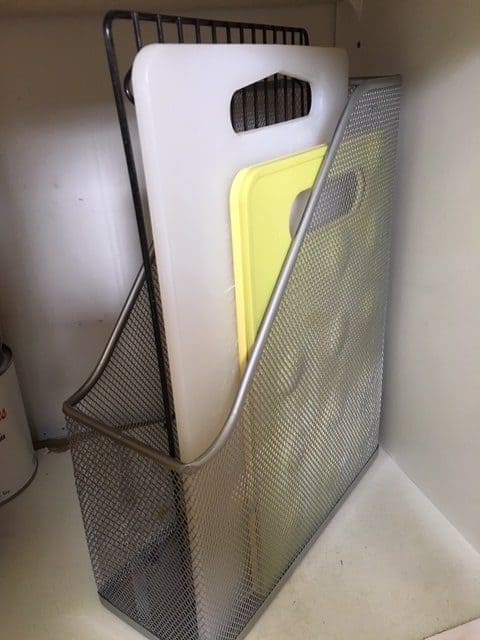 A cheap magazine holder makes a great cutting board containment device. Place one of these inside your kitchen cabinets and then you'll always know where to find your cutting boards. They are an inexpensive RV kitchen cabinet organizer.
Or…you can simply use it as your RV magazine rack if you want.
51. Slide-out Cabinet Organizer
I know these are very popular with new kitchens in houses. But I'm not sure if they'll fit in your RV kitchen cabinet. Measure carefully, and read product descriptions thoroughly before ordering.
This one above is made by Lynk Professional. (They make quality stuff.) It is 11-inches wide, but you can get them in various widths and depths.
If this does fit then you'll have way easier access to pots and pans. Just slide them out – instead of getting on your hands and knees trying to reach the back of the cabinet. If they'll fit in your RV, they'll make great RV kitchen cabinet organizers.
Want a fun camping shirt?
Click here to see more Gift Ideas for RV Owners
52. Water Bottle Rack – neat RV Kitchen Cabinet Organizers
If you have kids, or if you like to get out and explore campsites then chances are you have some water bottles kicking around in your RV. And I mean kicking around – they always seem to roll all over the place.
Well, a water bottle holder like this one will keep them nice and organized.
I wonder if it would hold soup cans too?
RV Bedroom Organization Ideas
Here are some RV bedroom organization ideas to help you get your RV bedroom tidy and manageable.




53. Hanging Shelves for the Closet (perfect for sweaters and bedding)
Sweaters just don't hang well: they get all droopy and weird looking.
A hanging shelf like the one shown above can avoid that. If it'll fit in your closet.
Not all RV closets are full height, so make sure you measure yours, both width and height before committing to a hanging shelf. (You could always cut off a bottom shelf if you had to.) But if it'll fit in your camper, then you'll have RV shelves ready to use.
Click here to see more details of these hanging shelves made by "Granny Says".
54. Hanging Organizer with Pockets (two-sided!)
Hanging pocket organizers – sometimes called hanging shoe organizers – are very versatile storage items.
(In fact, I wrote a whole blog post on awesome ways you can use a hanging shoe organizer.)
What is particularly cool about this one, is that it is doubly space-saving because it is two-sided!
Will it fit in your RV closet?
Click here to see the size on Amazon.
55. Fabric Storage Bags to store extra clothes, bedding, etc…
I like how there is a clear window on the front of these fabric storage bags. Then you can actually see what you have in there.
Not much use organizing your RV if you don't know where to find anything!
56. Wire Mesh Cubes for the Closet (or could even screw to the wall)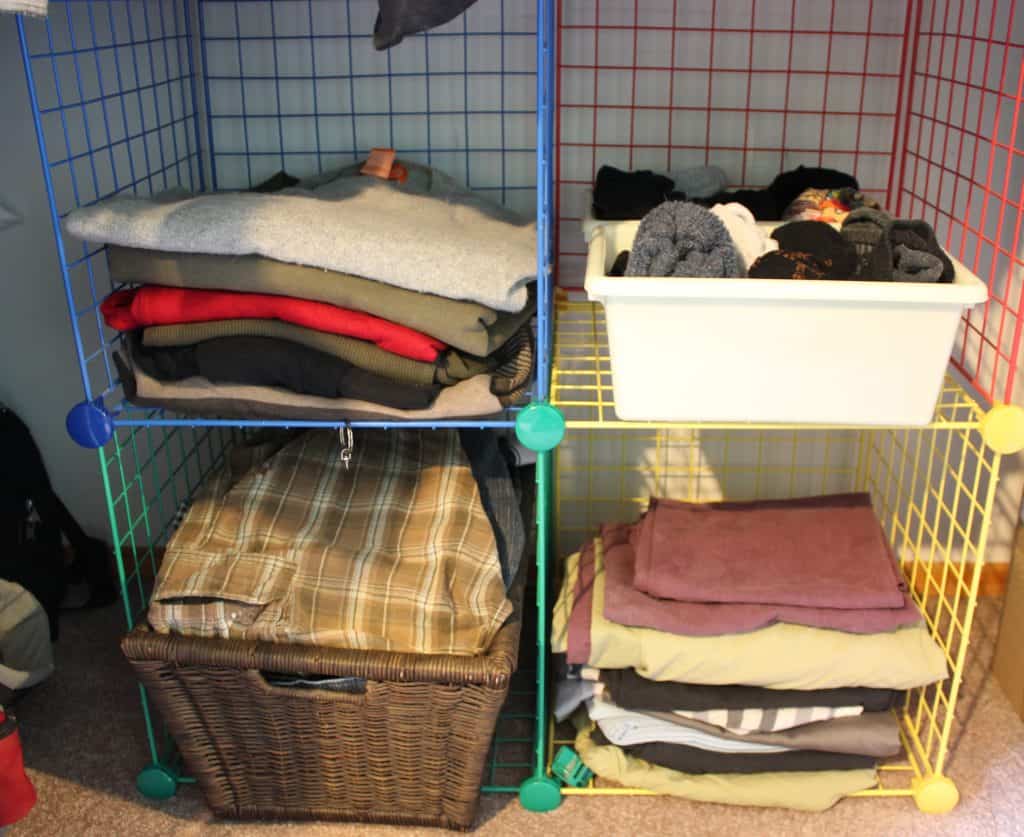 I like how you can make these cubes into a variety of structures: low and wide or tall and narrow.
Heck you could build a little tower of cubes right in your RV closet!
57. Plastic Bins for Socks, underwear, accessories, etc…
For most RV'ers it isn't about being fancy, it is about being functional.
And that is what small plastic storage bins like the ones above offer you: functionality.
Are you going to brag to your fellow campers about how awesome your plastic bin is? I doubt it. But who cares. It works.
For more ideas on how to use plastic bins for storage in your RV (a cheap RV storage solution) click here.

58. Closet Organizers
There are lots of closet organizers out there.
The ones that may be best suited to an RV'er are the ones where 'no tools' are required. So no drilling or screwing into your RV: just hang from your closet.
This can include space-saving clothes hangers, dedicated pant hangers, vertical hangers and more.
If you want to check out an entire article dedicated to Closet organizers click here.
59. Hanging Bedside Caddy for your RV bed
With a bedside organizer like this, all your books, glasses, etc… will be within easy reach. If you hear a sound in the night and you need to check it out, well you'll know where to immediately reach for your glasses.
Bedside caddies are one of the best camper organization ideas for your RV bedroom. This particular one by T-SIGN has multiple ways to attach it to your bed.
60. Hanging Wall Pockets Organizer
I first saw organizers like this in an RV Organization Facebook group I'm in. I thought it was as great idea and looked good too.
The one shown above (made by HomRing) is quite small (you can tell by how glasses hanging from the pocket), but it should hold some of your RV bedroom essentials for you.
If you don't want to screw into your walls you could use a command hook – and then just don't overload it.
61. Magnetic Strips or Velcro on Back of Remote Control
If you don't have a TV in your bedroom, don't worry you can use this tip in your RV's living room area.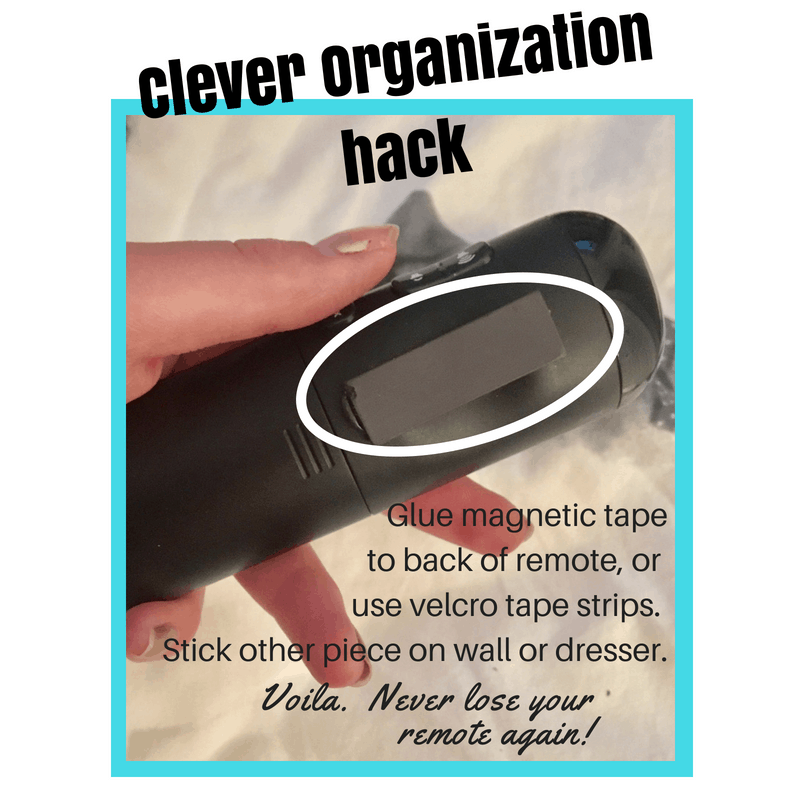 Frequently Asked Questions about RV Organization and RV Storage Ideas
How do I maximize my RV space?
Tips on how to maximize space in your RV include:
Think vertical – use wall space and stack items when appropriate
Declutter – get rid of unneeded items –> Pack what you need and need what you pack
Get items that have more than one use (think along the lines of a Swiss Army knife, multi-tool or even an Instant Pot)
Use "dead" space – like behind doors and inside cabinet doors
Use bins or baskets inside cabinets – easier to pull out one bin than trying to maneuver one medicine bottle from the back of the cabinet
Add sliding shelves under the table or under upper kitchen cabinets
Have a dedicated spot for everything – know where everything goes and PUT IT BACK
What is the best thing to keep items from moving in cupboards in my RV?
You can buy anti-slip shelf liners at the dollar store and line your RV cupboards. If you want to stop your RV dishes from breaking you could either buy some plastic dishes, metal camping dishes, or you can look at buying RV-specific dish storage devices like the Camco Stack-A-Plate.
For more ways on how to store dishes in your RV check out this article on RV Dish Storage ideas.
I hope you've enjoyed this list of 61 RV organization ideas and RV storage solutions.
It isn't always easy getting everything you need into an RV, but with some planning and buying the proper products you'll be well on your way to happy camping (well at least organized camping). 🙂
If you have other RV organization suggestions please comment below.
Thank you.
Up Next:
13 Ways to Store Clothes in an RV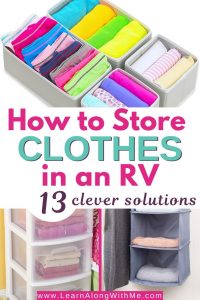 27 simple RV Bathroom Storage Ideas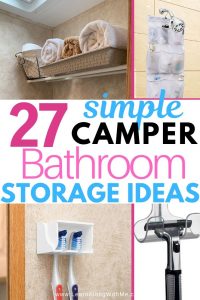 11 Ways to Stop RV Windows from Sweating (stop condensation in your RV)
Stop your RV from Rocking (10 RV stabilizers)
16 RV Security Tips and Safety Tips