Buying "green" gifts for newly weds or for house-warming parties can be tricky. You don't want to come off as preachy or presumptuous, but I've found that most people will be receptive to green gifts.
In fact, a lot of people don't know about the environmentally friendly kitchen products that are available.
I hope you enjoy this gift guide for zero waste kitchen ideas.


This article contains affiliate links. If you click a link and buy something I may receive a small commission at no extra cost to you. As an Amazon Associate I earn from qualifying purchases. For more information please see the Disclosure page.
1) Food Scrap Collection Compost Bin

 
These bins hold the kitchen food scraps in an odor-free canister so that you can take your waste to the garden compost once weekly instead of daily.
You don't do the composting directly in these bins…they are for storing the food scaps until you can take them outside.
They are a heck of lot better looking than yogurt containers or rubber pails.
I have a green plastic food collection bin that goes under my kitchen sink, and it definitely works for me, but it is pretty plain looking. I appreciate it for sure, but it wouldn't make the most eye-catching gift.
The stainless steel pail shown below on the other hand, is modern and fresh looking. The charcoal filters help reduce odors which can be a major reason why people don't compost.
Q: "But can I give this as a gift?"
A: To an environmentally conscious friend you definitely can!
Overcoming the smell of composting, and doing it in a fashionable way is how these food collection bins succeed. And it is small enough to fit on most counter tops.
Click here to see this food waste collection bin on Amazon.






2) Dish Rags, Dish Towels

(aka Unpaper Towel)
Many people are making the switch from disposable paper towel to reusable and washable dish clothes.
You can personally just use old towels cut into smaller rectangular strips for your kitchen, but I'm not sure how well those would go over as gifts. "Hey, didn't you used to sunbathe nude on this towel?"
A nice, clean white set like the ones above will be a great addition to your friend's kitchen and will look great hanging from their stove handle.
3) Mason Jar soap dispenser lid
Mason jars give a nice clean look to any counter-top. And with a soap dispenser lid it allows you to buy liquid soap in bulk and pour into a reusable mason jar thereby eliminating multiple plastic bottles.
I know the photo below shows the soap at use in a bathroom, but they are just as good next to your kitchen sink.
The black stainless steel version can give your kitchen a farmhouse charm, while the chrome look can give it a clean sophisticated look. Click here to see more details on Amazon.
If you are interested in other cool mason jar lids, check out my other post.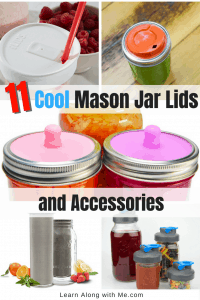 4) Glass food storage bowls
I have a set of glass food storage bowls made by Anchor. They come with plastic lids which can crack and break over time.
We put a little stick with the date written on it on the lids of the bowl. That way we know exactly when we made that dinner, and when we need to eat it by.
The plastic lids are downside to them, but with the next two items listed below they are still a great way to help reduce kitchen food waste.
5) Silicone Lids for Food Storage
To reduce our reliance on plastic cling wrap (like Saran Wrap) we purchased some of these silicone lids. They stretch over the top of bowls to help store food.
As shown in the picture below you can stack them on each other IF it stretches tightly over your bowl, and the items on top aren't too heavy.
Click here to see these silicone lids on Amazon.
These blue ones are the ones we have. (Here is my attempt a flat layout picture.) They have come in handy so far.
6) Beeswax Wrap for Food Storage
You can DIY some beeswax wraps (could make a fun weekend project) or you can purchase some from Amazon or a local retailer.
The idea is to reduce plastic waste by using beeswax wrap on food or food storage bowls instead of disposable plastic wrap.
Click here to see these beeswax wraps on Amazon.
I haven't used beeswax yet because I've been using my blue silicone lids, but my sister made some and she loves them.
7) Reusable, washable grocery bags
Many grocery stores are already charging a fee to buy plastic shopping bags, and to reduce plastic waste you can skip the plastic and use your own reusable grocery bags.
A set like the ones below (complete with reusable produce bags) could make a great gift for the eco-conscious person in your life.
See these reusable shopping bags on Amazon.
8) Metal Lunch Bento Boxes
Click here to see more information about this metal bento box on Amazon.
I wrote a whole post on reducing lunch box waste and these metal bento boxes got a lot of attention.  They are another great way to reduce plastic use.
I hope this list has helped you determine some green kitchen zero waste gift ideas for your friends or family.
Up Next:
If you are interested in environmental sustainability you may like the following posts:
10 Ways to Reduce your Carbon Footprint [starting Right Now]
15 Green Kitchen Swaps even you can do
11 cool Mason Jar Lids and Mason Jar Accessories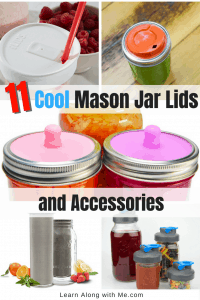 8 simple tips on How to Host a Zero Waste Birthday Party
9 ways to reduce Lunch Box Waste [for you and your kids]