Do you have to spend a lot of time in your car? Like, a lot of time? If so, you probably have to eat in your car too. You could just place a burger wrapper in your lap and hope you don't get filthy, or you could check out these 7 clever accessories for eating in the car.
(Obviously be careful, don't drive distracted and obey the traffic laws in your area.)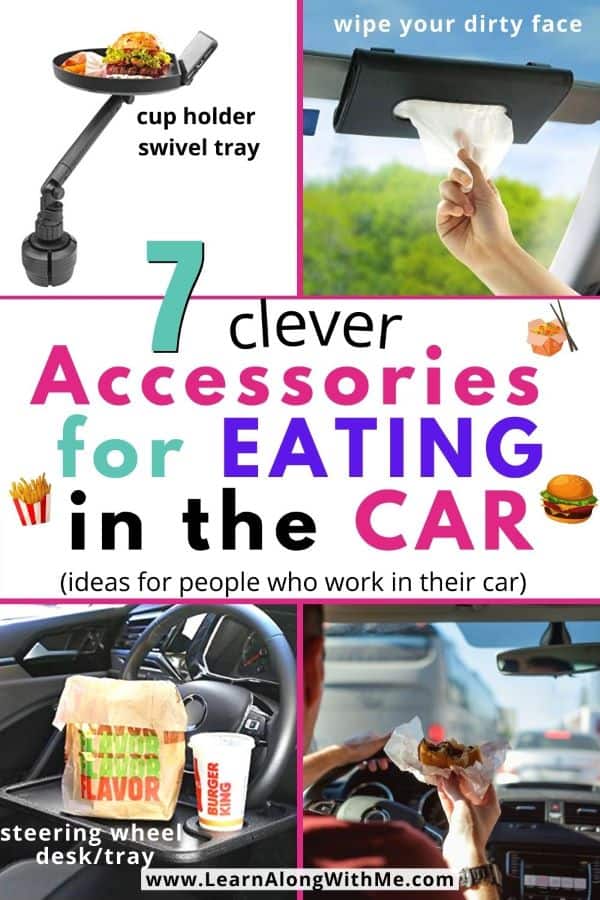 This article contains affiliate links. If you click a link and buy something I may receive a small commission at no extra cost to you. As an Amazon Associate I earn from qualifying purchases. For more information please see the Disclosure page.
7 Accessories for Eating in the Car that you've probably never heard of
Not all of these accessories for eating in the car will be right for you – or suit your vehicle – but hopefully at least one of them will help you when eating food in your vehicle.
Car Swivel Tray 
A car swivel tray like this sits in your cup holder and provides a movable tray to hold your lunch. It has a 9-inch tray to hold your lunch, and a base that fits into most vehicle cup holders.
The manufacturer claims it will fit into 3-inch to 4-inch cup holders.
Who is this a good option for?
burger and fries eaters (the 9-inch tray may not fit other takeout options very well)
people with cars (or trucks and vans where the cup holder is close to the driver)

CLICK HERE TO SEE MORE DETAILS on Amazon.
Car Cup Holder Expander and Tray
The first swiveling car tray was cool, but it uses your cup holder and doesn't give you a place to store you drink.
Well this product solves that because it is a cup holder expander (so it will hold wider diameter cups like most Yeti cups), AND it also has a swiveling tray to hold your food, phone or notebook.
This is a good option if you want a swiveling car tray, but still want a place to put your drink.

Steering Wheel Desk
This is obviously for when you're parked, but a tray like the one shown above will hook onto the bottom of your steering wheel and provide you a surface to hold your lunch, and it even has the little spot for your drink on the right side of the tray.
(These remind me of the fold-down tray tables on the back of airline seats.)
A car wheel table like this are also called steering wheel desks because they provide a surface for you to jot down notes if required for work. For example, you can keep track of comments from clients before you drive away and forget.
One side of the steering desk has a pen slot and is intended as a work surface, and the other side has the spot for your drink.
So eat on one side, then flip it over and do your work on the other clean side.
Just read the reviews to see if anyone mentions your car (it doesn't seem to fit on all steering wheels).

Hanging Steering Wheel Tray (or Backseat Tray)
This lunch tray can hang from the top of your steering wheel, or it can…
…hang off the back of a seat and provide a good eating surface for those in the back seat.
Will this work for you?
CLICK HERE to see more details on Amazon
Saucemoto dip holder for your Car
Do you ever see something, and you're like, "How in the heck did they think of that?" That's what I thought when I saw the SauceMoto. (A condiment holder for your car? Yup. It exists.)
It is a dip-holding tray that mounts to your vehicle's air vents.
Just like the other items on this list of accessories for eating your car, you should eat while parked, and as the SauceMoto product page says, "Don't dip and drive."

Car Tissue Holder
A tissue holder like this attaches to your sun visor and provides a convenient spot for you to grab a tissue when needed.
Now you'll have no excuse for showing up at the office with ketchup all over your face. 🤣
I know tissues aren't very thick, and they're not great for wiping up messes, but perhaps you could stick some paper towel squares in here?

Waterproof Garbage Can for your Car
You're not just going to throw the garbage on your car floor are you?
Here is a garbage can for your vehicle that also has 3 mesh side pockets.
SHOW ME MORE DETAILS of this popular garbage can on Amazon.
I hope you've found an accessory for eating in your car that will help you…and if not, I hope you shook your head at least once and said, "I didn't even know that existed!" (I know I said that several times during researching this article…yes I'm talking about you Saucemoto and steering wheel desks.)
7 proven Car Organization Accessories to get you Road Trip Ready!