Do you have an Adirondack chair and wish you had a little something extra for it? In this article we'll look at 7 Adirondack chair accessories to make your awesome chair even awesomer. (Not a real word but you know what I mean.) Which accessory will be right for you?
This article contains affiliate links. If you click a link and buy something I may receive a small commission at no extra cost to you. As an Amazon Associate I earn from qualifying purchases. For more information please see the Disclosure page.
7 awesome Adirondack Chair Accessories
Below is my Adirondack chair after I sanded it and stained it. This is the chair that got me thinking about Adirondack chair accessories. I haven't got all these accessories, but I hope my research has uncovered some accessories that you'll appreciate. Enjoy.
Let's start the list of Adirondack chair accessories.
1) Cushions for Adirondack Chairs
There are lots of outdoor cushions available, but these ones made by Plant Theatre are actually designed for Adirondack chairs.
And don't worry, if you don't like the headrest pillow, you can take it off.
The cushion covers are made from polyester
and can be removed to be washed.
If you want to see more details of these popular Adirondack chair cushions on Amazon, click here.
Adirondack Chair Cushions (at Walmart)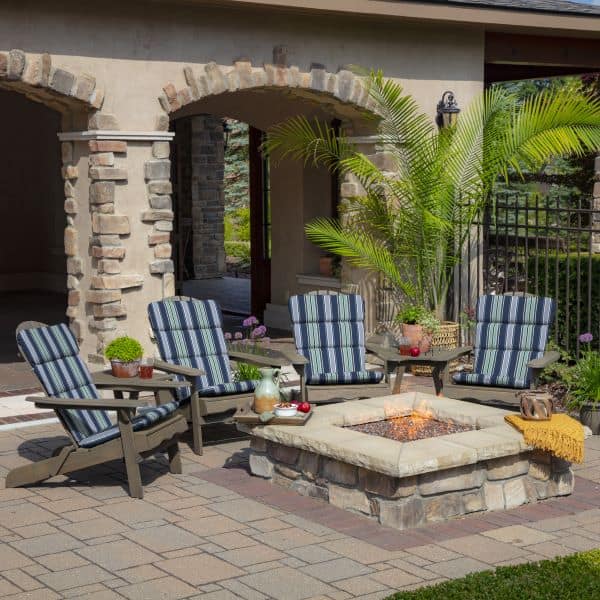 I thought I'd check out Walmart.com to see their selection of Adirondack chair cushions…and I was pleased with the variety.
This particular cushion is made by Arden Selections, and they measure 45.5″ long by 20″ wide. It is made of polyester that you can clean by wiping it down with soap and water and then allowing to dry in the sun.
Thought it is UV-resistant, they still recommend to bring it inside when it rains or for long periods of storage to extend the life of the cushions.
If you have a deck box or outdoor storage tote, you could put them in there.
Click here to see more details of these stylish Adirondack chair cushions on Walmart.com
2) Outdoor Covers for Adirondack Chairs
If you're wondering if there are covers for Adirondack chairs, you're darn right there are.
A quality Adirondack chair isn't cheap so you'll want to protect your investment from bad weather and winter conditions.
This cover shown above is made by AmazonBasics and is quite popular. It has click together straps to keep the cover fastened to your chair during windy conditions.
You don't have to wait until winter to use it though…you can put it over your chair when not in use to protect it from dirt and bird droppings.
Click here if you want to see more details on Amazon.
Do you have more than one chair? If so, check out this 2-pack
If you have more than one Adirondack chair you can buy a 2-pack of covers made by the Vailge. They are a popular choice on Amazon to help protect the chairs from sun, rain and snow.
Adirondack Chair Covers at Walmart.com (inexpensive option)

If you want a budget-friendly Adirondack chair cover, I found this one listed on Walmart.com
They are made by the Mainstays brand, and made to not crack in freezing temperatures.
Right now (May 2021), this product is available for the "Free Delivery on Orders over $35".
Click here to see PRICE and more details on Walmart.com
Whichever cover you choose just make sure to measure your chairs before ordering.
3) Clamp-on Umbrella attachment for Adirondack chairs
If your Adirondack chair didn't come with an umbrella, you could look into getting a clamp-on umbrella.
I know the picture above shows this cool umbrella attached to beach chairs with a tubular frame, but it will also clamp to square surfaces up to 1.5″ thick. (As shown below.)
So if your Adirondack chair is made of wood less than 1.5″ thick, this umbrella should be able to clamp on to it and provide you some sun protection.
Curious if this will work for you?
Click here for more details on Amazon.
4) Sunshade Canopy Attachment (the Shadesy)
To be honest, I'm not sure how well this would work on an Adirondack chair. But the manufacturer does state it can attach to any high-backed chair – which an Adirondack chair is.
It attaches via an elastic strap that circles around the back of the chair.
This isn't big enough to shade your entire body, but if you want some shade for your face and eyes, you can have a closer look at the Shadesy. (You can see more details on Amazon by clicking here.)
5) Adirondack chair Cup Holder
Let me guess…when you picture yourself lounging in an Adirondack chair you'll probably have a cold drink in your hand right?
Well with a clamp cup holder like this you don't have to hold the drink in your hand the whole time. You can clamp this to the armrest of your chair and you won't heat up your drink with your hot little hands.
Click here if you want to see more details on these clever Adirondack chair cup holders. (You could also clamp them to other stuff too…like maybe a deck railing?)
6) Adirondack chair Footstool (aka Adirondack chair ottoman)
Lay back, relax and put your feet up. Well, with this footstool you can do just that.
It looks like wood, but it is actually plastic so it won't require sanding or repainting. The Highwood company that makes it says they use recycled plastic, but on their Amazon product page it doesn't specify what percentage of the plastic is recycled.
And this footstool folds flat for easier storage.

7) Table to go with your Adirondack Chairs (Walmart.com)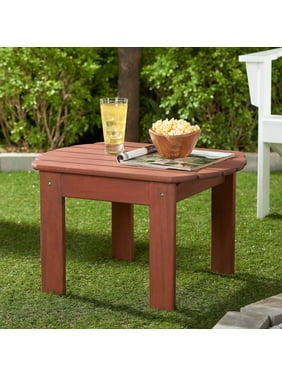 Do you want a little side table to have beside your Adirondack chairs?
This cute wood table is available on Walmart.com where you can get it in several different colors.
You could put your snacks, sunscreen, drinks, novel, etc… on here while enjoying the day in your backyard while lounging on your Adirondack chairs.
Will this work for you?

So, will any of these Adirondack chairs accessories work for you?
I like the idea of the clamp on cupholder, but if I'm just in my backyard, I think a side table would suit my needs better. But how about you?



I hope you get a chance to get outside and enjoy some relaxing times on your deck, patio, dock or anywhere you can.
Up Next:
Does your backyard feel like a fishbowl?
Check out these 19 spectacular Privacy Fence Ideas
17 Expandable Faux Privacy Fence Ideas [can be a good temporary privacy fence]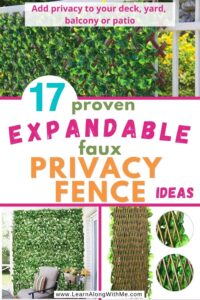 Plus, check out:
15 cozy Patio Furniture and Patio Accessories Ideas
7 inspiring DIY Patio Table Ideas