In this article we look at 17 apartment balcony privacy ideas to give you more privacy from the street, and from your neighbors. Not all of these balcony privacy ideas will work for you, or suit your tastes, but hopefully at least one of these ideas will be perfect for you.
We'll look at:
balcony privacy screens
balcony curtains
balcony blinds/shades
balcony dividers
and more balcony privacy ideas…
This article contains affiliate links. If you click a link and buy something I may receive a small commission at no extra cost to you. As an Amazon Associate I earn from qualifying purchases. For more information please see the Disclosure page.
List of 17 Apartment Balcony Privacy Ideas
I hope you enjoy this list of balcony privacy ideas.
(Just make sure to check with your apartment building manager or strata to see what rules govern your building. )
1) Balcony Privacy Screen – attach to railing with zip ties
One of the easiest balcony privacy ideas is to attach one of these privacy screens to your existing balcony railing using zip ties.
Yes, you can install these without tools. And it's easy to bring with you if you move.
Just put a zip tie through the metal grommets of this privacy screen and wrap it around your railing. Super easy.
This particular balcony privacy screen measures 3-feet by 10-feet. It is only 3-feet tall, so it won't provide great privacy if you're standing on your deck and have neighbors directly across from you…but if you're sitting down or lounging on your balcony, it will provide you some privacy.
And you can get it in a lot of different styles and colors. Check it out to see if there is a style for you.
2) Artificial Privacy Hedge Roll for your Balcony
Another way to get more privacy for your apartment balcony is to attach rolls of artificial hedges to your balcony railing.
They are easy to install: you can use zip ties, or even tape.
This particular balcony privacy screen shown above is a roll of fake ivy leaves.
They are made of plastic and are fade-resistant.
And what's cool, is that if a single layer of this privacy screen doesn't provide quite enough privacy for you, you can put another layer in front of it. The staggered layers will provide more privacy and give it a deeper, fuller look.
3) Artificial Hedge Panels
These artificial hedge panels are a similar idea to the rolls of fake hedges except, well, they're square panels not rolls.
They tend to be thicker and provide more privacy compared to a single layer of a privacy hedge roll.
You could attach them to your balcony railing, or build a frame and make your own hedge wall. A fake hedge wall could also act as a balcony divider. But you'll want to either put it down or move it out of the wind when you're not on your balcony.
These particular fake Boxwood hedge panels are sold on Amazon, but you may be able to find similar options at your local hardware store.
4) Reed Grass Balcony Privacy Screen
This is similar to the other balcony privacy screens mentioned earlier, but this one is made from natural reed grasses. The grasses are tied together using cotton string to provide a privacy screen that could give your balcony a touch of solitude you crave. It attaches to your balcony railing using zip ties.
This particular roll is just shy of 4-feet tall so it'll provide a little extra height compared to the 3-foot tall balcony privacy screens shown earlier.
And you can cut the grass shorter if you prefer that aesthetic.
5) Expandable Artificial Hedge Panels
These expandable privacy screens have artificial Ivy leaves over top of an accordion-like wood structure. You can see the back of the panel in the picture below.
You stretch out the panel to fit your railing and then attach the panel to your railing with zip ties or rope.
The more you stretch the panel though, the less privacy it offers…so keep this in mind.
Check out our article on Expandable Faux Privacy Fence Ideas for more inspiration.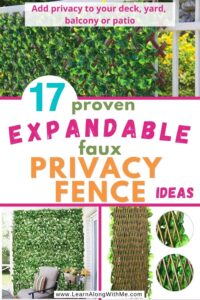 6) Cover your Apartment Balcony with Bamboo Fencing
Using a roll of bamboo fencing to cover your apartment balcony can give you privacy and a calming look.
You can probably find bamboo rolls at your local hardware store, and if not, here is a link to this product on Amazon.
7) Balcony Roller Shade (for privacy and shade)
Do you have a ceiling or overhang above your balcony?
If so, perhaps a crank-down roller shade like this one from Coolaroo will be what you need to provide both privacy and shade for your balcony.
The balcony privacy screens and artificial hedges that I mentioned above do not give much privacy if you're standing up.
But this crank-down roller shade will give you privacy if you're standing.
So if you're having friends over on your apartment balcony, and want to stand while having some drinks, this privacy shade will block your neighbor's view.
8) Natural Roll-up Reed Grass for Privacy or use as a Balcony Divider
We saw earlier how a roll of reed grass can be used as a balcony privacy screen when attached to your railing. In this example we have reed grass designed as a roll-up shade. The cord-free reed shade is mounted up high, then pulled down to provide privacy and shade.
Many people use these as simple balcony dividers too – to separate your balcony from your adjacent neighbor's balcony.
If it gets windy or stormy, take the shade down. This is easy to do because it mounts with two hooks at the top. Nice and easy.
9) Solid Balcony Curtains for Privacy
The product photo for this popular and well-rated set of balcony curtains looks Photoshopped…but at least it gives you the idea.
In order to put up balcony curtains you'll need a curtain rod – which means you'll need a tall vertical surface to mount the curtain rod to. If you have a ceiling or roof above your balcony then curtains like this can provide privacy and shade.
And because of their height, you'll have privacy when you're standing, sitting or lounging.
The polyester curtains have large metal grommets that you slip the curtain rod through. The curtain rod can be up to 1 & 5/8 inches thick.
You get 2 panels in a pack.
They are available in several different lengths. I suggest you that you get a length that doesn't pool on the floor and collect water. This should help minimize the risk of mildew forming.
10) Natural Plants in Deck Railing Planter Boxes as a Balcony Privacy Screen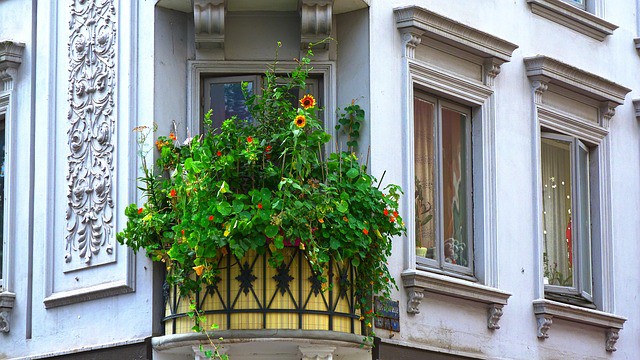 Natural plants can work well as a balcony privacy screen during the growing season. (Or all year long if you live in a temperate region.)
The balcony in the picture above actually uses two ideas to achieve privacy: they have the plants up top in deck railing planters, and use what looks like reed grass to give privacy down lower.
On Amazon you can find the above deck railing planters. I suggest you turn them around though so the boxes are facing your balcony. That way if something broke or slipped, your planter boxes won't plummet to the street below: they'll just land on your balcony. And you can still train the flowers to grow over the outside of your balcony.
These metal planter boxes have adjustable attachments to they can fit railings that are 2.4-inches wide up to 6-inches wide.
You can plant trailing flowers in the planters so the beautiful flowers and foliage will cascade down over your balcony railing. This will provide natural beauty, but also privacy on your balcony.
11) Potted Plants as a Balcony Privacy Screen
Tall potted plants can make a nice natural balcony privacy screen. But you'll want to select plants with bountiful foliage, or have several different styles of plants next to each other to create a privacy screen.
Be careful though because if your balcony gets windy or stormy it may blow your plants over. And you may have a mess to clean up.
If you rent your apartment and may move one day, then you can look into getting fiberglass planters. They are usually lighter than terra cotta planters and less likely to break if they're blown over.
Make sure you get plants suited to your climate and level of sun on your balcony. And get a plant with water requirements equal to what you're able to give it.
I.e. Don't get a water-loving plant if you can't water it regularly.
12) Grow an Edible Privacy Screen – a Balcony Vegetable Garden
Imagine being able to walk onto your balcony to pick fresh tomatoes, peas or beans right from your own balcony garden.
Some vegetables can successfully be grown in deep containers on a balcony. And some veggies with plentiful foliage can work as balcony privacy screens during the growing season too. And since it is during the warm months when you're out on the balcony this works well for most people.
What you'll be able to grow on your balcony depends on lots of factors such as:
what growing zone you live in
how much sun your balcony gets
and whether you'll take the time and effort to look after the plants.
But if you want privacy, and access to your own freshly grown vegetables, you'll want to look into this delicious option.
Check out my article on Vegetables that Grow Above Ground for inspiration.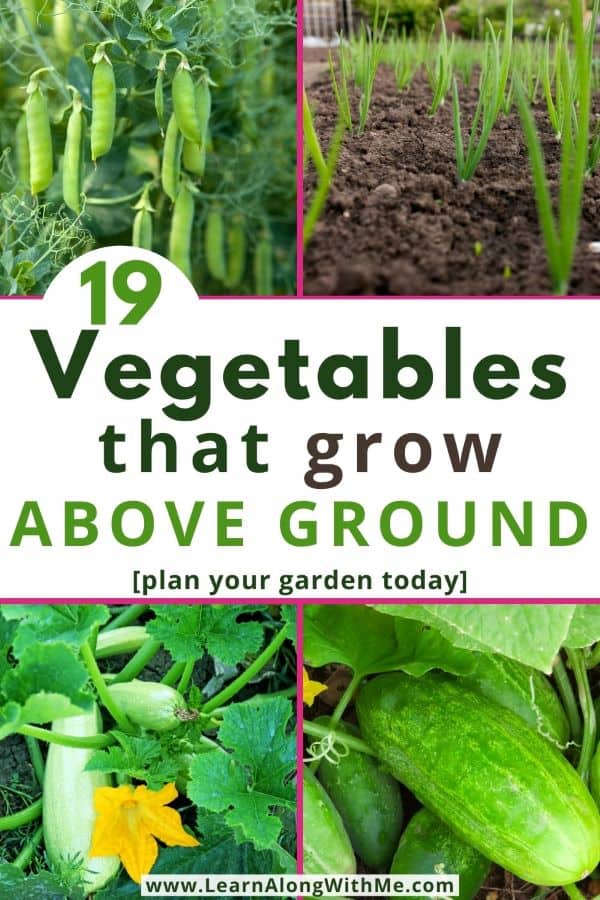 And you're sure to find some great options for Outdoor Shelves in this article:
13) Climbing Plants as Balcony Privacy Screens
This won't work for all styles of balconies, but if you have wire or horizonal railings on your balcony, you could use these to support climbing plants. You could even grow vines like ivy or grapes.
As they grow and wrap around your railing, the leaves will help provide privacy.
Most balconies don't have horizontal bars because of the risk of kids climbing over, but if you have this style of railing it is something to consider: just check first to see if your building has rules against it…removing perennial climbing plants can be tricky.
Another option that is more feasible for most balconies, is to get a planter box with a built-in trellis like the one below.
You could grow climbing plants up the trellis or simply hang hanging baskets from the trellis.
These can work well as balcony dividers too. Place it on the side of your balcony and let the plants provide a screen between your balcony and the neighbor's balcony.
14) Plant a Variety of Plants to Act as a Balcony Privacy Screen
Planting a variety of plants on your balcony using floor-standing pots and deck railing planters will give your balcony a lively, eclectic look.
The different shapes of leaves, variety of heights and colors will help provide privacy and bring nature right onto your balcony. Depending on what you plant, the plants may attract birds, butterflies and bees right to your apartment.
It kind of looks like an informal English garden right on your patio.
15) Combining Plants with Other Balcony Privacy Ideas
This looks lovely.
The natural look of the flowers helps offset the artificial look of the plastic privacy screen.
They have used a roll of privacy screen to attach to their balcony railing, and then planted flowers and trailing plants in deck railing boxes.
It makes this balcony look appealing and inviting.
16) Put Frosted Window Film over Glass Paneled Railings
If you have a glass-paneled railing on your balcony – like the one below – perhaps a frosted window film will help.
You can buy rolls of frosted window film to put over clear glass to provide more privacy.
The thing is, most of the window film I was able to find on Amazon was intended for indoor applications. I did find one brand, Coavas, that said it will likely work but they don't know how long it'll hold up to the elements. Their product doesn't actually adhere to the glass – it uses static cling to stick. So it may become "unstuck" in the weather.
[If you find a product that works really well for this application, let me know.]
17) Metal Upright Balcony Dividers / Privacy Screens
A metal privacy screen like this one can work well as a balcony divider between your balcony and your neighbor's.
It stands 76-inches tall (so 6-foot, 4-inches tall).
There are holes in the metal feet so you can screw it into your balcony and minimize the risk of it toppling over in the wind.
Plus, you can put several of them some side-by-side as shown below.
Thanks for checking out this list of 17 apartment balcony privacy ideas.
Choosing the right privacy option for you will depend on several factors such as whether you want privacy when you're standing (balcony curtains and balcony shades are good options for this), or whether you just want privacy around your balcony railing.
There are a lot of balcony privacy screens on the market so you're sure to find a color and style that appeals to you.
Good luck creating a nice private retreat on your balcony!
You May Also Like:
17 great Outdoor Shelves ideas (hold your plants and other "stuff" on your balcony)
If you live in an apartment, space can be at a premium…
Check out our article on lovely Queen Daybed options (great daybed option for adults!)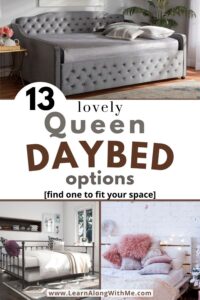 Over the Bed Storage Shelf Ideas and more over bed storage…