Some baby strollers come equipped with cup holders, covers, bags, etc… But if you have a bare-bones baby stroller – don't worry. There are lots of great baby stroller accessories!
This article highlights some baby stroller attachments and accessories to make your baby walks as pleasant as can be.
We look at some:
stroller cup holders
stroller organizers
stroller umbrella attachments
and more…
This article contains affiliate links. If you click a link and buy something I may receive a small commission at no extra cost to you. As an Amazon Associate I earn from qualifying purchases. For more information please see the Disclosure page.






15 excellent Baby Stroller Accessories
You can loosely categorize these stroller accessories into convenience items (like stroller cup holders and organizer bags), and climate shields (like rain covers, umbrellas, and UV covers).
This article previously had only 7 stroller accessories, but I've updated it to 15 to reflect some new products out there.
1) Stroller Hooks (aka Mommy Hooks)
Mommy Hooks sounds like a either a villain's name or a confession.
But in this case, we're talking about large carabiner hooks that you clip onto the stroller and then you can hang various items from it.
Below is our stroller with a mommy hook made by Eddie Bauer. You can use it to hang bags of groceries, toys or even a small bike. (Just make sure that you don't tip the stroller backward with excess weight.)
I don't think they sell these exact hooks on Amazon, but here is a link to a very similar product.
Mommy hooks like this are really handy stroller attachments. If you don't already have some, you should give them a try.
2) Baby Stroller Cup Holders
If you just want a basic stroller cup holder attachment, you have lots of options.
Below is a popular cup holder on Amazon that clamps onto the metal frame of your stroller.
What's cool about this stroller cup holder is that it can be placed in a variety of spots on your stroller. It swivels so you can mount it on the side bars, or along the horizontal push bar.
This handy stroller cup holder is made by Accmor.








3) Stroller Cup Holder with Phone Slot
The company Accmor also makes this cool product…it is a clamping cup holder that also has a slot for your phone. This is a good option for a jogging stroller or anytime you have just a few basics with you.
Have you created a Baby Registry on Amazon?
It's easy to do…click here to learn more. (Opens in a separate browser window.)
4) Universal Baby Stroller Rain Covers
A soggy baby is not a happy baby.
We have a rain cover that is specially made for our Mountain Buggy Urban stroller, but there are universal rain covers you can buy top slip over your stroller.
Above is a picture of a popular baby stroller rain cover on Amazon. It is by a company called bemece.
It features ventilation holes on the side and is made from see-through plastic so you can keep an eye on your little one.
5) Baby Stroller Sun Covers
You can purchase UV covers to slip over your stroller. I can't remember what brand ours is (in picture below). I usually use it for our morning walks, but it isn't super hot at that time of day.
Some folks worry about it trapping heat and making your child extra hot. Ours doesn't seem to have that issue, but be aware of this. Keep checking on your child to make sure the temperature isn't increasing. (See further below for stroller fans.)
6) Bunting Bag for Stroller – keep your baby warm in the winter
You can get a Bunting bag like this "Flex CozyMuff" by liuliuby to help keep your little one warm during walks in the stroller.
We didn't use one of these with our daughter, but it would have come in handy during chilly morning walks.
If you live in an area that has chilly winters, check this out. It may be easier than tucking blankets around them.
7) Clip On Umbrella for Strollers (not umbrella stroller)
I know you're going to look at this picture and say, "What the heck? I need an umbrella attachment for a stroller, not a beach chair."
But what's super cool about this umbrella is that it can be attached to almost anything with a tubular or square steel frame: so think baby stroller, camping chair, beach chair, wheelchair, walkers, golf carts, etc… So cool.
(I wish I would have invented this.) And it is available in different colors and patterns.
8) Umbrella Attachment for Stroller
Do you already have an umbrella that you really like?
If you do, you can still attach your umbrella to your stroller by using a clamping device like the one shown above.
For more information on this umbrella stroller holder, click here.
9) Ethan & Emma brand Baby Stroller Organizer
The organizer bag shown above is really popular on Amazon. People seem to like this one.
It is universal so it should fit a variety of strollers. But of course individual models of strollers will have different dimensions. Make sure it'll fit your stroller before you buy one.
If you're wondering whether it will fit your stroller, you can try searching the multitude of questions on the "Customer questions & answers" section near the bottom of the product's Amazon listing page.
10) Portable Stroller Organizer / Diaper Bag
Above is another baby stroller organizer option, and this one is cool because it is portable.
The bag attaches to the stroller with large pieces of Velcro, so you can detach it, and use the included strap to toss over your shoulder and use as a purse or diaper bag.
Plus, it has a smaller zip-off detachable bag you can use as a phone holder or clutch.
11) Stroll Air Basic Stroller Organizer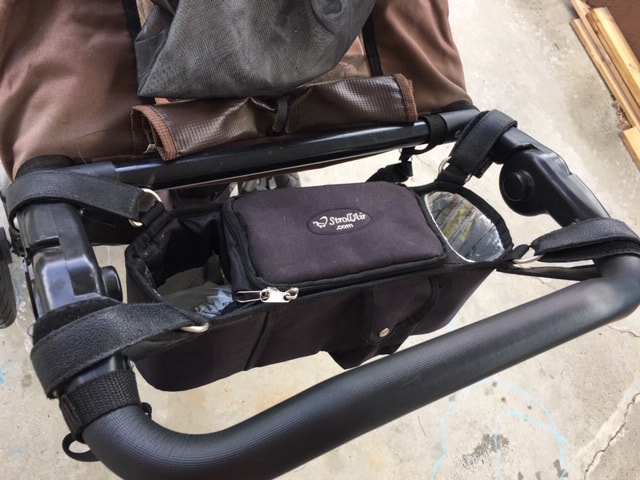 Above is a picture of our stroller organizer.
It is made by StrollAir. I like it because it has two cup holders and a zipper pouch in the middle. I usually keep my daughter's sunglasses and a small book in there.
And though I rarely have two drinks with me, I use the other cup holder slot to hold items like a soother, blankie, or dog waste bags (clean of course!).
Yes it is pretty basic compared to the other organizers out there, but it does the trick for us. (Our diaper bag attaches to the stroller so I don't need a complex organizer.)
12) Skip Hop brand Diaper Bag attaches to Stroller
We have a Skip Hop brand of Messenger diaper bag and we really love it. It is called the Duo Signature.
It attaches to our Mountain Buggy Urban stroller with clips near the handle. We have the same diaper bag as shown above, but ours is gray.
(I will say they aren't cheap.)
Walmart carries the gray version of the Duo Signature.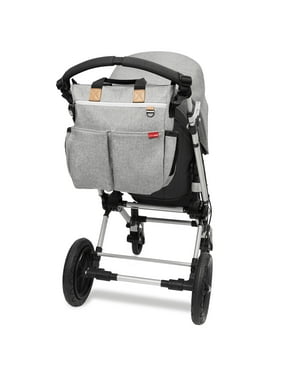 13) Baby Stroller Fans – Battery Operated
If you want to help cool down your baby on hot days, they now make baby stroller fans. I didn't know these existed. Upon first seeing them I immediately thought "what if they sick their fingers in the blade?"
But they claim they designed the fan cover with babies in mind.
(I wonder if you could pair this with a UV cover to ensure UV protection while they still stay cool? )
The three flexible, tripod legs can be wrapped around the stroller frame. And it features a rechargeable battery.
14) Baby Stroller Toy Attachments
Below is a "toy arch" that extends over the stroller to give your baby something to look at, and your toddler something to play with. It is popular on Amazon with more pictures on there.
Having a stroller toy attachment like this will give your little one something to look at and eventually interact with.








15) Stroller Travel Bag – Airline Gate Check Bag
This large gate check bag will hold most foldable standard strollers, and even some double strollers.
It has backpack-type straps so you can put the stroller on your back, and not carry it like a briefcase (unless you want to).
We haven't flown with our daughter yet, but I imagine being able to tuck the stroller away into an easy to carry bag would really help.
Conclusion
In this article we've gone over different types of stroller accessories to make it more comfortable for you and your baby, plus ways to protect your baby from the elements.
Did I miss your favorite stroller accessory? If so, please let us know in the comments below.
Thank you ! 🙂
Do you have a winter baby? If so, check out these…
15 memorable Winter Birthday Party Ideas for Kids
Woodland Nursery Decor Ideas (some of them are so cute)
11 highly-rated Baby Girl Nursery Storage Ideas
Wooden Snowman Crafts for kids [fun holiday activity]
Here is a previous Pinterest pin for this page…I've since updated the number of stroller accessories.