Some baby strollers come equipped with cup holders, covers, bags, etc… But if you have a bare bones baby stroller – don't worry. There are lots of stroller accessories!
This article highlights some stroller accessories to make your baby walks as pleasant as can be.
You can loosely categorize the accessories into convenience items (like stroller cup holders and organizer bags), and climate shields (like rain covers, umbrellas, and UV covers).
This post contains come affiliate links. If you click a link and buy a product I receive a small commission at no extra cost to you. For more information please see my Disclosure page.

Stroller Hooks (aka Mommy Hooks)
Mommy Hooks sounds like a either a villain's name or a confession. But in this case, we're talking about large carabiner hooks that you clip onto the stroller and then you can dangle various items from it.
Below is our stroller with a mommy hook made by Eddie Bauer. You can use it to hang bags of groceries, toys or even a small bike. (Just make sure that you don't tip the stroller backward with excess weight.)
I don't think they sell these exact hooks on Amazon, but here is a link to a very similar product.
Stroller Cup Holders
If you just want a basic cup holder attachment for your stroller, you have lots of options.
Below is one from Amazon that clamps onto the metal frame of your stroller.
Here is another picture of it showing the cup holder in a variety of positions. It swivels so you can mount it on the side bars, or along the horizontal push bar.
Stroller Rain Covers
A soggy baby is not a happy baby. We have a rain cover that is specially made for our Mountain Buggy Urban stroller, but there are universal rain covers you can buy.
If you want to see Amazon's list of best-sellers for the baby stroller weather shields category you can click here.
Obviously these lists change, but below is a picture of the current #1 Best-seller on Amazon in this category. It is by a company called Alphabetz.
Stroller Sun Covers & Shade
You can purchase UV covers to slip over your stroller. I can't remember what brand ours is (in picture below). I usually use it for our morning walks, but it isn't super hot at that time of day.
Some folks worry about it trapping heat and making your child extra hot. Ours doesn't seem to have that issue, but be aware of this. Keep checking on your child to make sure the temperature isn't increasing. (See further below for stroller fans.)
Stroller Umbrella (not umbrella stroller)
I know you're going to look at this next picture and say, "What the heck? Why are you showing a golfer!!" Well, the answer is because I just came across this product and I'm honestly a little mad at myself for not inventing it! Plus, the product description on Amazon didn't show it being attached to stroller. They showed it can be attached to almost anything with a tubular or square steel frame: so think stroller, camping chair, wheelchair, walkers, etc… So cool.
Stroller Bags / Stroller Organizers
Ethan & Emma brand Baby Stroller Organizer
The organizer bag shown below is currently the best-selling baby stroller organizer on Amazon. It currently has 4.5 stars with over 2,900 reviews. (That is a lot of reviews!)
In the product description they say it is universal and that it'll fit a variety of strollers including Britax, BOB and Thule. But of course individual models of strollers will have different dimensions.
There are a lot of reviews on Amazon, and many parents will state their make and model of stroller and tell you how well it fits.
Plus, as one reviewer on Amazon pointed out – read the manual.
Below is another stroller organizer option. Usually I only include items that have greater than 100 reviews (this one currently has only 36 reviews) but it has a very strong rating of 4.8 stars out of 5. The real reason I included it though is because it is portable.
The bag attached to the stroller with large pieces of Velcro, so you can detach it, and use the included strap to toss over your shoulder and use as a purse or diaper bag.
Stroll Air Basic Stroller Organizer
The stroller organizer we have is below. It is made by StrollAir. I like it because it has two cup holders and a zipper pouch in the middle. I usually keep my daughter's sunglasses and a small book in there.
And though I rarely have two drink with me, I use the other cup holder slot to hold items like a soother, blankie, or dog waste bags (clean of course!).
Yes it is pretty basic compared to the other organizers out there, but it does the trick for us. (Our diaper bag attaches to the stroller so I don't need a complex organizer.)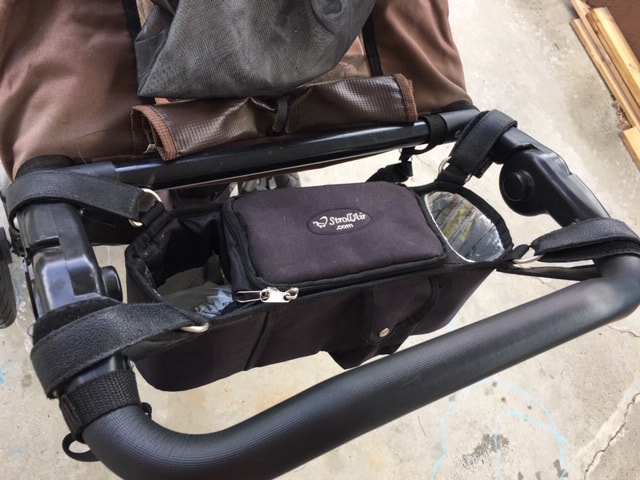 Skip Hop brand Basic Stroller Organizer
They don't list it as "basic", that's my opinion. But I don't think that basic is bad. This open-topped organizer allows you to just drop your items into the pouch, and it has that awesome zip-off, detachable wallet and phone pocket.
We have a Skip Hop brand of Messenger diaper bag and we really love it. It attaches to our Mountain Buggy Urban stroller with clips near the handle. We have the same diaper bag as shown below, but ours is gray.
Stroller Fans
If you want to help cool down your baby on hot days, they now make baby stroller fans. I didn't know these existed. Upon first seeing them I immediately thought "what if they stick their fingers in the blade?"
But then I found this fan which has the bendable neck so you could position it out of baby's reach.
I wonder if you could pair this with a UV cover to ensure UV protection while they still stay cool?
Stroller Toy Attachments
Below is a "toy arch" that extends over the stroller to give your baby something to look at, and your toddler something to play with. It currently has a very good rating of 4.7 stars out of 5 on Amazon with over 2800 reviews!
Conclusion
In this article we've gone over different types of stroller accessories to make it more comfortable for you and your baby, plus ways to protect your baby from the elements.
Did I miss your favorite stroller accessory? If so, please let us know in the comments below.
Thank you ! 🙂