Are you organizing a backyard party and wondering what kind of things you may want to have for your party? In this article, we've compiled a list of 15 great backyard party accessories that will make your next gathering a hit.
This is an article in our series about backyard organization ideas. Other articles you may like are Patio Furniture ideas and privacy fence ideas (to help define your space).
This article contains affiliate links. If you click a link and buy something I may receive a small commission at no extra cost to you. As an Amazon Associate I earn from qualifying purchases. For more information please see the Disclosure page.
Backyard Party Accessories
Below are some items that will help make your backyard party memorable and enjoyable.
And note, I don't say backyard party essentials because everyone has different needs depending on where they live and what type of gathering they're having. These are just accessories.
So you may not need (nor like) all of these accessories, but check them out to see what works for you.
Lawn Drink Stakes
Have you seen these before? They provide a spot to hold your drink anywhere in your yard.
You just plunge the spiked end into the turf and place your drink into the ringed-drink holder at the top.
Very cool. This particular set is made by Decko, and has really high rating.
Click here to see details on these lawn drink holders.
Outdoor string lights or lanterns
Outdoor string lights like these waterproof, LED lights from Lakumu are a great way to add ambiance and lighting after dark.
These particular lights plug into an outdoor electrical socket, but there are a lot of different solar lighting options now too.
If you want to see some solar lighting options, check out our article on solar fence lighting.
Beverage Tub (Ice Bucket)
On a super-hot day you'll probably want to leave the drinks inside the house in a fridge or outside in a well-insulated cooler, but if you want to win some style points for looks, a galvanized ice bucket looks super "cool".
Plan ahead, buy some bags of cubed ice and keep them in your deep freezer until you're ready to use them in the beverage tub.
Outdoor Beverage Dispenser
Glass beverage dispensers like this immediately make the drinks (even water) look way more appealing!
This set comes with 2 of the one gallon glass dispenser jars, the metal stand and the two little chalkboards to write what's in the jars.
Do you want your party guests to stay hydrated and drink more water? If so, this attractive dispenser set should help.
Outdoor Rugs or Patio Mats
Adding an outdoor rug to your backyard party setup can help define the seating area and create a cozy atmosphere. Plus, it adds some color and style to your outdoor decor.
Outdoor patio mats are designed to withstand the elements and are available in a variety of styles, colors, and sizes to suit any taste or budget.
Umbrellas, Canopies or Shade Sails (do you have enough shade?)
Whether you're hosting a backyard BBQ or an afternoon tea party, having a place to escape from the sun or rain is a must.
Umbrellas or canopies provide shade and protection from the elements, making your outdoor space more comfortable for you and your guests.
Above is a popular cantilevered umbrella from Purple Leaf that allows you to tilt the angle of the umbrella so you can block the sun from different angles throughout the day.
Do you have enough shade in your backyard? If not, check out our article dedicated to Backyard Shade Ideas.
Chairs for Party Guests
Unless all the guests are kids under 12, you'll want seats for everyone to sit down.
A lot of people like Adirondack chairs like the ones shown above, but they aren't the greatest for people that have mobility issues or trouble getting up from a low chair.
Lawn chairs with taller seats or director's chairs with strong armrests may be a better option for guests like this.
Are you reading from Canada?
Last year we bought a couple of these plastic Adirondack-style chairs shown below from Canadian Tire.
They are really comfortable because they have some lumbar support and have a fairly tall seat. Plus, there is a swing-out cup holder for convenience. So far they're been really great outdoor chairs.
Outdoor Patio Table (to serve food and set drinks)
If you're serving food or a variety of drinks at your backyard party it is handy to have an outdoor table to set everything on.
Your local hardware likely has outdoor tables to choose from or you can check out this popular outdoor table from Sophia & William.
We have a folding table by the company Lifetime that is super useful. It is good for camping, setting up outside for outdoor dinners, yard sales, lemonade stands, and for having in the house as a craft table.
Immediately below is product photo showing it set up (the height is adjustable too), and below that is a photo of me holding our Lifetime table all folded up.
We use the table outside, but we always fold it up and bring it back inside once we're done with it.
Click here for more details on this popular folding table.
Outdoor Table Cloth (to put on the table)
Adding a tablecloth or table runner to your outdoor tables not only adds a decorative touch, but it also helps protect the tables from spills and stains. It'll make your backyard party look more put-together.
Outdoor tablecloths come in a range of colors and patterns, so you can choose one that complements your backyard decor. A checkered tablecloth like this one gives a more laid-back and informal vibe, whereas a crisp, white fabric tablecloth can make it look more formal.
This particular table cloth from Coghlan's is vinyl, so it'll wipe down easily. And it comes with 6 tablecloth clamps to secure the tablecloth to your table.
To help keep the vinyl tablecloth in good shape, I suggest to clean it, let it dry, fold it up and store it inside once your party is over.
Outdoor Dinnerware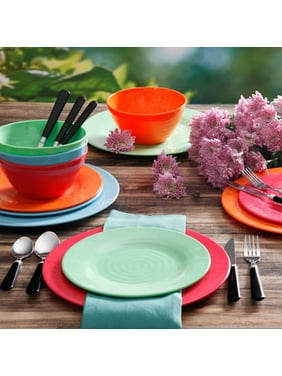 You could use your own plates and bowls at your outdoor party, or you could purchase a set of lightweight melamine dinnerware like this 12-piece set from Gibson Home.
And instead of getting disposable dishes, you should check this out. They are dishwasher safe on the TOP RACK. And, as many of you already know, melamine should NOT go in the microwave.
But if you're serving up potato salad or other cold salads, and barbeque, then you likely won't need to microwave anything.
Salad Bowl
If you're serving up salads at your backyard party you might as well serve it up in an attractive salad serving bowl like this acacia bowl from AIDEA.
A good set of serving bowls can really make your food set-up look even more appealing.
Outdoor Serving Trays
The company Cuisinart makes this very well-rated set of serving trays that is perfect for a barbeque.
The red tray is for the raw meat, and and the black tray is for the cooked food. So you won't get confused and wonder, "Did raw meat touch this?".
Do you have a good serving dish to bring your food to your outdoor table?
Outdoor Games to Play
Fun lawn games like this giant Jenga-style of blocks is a great way to get your party guests engaged and active.
It is usually the party games and activities that people remember years later…not necessarily your thrilling stories. 🙂
To get the most participation you'll want games that require a low skill level to start playing (but they may be difficult to master).
Other Lawn games include:
Cornhole
Bocce ball
Giant Checkers
Horseshoes (this classic backyard game can be played with plastic horseshoes)
Frisbee Golf
Croquet
Ladder Golf
Ring Toss
Badminton (played casually)
Outdoor Speakers
Music is an excellent way to set the mood at a backyard party.
And depending on the size of your backyard, you likely don't need a large speaker to entertain the crowd.
We have one of these small, Bluetooth speakers – called the JBL Flip 5 – and it serves our backyard needs very well.
We keep it inside, but it is waterproof and has a rechargeable battery so we bring it outside with us in the summer to play some tunes. (We use Bluetooth to hook it up to our phones then play music from the phone.)
If you're in the market for small outdoor speaker, check this out.
We've been really happy with it so far.
Outdoor Firepit
Adding a fire pit to your backyard party setup is a great way to create a warm and inviting atmosphere for your guests. They can roast marshmallows, warm up on a chilly evening or just enjoy the cozy ambiance that a fire provides.
Fire pits come in a range of sizes and styles, from simple metal bowls to elaborate stone structures, making it easy to find one that fits your backyard style (and city bylaws).
The propane fire bowl shown above is the Outland Cypress Firebowl. The photo above is a product photo, but we have the same firebowl.
You can click here to read my Outland Firebowl review. The TLDR version is that:
I love how it is easy to set-up and get started
it doesn't make your clothes stink like wood fires can
and it takes only seconds to extinguish
Just be sure to follow all safety guidelines and local regulations when using a fire pit or firebowl, and keep in mind that fires are not really suitable for all ages of party goers. (I.e. be cautious of young kids or pets.)
Prepare for Bugs like Mosquitos
If you live in an area that has lots of mosquitos you probably already have a bug zapper like this or some other mosquito-repellant that you rely on.
Just a reminder to have it handy when your guests come over.
They're likely coming to your house for dinner, not to become the dinner for a swarm of mosquitos. So be prepared.
Thanks for checking out this list of backyard party accessories.
I hope it has given you some ideas to help you organize and host a fun backyard gathering.
Below are some other articles you may appreciate.
You May Also Like:
Check out these Patio Furniture Ideas for inspiring outdoor furniture ideas.
Has your patio table seen better days? Check out these DIY patio table makeovers for inspiration.