It feels awesome to finally get into the backyard after a long winter. But when the summer sun starts blazing, you'll need some shade to provide relief. In this article we'll look at 19 backyard shade ideas to create a comfortable outdoor space where you can garden, relax, play or entertain in comfort.
These outdoor shade ideas include:
· Temporary shade solutions
· And more permanent structures too
This article contains affiliate links. If you click a link and buy something I may receive a small commission at no extra cost to you. As an Amazon Associate I earn from qualifying purchases. For more information please see the Disclosure page.
How to shade your backyard? – List of Backyard Shade Ideas
Some of the shade ideas below can be set up in very little time. (Like in minutes.)
While other options – such as using plants for shade – can require more time to develop, create or grow.
You may need to use a combination of these shade ideas in order to get enough shady relief for your outdoor living space.
For instance, you might need to use some temporary shade options while you're waiting for shade trees or climbing vines to mature.
Let's get started with the backyard shade ideas!
1) Pergola with retractable canopy
A pergola is a free-standing structure that has vertical pillars usually made of wood or metal and an open roof . They look super cool, but the open roof can make them super hot. 😊
But thankfully there are solutions to provide shade under your pergola.
A popular option are retractable canopies (usually made of fabric).
With a retractable fabric roof, you can easily adjust the amount of shade you want under your pergola. It can provide partial shade or full shade depending on your preference, and it may also protect you from light rain.
If you already have a pergola, you can look for a retractable canopy shade kit to provide overhead shade to your existing pergola.
If you don't already have a pergola, but you want one, you can look for a pergola kit that comes with the retractable canopy like the one in the picture above made by PURPLE LEAF.
2) Shade sails
Shade sails are large pieces of fabric or material that are stretched over an outdoor space to provide shade. They look like a ship's sails, but generally mounted horizontally to shade underneath it.
They have become really popular in the last 10 years or so.
They can come in different shapes, sizes, and colors, and they can be installed in a variety of ways. (Such as tied to posts you cement into the ground, or attached to strong existing structures like decks, garages, or gazebos.)
Shade sails are a great option for those who want a modern and stylish way to shade their yard or patio.
You can set up one large shade sail, or opt for a couple of separate sails to provide shade over a larger area.
This particular rectangular shade sail is made by the company garden EXPERT. They also sell triangular shade sails if that'll suit your backyard better.
3) Outdoor curtains
Outdoor curtains are made from weather-resistant fabric and are designed to provide shade and privacy. (The curtain shown above is made of waterproof polyester.)
Outdoor curtains can be hung from:
a pergola
a gazebo
another outdoor structure
attached to a freestanding frame
you could even hang outdoor curtains from a taut rope or wire spanning your yard. (Such as from a clothesline.)
Outdoor curtains are a great option for those who want to add some color and texture to their backyard while also creating a cozy and intimate space.
There are so many different styles available. There are sure to be some curtains that suit your tastes. (For instance, the company BONZER that makes the curtains shown above sells them in 13 different colors!)
They basically allow you to decorate outdoors and get the benefit of shade and privacy!
4) Outdoor blinds
Roll-up reed shades like this are a quick way to add shade to your existing outdoor structures like gazebos, decks with roofs, pergolas or porches.
They are made of natural reed grass and can be manually rolled-up or let down depending on what you need at that time of day.
(The manufacturer suggests to roll them up when you're not outdoors just in case of high wind.)
Do you like the look of these reed blinds?
Click here for more information on them.
5) Shade Cloth
A shade cloth like this is similar to outdoor curtains or blinds in the sense that it blocks off one side of a permanent fixture, but the shade cloth itself is fixed in place.
The manufacturer claims that this cloth will provide some UV protection from the sun (blocking 90% of UV rays).
The product photo above shows the shade cloth in "Mocha" color, but it is also available in black or wheat color.
6) Patio Umbrellas (aka Garden Umbrellas)
Do you want to a quick and simple way to get shade right away?
Then you'll want to check out a patio umbrella.
Patio umbrellas are freestanding and portable, making them a great option for those who want to move the shade around the backyard.
They come in different shapes, sizes, and colors, and can provide shade for a small seating area or a larger dining table.
You can get a sunshade umbrella that has a vertical pole directly underneath the umbrella material, or you can get cantilever umbrellas where the umbrella is offset from the supporting pole. (Like the highly-rated umbrella shown above from PURPLE LEAF.)
Whichever option you choose make sure to properly weigh down or secure the base, and it's smart to fold up the umbrella when not in use. (You don't want your umbrella to turn into an airborne missile when the wind picks up!)
Patio umbrellas are a classic and versatile option for those who want a quick and easy way to add some shade to their backyard. And they are a great temporary shade solution while you're waiting for shade trees or plants to grow in.
If you have a large area that you want shaded, you could look "market umbrellas". Large umbrellas like you may see shading vendors at open-air markets.
Do you like the look of the umbrella in the picture above?
Check out our article dedicated to options on how to mount an umbrella to a deck.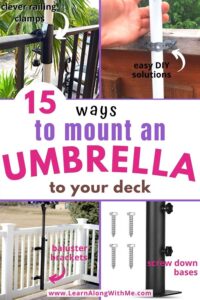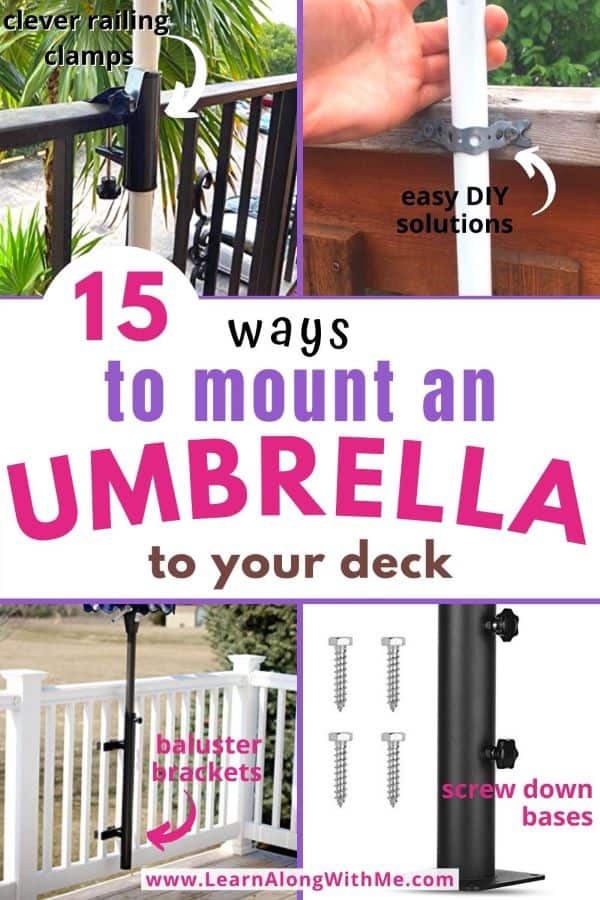 7) Gazebo
A gazebo is a freestanding outdoor structure that has a roof and open sides. It is the fixed roof that helps differentiate a gazebo from a pergola.
They can be made of wood, metal, or other materials, and can come in different sizes and styles.
The roofs are usually classified as hardtops or soft-tops. The hardtops generally have metal or wooden roofs, and soft-tops are fabric (like the one in the picture above).
A gazebo provides a comfortable and shaded area where you can enjoy your backyard, and it can also be a great spot for outdoor entertaining. Depending on the size, it basically creates an outdoor room.
And what's cool about a gazebo is that you can attach outdoor curtains or privacy screens to whichever side of the gazebo that you need them on.
For instance, in North America you could install outdoor curtains along the south side of the gazebo for shade and still have the other sides open and airy.
Below is an example of a large aluminum-framed gazebo with a metal steel hardtop. I think it looks amazing!
How great would this look in your backyard?
Click here for more info on this large gazebo.
8) Trellis with climbing vines
A trellis is a structure that supports climbing plants, such as ivy or grapevines. It can be made of wood, plastic or rust-proof metal and can come in different sizes and styles.
A trellis with climbing vines provides natural shade and adds a beautiful and organic touch to your backyard.
But since it is natural and growing it can take time before the vines produce enough foliage to provide adequate shade.
You may want to use some other shade options like umbrellas or shade sails to shade your seating areas until the vines have grown leafy.
Here are 7 popular climbing vines that people use for shade:
Wisteria
Climbing Hydrangea
Clematis
Honeysuckle
Trumpet Vine
Boston Ivy
Grapes
9) Patio cover
A patio cover is a structure that attaches to your home along an exterior wall and provides shade to your outdoor patio area.
It is kind of like a pergola, but it is attached to the side of your house, whereas a pergola is a free-standing structure.
Another way to think of them is like a patio awning but with supporting posts on the outer end of the cover to hold it upright.
They are a great option for those who want a permanent and sturdy way to provide shade to their backyard patio. It can also be customized to match the style of your home and complement your outdoor decor.
Sometimes a patio cover will have a permanent roof, and sometimes they'll have open beams overhead that provide some shade but not protection from the rain.
This particular patio cover by Four Seasons Outdoor Living Solutions features a solid roof so it'll provide solid shade and protection from the rain. They make various sizes and two different models to accommodate either a 20-pound snow load or a 40-pound snow load. If installed correctly it will hold up to strong wind: the manufacturer claims is engineered to withstand up to 115mph winds.
10) Patio Awning
A retractable awning mounted to the exterior wall of your house can provide a good source of shade over your patio or deck.
They come in manual or electric versions. With the manual version there is generally a handle that you rotate to extend or retract the awning.
We have a manual retractable awning above our patio doors and I feel like a sailor or pirate when I'm cranking the handle. 🙂
The awning shown above is a manual-crank, 10'x12′ retractable awning made by the company Diensweek.
It is available on Amazon if you want to see its current rating.
11) Make an Awning Side Wall
An easy way to add a fabric sidewall to your awning is to clothespin some bedding sheets to the awning.
It isn't the most elegant solution, but I've done it with our south-facing awning and it works to provide some more shade under the awning.
12) Retractable Side Awning
Instead of a vertical, overhead awning, a retractable side awning stretches horizontally to provide some shade and privacy.
This particular side awning is made by GIAS and can stretch almost 10-ft across. It is designed to attach one side to the wall, and the other post – that the screen extends to – is mounted on the floor of your deck or concrete footing.
If you want side awning that doesn't attach to a wall, and instead has two ground-mounted poles you could check out the option below. This one by Abba Patio has two poles that mount at the bottom to a deck, concrete footing or other solid floor.
13) Shade trees
Planting trees is a long-term solution to providing shade.
But it requires patience. It is like that saying, "great things come to those who wait."
A deciduous tree that provides a lot of leafy foliage and then drops its leaves over the winter is a good choice for a south-facing backyard. (In the northern hemisphere anyway.) But just keep in mind there is more yard work involved with these type of trees. You'll deal with fallen leaves but also pollen and seeds.
(I have an oak tree that just keeps giving and giving… all year long.)
You could opt for an evergreen tree that is native to your area so you don't have to deal with so much yard cleanup.
A tree can provide much more than just shade though. It can provide a home and food for a variety of birds.
Because a tree takes time to establish and grow, you'll likely want to use other shade solutions while you're waiting for the tree to provide its natural shade.
14) Roller shades
Roller shades like this are a popular option for providing shade inside a gazebo or pergola.
They remind me of projector screens like classrooms used to have, but instead of pulling down you crank this one down with the handle.
The potential drawback to this option is that you need to have a permanent, solid structure to attach the top to – such as a gazebo.
But if you already have a pergola, gazebo or another solid overhead structure, then you could mount some roller blinds to it and crank them down to get the right amount of shade for you.
Will this work for you?
15) Pop-up tent / Canopy Tent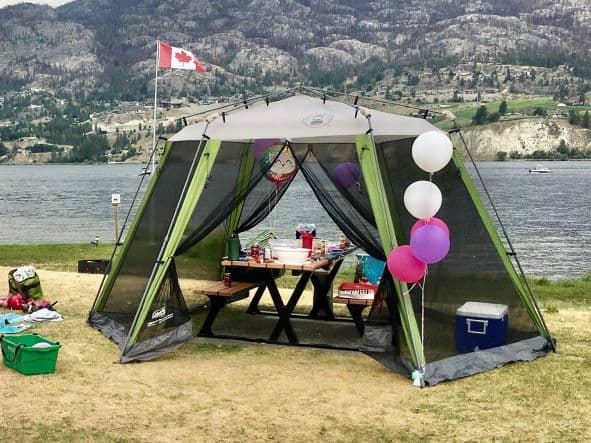 If you want an easy to set up, temporary shade solution, you should check out some of the new pop-up canopy tents like our Coleman screen house.
We use it when we're camping to provide some protection from the bugs and some shade around our outdoor dining area. We just set it up right over top of a picnic table!
We regularly see these types of pop-up canopies and tents blanketing our beaches now too.
People get to the beach early, set up their shade canopy and basically stake their claim of beach for the day.
Will a pop up screen room like this work in your backyard?
16) Put Sheets of a Clothesline
Getting backyard shade doesn't have to be fancy or expensive.
There are cheap options that will work too. For instance, if you have a clothesline in your backyard you could hang some sheets from the line.
Depending on the time of day and the angle of the sun, this might not throw much shade, but if you bring your lawn chairs close to the sheets you should be able to enjoy some nice shade.
If you have kids they could pretend the sheets are sails of a pirate ship sailing over the ocean.
17) Shade for your BBQ Grill (a grilling gazebo)
How many times have you been out in the blazing sun trying to cook dinner for the family?
If you're into backyard entertaining and grilling, you should check out this wooden pergola designed to be used over your barbeque.
It is a well-rated product made by the company Backyard Discovery.
Do you have a spot for this in your backyard?
18) Extend the Height of your Backyard Fence
Adding some height to your current fence can be a way to add a nice shady spot next to your fence.
(But you'll have to be aware of your city's bylaws because a lot of places have height restrictions.)
If have a chain link fence, some of the ways to add privacy to that chain link fence can also double as sun protection.
For instance, a privacy screen zip-tied to the chain link can also throw some shade, but it'll depend on where you live, whether your fence is north or south facing, and the angle of the sun in the sky.
Covering a chain link fence on the eastern edge of your property may provide some shade in the early morning, but it won't be very effective after that. Those are just some things to think about.
For ideas on how to raise the height on a chain link fence check out our article about that.
And for more chain link fence privacy ideas you'll want to see our article about that.
19) Put Tall Potted Plants next to your outdoor seating area
Placing some tall, leafy potted plants next to your outdoor seating area can be a nice natural way to get some shade.
You choose live plants or artificial plants.
Depending on where you live you may need to bring the plants inside over the winter, so this option may not work for everyone. (Or choose hardy, native plants that will both thrive in your area and survive in a pot.)
Thanks for checking out this list of backyard shade ideas. As you can see there are a variety of ways to get shade in your backyard including temporary shade solutions and more permanent options.
You'll often want to use several of these shade ideas together. For instance a pergola with a retractable canopy roof and installing outdoor curtains along the side wall of the pergola.
Or using patio umbrellas while waiting for climbing vines or trees to provide enough shady foliage.
I truly hope this has helped you come with up a backyard shade solution for your house.
Thank you.
Tim from LearnAlongWithMe.com
You May Also Like:
Do you like to entertain in your backyard? Check out this list of Backyard Party Accessories.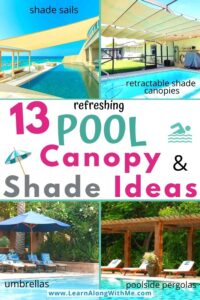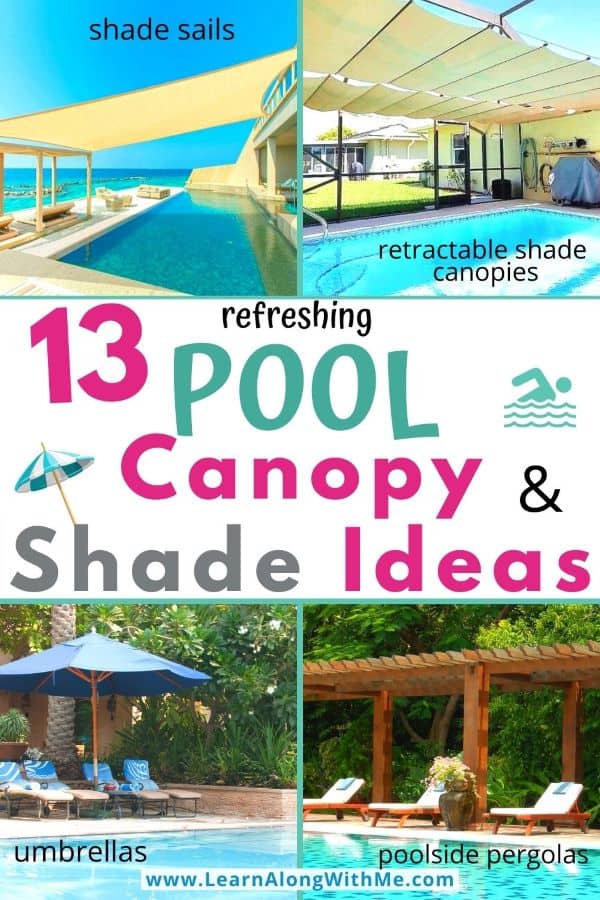 Pool Shade Ideas to help throw some shade on your pool or spa