Do you have baseballs, basketballs and other sports balls scattered all over your house and garage? In this article we'll look at 21 ball storage ideas to help get a handle on these round runaways.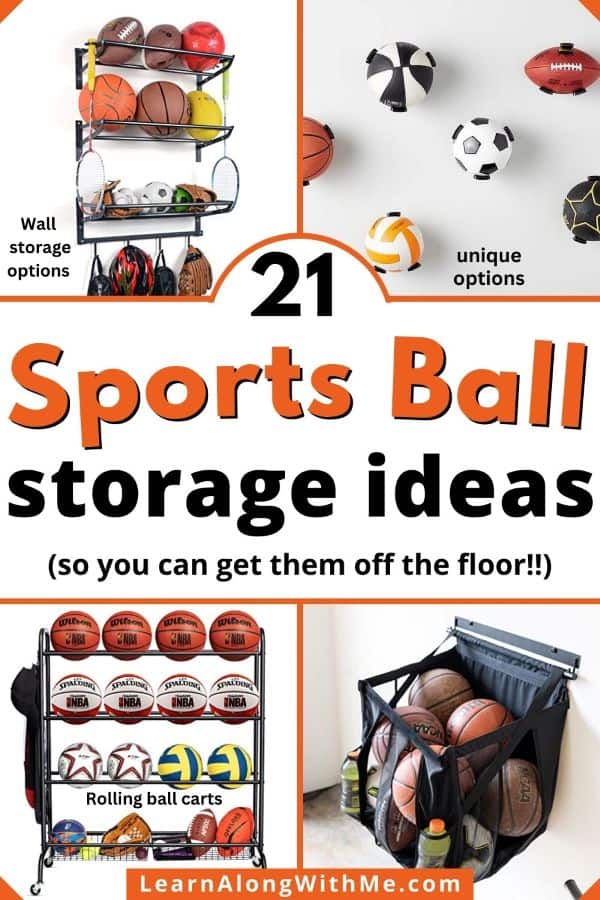 This article contains affiliate links. If you click a link and buy something I may receive a small commission at no extra cost to you. As an Amazon Associate I earn from qualifying purchases. For more information please see the Disclosure page.

How to store sports balls? – List of Ball Storage Ideas
Inflatable sports balls like footballs, basketballs and soccer balls should ideally be kept inside at room temperature – to avoid temperature fluctuations – and out of direct sunlight. 
The basketball manufacturer Spalding claims that extreme temperatures, sunlight and moisture can all damage an inflatable ball.
So if you want to keep a good grip on the ball, avoid color fading and maintain the shape and bounce of your ball, try to keep it inside at room temperature if possible.
This means that keeping your basketball in your car trunk isn't the best place for it… but it may be the most convenient for you. So weigh what is important to you. 
(These cushy indoor storage conditions may not be possible for all your balls, but you should try… at least for your most expensive balls.)
1) Complete Sports Equipment Storage Rack
People that love playing sports often love playing lots of different sports.
This means you may have basketballs, baseball gear, hockey sticks and more cluttering up your garage.
But a sports gear storage rack like this one from Mythinglogic can help contain all the various equipment.
The storage bin on the bottom with the elastic straps provide a perfect place to store large sports balls.
The horizontal shelves above provide plenty of space to store other sports gear, protective equipment and more.
The mesh shelf is a good place to store smaller items like baseballs, hockey pucks, tennis balls, pickleball balls and more.
The wire bin along the left side allows you to vertically store baseball bats, hockey sticks and other long-handled equipment. Plus, there are dedicated baseball bat hangers on the right side of the unit.
Do you golf? There is even a place to store up to two golf bags.
This is truly a great storage option if you have the floor space for it.
Your sports buddies will be impressed by how organized everything is.
2) Wall-Mounted Ball Racks
Don't have the floor space for a large storage rack? Don't worry, there are other options.
Wall-mounted ball racks are a fantastic option for storing sports balls and other sports equipment.
These particular racks are a 3-pack of shelves from the company Sunix.
I haven't tried these racks yet, but I notice the screw holes are about 23.5-inches apart. This means the screws wouldn't hit the standard wall stud distance of 16-inches apart.
This wouldn't be a big deal if you have plywood walls, but if you have drywall walls, make sure you don't overload these racks.
Do you think this will work for you?
Click here for more information.
3) Rubbermaid Fasttrack System Vertical Ball Cage
Do you have a Rubbermaid Fast track system on your garage wall?
And even if you don't, you should check out this option.
(I've even seen people just screw this rack to their garage wall and don't use the FastTrack system…like in the product photo above.)
It is a vertical ball rack that attaches to the wall track and will hold about 4 regular-sized basketballs.
There are four vertical metal wires helping to keep the shape of the ball cage, and two bungee cords near the front so you can access any ball you want.
This is a well-rated and popular option if you have the wall space for it and you only need to hold about 4 balls.
4) Delta Multi-Ball Storage Net
I recently installed this ball storage net in my carport.
It has been an awesome way to store my basketball, soccer balls and more.
It holds about 5 balls (though I did stuff a junior sized football in there too).
The mesh storage net hangs from a metal supports at the top.
You toss the balls in the top and they are contained within the mesh bag.
When you want to get a ball out, you unzip the zipper that is on the front of the bag.
My one complaint is that the installation was tricky.
I felt like I needed a couple extra arms to get the top metal pieces into the back mounting plate.
But once I got it screwed into the side of a cabinet I've been happy with it.
I bought mine at a Winners store, but you can also get it on Amazon.
5) Create a Sports Tote (how I used to store sports gear)
The large plastic tote shown in the picture above is how I used to store my family's sports gear.
We had everything in there from water squirters to tennis rackets to a ping pong set.
I actually used this option for years.
But it just took up too much room…too much floor space. I was tired of side-stepping around it in our shed.
That's why I ended up getting that hanging ball bag I shared earlier.
It doesn't work for me anymore, but will something like this work for you?
If you have the room on a shelf, and a hinged lid, I think this could work okay.
6) Wall-mounted Ball Holder (individual balls)
These ball holders are a great way to free up garage floor space for storing the balls you play with.
But they're also an attractive way to display keepsake balls.
These ball holders by Suchek are made of iron and come as a 2-pack.
Will these work for you?
7) Ball Storage Basket (wall-mounted) by StoreYourBoard
I like how the company StoreYourBoard has taken mounting into consideration.
They have made the screw holes 16-inches apart so it'll screw into the standard 16-inch on center wall studs.
It will hold a variety of balls and you can access the balls from the top, the side and the front.
So it is a good option if you have children of various heights.
And there are even some pockets to store water bottles or small items.
8) Ball Hammocks (for a flat wall)
If you're looking for a simple and cost-effective way to store your balls, ball hammocks or nets are a fantastic choice.
These mesh or fabric nets can be hung from the ceiling or on walls, creating a hammock-like storage space.
This particular ball hammock is intended to be mounted against a flat wall. (I'll list a hammock for a corner below.)
One of the great advantages of this method is its versatility; it can accommodate various ball sizes and quantities. 
The downside is that some people might not like how it looks. The tassels may not jive with your sense of style.
9) Storage Hammock for a Corner
You may be thinking, "Wait! I thought this about storing sports balls? Why are there stuffed animals in this picture?"
Good question. This company chooses to market their storage hammock as a way to store plush animals, but they can work well to store sports balls too.
It comes with three anchor points so you can secure it to a corner and use a space that may otherwise be underutilized.
You may be able to find a hammock like this at your local stores, or you can click here to see this one on Amazon.
10) Rolling Ball Carts
Rolling ball carts are an excellent choice if you need to move your sports ball around your garage, or wheel them out onto the court.
This would be a great way to store a variety of large sports balls like basketballs and soccer balls.
Plus, this would be awesome for a basketball 3-point shooting contest!
Just wheel it out onto the court and get shooting.
People love the convenience of having their balls in one place and the open rack storage provides easy access to your favorite ball.
However, a rolling storage cart might be more suitable for indoor use than rough outdoor terrain because of the small, smooth wheels.
11) Ball Rack with two fabric shelves
This ball cart is very similar to the one shown earlier, but this one from Sttoraboks features two fabric shelves so you'll be able to store small balls like golf balls or baseballs without them falling through.
And it has a bat rack on the side to hold your baseball bats.
This is a popular option but you'll need the floor space for it. It measures just under 3.5-feet wide.
Will this work your sports gear?
12) Rolling Ball Bin
This is a super versatile organizer.
You can use it for a variety of sports balls, pool toys, stuffed animals and even laundry!
If you want a simple solution where your kids just toss the balls into the bin, you should check this out.
13) Bungee Cord Ball Organizers (DIY ball storage)
For a creative and DIY-friendly storage idea, bungee cord ball organizers can be an excellent solution.
You can make your own wooden boxes – or ball storage crates out of PVC pipes – then attach bungee cords vertically like stretchy jail bars.
Or if you already have plastic storage racks in your garage, and want a super simple solution, check out the YouTube video below.
14) Pegboard Ball Storage Ring
Do you have space on a pegboard in your garage?
If so, you could try these pegboard ball holders.
I haven't seen them "in action" but the 5-inch diameter rings should work to hold sports balls.
I personally wouldn't put up a pegboard just to use this option, but fi you already have one, then give this a try.
And if you play baseball, you could place your batting helmet on one.
15) Mesh Equipment Bag with drawstring closure
A mesh bag is a simple and portable way to store sports balls or exercise equipment.
These bags are lightweight and have a drawstring closure, making them easy to bring to the park or toss on a shelf in the garage.
You can put a variety of different sized balls in here so it should be able to hold most – if not all – of your family's sports balls.
The potential downside though is that the mesh material can snag and get holes, or degrade over time.
I use a similar bag for storing our beach toys and I find the drawstring tends to break before the mesh material gives out.
I've found this product on Walmart and on Amazon. You can click the links below to check the price at each store.
16) Laundry Baskets
Laundry baskets can work well to hold a variety of sports balls.
They are typically made of durable plastic or fabric and come with holes that allow good air flow.
You can easily repurpose an existing laundry basket for ball storage or purchase a new one without breaking the bank.
But some laundry baskets might not be deep or wide enough to hold certain ball types.
And if you buy one that is deep and narrow it can be a pain trying to get a ball out from the bottom of the basket.
17) Over the Door Ball Storage Hanger
This over the door ball hanger provides another great way to take advantage of vertical space.
It helps convert wasted space into a usable storage area for sports balls and equipment.
This product photo looks really photoshopped but you can see the potential in this idea.
It has two zippers on the front to access the balls within the mesh tube.
Do you have space at the back of a door for this option?
18) Vertical Ball Rack (holds up to 7 balls)
If you're tight on floor space, a vertical ball rack can be an efficient and space-saving solution.
These racks are designed to hold balls in a vertical arrangement, utilizing the height of your room or garage effectively.
And what's cool about this particular rack from the company Knape & Vogt is that you can assemble it as one big strip, or mount the pieces separately on different parts of your wall
The best thing about this idea is its ability to store multiple balls without taking much space.  The balls are easily accessible and they look tidy.
However, since there aren't supports on the sides of the balls, if the rack is bumped the balls may fall off and roll away.
Will this work for you?
Click here for more information.
19) Ball Claws
Now here is a clever and attractive ball storage solution
They're called the "Ball Claw" and are available at The Container Store.
I haven't seen these in person but there are some good customer-submitted photos on the Container Store website.
I think most people use these to store commemorative balls, but you could use it to store the balls you regularly play with too.
20) Duffle Bag
A large duffel bag like this is a perfect way to store and carry several sports balls at once.
It is a good option for a soccer coach or basketball coach. Just toss the balls in here, pack them to the pitch or the court and you're ready to start practice.
And it has two shorter handles and an adjustable shoulder straps to make hauling it around even easier.
The mesh material will allow air flow so wet soccer balls will dry out.
Plus, you could toss other sports gear like jerseys, pinnies, baseball gloves, shoes or cleats in here too.
21) Tennis Ball Hopper Tube
With more and more people playing pickleball, it means there are more pickleball balls cluttering up garages.
Well, with a ball hopper tube like this you can store tennis balls and pickleballs in one convenient location.
Get them off the floor and nicely organized.
I hope these ball storage ideas will help you better organize and store the sports balls and exercise balls at your house.
I know I've been happy with the Delta multi-ball storage net that I got. It keeps the balls off the floor, and I know where to find them. I don't have to search all over the house looking for my football anymore.
Up Next:
Organize your yoga space with these Yoga Mat Storage Ideas
Wondering how to store golf balls? Check out these Golf Ball Storage Ideas
Store your inline skates with these Rollerblade Storage Ideas