Does your child love Barbie dolls, but you're tired of finding them scattered throughout the house? In this article we'll look at over 19 different ways to store Barbies. The list includes some great ways to store Barbie dolls, Barbie accessories, vehicles and more.

This article contains affiliate links. If you click a link and buy something I may receive a small commission at no extra cost to you. As an Amazon Associate I earn from qualifying purchases. For more information please see the Disclosure page.

What do I know about storing Barbies?
Having three daughters of my own I know what it's like to have Barbies…everywhere! I've used many of these options to help store my daughters' dolls and honestly – as my youngest continues to get more Barbie "stuff" – it is a work in progress.
How to store Barbie dolls & accessories – 19 Ideas
Below you'll find different ways to store Barbies and their accessories.
Some of these ideas involve products you can buy, some we use at our house, and I've taken pictures of some of these ideas "in action" so you can see if they'll work for you.
But not all of these storage ideas will work you, nor match your organizing style. The best way for you to store Barbies may be completely different from your friend.
1) Behind the Door Shoe Rack – a hanging shoe organizer
You can use a generic hanging shoe organizer, or you can get a hanging organizer like this one that is marketed as being a doll holder.
It has 24 plastic pockets to store dolls and it hangs from the back of a door or from the top bunk of a bunk bed.
The downside to this option is that your child may not be able to reach the higher pockets.
The upside is that this idea converts wasted space at the back of a door and makes it into storage space.
(I know the picture shows a different style of dolls in the pockets, but it works for Barbies too. When you put a Barbie in the pocket, the top of the pocket goes up to about the doll's waist. The Barbie may lean over slightly but it should stay in the pocket.)
2) Barbie Store it All rolling plastic tote (by Tara Toys)
What's really cool about this Barbie storage container is that it has a large section that acts like a dump bin so your child can just toss the dolls in.
But it also has compartments underneath the lid to help organize Barbie accessories like shoes, hair clips, clothes, etc… The picture below shows the compartments.
It is highly-rated and has lots of customer reviews on Amazon. And it is on wheels! So your little one will be able to pull it to where they are playing.
Will this work for you?
3) Store them in Clear Bins
Bins like this are a great way to store Barbies because the clear plastic allows you to see what is inside each bin.
Once you've tucked the dolls inside the plastic bins you can place the bins:
on a shelf
under your child's bed
in the closet
or even on the top bunk of a bunk bed
(My daughter had a bunk bed for years and the top bunk was a toy storage area and elevated play area.)
In this picture you can see the Barbie dolls placed on the top shelf of a closet.
4) Get some Plastic Shoe Holders…but store Barbies in there instead
This one will require you to use your imagination a little bit and picture Barbies in these plastic shoe holders instead of the shoes as pictured.
We haven't tried this personally so we don't have a great pic…but because the shoe boxes are 13.5-inches long a Barbie will be able to lay in the box for tidy storage.
5) Rolling Plastic Dresser Drawer Units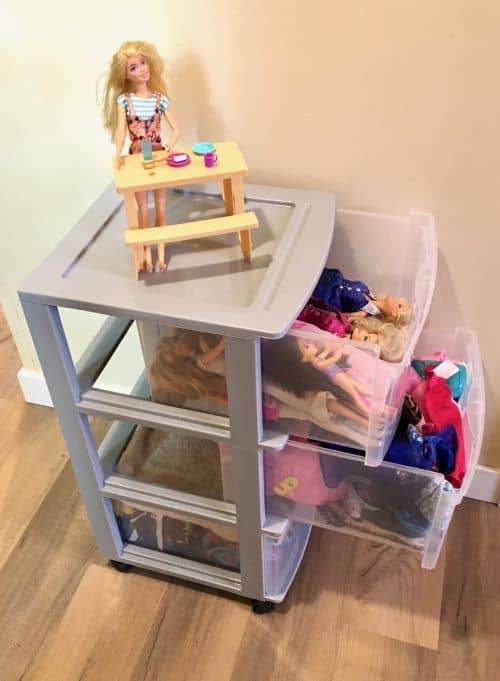 A plastic dresser like this can easily become a Barbie storage unit.
This is a great option if you have the floor space in a closet to fit this dresser. And it is doubly handy if the dresser is a rolling cart. Then you can roll the unit out of the closet during playtime.
You can dedicate one drawer to the Barbie dolls themselves, one to clothes and the other drawer to accessories and other toys.
6) Barbie Bath Time Storage in a Mesh Bag
Mermaid Barbie dolls have become really popular for bath time.
My daughter has a few of these and she loves them.
You can get a mesh bag at your local dollar store or department store and store these unique Barbies in there. The water will drip out and the airflow through the mesh holes will help dry the Barbie's hair.
7) Store your Barbie Dolls in a Drawer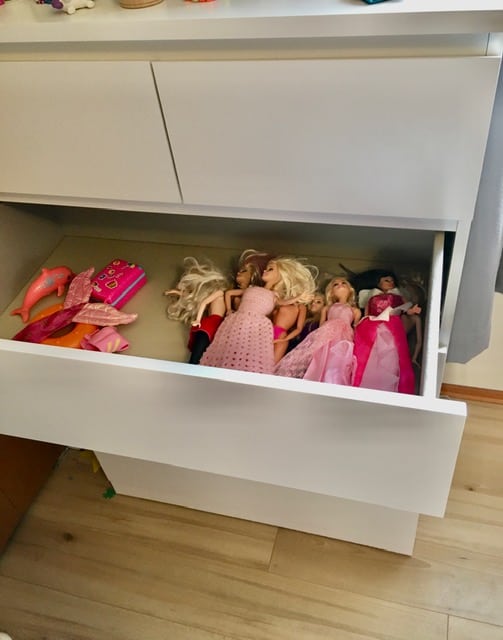 If you have room in a dresser drawer or in an under-bed drawer, you can use a drawer divider to separate the drawer into compartments. Then you can store your dolls in one compartment and their accessories in another.
The picture above is a dresser drawer but without a drawer divider. Having a divider would make it a more elegant storage idea, but it works without them too
8) Store Barbies under the bed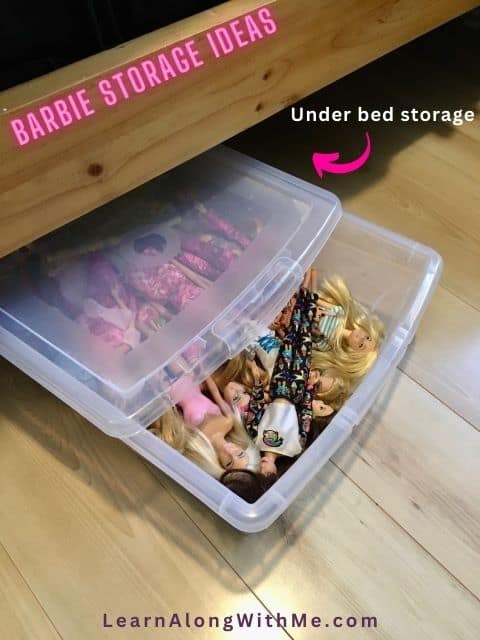 If there's room under your child's bed, you can buy some low-profile storage totes, toss the dolls in, then slide the tote under the bed.
A tote like this one is nice and low to the ground so it should slide under most beds. And it provides easy access for young children.
If you have a bed skirt on their bed, you likely won't even see the toys under there.




Related article you may like: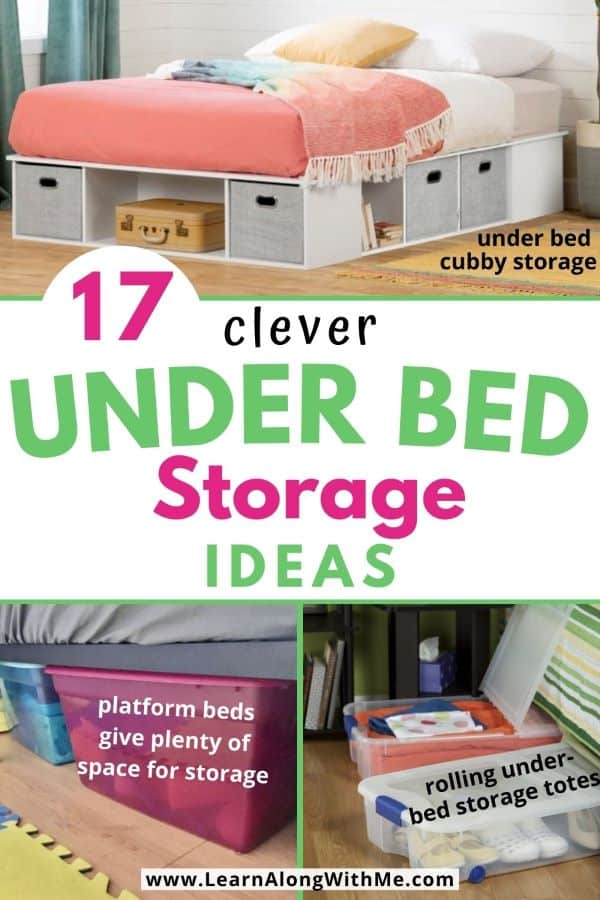 9) Store them inside the Barbie Dreamhouse or other Barbie house
We have had a Barbie Dreamhouse for many years now (not the newer style like shown above).
Not only does it does it provide hours of fun for our daughters, but if you keep it set up, you can use it to store the Barbies until next time.
We have an older Barbie dreamhouse, but they make newer styles now like the Barbie house product photo above.
(I like our older one because it folds up so it can be stored easily.)
10) Store them in a Fabric cube inside a Cube Organizer
Lots of people have cube organizer like this in their home.
You can designate one of the cubbies for Barbie storage.
In fact, you can use one of cubbies as a Barbie apartment! (Pull out the fabric storage bin and pretend the empty cube is their apartment.)
11) Barbie Wall Mounts (Etsy)
These plastic wall brackets are a unique answer to how to store Barbie dolls on the wall.
They are from the Etsy seller NoTimeLikeTheGift. Each clip holds 4 dolls, and you can get the clips in LOTS of different colors.
This is a good option for a small bedroom where you want to make the most out of vertical space.
Buy a few clips and you can make your own Barbie wall rack like the picture above.
You May Also like these other toy storage ideas…
12) Repurposing Spice Grip Clips as Barbie Holders
You can use spice grip clips like the ones above by SimpleHousewares to hold Barbies instead of spices!
We haven't tried this ourselves – so I don't have a great picture of it "in action" – but the idea is similar to the wall clips shown above. Just imagine mounting these clips to your wall and holding your Barbie collection.
Do you want to give this a try?
Click here to see cost of these wall clips.
13) Barbie Display Case Acrylic (Etsy)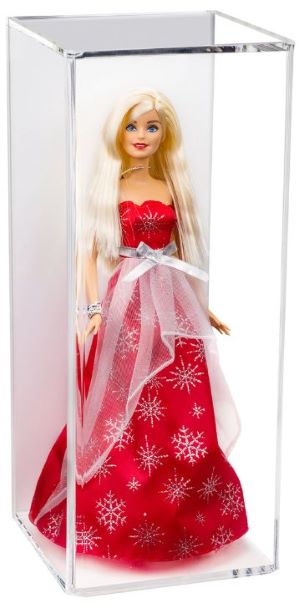 Do you have a really special Barbie? One you'd like to proudly display all by itself?
The Etsy seller BetterDisplayCases makes these acrylic display cases that will work well.
And what's cool is that you can order it in a wall-mount or in a tabletop version.
Mount them directly to the wall, or place them on a shelf…either which way your favorite Barbie will look great.
14) Upright Barbie Holders for Display, Storing or Play (Etsy)
These are a cool way to store and display Barbies and other dolls. They are clear plastic holders that will keep the dolls upright.
They are made by the Etsy seller MoniCraftsShop.
You can put your dolls onto these holders and prop them up on a shelf, on top of a dresser or anywhere else you have room.
Plus, kids love them for playing. They can dress up the dolls and pose them in "action" positions while using their imagination.
Below is a picture of the stands without the dolls. (The dolls aren't included.)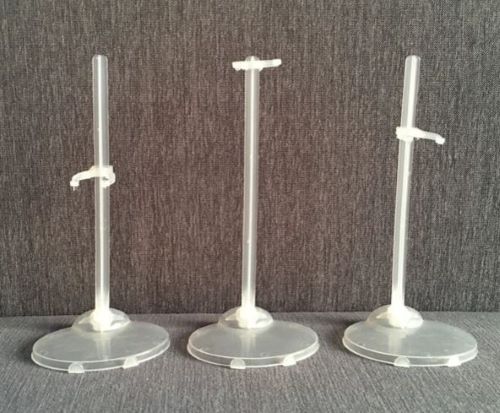 15) Store Barbies in a Toy Organizer
This style of toy organizer is one of the most popular toy storage solutions.
Clean up is easy because you can just toss all the dolls and accessories into the bins. This particular product is a very highly-rated organizer from the company Humble Crew.
Because there are multiple bins, you could use a bin for doll clothes, one for Lego storage, one for pretend food, one for small stuffed animals, and so on.
Will this help your child organize their dolls and toys?
16) Store Barbies in the IKEA TROFAST Storage Unit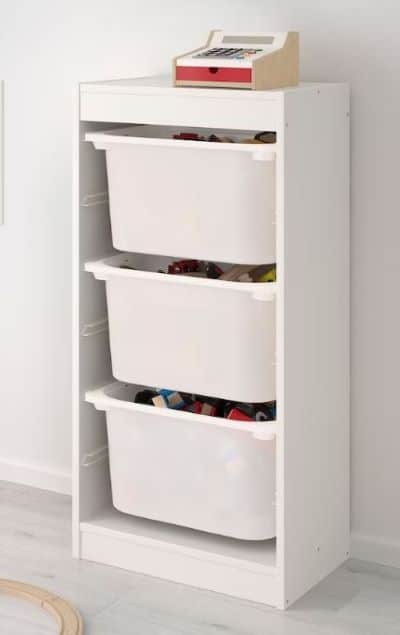 A lot of people love IKEA. And they love the TROFAST storage unit as a doll and toy organizer.
The removable plastic baskets make it easy for kids to access their toys, and easy clean up too. Just set the basket beside where they're playing and have them toss the dolls back in. (Make it a game and cleaning up will be fun for them.)
17) Store your Barbie dolls in an old Suitcase or Large Trunk
Another great way to store Barbies is inside a suitcase. And better yet, store them inside a Barbie suitcase!
You can just toss the dolls in and then put the accessories into small plastic containers or baggies.
The Barbie suitcase above is one we've had for years. It is handy because it has wheels and a handle so my daughter can pull it to where she wants to play.
The picture below shows some of her dolls inside the suitcase.
18) Store your toys under the coffee table
Does your child like to play with their toys in the living room? If so, a great place to store Barbies is in some bins under the coffee table. They will be easy to get at, and easy to put away.
And depending on what you store them in, your guests won't even know there are Barbies in there.
You can use a wicker basket, cubes, or even a wooden crate…whatever fits under your coffee table.
19) Put them in a Basket on a Shelf
If you have the shelf space, or spot on a dresser, then you could get a nice basket and put the dolls in there.
This isn't a great looking basket, but it helps give you the idea. 🙂
Want to see some attractive storage baskets?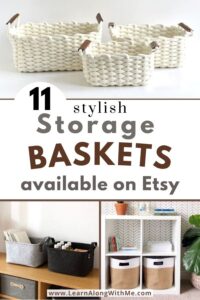 20) Put your Barbie dolls in a tote
An easy way to store a bunch of Barbie dolls, their vehicles and accessories is to put them in a plastic tote.
We have had this pink tote for years and use it to store Barbie "stuff". (Because there sure is a lot of stuff.)
We often keep the dolls themselves in separate containers and dedicate this to cars, and furniture. Some of the furniture stays in the Barbie dreamhouse and extras get put in here.
It is easy to clean up and easy to recognize because of the pink color.
Thanks for checking out this list.
You'll probably notice that these storage ideas can broadly be classified into two categories.
1) The first is a "dump bin" type approach where you toss everything Barbie-related into one organizer. It makes for easy clean up, but the downside is that everything is jumbled together and your kids may not be able to find certain toys during playtime. (I.e. there will be little pieces strewn throughout the bin.)
2) And the second approach is a more organized, tidier (and some would say "fussier") approach where you carefully sort then place all your different Barbie accessories into different compartments. So Barbie shoes may go in one compartment while Barbie hair accessories go in another. The downside to this option is that it can take longer to clean up and young children may initially get frustrated when it's time to put stuff away.
(I'm not judging either which way. I've used lots of different organizers over the years for my daughters' Barbie stuff.)
I generally end up reverting to the first approach where everything gets put into a tote, and then periodically we'll go through the accessories and organize them.
I hope this list of storage ideas will help you get your Barbie collection nicely organized.






Related Articles You May Also Like:
Tidy up the Teddy Bears with one of these awesome Stuffed Animal Storage Ideas
Toy cars everywhere too? Check out these different ways to store Hot Wheels.
Organize and store bath toys with one of these Bath Toy Storage options