Hiking is an amazing fitness activity that bridges the gap between the modern human and nature. It feels so good to get out of the house and explore the wilderness. But before you go off trekking unprepared there is some hiking gear you'll want to consider.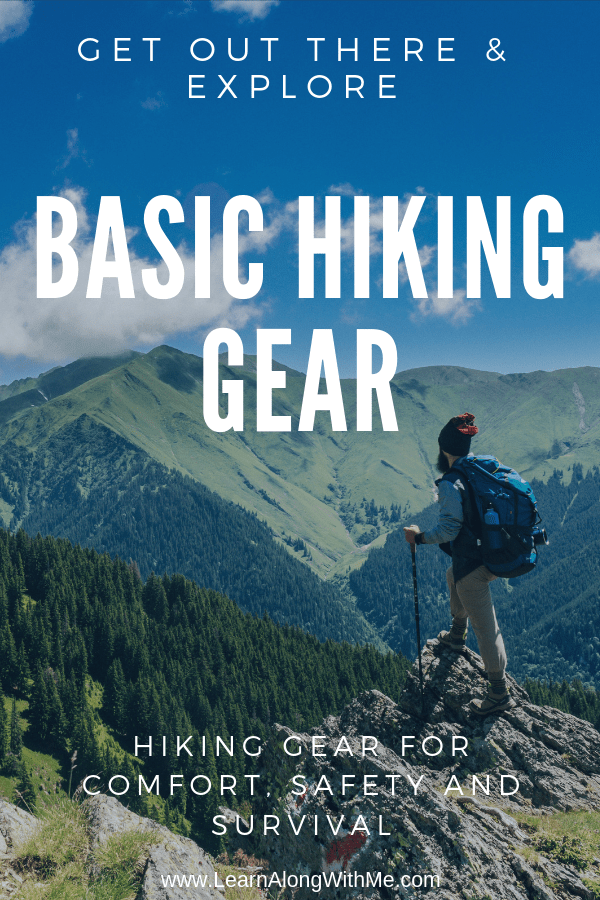 I haven't tried all the following hiking gear items, so I have created some criteria that a product must meet in order to be included on this list.
Must have 4 stars out of 5 or higher on Amazon (highlights quality)
Must have 100 or more reviews on Amazon (highlights social proof)
So you're not just getting the opinion of one blog writer: you are getting the opinion of over one hundred customers.
There are some affiliate links in this article. This means I do get a small commission that helps support the site if you do decide to click a link and then purchase an item. See my Disclosure page for more details.
Let's Get Started

Aluminum Trekking Poles / Hiking Poles by TrailBuddy
These lightweight aluminum poles made by TrailBuddy are currently the #1 Best Sellers in Amazon's trekking poles category.
They are adjustable so you can change the height to suit the user and they have a cork handle for comfort.
4.8 stars over 1,700 reviews & Amazon best seller #1 in Trekking poles

Lightweight Day Pack
This highly rated pack comes in 14 colors/patterns so you should be able to find one that pleases you. It considered a day pack and is a 40L size.
It has a very high 4.8 stars out of 5 rating with 104 reviews.  Currently #1 bestseller in Hiking Daypacks.
Larger, internal frame backpack by Teton Sports
If you are looking for a larger backpack this one is a 55L with an internal frame.  It has over 2,000 reviews, is rated 4.5 stars  and is currently the Amazon #1 best seller in internal frame hiking backpacks.
Headlamp with rechargeable battery by Foxelli
This lightweight headlamp has bright white and red light options.   Plus, it is available in 8 different design options including Neon Pink, Neon Yellow, Forest, Blue and Black.
The light itself is an LED so it shouldn't drain the battery too quick.
As you can see in the picture below it is very functional for many different activities. One activity they didn't show is reading. If your partner can't stand your bedside lamp being on you could try this instead.
It currently has 4.6 stars out of 5 with over 1,200 reviews on Amazon.
Camping and Outdoors Multi-tool
As the name suggests this 14 in 1 tool has lots of features. The tool looks extremely useful for outdoors situations.
It has an ax, hammer, wrench, bottle opener, knife, pliers, a saw and more.
It currently has over 145 reviews on Amazon and is sitting at 4.5 stars out of 5.
Rain Poncho with Hood
I was going to highlight a different poncho that had a greater number of reviews, but it said it was disposable. And we are trying to move away from single-use plastics.
Though this particular product only has 60 reviews – which is less than my usual 100 review minimum – it says it is re-usable. So it gets bonus points for that.
Lightweight, portable Hammock
Imagine hiking up to a secluded lake, cooling off in the clear water and then warming up while dozing off in your hammock.
You can make this a reality with this highly-rated hiking hammock.
It currently has a very high rating of 4.8 stars out of 5 on Amazon.  What is even more impressive is that it got that high rating with over 1700 reviews!
Fast drying Hiking Towel
If you are hiking to a lake or a waterfall then it's good to have a towel to dry yourself off. You also minimize your risk of swimmer's itch if you dry off right away.
Plus, this towel will be great to soak up the sweat during a vigorous hike.
Check out its small compact size. It will fit nicely into your backpack, or even your fanny pack.
It is currently rated a very good 4.5 stars out of 5 with 113 reviews on Amazon.
Hiking Fanny Pack
Do you only go on quick hikes around your city, or exploring nearby parks?
Perhaps you don't want or need a full backpack. A small waist bag (aka a fanny pack) may be what you need.
I remember a time, not so long ago, when people made fun of fanny packs: heavily! But that is stupid. These things are very useful for short hikes or walks.
This fanny pack with 2 zippered pockets can store your small items (like cell phone), survival knife and your water bottle.
It currently has 4.6 stars out of 5 with over 470 reviews on Amazon.
Mini Water Filtration System by Sawyer
This little water filtration system looks pretty awesome.  It is small and light (only 2 ounces) and It can attach to the included water pouch or to a regular plastic water bottle.
You can also lay directly on your belly and drink from a stream by using 7-inch drinking straw that comes with it.
What is cool about a lightweight system like this is that it allows you to travel lighter. Not just because it is light, but because if you know there is a source of water along your hike you won't need to pack as much water with you as you otherwise would.
It has 4.6 stars with over 4800 customer reviews on Amazon. And is currently in the Most Wished For section in the Camping & Hiking Hydration and Filtration category.
Below is a video where a man on YouTube reviews the Sawyer Mini Water Filtration System.
Below is my screenshot showing that is currently a "Most wished for" item on Amazon.
Hiking Socks
Do not underestimate a good pair of hiking socks.
Have you ever seen "Forrest Gump"? Do you remember what Lieutenant Dan told Gump and Bubba about socks? He considered them to be vitally important. He told the soldiers to change their socks at every break to keep their feet dry.
The hiking socks featured below are 3/4 crew socks by Danish Endurance.
They are made out of merino wool and the manufacturer claims they'll help keep your feet cool and dry in the summer yet warm in winter.
They are currently rated 4.4 stars out of 5 with over 200 reviews.
(The same company also makes a full length crew sock that has a good rating and over 900 reviews!)
Bear Spray
This Frontiersman Bear Spray made by Sabre is currently the #1 Best Selling item in Camping Bear Protection Products section on Amazon. They say it can spray 30 feet, and is approved by the EPA in the USA and Health Canada.
If you are hiking in an area with predators then you should be prepared and be bear aware.  For more information on hiking in bear territory check out this information provided by the Province of British Columbia up in Canada (bear country).
This hiking protection spray is rated at 4.4 stars out of 5 with over 1500 customer reviews on Amazon.
Loud Camping and Survival Whistle
If you've wandered off the trail and need help from Search and Rescue a loud whistle like this will help draw attention to your location.
Or if you get separated from your hiking buddy a couple toots of the whistle can help you find your friend.
This loud little whistle is currently rated 4.5 stars out of 5 with 194 reviews on Amazon.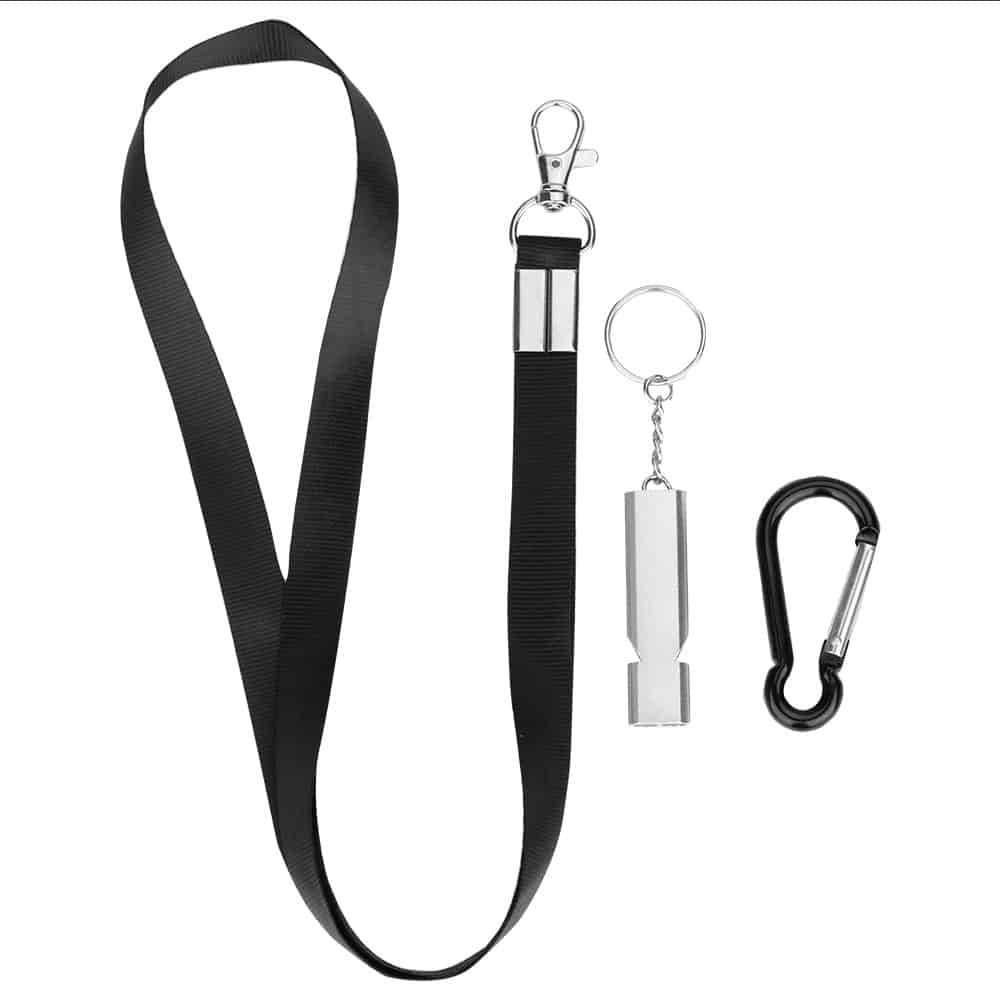 Emergency Survival Kit (13 item set)
Included among the 13 items in this survival kit are a survival knife, a wire saw (for cutting wood), and an emergency blanket.
It also claims the carrying case is waterproof so it should be ready to go for your outdoor adventures. It looks like something Rambo would carry.
It is currently rated 4.5 stars out of 5 with over 400 reviews on Amazon.
Paracord Bracelet
I don't remember when these things came on the market, but now I see them everywhere.
In an emergency situation you unravel this bracelet and end up with 7 strands totaling over 60 feet of rope.
The manufacturer of this particular bracelet (Gecko Equipment) lists 10 different ways you can use a paracord bracelet to help you survive. Included on this list was helping to build a shelter, using the rope to make a snare, tying food up out of the reach of animals, and using the Bow Drill technique to start a fire. To see the list yourself you can click this link and scroll down to the "Product description" section.
It currently has 4.6 stars with over 240 reviews on Amazon.
---
I hope you have found some inspiration to get out there and explore the Great Outdoors.
You may have noticed that I didn't include hiking boots on this list.
I feel like that is something you need to try on in person.
Of course, if you already have a favorite pair of hiking boots and you just need to replace them then buying online is a great option. In fact, here is a link to Amazon's Hiking Boots section but if you're buying a pair for the first time I suggest going to a knowledgeable local store.
Remember to "Leave No Trace."  Check out the Leave No Trace organization to learn how you can minimize your impact on nature.
Thank you.
---
If you like camping as well you may like the following article.