Do you have bath toys scattered all over the bathroom? These bath toy storage ideas will help you get them nicely stored and organized.
For most kids playing with their bath toys is the best part about having a bath. But storing the toys afterward can be frustrating for parents. Where do you put them?
In this article we'll show you a variety of ways to store bath toys, and then you can decide what is the best bath toy organizer for your needs.
This article contains affiliate links. If you click a link and buy something I may receive a small commission at no extra cost to you. As an Amazon Associate I earn from qualifying purchases. For more information please see the Disclosure page.
What are some of the best Bath Toy Storage Ideas?
Below are some great options to store bath toys. Whichever option you choose, you'll want to make sure that the toys will dry off. You don't want water to sit on the toys or in your storage container because this can lead to mildew growth.
And you don't want your little one playing with moldy bath toys or yucky rubber duckies. (Say that 3x fast!)
Mesh Bath Toy Storage Bag with bottom zipper (by Muchfun)
What's cool about this mesh bath toy storage bag is that it can be hung in two different ways.
You can suspend it from your shower rod using the snap-button loops, or you can hang it from the provided adhesive hooks.
The mesh netting allows the water to drip out of the bag.
And the zipper at the bottom lets you quickly dump out the toys for easy access.
This is a really well-rated product that parents seem to love.
Cascading Bath Toy Baskets
These plastic baskets are designed to look like robot heads. They come as a 3-pack.
They're super versatile organizers!
The baskets can be hung in a cascading style like this and hung from a shower curtain, or they can be hung from the included adhesive wall hooks. (They can be hung individually…they don't need to be in a chain like this.)
There are drainage holes in the bottom so water will drip off the wet bath toys and into the tub.
You could use one basket to store shampoo and bubble bath, and use the other baskets for toys. it is a clever bath toy storage system.
Do you like the look of these?
Put the bath toys in a mesh bag (like a mesh laundry bag)
You can use mesh laundry bags to hold bath toys. A bag with a drawstring like the one above helps you contain the toys.
Storing bath toys in a mesh bag allows the water to drain off the wet toys, and the air flow will help dry the toys between bath times.
You may find that over time the mesh bag itself may get a little yucky. So check the label to see if you can throw it in the washing machine or whether you need to scrub it by hand. Then let it fully dry before putting the toys back in.
You may already have a mesh lingerie or bra laundry bag that you could repurpose to become a bath-toy storage bag.
If you're looking for simple ways to store bath toys, this is a great option.
Hang the bath toy bag from the shower head or hanging shower caddy
Some friends of ours hang a few toys in a mesh bag from their shower caddy. The shower caddy itself hangs from the shower head and has suction cups to stick it to the tub wall.
This option is best suited for a small amount of bath toys or lightweight toys like these foam letters.
Hang the mesh bag from suction cups
Another option is to hang the mesh bag from strong suction cups stuck to the bathtub wall.
Suction cups stick best to nonporous surfaces like porcelain tiles or glass tiles.
Even though many of them claim to hold a lot of weight, you'll commonly hear parents complain that suction cups don't work well to hold bath toys in the tub…they fall off.
These particular suction cups from LUXEAR though are well-rated with many parents saying they work well to hold up bath toys.
Hang the toy bag from a Command Hook
You can also hang the mesh bag from waterproof Command Hooks if you have non-porous bathroom tiles or another style of smooth, flat surface on the bathroom walls.
These adhesive hooks have listed weight limits – such as a 5 lbs weight capacity – so stay under these limits and it should work well.
Hang the mesh toy bag using S hooks
If your mesh bag doesn't have a drawstring, you can still easily hang the bag of bath toys by using an S-hook.
You may be able to hang the S-hook from your shower curtain rod or from a shower organizer like in the picture above.
The bag of wet toys will still be above the bath tub so the water will drip into the tub.
Hang the toy bag from a tension rod in the shower
If you have a glass shower door you can you install a tension rod between the shower door and the bathroom wall (so the rod is perpendicular to the bath tub).
Then you can hang the bag from the tension rod using an S hook.
The good thing about this option is you can hang the wet toy bag directly above the bath tub, so it'll drip right down into the tub.
Hanging Mesh Bath Toy Organizer
This bath toy organizer from ALYER has a metal hook up top so you can hang it from your shower head or shower rod.
It is well-rated and people that have had suction cups fail on them in the past really seem to love this option.
Stainless Steel Wire Baskets (rustproof)
If you have a glass shower door then you can hang stainless steel wire baskets like these from the door frame.
Now granted, these aren't huge baskets. They'd be better suited for a small toy or two (like a rubber duckie), but you could also hang a mesh bag of bath toys from the lower hooks.
You could use it as your shower organizer for soap, shampoo, etc… and to hold bath toys. A good double-duty organizer.
Store the bath toys in plastic storage bins
You can store bathtub toys in bins or plastic baskets but you'll want to ensure there are drain holes in the bottom of the containers so excess water can drain out.
If there isn't holes in the bin, you'll want to ensure you dry the toys off before tossing them back in the bin. (Even this woven plastic bin above has a solid bottom.)
This is currently what we do. We took a drawer from an old 3-drawer plastic cart and we use it to store some of our daughter's bath toys. We air dry the toys before they go in the bin. Then I put the bin under our bathroom sink.
(I could drill holes in the bin to allow proper drainage, but I like having it intact…just in case I need to use the bin for another reason.)
Many people use dollar storage baskets to store their kids bath toys.
Ideas on where to store the bin of bath toys once dry:
in the cabinet under the bathroom sink
on a wall shelf
above the toilet
in a bathroom cart
Bins like this are a great option for kids that have lots of bath toys. You don't have to worry about suction cups falling off, exceeding weight limits on adhesive hooks or putting too much weight onto shower organizers.
Put the bath toys into a portable plastic shower caddy
The company mDesign makes this well-rated portable shower caddy.
It is popular for college students and campers who use public showers, but because of the drainage holes in the bottom, they also work well to hold small bath toys.
Tub Cubby Bath Toy Organizer (at Walmart)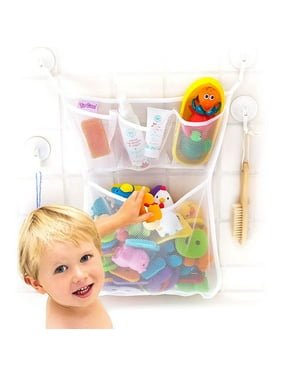 The company Tub Cubby makes this dedicated bath toy hanging organizer.
You can hang it from the bathtub wall by either using suction cups or hooks that have adhesive strips on the back (both included).
Hang it right above the side of the tub and your little one will be able to easily reach the toys (and help you clean up afterward).
Boon Frog Pod – bath toy scoop and organizer
This product looks cute and promising, but many customers have said it falls off the shower wall too many times to be worth while.
Perhaps they can improve the adhesive or come up with a mounting option?
Until then, I'll let you decide if it is worth it.
OXO Tot Stand up Bath Toy Storage
This looks appealing.
I particularly like how you can use the basket as a scooper to scoop up the toys after bath time. The wide mouth of the basket makes after-bath cleanup easy. (As shown in the product photo below.)
And the large holes in the basket allow water to drain out.
It has a separate base that will catch extra water so you don't have to stand above your tubs for an hour waiting for all the water to drain out.
Just scoop up the toys, let the majority of the water flow out of the basket, then place the basket on the base. (The base stays on the bathroom floor.)
Just remember to empty the water from them gray base later so it doesn't stagnate in there.
(And don't let your kids stick there fingers inside the holes in case they get stuck.)
This is one of the best bath toy storage solutions because it stores the toys, and it's a great way to clean up after bath time.
Munchkin Quack Toddler Bath Toy Caddy
If you've tried suction cups and other bath toy organizers in the past, and you're haven't been happy, you may want to check out a different style of holder.
This bath toy holder from Munchkin straddles the sides of your tub and can hold a lot of toys.
It has drainage holes so water won't pool in it and it even has a little bar soap holder.
Below is a picture of the product itself.
Do you want to try a unique bath toy holder like this?
Below is a picture of the bath toy organizer that my sister has. It is a similar concept to the Munchkin brand above, but she thinks she may have got it from the Dollar Store or Walmart. She has had it awhile, and it still works well to hold bath toys. It is extendable to fit different widths of bath tubs.
And, as a mother of three, IF she ever gets time to have a relaxing bath, this bath tub shelf holds her book and keeps it dry.
A win for the kids, and a win for mom.
Munchkin Mesh Bath Toy Scooper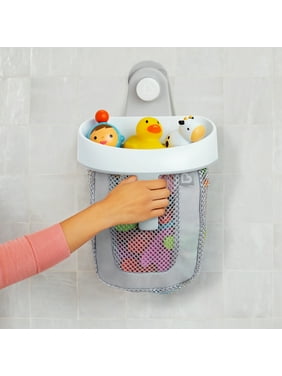 This is another popular bath toy holder made by the company Munchkin.
This is their mesh bath toy scooper. The storage bracket stays on the tub wall, and the basket is removable so you can use it to scoop up the toys then place it back onto the wall bracket.
Cool idea.
Click here to see its high rating on Walmart.com
Bathtub Corner Toy Organizer
The company Skip Hop makes this popular corner bath toy organizer called the Moby Corner Bath Organizer.
It uses four suction cups to help it stick to the corner of a bathtub.
This product photo doesn't really show its scale very well though. It is quite a small organizer.
There are customer-submitted photos on Amazon showing it "in action" and that gives you a better sense of its size. It wouldn't be great for lots of toys…it is best reserved for a small amount of bath toys. But people seem to like it.
Click here to see more information.
My sister also has a similar product but it is made by the company Brica. Brica was purchased by the Munchkin company back in 2014, so you may not be able to find this exact bath toy organizer online anymore. (Munchkin does sell the "Munchkin High'n Dry Corner Bath Toy Organizer, but the design and suction cups are not the same as this Brica model.)
She said this particular organizer worked well when she had a tub enclosure with square walls, but it doesn't work as well on a tub surround with rounded corners.
Hanging Fruit Basket
I've read about people repurposing hanging fruit baskets to use as bath toy holders.
I don't have a picture of this being done, but I think it could work well if the fruit basket was made of plastic or stainless steel so it didn't rust.
I hope you've enjoyed this list of bath toy storage ideas.
You May Also Like:
Check out these Barbie Storage Ideas
Do you have a lot of Hot Wheels cars at your house? You'll love these Hot Wheels Storage Ideas
Under Bathroom Sink Storage Ideas – these go a long way to towards having an organized bathroom