Do you need some bathroom storage ideas? Good because in this article we'll look at 11 Bathroom Cart ideas to help you improve your small bathroom storage.
This article contains affiliate links. If you click a link and buy something I may receive a small commission at no extra cost to you. As an Amazon Associate I earn from qualifying purchases. For more information please see the Disclosure page.
Why would you want a bathroom cart?
Bathroom storage can be tricky…especially if you have a small bathroom. You can't stuff your bathroom full of organizers because they get in the way.
But you can solve this by getting a rolling bathroom storage cart.
Then if its in your way you simply roll it away.
Bathroom Carts are good for Storage and Organization
Depending on which one you buy, a bathroom cart can provide a good place to store your towels, toiletries and other items that usually clutter your counter-top, and you can even store rolls of toilet paper on the carts.
Movable Bathroom Carts allow you to get at dust bunnies
You've seen the hairballs that collect in a bathroom. And you probably have a whole fluffle of dust bunnies behind your bathroom shelves.
But with a rolling bathroom cart, you can move it away out of the way to allow you to better clean your bathroom.
Overall, bathroom carts can make a great, useful addition to a bathroom.
11 handy Bathroom Cart Ideas
Below is the list of various bathroom storage cart ideas made of different materials and have different features.
Which one will work for you?


(I've saved the best-looking for last…scroll down to see if you agree)
1) Plastic Rolling Bathroom Cart by Flowmist
This is a popular 3-tier plastic, rolling bathroom cart made by Flowmist that is available on Amazon.
It is just under 12-inches of room between the shelves so it should fit most bottles of body wash, cleansers, etc… but you won't be able to store too many large bath towels on the bottom or middle shelf. You could stack them on the top shelf though.
Just be careful when you're rolling the cart away that your pile of towels doesn't topple over.
If you want to see what others say about this cart…
2) Rolling Metal Bathroom Cart by CAXXA
This is another popular rolling storage cart but this one is made of metal. It is often marketed as a kitchen utility cart, but many people use it in their bathroom too.
Of course being metal there is a chance that this could rust especially if the powder-coating is scratched off so keep that in mind.
I like how the shelves are like bins, and that they can be removed to clean them. Plus, you can lock a couple of the wheels if you don't want it rolling around accidently.
There are more pictures on its Amazon product page if you want to see it "in action."
3) 4-Tier Plastic Bathroom Cart by AOJIA
Is 3 shelves not enough for you?
This bathroom cart from AOJIA is a 4-tier storage cart that is 35-inches tall and 15.75-inches wide. It is pretty narrow at just under 9-inches deep so it won't take up a lot of room in your bathroom, yet still provide a spot to store your stuff.
I thought it was made of metal, but it is actually ABS plastic so it won't rust. And it has hooks on the side where you could hang hand towels.
What do others say about this bathroom cart?

4) Sterilite 3 Drawer Cart (available at Walmart)
When I first think of storage carts, this is what I think of. We used to have a purple version of a cart like this a long time ago.
The three drawers slide out and the top surface is good for storing towels or tall items that don't fit in the drawers.
You can get this cart in different colors on Walmart.com (where it is currently well-rated at 4.5 stars out of 5 with over 2,000 ratings submitted!).

5) Sterilite WIDE 3 drawer cart (Walmart)
This bathroom cart by Sterilite is very similar to their cart shown earlier, but this is a wider version. It is just under 22-inches wide.
This would work well to store bathroom towels, children's bath toys, and more.
But is there enough room in your bathroom for this cart?

6) Slim Bathroom Cart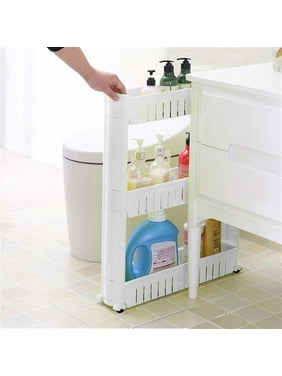 Here is a neat idea. This is a slim bathroom cart that is just over 5-inches wide.
It doesn't have fancy wheels that swivel: these wheels are locked and only go back and forth.
If you have a small bathroom with limited space, would this fit next to your toilet?
CLICK HERE to see this well-rated product on Walmart.com
7) Bathroom Cart with Cabinet
This is a good ideas if you want a movable storage option for your bathroom…but you don't want everything visible.
It's kind of like a rolling bathroom cabinet, PLUS it has a slide-out drawer and a top shelf for taller items.
You could store your toilet paper in the cabinet part and not have it get wet from bathtub splashes.
What I don't like about this product is that there are so many visible screw heads.
Want more details? Click here to see it on Walmart.com
8) Whitmor 5-tier Rolling Shelf Cart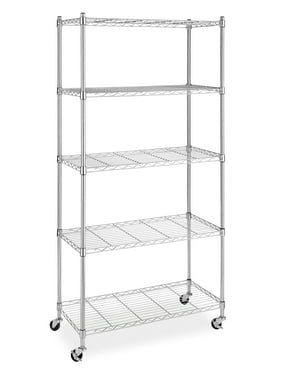 You might be more familiar with a cart like this in a kitchen or storage room…but would it fit in your bathroom?
It is just over 31-inches wide and 14.25-inches deep. And it is just over 5-feet tall.
With open-faced shelves like this you could store your bathroom towels and get some nice baskets and bins to store your bathroom items (like extra shampoo, conditioner, and soap).
Get some smaller baskets and you could store your nail polish, foot care items and more on this versatile bathroom cart.
Just make sure that if you're using the wheels on it you don't exceed 200 pounds total.
Click here to read reviews on Walmart.com
9) Metal Mesh Rolling Bathroom Cart by DecoBros
This is a nice-looking rolling cart made of metal mesh by the company DecoBros.
It isn't very big, so it could work well in a small bathroom.
See the toilet paper rolls in the middle shelf? That helps provide some scale. This isn't a big cart so keep that in mind.
CLICK HERE to see more details on Amazon.
10) DIY Bathroom Cart
Are you hand with tools?
If so, you could put some caster wheels onto lots of different things to make your own rolling bathroom cart.
You could put caster wheels on:
wooden crates
old bookshelves
narrow cabinets
and more… to achieve your own cart that'll fit your bathroom.
11) Japanese-Designed Slim Bathroom Cart (by YAMAZAKI)
I think this is the best-looking bathroom cart of the bunch. It is functional, yet it looks like a piece of furniture and not just a plastic box on wheels.
This slim bathroom cart is only 5-inches deep so it'll roll into small spaces.
Tow of the caster wheels are stationary and two can swivel (kind of like a shopping cart).
Do you like the look of this slim bathroom cart?
I hope you've enjoyed this list of bathroom cart ideas, and I hope at least one of these options will help you organize your bathroom.
Up Next:
11 great Over the Toilet Storage ideas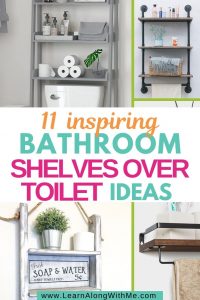 (One of these bathroom shelves over toilet ideas can really help get your bathroom organized.)






27 intriguing Toilet Paper Holder Ideas (some weird ones on here)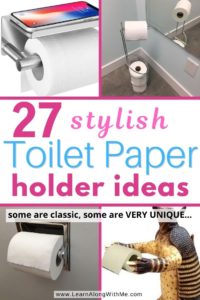 19 clever Under Bathroom Sink Storage Ideas (finally get that cabinet organized)
18 Shower Organization Ideas [get your shower and tub organized with one of these ideas]