Looking to improve your bathroom? Don't forget about the space above the toilet. There are lots of great 'over the toilet' shelf and storage ideas. In this article we'll look at 11 inspiring bathroom shelves over the toilet ideas.
This article contains affiliate links. If you click a link and buy something I may receive a small commission at no extra cost to you. As an Amazon Associate I earn from qualifying purchases. For more information please see the Disclosure page..
Over the Toilet Storage Ideas
Not all of these over the toilet storage ideas will work for you…but is there one that'll help you finally get your bathroom organized?
Let's get started with the various over the toilet ideas.
1. Simple Wooden Shelves with Corner Braces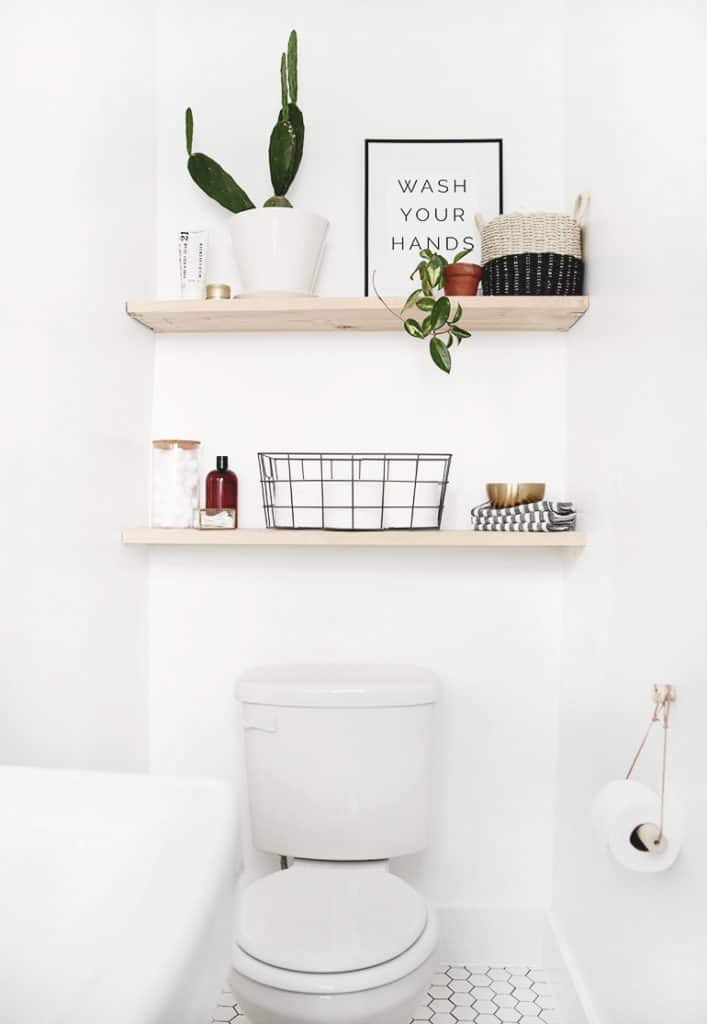 The ladies at "The Merrythought.com" did a great job on their small bathroom makeover. They utilized some simple wooden shelves to give the space a great aesthetic and punctuated all the white with green foliage.
It provides good over the toilet storage, but items will be in the open and visible unless you get some nice baskets.
2. DIY Floating Shelves over Toilet
Floating shelves above toilet can add a nice decorative touch while providing more storage.
The photo below is from ThriftyDecorChick.com On her blog she has instructions on how to make these cool shelves. These wooden bathroom shelves sure add some coziness to the room.
Video Tutorial
If you have some basic tools (a circular saw and drill) then you'll be able to make your own floating shelves by checking out the video below. He does a great job of explaining the process and making it easy to understand.
3. Other Floating Shelves
Above is a "floating" shelf made by SODUKU and is available for sale on Amazon. They screw into the wall through the metal piece at the back of the shelf.
It comes with the separate towel holder – which you may not want right above your toilet – so you can mount it to a wall near your sink or to the side of a cabinet. (In the picture above you see the towel bar screwed into the bottom of the lower shelf.)
Here is a nice "done for you" floating shelf over toilet idea. (Just screw into the wall.)
4. Industrial Pipe Shelves
There are lots of DIY options for building your own industrial pipe shelves, but if you want a "ready to install" kit check out this product from GWH. You can also get it in a 2-shelf, or 3-shelf unit.
This 4-shelf unit weighs almost 27 pounds, so make sure you can screw it into wall studs.
Click here if you want to see more details on Amazon.
5. Simple Wood Shelves (with Wicker Storage Baskets)
Here are some simple, yet lovely wooden shelves. This is from the blog Shelley Jacobsen Design.
She used wood boards that were 2-feet wide, by 8-inches deep and metal angle brackets. It looks good, and thanks to the large baskets she can store a lot of stuff in there (and not have it visible).
6. Stand-up White Cabinet with Shelves
Here is a good 'over the toilet' cabinet with shelves if you don't want to mount anything to your walls. This is a good over the toilet storage idea because it has some doors, so everything doesn't have to be out in the open.
This provides convenient Will this work for your bathroom?
7. Sideways Baskets (Wicker)
Check out this cool idea from the Spruce Your Nest blog. She tipped some baskets over and screwed the bottom of the baskets to the wall.
8. Sideways Wooden Crates
This would work well for "crate" style baskets that you see at all the home decor stores. But if you want make some DIY crates check out this article from Tracy at soulstyle. She did a great job making rustic-looking crates.
9. Ladder Style Shelves
If you are handy you could make ladder-style shelves like this pretty easily. But if you prefer a store-bought over the toilet storage solution, check out this shelving unit by UTEX.
It is available on Amazon, so you can click to see size.
But…Will it work for you?
If you don't want white ladder shelves, the same company UTEX makes a popular espresso version. Will this work with the color of your bathroom?
10. Hanging Rope Wooden Shelves
I love the look of this rustic wooden shelf by RedRoanSigns on Etsy. If you want to support a "made in America" maker, you can check it out on Etsy.
A rustic over the toilet storage shelf like this one will add to the decor of your bathroom, but your stuff will be out in the open unless you get some small baskets or buckets. (But being open may not matter to you all.)







11. DIY Bathroom Shelves over Toilet
I was pretty excited when I came across this wooden shelf. I feel like I could make this too. (I don't know if it'd turn out as well as this though.) You could store extra toilet paper on it and it makes a great display for artwork.
This is another great rustic over the toilet shelf…looks so good.









12. Wall-mounted Cabinets above Toilet
This cabinet unit can be mounted on the wall over the toilet. What's nice about a unit like this is that it has doors so you can have your stuff out of view. Sometimes when you have too much stuff visible in a bathroom (like hair products, face creams, etc…) it can start to look cluttered. These cabinets over the toilet fix that.
Click here to see the size of this cabinet…will it fit in your bathroom?

I hope you have enjoyed this list of bathroom shelves over toilet ideas. Shelves above the toilet like this can really help you organize your bathroom and make it more aesthetically pleasing.
Were any of them inspirational for you? If you could choose one of these over the toilet storage ideas, which one would you pick?
Up Next:
19 Great Under Sink Organizers for your Bathroom


If you want some other ideas to help organize your bathroom, check out this article on bathroom drawer organization ideas, or this one about small bathroom organization ideas (RV Bathrooms).
And if it's your shower that's giving you organization problems, check out this article on 18 awesome shower organization ideas.
11 super-handy Bathroom Cart Storage Ideas (a convenient, rolling storage option)
Thank you,
Tim from LearnAlongWithMe.com