Organizing under the bathroom sink can be tricky. There are so many items we want to put under there, but the darn plumbing gets in the way. Luckily there are lots of bathroom under sink organizers and storage ideas to suit your needs.
In this article we'll look at a variety of ways you can organize and store things inside your sink cabinet.
This article contains affiliate links. If you click a link and buy something I may receive a small commission at no extra cost to you. As an Amazon Associate I earn from qualifying purchases. For more information please see the Disclosure page.


Note: This article has been updated to include even more bathroom under sink organizers that may be perfect for you.
List of Under the Bathroom Sink Storage Ideas
Which of these under sink organizers will work for you?
It'll depend on several factors such as:
available space under your sink
what you need help organizing
how much you want to spend on the storage solution
So scroll through them all and see if one is right for your bathroom.




1) U-Shaped Slide Out Shelf
This is a clever U-shaped slide out shelf made by Lynk Professional.
Instead of having to duck down and reach deep inside the small space of your bathroom cabinets, this convenient organizer slides out so everything is within easy reach.
It is 30-inches wide and 18-inches deep. So please carefully measure your cabinet opening and check the location of your sink pipes prior to ordering. It does have a wire bottom and small items may fall through, but you could easily put small baskets on here to prevent this. It kind of looks like it's giving your plumbing a hug doesn't it.
2) Expandable Under Sink Shelves by Simple Houseware
There can be a huge variety of bathroom cabinet sizes and obstructions. To combat this, Simple Houseware has created this expandable under-sink shelf. It starts off as 15-inches wide, but can expand up to 25-inches wide. And you can adjust the height of the shelves to accommodate different items.
Because you can change the size, and has adjustable shelves, this is a great way to store things under a small bathroom sink.
(This could work well under the kitchen sink too.)
Make the most of your under sink space with this great, adjustable bathroom sink organizer.
Click here to see more details of this under sink organizer on Amazon.
3) Sliding 2-Tiered Cabinet Organizer
Here is another handy slide-out organizer.
This cabinet organizer by Richards Homewares has two different sized shelves that slide out for easy access of cleaning supplies, spray bottles, toiletries, or other items.
You can mount it to one side of the cabinet and still have enough space on the other side to store larger items.
It's popular on Amazon and people seem to like it.
4) Slide-Out Plastic Baskets (with dividers)
This two-tiered sliding organizer from "Made Smart" has frosted plastic baskets and removable dividers to compartmentalize the baskets to suit your needs.
There are spots to label the drawers using a dry erase marker.
It doesn't screw to the bottom of the cabinet: it just sits, so it is especially good for renters.
You could also put this on the counter to hold beauty products, hand towels, cotton swabs, and other similar items. (If you had enough counter space.)
5) Clear Acrylic Stackable Cosmetic Organizer Drawers (Audrey by STORi)
These are clear acrylic "made in the USA" cosmetic organizers from STORi, and are available on Amazon.
You can get it with 4.5-inch tall pull-out drawers (as shown) or you can get as 6.75-inch tall drawers.
Click here for tips on how to organize the top drawer of your bathroom cabinets.
6) Expandable U-Shaped Shelves
This cool expandable shelving system from "SpicyShelf" is clever because it doesn't just expand in one dimension: it expands in 3 dimensions.
You can adjust its width, height and depth to suit a variety of under cabinet sizes and plumbing structures.
It is a popular option to store cleaning supplies and even individual toilet paper rolls.
Click here to see more details on Amazon.
7) Over-the-Cabinet Door Hanging Organizer
An over-the-door hanging cabinet organizer like this one (by mDesign) is a great "no tools required" way to add extra storage space under your bathroom sink. (Just make sure you take measurements first to ensure this will fit and your doors will close.)

It is loved by renters because no screwing needed – just hang it from the back of the cabinet door. And they can take it with them if they move.
8) Over-the-Door Hanging Hair Tool Holder
Here is a good option for you if you have hair tools cluttering your bathroom counter top.
It is another over-the-door hanging organizer made by mDesign, and available on Amazon.
It's a good way to store hair tools like your hair dryer, curling iron, flat iron, or other hair accessories.
9) Lazy Susan (slight rim)
A lazy susan like this one made by Copco allows you to grab bottles of cleaners, hair products and other items from underneath your sink with ease.
Instead of trying to pluck out a bottle and hoping you don't knock over everything else like bowling pins, you simply turn it until the bottle you want is in the front.
This one is popular on Amazon and it has a non-skid surface and slight rim to help keep items on it.
10) Lazy Susan with a raised edge
Similar idea to the lazy Susan mentioned above but this one has raised edges to further ensure things stay put.
11) 2-Tiered Lazy Susan
A 2-tiered lazy Susan like this one (also made by Copco) gives you extra space to help tidy up under the sink. It is 12-inches wide.
The bottom shelf will allow you to store smaller items up to about 4.5 to 5-inches tall. So this bottom shelf would work well for bars of soap, cleaning sponges, and other "short" products.
12) Clear Apothecary Jars
These clear acrylic apothecary jars make great holders for q-tips, cotton balls, makeup removal pads, hair ties, and other everyday items.
And besides that…they look really cool.
These are an especially popular choice for people that don't have a medicine cabinet because they can store a variety of items.
13) Sliding Cabinet Organizer (3 drawer with solid top)
This is similar to the other slide-out organizers I've already mentioned, but this one has a solid top.
So you can fill the 3 sliding drawers with items (mostly small items), and then set shampoo bottles, cleaning bottles, storage bins, etc… on the top shelf.
It can be a bit tricky to tell in the photo, but it is a fairly small unit: 10-inches wide, 13.5-inches high, and 16-inches deep.
14) Stackable Sliding Basket Organizer
This is a popular under sink organizer made by DecoBros. It has a solid wire-rack top and slide-out basket underneath. There is a chance small items could fall between the wires, but if you're concerned about this you can use plastic bins or a small wicker basket to corral smaller items.
And the units are stackable if you have the room under your sink.
15) Acrylic Nail Polish Holder
An acrylic nail polish holder like this on by iDesign can be mounted inside the bathroom cabinet, or onto the back of the door.
It would also work well to hold other small items such as nail clippers, hair brushes, tubes of cream or perfumes.
16) Clear Stackable Storage Boxes
These clear plastic storage boxes by mDesign have removable lids so they can be stacked on top of each other.
I realize the photo shows it with food items (they make a great pantry storage idea), but you can use them under the sink too for toiletries, cosmetics, and other bathroom necessities.
If you're looking for stackable options, check these out.
17) Clear Plastic Organizer with 5 Compartments
The company STORi makes this cool 5-compartment organizer. It is an excellent way store creams and cosmetics under the bathroom sink.
Then when you need them, just lift up the whole clear bin and set in on your bathroom counter. Put away when you're done. Easy.
It would be a great addition to the other organizers I've already mentioned (like the wire rack organizer by DecoBros in idea # 14).
18) Slide-out Removable Cleaning Caddy
This slide-out cabinet organizer by "Rev-A-Shelf" is cool because it doubles as a cleaning caddy. You can slide it off its rollers, hold it by the upper handle and bring it with you to tackle home cleaning chores.
Just make sure you measure under your sink to ensure it'll fit.
A lot of people use this in their kitchen to hold their kitchen cleaning supplies, or in the laundry room, but it's a great option for the bathroom too.
19) Bathroom Under Sink Organization Starter Kit from The Container Store
If you don't want to order a bunch of items separately then you'll like this bathroom sink storage starter kit from The Container Store.
It comes with a 2-tiered metal slide out organizer, the clear plastic tote (like a cleaning caddy), a large bin (right side of picture), and the over-the-door hanging cabinet organizer with two shelves.
And if you don't want a particular item – such as the plastic bin – then you can say Quantity of zero at the checkout. Or if you want more of an item – say you want 2 hanging organizers – then you can add that too. Pretty cool.
Do you have a pedestal sink ? You'll like these over the toilet storage ideas.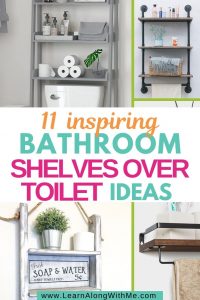 20) Fabric Storage Container to store Extra Toilet Paper
A simple way to store extra toilet paper under the bathroom sink is to get a fabric storage bin like this one from mDesign and tuck it inside the cabinet.
It'll only had a few rolls, but if you have a tiny bathroom, you probably have to store the majority of your toilet paper rolls in a different room anyway.
It is an easy and stylish way to organize…bathroom storage ideas don't have to be complex.
21) Portable Shower Caddy
These are super handy and not just for college students. The multiple pockets provide convenient spots to store a variety of hair care products and other bathroom essentials.
Plus, if you are going to stay at a friend's house you can grab your shower caddy and go. You'll have all your good things with you.
This particular one is mesh, but you can also get them in rigid plastic too.
22) Hanging Garbage Bag Holder
This stainless steel hanger slides over top of your cabinet door and holds your trash bags.
It can free up floor space in a small bathroom, but it may not work well if you have a small cabinet. Make sure to measure before ordering. (You want to ensure your cabinet door will close without hitting the pipes or other stuff inside the cabinet space.)
Click here to see the measurements of this trash bag holder.
23) Hanging Small Pocket Organizer
Take a small pocket organizer like this and screw it onto the inside of your bathroom cabinet door.
You'll probably have to cut off some of the pockets to fit your door. (You can probably find similar products at the dollar store.)
Of course you won't be putting your phones inside the pockets, but they are a great place to store and organize small items like nail polish, makeup brushes, hair ties, and other smaller items.
You may be able to fit a blow dryer inside one of the pockets depending on the size of pockets you buy. (Just let it cool down before you put it into the plastic pocket.)
I hope you found something in this list of bathroom under sink organizers to help you get that under-sink clutter under control.
Up Next:
11 inspiring ideas for Bathroom Shelves over the Toilet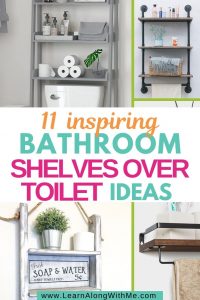 If you need some help organizing your bathroom drawers, check out this article on bathroom drawer organization ideas.
Shower organization struggles? Check out this article on 18 shower organization ideas.
Thank you and have a great day!