A bedroom storage chest can be a great place to store extra blankets, keepsakes, or clothes. And it keeps stuff out of sight! If you've got blankets falling out of your closet or clothes scattered around, one of these should help.
But which one will work for you?
In this article we'll look at 9 well-rated bedroom storage chests including:
wood hope chests
storage benches with padded tops
tufted storage bench options
and more…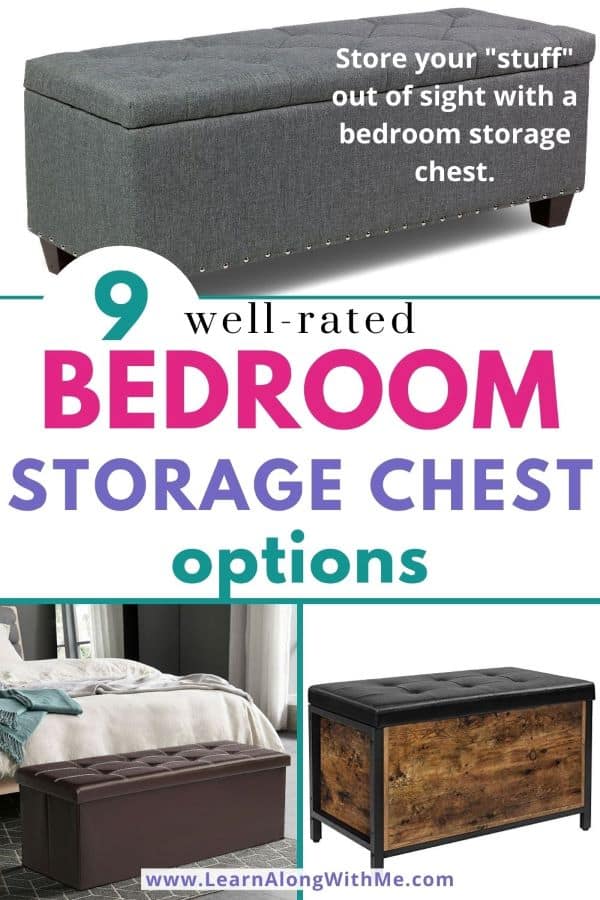 This article contains affiliate links. If you click a link and buy something I may receive a small commission at no extra cost to you. As an Amazon Associate I earn from qualifying purchases. For more information please see the Disclosure page.

9 well-rated Bedroom Storage Chest options
If you're wondering how to better organize your bedroom, you may want to look into getting a storage chest for your bedroom.
Below you'll find a variety of bedroom storage chests from different online retailers such as Etsy, Amazon and Walmart.
Will one of them work for you?
1) Wicker Storage Bench with Storage under the Seat (Amazon)
Would this wicker storage bench go with your bedroom decor?
The seat flips up to reveal storage inside the chest compartment. The seating capacity is rated at 260 pounds. It could be a good place to sit to put your socks on in the morning.
It is a bit tricky trying to get the scale of this product…and to figure out how much it can store. So this may help: the storage compartment is 31-inches wide (side to side), 12-inches deep (front to back) and 11-inches high.
It is well-rated with lots of reviews on Amazon.
2) Amish Wood Hope Chest (a beautiful bedroom storage chest)
Doesn't this look beautiful? This hope chest would make an eye-catching addition to a bedroom.
This is made from brown maple wood, but has a 3/4-inch thick cedar bottom (to help repel moths).
It is extremely well-rated and is available in several different stains to match a variety of bedroom décor.
I was surprised to see this on Amazon.
Would this hope chest look good in your room?
CLICK HERE to have a look at this handcrafted bedroom storage chest.
3) Natural woven bedroom storage chest (Etsy)
This has a light, natural look because it is handmade using palm and rattan fibers.
It is made in Morocco, and is available on Etsy from a seller named Libitii. They bring up a good point that because it has no hard, sharp edges, it is a good piece of furniture if you have young kids.
You can get it in three sizes with the largest size being about 31-inches wide.
CLICK HERE to see more details on Etsy.
4) Black Bedroom Storage Bench (Walmart)
This bedroom bench doubles as storage chest because there is storage underneath the cushioned, flip-top lid.
It is made of MDF wood (medium density fiberboard) with a glossy black finish, and is rated to hold 600 pounds on the bench seat.
The interior storage chest compartment measures about 31-inches side to side, 13.5-inches front to back and 10-inches tall.
This should be adequate to hold neatly folded sheets, pillowcases and clothes.
Will this work for your bedroom?

You may also like these Over Bed Storage Ideas.
5) Flip-Top Storage Ottoman Bench (Amazon)
In the picture above you can see this bedroom storage chest has a flip-top to expose the interior storage area.
This black bedroom storage bench has a black metal frame with engineered wood siding styled in a "rustic" look.
And in the picture below you see the dimpled faux leather upholstery seat which can hold 198 pounds.
This storage chest is available on Amazon if you want to have a closer look.
6) Solid Wood Hope Chest (Etsy)
Here is another handmade wooden bedroom storage chest that looks amazing. It is crafted by a woodworker in North Carolina who has a shop on Etsy called Autry Design.
You can even get this wood chest customized with a different saying or design!
Very cool.
CLICK HERE to see more details on Etsy.com
RELATED ARTICLE:
Is your bedding storage a mess? Check out these proven bedding storage ideas.
7) Tufted Storage Bench [Faux leather] (at Walmart.com)
This brown faux leather storage bench is 43-inches wide, and it can actually fold up too! It is 15-inches front to back, and 15-inches tall.
What is incredible to me is that even though this is a foldable bench, it is still rated to hold 660 pounds on the seat.
Note, that this is not a hinged top. It is simply removable.
This tufted storage bench is currently rated 4.5 out of 5 on Walmart.com

8) Gray Storage Bench with Tufted Top (Walmart)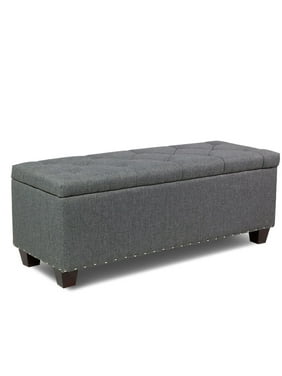 This upholstered gray storage bench would work well at the end of a bed. It is 42-inches wide (3.5 feet wide).
I wasn't able to determine how big the actual storage compartment is, but it should still fit some clothes and bed sheets in there.
The gray fabric will allow this to go with a variety of bedroom decor. But will it work for your bedroom?
It is currently rated 4.6 stars out of 5 on Walmart.com if you want to see more pictures.
9) Strong Storage Trunk (Amazon)
You probably won't have this many kids standing on your storage trunk at once, but this product photo does a good job of showing its solid build. It is made from plywood and has steel trim and steel siding.
They market it as an "undergrad" trunk for college students heading off to dorm rooms, but it would work just as well as a bedroom storage chest.
Don't love the blue color? It is available in LOTS of different colors.
CLICK HERE to see the other colors.
I hope one of these 9 handy bedroom storage chest options will help you get your bedroom organized.
Up Next:
13 Over Bed Storage Ideas (make good use "wasted" space)
Twin Bed with Storage options (great organizers for kids rooms)
11 stylish Square Storage Ottoman options (great for living room storage or in your bedroom)
13 awesome Daybed with Storage options [add more storage options to your bedroom]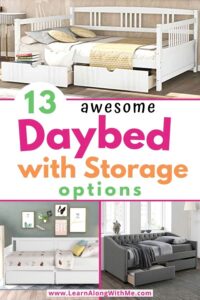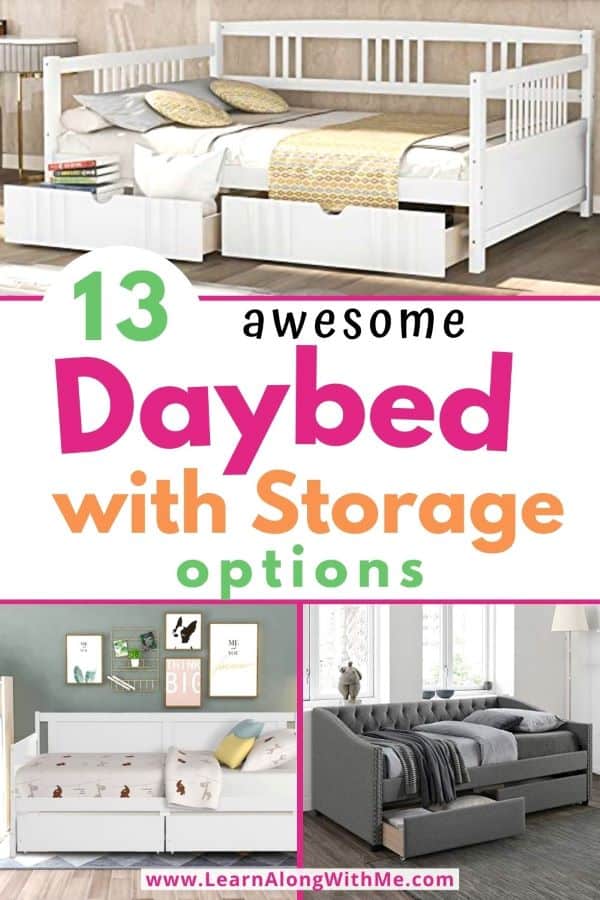 13 lovely Queen Daybed options [yes they make daybeds this big!]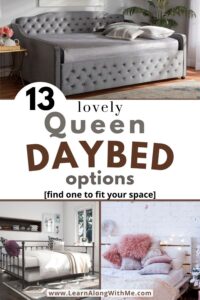 25 handy Hat Storage Ideas [organize your hats]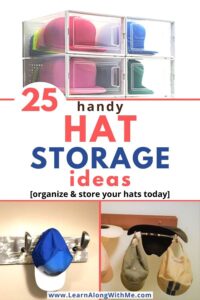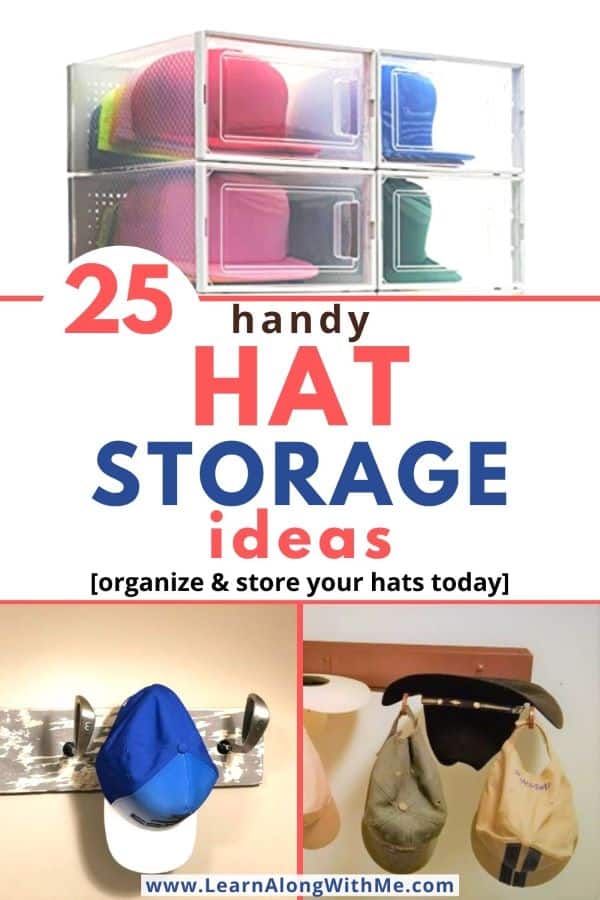 Plus, check out: