These are uncertain financial times. With automation taking jobs now and risking more jobs in the future, is your full-time job at risk? Here is a list of 103 of the best side hustle ideas to help you diversify your income.
If you want to stabilize your own financial security then build multiple income streams.
This will help buffer you against drastic financial shocks.
This post contains some affiliate links. If you click a link and buy a product I may receive a small commission at no extra cost to you. Please see my Disclosure page for additional information.
Side Hustle Ideas – 103 of the best ideas to inspire you
I have not done all these side hustles, though I will comment on the ones I've tried.
I am not claiming I got rich doing these side hustles, nor that you'll get rich doing these side hustles, nor that they'll be easy money.
Get Rich Quick Schemers can stop Reading Now.
Many of these side hustle business ideas are low cost business ideas with a huge potential for growth.
Many have low barrier to entry. This might mean lots of people are already doing it, but they aren't you.

And you bring something special to the table. You bring your own personality, your own wit, charm and experience.
So if you are willing to share with the world the things that make you YOU, then there is someone out there you can help.
There is a problem out there that you can solve. And people pay for solutions.
But it'll require work. That's why we say side HUSTLE…because work and hustle is involved.
Before we get to it, first quickly analyze yourself.
What are your skills?
What is your available time?
What is your personality? (Do you like to communicate and deal with people, or rather fly solo?)
What is holding you back?
Is it lack of knowledge?
We overestimate what we can accomplish in the short term, and underestimate what we can accomplish over the long term.
Like Arnold Schwarzenegger said in a famous speech, if you read for just one hour a day, in a year you'll be 365 hours smarter on a subject than you were a year ago.
So you may not be able to do something now, but that doesn't mean you can't learn.
And don't underestimate the skills and knowledge you already have.
The simple things you take for granted may be exactly what someone else needs to learn.
Say you've been pounding nails for 10 years.
You can toenail a stud into a bottom plate no problem. But guess what?
Other people can't and would love to learn to do it properly.
If you've got some charisma your YouTube channel about carpentry could do well.
Improve your Knowledge and Skills – – Slow Down to Speed Up
You may want to leap into something and just start.
Which is great.
But leaping into the water and just flailing around isn't swimming.
You take lessons from someone who knows how to swim.
You may be better served in the long run to slow down, learn or improve a skill, and then get out there and put it into action!
Online Learning Resources
Udemy – I've bought online courses from Udemy before. They have a huge variety of courses, an easy to use website, and a 30 day money-back guarntee.
Udacity – the courses are aimed at technology careers such as self-driving cars, cloud developer, programming, etc… the "nanodegrees" do cost money but they could improve your tech skills and pay you back handsomely in the long run.
Coursera – you can take a course for free but you won't get any type of accreditation for it. If you want to learn business fundamentals they have good courses from the Wharton School of Business at University of Pennsylvania.
Fiverr Learn– you'll notice Fiverr listed in several spots. It's a place you can find work as a freelancer, hire freelancers to help you build your business, and they also offer courses now too.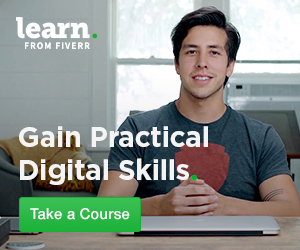 Local Community Colleges
I just recently took a computer programming course at my local community college. Having a set schedule where I needed to be there between "this" time and "that" time made a huge difference for me.
I gained some valuable skills in that class, and it provides me the basic building blocks to move more in this direction if I want.
Does your local college have classes that interest you?
I've separated the side hustle ideas into three main categories:
1. Build your own online empire
Create your own special money-making space on the internet
2. Freelancing
Doing work for other people primarily online (so they can build their empire, but you're getting paid and learning)
3. Physical Side Hustles
Doing things in the physical world and getting paid for it
You'll notice that I think both freelancing and physical side hustles are a great way to start earning money, but you often have to "trade your time for dollars" much like a day job.
But after some experience and validating your ideas you can develop or transform these types of side hustles into your own business empire.
Where appropriate I will put my ideas on how you could transform these hustles into your own businesses.
For instance, instead of you physically cleaning houses, you start a housecleaning service business, you get the contracts with the home owners and then you sub-contract the actual cleaning to other people.
BUILD YOUR OWN ONLINE EMPIRE
Most people are very knowledgeable about at least one topic. It could something they have done for a living, it could be a hobby, or it could be another life skill they've picked up over the years.
Perhaps you preserve the best tomatoes around and all your neighbors get your help.
You may have overlooked this skill as just "something you do."
But not everyone knows this skill.
You could carve out your place on the web where you share what you've learned with other people.
But how do you communicate your knowledge or skills?
1. Blogging
This is a long section but stick with it because your blog (aka your website) can be the absolute hub or cornerstone of your online empire.
I know first hand that a blog can you make you some side hustle money. It isn't always easy (or fast) but it is doable.
When I say blogging does it leave a weird taste in your mouth?
Do you say, "I'm not going to write about what I had for lunch!"
I know when blogging became "a thing" many people dismissed it as stupid.
But don't think about blogging in such a limited way. Don't think of it as "web logging" the silly things you did today. (Unless of course you're genuinely funny.)
Instead, think of blogging as an amazing way to share your skills and knowledge with the entire world!
Were you around prior to the internet? It's still a little hard to believe how amazing the internet is.
Just think about it…prior to the internet if you typed up an awesome "How to plant a butterfly garden" brochure you could print it off and then what? Mail out a thousand copies as a chain letter? Put an expensive ad in the back of a magazine and hope someone orders a copy of it?
Now I can wake up with an idea for an article, spend a few hours researching and writing it and then hit "Publish" and instantly someone across the globe can read it!
Gawd I wish my younger self was more in tuned with how big this whole "internet thing" was going to be!!
And when you tell people you're thinking of starting a blog they'll either have a confused look on their face, or they'll outright say "Why the hell are you doing that? You think people care about what you're doing?"
But forget their cynicism. There will always be people who want to knock you down and keep you down. But you have the hustle to rise above.
You should think of your blog as a website, and that website is the hub for your other activities.
Even if you have side hustle mowing lawns then put up a simple blog.
Describe what services you provide. Talk about what you'll do for the client. List your service areas and how to contact you. Write an "About" page and list why you got started in this business and what keeps you moving forward.
Getting Started Blogging
There are free blogging platforms available such as Blogger (owned by Google), and WordPress.com but these have limitations. They can help you get your feet wet, but they aren't great for online businesses.
For instance, your site's domain name will not look very professional because it will include either … yoursite.blogspot.com or yoursite.wordpress.com.
Your site could be littered with ads that you don't control and you don't get compensation for. And in the case of a WordPress.com blog you won't be able to have these things called plugins. (Which are like extra features to add to your blog.) (To learn the difference between the free WordPress.com and "self-hosted WordPress sites" click here.)
Better option for serious side hustles
A better option is to buy a website hosting plan from companies such as GreenGeeks.
You pay them to host your blog (usually quite cheap) and you can buy a professional-sounding domain name such as yoursitename.com for your blog. Then you have control.
And what's cool is that you can use the WordPress software to create your blog.
It's the biggest name in blogging, and GreenGeeks has "one-click" WordPress installation.
WordPress is analogous to a word processing software where you write your material, add pictures, embed videos, and there are tons of other cool additions you can add to your site like social media buttons, schedulers, etc…
I use GreenGeeks for this site. I like it, and they have great support staff. I think they are a good option for beginners. Check out my GreenGeeks review here.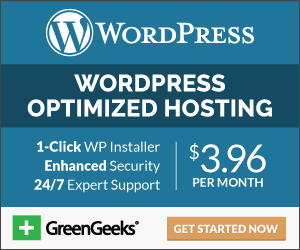 Once you have your website you "own the land."
If you build your online audience only on something like Facebook or Instagram then you are at the mercy of Facebook's algorithm changes. Overnight they could change their system and your posts won't show up anymore. It's a possibility. That why you want to own your own digital home: your own website.
So create your own space and start creating great content on your own blog.
Check out my RankIQ Review – is RankIQ worth it for bloggers?
4 Ways People make money Blogging
You probably are asking yourself, "How do people make money blogging though?"
Once you know some of these blog money-making secrets you'll start seeing them everywhere.
The internet will become a different place for you. You'll start to notice the ads, links and referrals on your favorite blogs in a whole new way. And my list here isn't inclusive. There are even more ways bloggers can make money.
a) Advertising
You'll see ads on some blogs. In fact, I think some blogs have way too many ads! It slows down their performance. The website owners get money from displaying those ads, or if the ads are clicked.
Google has an ad program called Google AdSense.
It can make bloggers some money if they have enough people visiting their site. Clicking an ad to another website does get your readers off your site though, so keep that in mind.
If your goal is trying to sell something on your website, well now your reader just left to chase some ad.
b) Affiliate Marketing
There are affiliate programs which are like referral programs. One I use is Amazon. So Amazon is a huge online marketplace that has SO MANY products to offer. If I mention a cool book, such as "Choose" by Ryan Leveseque, and I link to it on Amazon then if you follow my link to Amazon and buy something, I make a small commission off of the sale.
See the little image ad below. That is an affiliate link to Amazon. So Amazon will pay me money if someone clicks that link, goes to Amazon then buys something.
It doesn't even have to be that book! You could go to Amazon and then suddenly remember that you need new white athletic socks. So I'd get a small commission from your sock purchase!
That in a very simple nutshell is affiliate marketing.
The amount you get from Amazon – as a percentage of each sale – isn't very much: usually around 4%.
But if you recommend higher-priced items or if your blog sends a lot of traffic to Amazon then those small commissions can add up.
It is advisable to be honest with your readers. You should only recommend items you'd recommend to a friend, OR be completely honest with them and say, "I haven't tried all these items on the following list, but if you like what you see check it out."
Just don't say you absolutely love this HDTV valued at $5,000 just in an attempt to get a commission from it.
c) Getting People's Attention so they'll join your Email List
Many big bloggers out there – including Darren Rowse from Problogger and Digital Photography School – say that the money is in the email list. In an interview with Amy Porterfield on her podcast Darren said that he makes most of his online money from people on his email list.
Not too many people will buy big ticket items off you right away. If they land on your website and read an article they may not open up their wallet and hand over $1000.
But if you can get them on your email list and respectfully communicate with them over email you can build a rapport with them and make them see the value in your $1000 item.
You may be able to communicate that if they DON'T buy your $1000 thing (product or service) this could actually cost them tens of thousands of dollars.
For instance, if you sold a course on how to use Pay advertising and charged $1000, an initial website visitor may say, "Holy crap, this guy must be nuts. He expects me to pay $1000!!"
But if you get that person on your email list and over time communicate the value of your course. The reader will soon see that if they don't buy your course they could naively spend thousands on ads and get nothing in return.
Then that same reader will later say, "It cost me $1000 but saved me $12,545 in return."
d) People will buy from your business
The idea is that if you provide great online material for whatever your business is, then people will be more likely to find your content online.
For example, if you write a bunch of quality blog posts about lawn care and you incorporate your city name into the blog post then there is an increased chance of your lawn mowing company getting found on Google.
This means if they search for "lawn care in 'your city'" on Google you will hopefully be one of the first companies featured.
Provide people with what they want to know. If you don't find it they'll hit the back button and go to the next search result.
And do you think someone will want to call you to ask about all your services?
Maybe some will, but do you want to be spending your spare time answering these questions?
No. So write about them on your own blog and answer your potential customers questions. Marcus Sheridan, formerly of River Pools, calls it "They ask, you Answer" marketing.
If you want to get started building your online empire cornerstone – your website – you can click the link below to get started with the most environmentally-responsible website hosting company, GreenGeeks.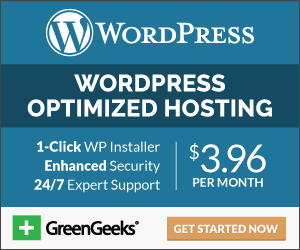 If you want to read why I chose to switch to GreenGeeks you can read my article here.
2. Write eBooks
There is a little marketplace you may have heard of that sells a few eBooks. It's called Amazon. (I don't think they publicize how many eBooks they sell in a year, but it must be in the billions.)
If you have a great "how-to" guide, business advice, lifestyle advice or any other way to improve people's lives then chances are you'll find a buyer on Amazon.
You may not get rich but you may get some passive income coming in.
You write the book once and then you continue to make money off of it even while you're sleeping. That is the idea anyway.
But before you spend the time writing the book make sure you have actually helped people solve the problem that your book promises to solve. Validate the idea. Do people actually want, and more importantly will they pay for a book like that?
And there are clever ways you can "build an audience" from your eBooks.
If you can convince an eBook buyer to join your email list (get them to your blog to receive a free checklist or worksheet) then you will have a list of people who have already bought your books.
Then when it's time to write book #2 you already have a group of people who bought book #1.
You can email this list of people to let them know.
And if you offer the book for sale on your own blog then you'll get almost all the money instead of paying commission to the "big guys". And this way you don't have to strictly rely on Amazon or iBooks or Google's bookstore for your book to be discovered by searchers.
If you want to find out more information on selling eBooks on Amazon click here to go to the Kindle Direct Publishing website.
If you spend the time writing an eBook then have an editor look it over. Having a fresh set of eyes on your work can help find flow issues, grammar errors and spelling issues.
The link below will take you to Fiverr where you can hire a freelance editor (usually for cheap 😉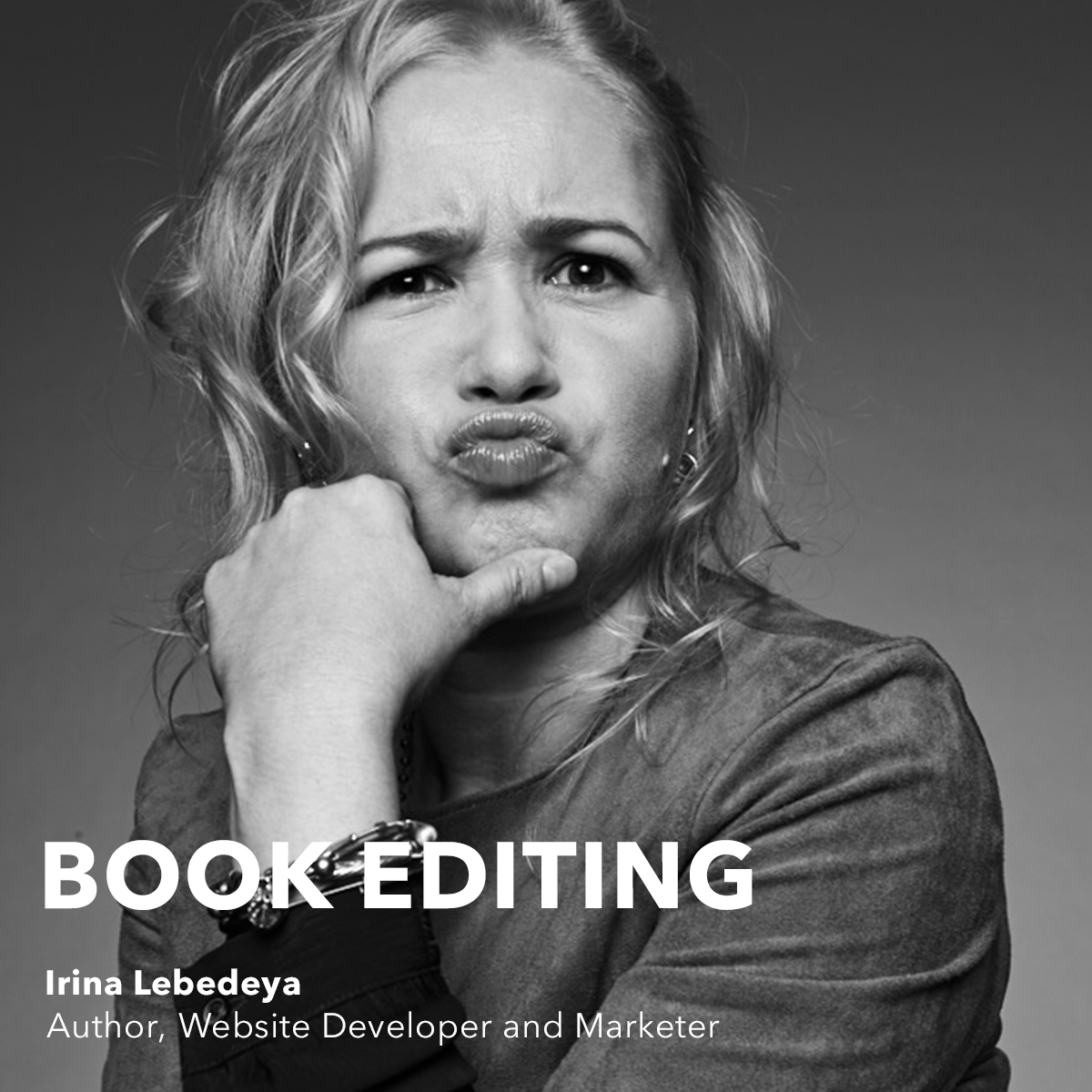 I haven't created an eBook yet, but Nick Loper from Side Hustle Nation has, and he has a course on Udemy describing how you can efficiently launch your eBook. It won't help you much if you write a great book but nobody can find it in Amazon's vast eBook vault.
3. Make Videos
I love YouTube.
From watching YouTube I have learned how to build interior walls, to change a toilet, to fix my vehicles, to do cool stuff with software, and not to mention access to awesome music.
When you say 'video' a lot of people say, "No way, I don't want to be on camera!" And I completely understand that. It's not my favorite thing either.
But you don't necessarily have to be in front of the camera.
A lot of people do hands-only videos where you see what they are fixing or working on and you hear them, but you don't see their face.
My sister-in-law has some knitting tutorials on YouTube and one of them has over 850,000 views!
Just imagine that…almost 1 million views to a video showing how to tie some knitting knot.
Just think of how many people she has helped with that video and how many people have entered her "universe" and likely bought her knitting patterns from this.
For videos about software or gaming there are "screen capture" videos. You don't use a camera at all and instead you just record what is happening on the computer screen. This is how I learned to do some neat stuff using my email provider called MailChimp.
If you want to see an example of a screen capture video here is one I did a couple months back.
(I am not a YouTube expert as you can tell by my 25 views…but it can be a great way to communicate and get yourself in front of new people. It is how Justin Bieber was discovered after all 🙂
If you want to get started, here is a link to the YouTube creator page. You need a free Gmail account to log in, but its a straight-forward process.
And with smartphones you can do filming and editing right on your phone and upload with the push of button.
Very little barriers to get in front of millions of people.
This is the kind of technology that filmmakers dreamed of for over 100 years and now we have it in our pockets!
Freelance Opportunities (chance for quicker money)
Building your own YouTube following will take some time, patience, perseverance and consistency.
But if you need to make ends meet now then you could offer to shoot and edit some videos for local companies.
Video marketing is huge! Convince the local pizza place to hire you to shoot a video about their delicious wood-fired pizza!
Here is a link to a highly rated course on Udemy called "Video Marketing: Learn DSLR Video to Grow Your Business." It is currently rated 4.8 stars out of 5 on Udemy with 90 reviews. This should give you a base to promote your video marketing skills.
4. Create and Sell Online Courses
In the "Improve your Learning and Build your Skills" section above I mentioned a site called Udemy. All the people who offer courses on there aren't university-certified teachers. They are people who know something about a topic and want to share that knowledge or skills with you.
And they get paid when you buy the course.
They have taken the time to create the course material (so shoot the videos) and they're getting paid for it.
You can create your own online courses and get paid for it. (Do the work once and continue to get paid for it in the future.)
Make sure you have actually helped folks in real life though with your course material. Don't just pull stuff out of hat unless you're teaching magic.
There are thousands of courses out there that will never provide a return on investment for the creator because there is no demand nor willingness to pay for that topic.
If you create good courses for topics that are in demand then you can do real well.
Some online course creators, like Rob Percival, seem to do really, really well. Just one of his courses (about Digital Marketing) has over 52,000 students. Even if those students paid only $10 that's over 1/2 million dollars from one course.
Don't know how to create a course? Don't worry, there is a course for that. And every course on Udemy comes with a 30-day money-back guarantee.
So you can take a course on how to create a course, try it for a month and if it isn't right for you you'll get your money back.
This course called "Creating Udemy Courses: A Step-By-Step Guide – Unofficial" is a course that teaches you how to create courses. 🙂 It is currently rated 4.6 stars out of 5 on Udemy, with over 170 ratings and over 10,000 students have taken part.
5. Membership Sites
You can create websites called membership sites where people pay you to access your site.
I've heard people rave about membership sites: "You gotta build a membership site!" The idea is that you create great content around a subject, build a community of like-minded people, and these people will pay a membership to access your site.
To do this well I think you'd need to cultivate a good community and great membership benefits. And continue to provide great content that enriches the members lives. If your content is only a "one and done" article then people won't pay for that on an ongoing basis.
I think this would be for more advanced content creators and web savvy people.
6. Teachers Pay Teachers (TPT for short)
This is a side hustle that I do. And no, I'm not a teacher. You do not need to be a teacher to sell on TPT.
This is a marketplace where teachers can go to buy and sell lesson plans, classroom decor and tons of other stuff. But a lot of non-teachers are on there selling graphic design elements like clip art, page borders, fonts, etc…
I personally don't make a ton of money on there because I only have about 20 products for sale. Most of my products are simple one page worksheets.
Yet it is a good side hustle business idea.
I make the PDFs once then I continue to get paid for them: they call this passive income.
You can see the screenshot above from my email inbox. It isn't huge amount of sales but it's consistent during the school year.
I'm getting paid $1-2 per day for work I did months ago. And who knows how well I could do if I concentrated on it?
There are teachers who have become millionaires selling on TPT. It is pretty amazing.
I don't want TPT to be bombarded by crap though, so if you don't have something that you think will benefit our education system, don't ruin a good thing.
7. App Business or SAAS (Software as a Service)
These aren't get rich quick schemes. Have you seen the number of apps on the App Store? Huge number! There is development costs, but also updating costs. They aren't one and done.
Plus, you may need to have continual support staff (especially for a SAAS company).
But if you have a problem and you can solve it with software then chances are good other folks are having that problem too. The question is, is the problem big enough that they'll pay you for the software solution? You have to be very adept at defining the problem.
Before you actually build the product you should try and validate it. You can check out this book by Pat Flynn called "Will it Fly" or you can listen to his podcast episode where he interviews Dane Maxwell about validating ideas for money-making software. You don't even need to be able to write code but you need to be able to work with coders.
Could check out these Udemy courses such as this one that involves Flutter. And this one called, "Running a Mobile App Dev Business: The Complete Guide."
Making Money through Social Media (Building your own Social Media Brand)
8. Influencer Marketing
We live in such a crazy time. A teenager who loves baseball caps could have a huge following on Instagram and then get paid by a company to wear that hat for some pictures.
The idea is that now that the hat will get in front of all the people that follow that teen, and since this kid is cool, the followers will be influenced by this teen and go buy the hat.
Yes it is a thing.
I'm not an expert on Instagram at all. I had to ask my 13 year old daughter how it works.
And since she doesn't have her own course on this (yet), you may want to check out this course on Udemy about Instagram Marketing. It has a ridiculously high number of ratings (over 13,000!!) and is currently at 4.4 stars out of 5.
9. Podcasting
This is not a get rich quick scheme. (I found that out the hard way 🙂
But it is a great way to make inroads into an industry.
If you have a curious mind and genuinely want to learn more about an industry then podcasting about it can be great. You can interview people for your show and learn from their experience.
It is like you get mentors for free! And you get to share that wealth of knowledge with your listeners.
What is special about Podcasts?
You have an opportunity to build an audience. Then perhaps down the road you come out with a cool digital product that can improve their lives. Now you have people that know you and will hopefully buy from you.
You can make money from podcast sponsors. Once you have your show established you can approach some companies in your industry and request an opportunity to discuss a sponsorship deal.
Another way to make money from podcasts is use the audio as a way to drive more people to your website.(We call this driving traffic to your site.)
When they find you on iTunes or somewhere else they get "introduced to you and your universe." You have a chance of creating a new fan. Then once on your website you could potentially help them more by offering them eBooks, courses or even coaching.
Examples of people who have built their empires on the backs of podcasting include Pat Flynn from Smart Passive Income and John Lee Dumas from Entrepreneur on Fire.
Other Online Business Opportunities
10. Buy Existing Websites
You can buy a website that already makes money. If you already have some web skills then you can buy sites, improve them and then either resell them or build up their revenue. You can check out Flippa.com it is a marketplace for buying and selling websites.
11. Create Niche Websites
This is similar to blogging, and there is a lot overlap, but it involves creating a website around a small dedicated niche. For instance, it could be a website dedicated to 1970's Honda trail bikes. Then you could have affiliate links to Amazon or other places that sell parts or merchandise for lovers of these motorcycles.
To get an idea of whether a niche is worth pursuing you should check out the book "Choose" by Ryan Levesque. I've provided a link here to get it on Amazon. It's a book that'll get your gears turning. My sister and I would text each other, "What about this idea? Does it fit into Ryan's formulas?"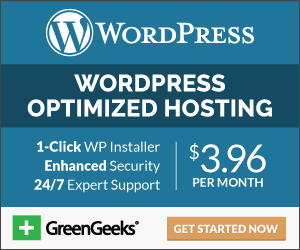 ---
FREELANCING
Freelancing is essentially helping other people build their empires. But it is just that: helping.
And it can be a great way for you to start making money from home, and to help gain experience. And after you've helped dozens of other people then you'll have a much better chance of creating a good digital product like the ones I listed above.
There are so many freelancing opportunities to make some money. Those existing skills that you have – and take for granted! – may be what someone else is looking for.
Ask you personal network what they need help with. Put some posts on Facebook and see what your family and friends need help with. Check with local businesses: what do they need help with?
There are also online freelance marketplaces like Upwork.com or Fiverr.com
Fiverr in particular may have opportunities for beginners.
Examples of in-demand freelancer positions from Upwork.com include Android Developer, bookkeeper,
Game Developer, graphic designers (including logo designers), Information Security Analysts, Computer programmers and developers, customer service agents, and more…
Don't worry if you have these skills. You can make money with your current skills, or you can expand your knowledge by taking classes through sites like Udemy or Fiverr Learn.
12. Writing for a Newspaper
If you want to have some local impact then writing for a newspaper could help position you as an authority in your topic.
Plus, it will help improve your writing by having to submit your work to a professional editor prior to publishing.
You can also do freelance writing for magazines. Here is a link to an article with tips on how to submit freelance work to magazines.
13. Freelance Writing
This can include writing for other people's blogs and website, or it may be more lucrative deals like technical writing and white papers for companies.
If you want to try your hand at freelance writing you can check out Upwork, ProBlogger's job board, or Fiverr.com
At this time it doesn't cost you anything to create an account on these freelance sites!
Generally how they work (at least on Upwork and Fiverr) is that you apply for a freelance job and the listing website gets a cut out of your pay. So if you earn $20 for your work the website may take $4 or $5 out of that $20.
14. Resume writer or cover letter writer.
You could niche down and specialize to become a resume writer or cover letter writer. You could develop this into a good side hustle business idea. You could hold workshops for high school students in the spring so you can prepare them to get a summer job.
15. Create WordPress Sites for Companies
For this I don't mean write the code underlying the web site, I mean creating a website for a company and using WordPress. WordPress is a blogging and website development software that is easy to use, and if you can use Microsoft Word then you can start creating sites with WordPress.
Who to make sites for?
It can be hard to get work building a website for someone if you don't have a portfolio of sites already completed.
My suggestion is to start with your own personal blog. This website will act as the starting point for your portfolio.
I use GreenGeeks as my web-hosting company and I've been very impressed. I like knowing my website is having a positive effect on the environment. If you want to read my article on why I chose GreenGeeks, click here.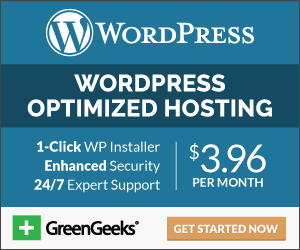 Once you've got your personal site completed you can put a message on your personal Facebook profile saying you'd like to try building a website for someone…and you'll do it for free…just to get some experience.
Once that is done you'll have two websites completed: your personal site and the one you volunteered to build.
Then you can go to job boards such as Fiverr.com, or Upwork to see if there are companies looking for website creators.
(Fiverr is easier to join and probably better for a beginner. Upwork will likely refuse your application if you don't have much experience.)
Remember you don't have to know everything about everything…you just have to know more than the person you're helping. And what you don't already know, you learn!
Make sites for Local Companies
I came across a local restaurant that had a terrible website. It looks bad and dated. What's worse, is that it didn't have basic things that a reader would want to know. Such as how much does "X" cost.
I'm tempted to contact them and offer to do a WordPress site for them, but I'm not great with people so I don't know how I'd bring that up.
And you'll start to come across countless local companies whose websites are either old, ugly or useless.
16. Website Development
Do you already know HTML, CSS, Javascript, PHP or any other web design or programming language?
If you do, then get started. Check out a job board and take on a small job.
Dip your toes into the side hustle pool and see if you like doing freelance work.
If you don't know web development you can learn. It will take some time, but if this matches your personality then get started. Small, incremental lessons will build up over time.
Are you are worried you're "too far behind" to learn website development or a coding language?
I thought that too when I started learning HTML back in 2000!! I thought I was too late to the game. I didn't have the confidence to pursue it so I didn't build any websites for people. Jeez, and that is almost two decades ago. Did I mention I was a dumbass sometimes?
Check out this well-rated course "Build Responsive Real World Websites with HTML5 and CSS3" that is available for purchase on Udemy. It has over 25,000 (!!) ratings by students and is currently at 4.5 stars out of 5.
17. Website Design
Do you have an "eye" for design. And do you get a sense of how a website should look and function?
Then perhaps a web design side hustle is for you.
Generally speaking a web designer does the layout for the site, and the developer does the actual code implementation.
There are freelance opportunities out there. If you are just starting and are willing to do some cheap work to build experience then check out Fiverr.com Once you build your portfolio and get good ratings you can start charging more.
18. Computer Programmer
I recently took a computer science class in college. Yes, I was old enough to be the other students' father, but I didn't care. Learning something as a mature student means I WANT to learn it.
It was a first-year introduction to computer programming focusing on learning the Java computer language.
It was a lot of fun. And even after 8 months of college classes I still have more to learn. But that is part of the fun.
You are not too late to the game. Consider Java programming language has been around since the mid 1990's! Sure its changed a bit, but that just means if you learn it now you'll be learning a more refined yet robust language. And the same is true for the other coding languages.
Sure there are new programming languages that come out (such as Apple's Swift language), but many programming principles are the same. So learning to think and solve problems "like a coder" will allow you to pick up other programming languages.
To choose a programming language there are several variables to consider. Such as do you want to make mobile apps or program for the web, or develop desktop software? If you want to create iOS apps then you could learn Swift, or if you want to code for Android then you could learn Java or Kotlin.
There is a new framework put out by Google, called Flutter, that I'm just learning about, but it seems very interesting. You can create one code base, and then the Flutter framework will create BOTH an Android app and an iOS app from this one code base.
This is a course I have my eye on. It's called "Learn Flutter & Dart to Build iOS & Android Apps." It has 4.6 stars out of 5 with over 6,000 reviews. I like the idea of getting involved with something like this fairly early because you could be the go-to person for this in your area.
Coaching, Consulting and Teaching
The sky's the limit with opportunities here.
What are you knowledgeable in? What do people at your day job ask you about for help? Could you make a side hustle out of this?
You can teach or tutor people online via Skype.
You can consult with businesses or individuals in whatever you have knowledge in.
Some examples include:
19. SEO consulting for companies.
This is where you give them tips and advice on improving the odds of their websites getting discovered by Search Engines. (SEO stands for "Search Engine Optimization.")
20. Tutor school students
You could put a post on your own Facebook profile and say you're willing to help out with Math 12 final exam preparation, or whatever else you're knowledgeable in. If you want to find some tutoring opportunities check out Wyzant.
21. Teach English (or another language)
You usually require a bachelor's degree of some kind and be fluent in the language, and there are sites such as TeachAway, VIPKID , DADA, and more.
22. Email Marketing Consultant
Most businesses have email lists, but do they use them properly? No. Can you help with that? Have you helped your day job build up a responsive list of email subscribers? If you already do this, or are interested in learning how then you should pitch some local companies. Explain to them the benefits of having a targeted email list.
If you don't even know where to start with email, you can learn.
Check out this highly rated course on Udemy. It currently has 4.7 stars out of 5 with over 950 reviews. It is called, "Start & Run a Local Viral Email Marketing Home Business."
It really does sound like a great home based business idea.
23. Business Consultant
Check out Clarity.fm there may be some opportunities for you here to make some side hustle money by "being an expert." Plus, it could be a great place for you to find mentors so you can expand your side hustle business.
24. Teach Kids About Money
Parents are always trying to pass the buck and say "They should teach kids about money in school." Well you could be that person. Research and create a workshop that teaches kids about money, taxes, bills, credit cards and all the other great financial stuff.
25. Teach computer skills to seniors
Many seniors already know how to use a computer, but the ones that don't may be slightly embarrassed by this. Obviously they won't see your internet ad (unless their kids do) so you'll have to market to them in the real world. Hand out flyers at seniors centers, care homes and coffee places that serve free refills. 🙂
26. Teach computer programming
If you know a computer programming language then you could organize coding bootcamps and teach your knowledge to others. Or you could tutor local college students that are taking those coding classes at school.
Build your own Empire Opportunities
Can you "productize" this service? Instead of saying the same things over and over to a different clients, can you say it once and make it into an online course? Then you could hold webinars to show the value of your course. Just make sure you've had some real-world experience and you know your material helps people.
Can you sub-contract to other consultants? If you get to the point where you have to turn down clients then perhaps you could make it into a business and have employees or sub-contractors who meet with the clients that you find.
27. Online Music Instructor
Do you play an instrument? If so there are thousands of people out there who'd love to know how to play.
You could become their teacher.
Build your own Empire Opportunities
Write, play and sell your own music. If you have a stable of clients who learn from you, you could contact them to let them know you've released something.
Create online courses. So instead of 1-on-1 coaching provide step by step videos showing how to play your instrument. And if they need more assistance you could offer a higher-priced concierge service. Or schedule "office hours." Let your students know that at 7pm on Fridays you'll be available to ask questions.
Check out this example on Udemy of something who created a music related course. It's called, "Adventures in Classical Music—Music Appreciation for All!" This course has over 4,000 students enrolled and even if they bought it at a huge discount of $10 the course has still brought in over $40k!
28. Graphic Design
Sites like Fiverr are great ways to find design work. You may have to price your designs on the lower end when you first start, but once you build up a portfolio and getting a good rating, you can start pricing higher and have different pricing packages.
You could also contact local wedding and party planners and say you're looking to do some design work. Do they have any events or weddings coming up you could work on?
Find a local company with a terrible logo or crappy menu. Do a mock-up for them and offer to sell it to them. Describe to them the benefits of your design and how it'll translate into more sales.
Build your own Empire Opportunities
I think there is huge opportunities here to build your own empire. Yes, you can make some money buy doing graphic design work for other people, but you could also create your own design agency.
You could niche down and specialize in making wedding decorations, winery signage, bistro menus, etc…
Plus, there are opportunities to sell your designs on Etsy and other marketplaces.



29. T-shirt Designer
You could check out sites like Zazzle, Red Bubble, TeeSpring and Merch By Amazon and start selling your designs on t-shirts, coasters, coffee mugs and many more items. I have tried Merch By Amazon, but my designs aren't what people were looking for. I haven't sold a single t-shirt but others have made decent money doing this. And admittedly I am not a designer.
30. Coloring Pages
The adult coloring trend seems to be declining but if you have an artistic niche then maybe you can still find an audience. For instance, maybe you draw the best dragons. A dragon lover will buy your coloring book. And you don't have to print the book yourself. Amazon has services such as CreateSpace where they only print the book when and only when it's purchased (aka Print on Demand). You aren't out of pocket for excess inventory or other costs.
31. Photography Services
Everyone with a smartphone can take some decent pictures, but for important life events like weddings, award ceremonies or graduations then you want great pictures. And that is where an experienced photography with a good camera comes in.
Are you currently a good photography or do you have the desire to learn and the money to buy good equipment? If so, there are opportunities for freelance photographers.
You could niche down and be an baby photographer, a real estate photographer, a wedding photographer, etc…
Plus, with "visual marketing" being so important for businesses you could offer to take great pictures for a company's social media account.
There are also opportunities to sell your photographs to stock photography sites.
Here is a link to a course on Udemy called "Photography Masterclass: A Complete Guide to Photography." It currently has 4.7 stars out of 5 with over 17,000 ratings!
The following are additional side hustle freelance ideas that you could use to start making money.
32. Transcription services
There are side hustle opportunities for transcribing such as converting podcast episodes into show notes. Reach out to podcast networks or the hosts of your favorite podcasts and ask if there is anyway you could help them.
33. Editing and Proofreading
You could offer to edit school papers, blog articles, company's white pages, eBooks, etc… I've seen posts online where people claim you can make a good side hustle money from these services.
34. Virtual Assistant
There is a demand for virtual assistants. People want to free up their time from doing repetitive tasks (such as answering email) and may hire a VA to do it for them. Check out BELAY or Fancy Hands.
35. Podcast Editing
If you are comfortable with GarageBand or Audacity then you could offer to do some freelance podcast editing. (And if you're not familiar with this software, yet you love audio, you may like this course to learn about Audacity. Or this course about how to podcast using GarageBand.
36. Create Music for Podcasts or Ads
If you want to make some money from your music you could get your start by doing some freelance work from Fiverr. For my podcast my very talented cousin made the intro music. You could reach out to your friends and family to see if they need your services. You never know who plans on making podcasts, videos, films, etc…
37. Voice Talent
Make money from your voice. Do some voice-over work, or be the voice of audio books. More and more people listen to audio books and they need people to be the voice. Here is some get started information from Voices.com
38. Website Testing
I read that Nick Loper from Side Hustle Nation made almost $1000 in 10 days by website testing on Fiverr. If you want to check out what he did and what website testing is about, you can check out his article here.
Physical Work – physical side hustle ideas
There are a lot of opportunities to make money on the side doing physical work.
Fixing Things
39. Mobile Mechanic Car Repairs
Having your car break down at home and then having to pay to tow it to a shop can be really annoying. If you offered mobile mechanic services you could really help people in that situation.
You could also offer mobile tire change over services. Where I live we have to put snow tires on it October and take them off in April. Most people have winter and summer tires on their own wheel rims so you just have to jack the cars up and swap tires. You could offer to do this for people if they have separate rims.
40. Motorcycle Repairs
If you love working on motorbikes then you could offer motorbike repairs, and either fix them in your garage or at the person's house.
41. Bicycle Repairs and Tune-ups
You could offer seasonal tune-ups in the spring and have "Get Ready to Ride" specials. And if something does break during the biking season they'll know who to call.
42. Boat Repairs and Boat Winterizing services
If you know boats then you could offer boat repair services. Depending on the situation you could do the repairs at your house, their house or at the marina. And since boats need to be "winterized" you could offer this service too.
43. Automobile Detailing
This is a low barrier to entry automobile business that you could start with an orbital buffer and a shop vac.
Reach out to local car dealerships and see if they would be willing to let you detail a traded-in car for free. If they like your work they will hopefully send more jobs your way. Plus, you could put a post on Facebook or Craigslist, or even post some before and after shots onto your dedicated Instagram account.
44. Driving Passengers Around
There are opportunities to drive with ride-sharing companies like Uber and Lyft.
I am not an expert on these because we don't have these services where I live. But from what I've heard they can be a decent way to make some money IF you are already driving in that direction anyway. But if you are trying to make more money by just driving around all day then the per hour amount can be quite low.
(If you agree or disagree with that please comment below….I'd love to hear individual experiences from people who've actually tried this as side hustle.)
45. Delivering Packages and Food
If you'd rather drive around goods versus passengers you could check out services like Uber Eats, Skip the Dishes (which is primarily in Canada and a few US States including New York) or DoorDash.
It would be more than just a side hustle, but I want to start an electric car delivery company.
No I don't want to deliver electric cars, but instead I want to use electric vehicles to make local deliveries.
We have these long range electric cars now so why don't we utilize them for local, small package deliveries.
(If you've have an electric car delivery company let me know how its going. I'd love to hear from you!)
46. Woodworking Side Hustle
This is a side hustle I have done.
I am not an expert woodworker. I don't think I'd even pass as a good woodworker. But that is the beauty of "rustic" design.
I made some raised garden beds from a free pile of scrapped lumber, and I turned that free wood into $120 bucks so far. I blogged about creating the garden beds in this article.
And you know what, because I blogged about the process, and shared with the world how I created those garden beds I could potentially make more money from the blog post itself!
Woodworking Side Hustles – Brainstorming Ideas
rustic picture frames
kitchen helper stools (stools for kids so they can stand in the kitchen next to their parents while they're cooking)
garden planters (outdoor planter boxes: shaped like turtles, wishing wells, wheelbarrows.)
dog houses
playhouses
outdoor offices
beautiful outdoor tabletops or bar tops
Build Your Own Empire Opportunity: If you love woodworking or are good at it then you could create a blog dedicated to woodwork. You could highlight the best miter saws, drills, drill presses, etc… and then provide affiliate links to Amazon. You could also sell your own "How To…" guides from your website.
Make woodworking videos and drive YouTube viewers to your website to get free tips or tricks and then try and then get them on your email list. This way you'll be able to communicate with them directly.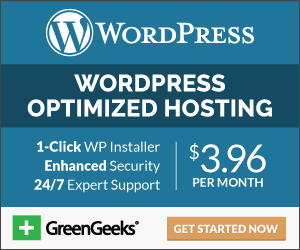 47. Clean Pools (winterize pools)
I love going to swimming pools, but I wouldn't like having to maintain one. I bet a lot of homeowners feel the same. And you'll make your money doing what other people don't want to do!
48. Cut and sell Firewood
If you live in a cold climate you'll regularly see firewood for sale. Do you have a chainsaw and a truck? Perhaps this could be something you do. Check the rules and limits with your local forestry organization.
You can run into issues of scale. If you only have a pick up truck and it takes you one hour of driving to get to the wood then you'll have to ask whether your time and gas is worth it. But if you are close to a wood supply, and close to buyers then this could work well for you.
49. Dig holes
Everyone hates digging holes. But that is where there are opportunities.
If you can do what other people hate doing then they'll pay you for it.
Remember to "call before you dig" and get hold of your local utility companies to make sure it is safe to dig in that spot. If they homeowner says they already looked into it and it's safe, then ask for proof. You can tell them you need it "for your records."
50. Run small excavation equipment
Are you skilled at running a backhoe or Bobcat? You could rent the equipment when needed to minimize up-front costs and maintenance costs, and then do small jobs for folks on the evenings or weekends. As I mentioned above make sure you get the safety clearance to dig in that spot. And get proof that it's safe. Plus you'll want insurance too.
51. Yard Work and Lawn Care
A lot of home owners or property managers don't want to spend their Saturdays mowing lawns and raking leaves. Remember you can make your money doing the things that others either don't want to do or don't know how to do it.
Put a post of Facebook saying you will give people their Saturdays back. You'll mow their lawns for them so they can relax and enjoy the day.
I have been tossing around the idea of starting a "green" lawn maintenance company where we only use electric and manual tools. No gas-powered equipment. I listened to a podcast on the Urban Monk podcast where Pedram spoke to a man from AGZA. Very good episode. If you are thinking about starting a green, environmentally-friendly business then check it out. It will help differentiate you from all the other lawn services out there.
52. Handyman Services
Some people can't tell a screwdriver from a hammer. They need handyman services to do even basic things like hang a picture on the wall. Plus, there are also being with disabilities that can't physically do certain things, and they could use your help.
If you are good with tools you could check out a site like TaskRabbit that lists handyman opportunities. There is also a site called Thumbtack that could provide you with some good side hustle opportunities.
53. Concrete Cutting, Jack-hammering and Removal
I was quoted $800 to cut two lines of concrete 12-feet per line. So 24′ total. And an additional $900 for the concrete company to jack-hammer and remove the concrete.
I ended up doing it myself by renting a concrete cutting saw and a jackhammer. It took about 3 hours but I saved myself about $1500!
Once again, do the things that others don't want to do or can't do and you'll make some good side hustle money.
You don't have to own the equipment, just rent it. Then you don't have to worry about maintenance or repairs of the equipment. And you'll get better with time.
Be careful about insurance and safety requirements though. Make sure you have all that under control before you start cutting and smashing.
54. Pre-Home Inspection Services
If you are going to sell your house you know the potential buyers will request a home inspection. So why not get a "PRE" home inspection service to come along, look for issues the home inspector will find, and then fix them before the home inspection is ever requested.
When your potential buyers DO request a home inspection their home inspector should be impressed because you've already addressed concerns.
This could be small things like painting inside the window jambs or making sure the gutters are clean and functioning.
That is where you could come in. YOU could be the "Pre-home inspection inspector." Go through a checklist of what the home inspector will look for and give the homeowner quotes for correcting those issues.
55. Lay Laminate Flooring
Laying down laminate flooring isn't that difficult and you get better with practice.
But a lot of homeowners don't want to get down and do it themselves.
This is where your laminate flooring side hustle could really help them! Do some research and see what other local companies charge for doing this. Could you offer something they don't? Such as putting new baseboards on too? Then put a post on Facebook or Craigslist and see if you have any takers.
56. Power Washing
Homeowners need power washing of decks prior to staining, houses prior to painting, driveways to clean them off and many other reasons. You could provide a power washing service. Buy a power-washer, or book a whole bunch of clients for one day and then rent the equipment for that day.
Just make sure you know what you're doing!
(That could be said for all the physical side hustles on this list.)
57. Carpet Cleaning Services
Even if you don't have a full carpet-cleaning van you could still look for work with a small spot cleaning carpet cleaner. Try talking to a catering company – especially one that serves red wine – and ask if they ever need some "after party" wine cleanups.
58. Appliance Flipping (for residential or commercial appliances)
Some people get free or cheap appliances off of Facebook Marketplace, Craigslist or other classified sites then fix, clean or repaint them and then resell them.
When I used to work for an HVAC company we'd also sell restaurant equipment. Part of my job was getting the equipment looking and functioning like new.
To make it worth while I think you'd want to be pretty quick so you're not laboring over the same old fridge for 2 weeks.
59. Flea Market Flipping
This basically involves buying something at a lower price and reselling it at a higher price. Where can you find the lower priced items? They may be lurking at flea markets, garage sales, second-hand stores, storage locker auctions and more.
Then you could resell the items on Facebook, Craigslist, eBay, Amazon or the myriad of other online marketplaces.
It would probably be a good idea for you to pick a niche initially. Are you already really knowledgeable about a certain collectible item?
60. Amazon FBA
The Amazon FBA program stands for "Fulfilled By Amazon."
It is a program where you can purchase items and then send the physical items to Amazon and list it for sale on Amazon's website. Then if someone orders the product from the web, Amazon is the one who actually ships it to the buyer.
I've heard of people going to WalMart, Target, or other stores and buying items on clearance. Then they fill out the paperwork and ship it to Amazon.
Obviously Amazon gets their cut.
You may think, "Why wouldn't the buyer just go to Target themselves?" Good questions. But remember not everyone lives close to these physical retailers. More and more people in rural locations are ordering items through Amazon. This allows you to reach these folks.
If you have an eye for bargains and have some money to initially buy the items then you may like this side hustle.
For more details you can click here to go to Amazon's FBA page.
61. Book Flipping
If you enjoy books then perhaps this is something you can do. I've heard of people going to libraries following a large book sale and they're able to buy the leftover unsold books very cheap.
Then they take these books and sell at flea markets or online.
There is an app called BookScouter that will help you tell if a book is worth money, but I'm not sure if it only works for textbooks.
If you have any experience with this please comment below.
62. Sell on eBay
In all the years that eBay has been around I've never sold anything on it. So I don't know the ins and outs of this side hustle, but its been around for years so obviously a lot of people have created eBay side hustles.
63. Renting your Home (or a room in your home)
Most people have heard of AirBnB.
I've heard and seen some massive success stories about AirBnB. And along with AirBnB the other big company in this space is VRBO (Vacation Rental by Owner).
I know a lady who makes more money renting out a small cabin on her acreage than she does on her brick and mortar business.
It can be that powerful.
I used to wonder why my previous neighbor would always have a different vehicle parked beside his house and a variety of people entering in the side gate of his property.
Once I realized it might be AirBnB I found his listing and I was shocked. His small building behind his house – that I always assumed was an old garage – was actually an AirBnB rental. It had a very cozy, relaxed look to it.
He was getting over $100 per night and it looked to be booked most of the summer.
There is your mortgage payments for the year right there.
Now that there is more competition it probably isn't so "easy" anymore. But it is still doable in most cities.
If you have the space or a spare room check it out. If you want a home based business idea than this one is just that: your home will make you money!
If you are nervous about starting this side hustle there is a course on Udemy that will help change you from scared newbie to profitable AirBnB entrepreneur. It is called "Airbnb Entrepreneur : Become the Best Listing in Town!"
64. Renting your RV (motorhome, travel trailer, pop up camper, etc…)
Recently on Facebook marketplace I've seen more and more people listing their RV's for rent.
I don't know the legalities of this, and that is what worries me a little. But perhaps if you are a worry wort like me you could offer to drive the trailer or motorhome to the camping site and then disengage it so the people can't take it away?
If you've got an RV just sitting in your driveway you could think about ways to capitalize on this investment. Maybe even just rent it to people and they can stay in your driveway. Put up some privacy lattice, some folding chairs and they'll be all set.
65. Rent your Truck, Van or Car
I don't even want my car, so I have a hard time believing someone else will want it, but there are opportunities here.
Especially if you have a truck or van that you don't always use I'm sure someone would want it to buy lumber, haul dirt, move stuff, etc… (Obviously check with your automobile insurance provider first.)
I haven't used them myself but to rent our your car check out apps such as Turo and GetAround
If you have a truck to rent there is FluidMarket which might allow you to make some side hustle money from your truck or van.
66. Rent your Boat, tools, equipment, etc…
Have you bought tools, boats or equipment that you only use or need about twice per week? Chances are someone else is in the same boat (pun intended 🙂 Instead of them having to buy this same equipment you could offer to rent it to them.
67. Rent your Parking Space or Driveway
People are always looking for extra storage for boats or cars. If you have room in your driveway, or better yet, in your fully fenced yard, then someone may be willing to pay to park there.
68. Rent your Land to a Farmer/Gardener
A family member of mine has a 160 acres. They lease it out to a local farmer who grows hay on the land.
You may not have an acreage, but even if you have some yard that you don't use, then a local gardener may want to rent it for season. They can either pay you in money or pay you in veggies.
You may think, "Why would someone want just this tiny piece of land?" But remember, to someone living in an apartment that piece of land could seem like an acreage.
69. Curbside Recycling Pick-up
In my city we have curbside recycling, so I take this for granted, but not every municipality offers this. If you live in a town or city that does not have regular curbside recycling pick up then start this service.
Granted, you'll want to make sure the recycle depot is nearby so that you don't waste too much fuel driving the recycling around, but this could be a huge opportunity!
If you're interested in being environmentally-friendly and you want to get a website or blog you should consider GreenGeeks. They're what I host this site on. You could create a website that highlights your services, why you think it's important, your pickup dates, your rates, your contact information and more.

70. Junk Removal
If you have a big truck or moving van you could start offering this service right away. Just put a post on Facebook saying you're heading to the dump this Saturday…does anyone have stuff they need to take?
The pricing would depend on the item and your individual landfill rules.
It would be great if it was all recyclable items that you don't have to pay to dispose of.
For instance, at our local dump "yard waste" is free to dispose of. So perhaps you could even have dedicated landfill trips and say "I'm taking a load of yard waste to the dump on Sunday," and then only accept to take yard waste that day.
71. Pick up Dog Poop
Cleaning up dog crap from the yard (particularly after the snow melts) is one of the worst tasks for dog owners. But there is money in dirty jobs. This side hustle business idea has pretty much no up front costs besides a small shovel and some bags.
72. Pick up Garbage
You may be able to get some contracts with local property managers to clean up litter on their properties. You'll get good exercise walking around and make some good side hustle money. There is a guy from CleanLots that has been doing this and he'll teach you how you can too. (Notice how he is building recurrent passive income by creating and selling a product on his own website. That's smart!)
73. Sports Instructor
Are you a really good basketball dribbler? Do you have a golden glove at shortstop?
Teaching kids your sporting skills could be a good opportunity for you to make some money, and have some fun. I guess it could be listed under the "Consulting/Coaching/Tutoring section above, but because of its physical nature I listed it under physical side hustles.
Reach out to local sporting organizations and pitch them your idea. Let them know you'd like to offer a free 1/2 shortstop training session on turning a double play. Get specific with your offering and gauge their reaction.
Also check if you need sporting or coaching certificates. Ask your local sports organization about this. Perhaps if one of their coaches are there you won't need to be certified yourself?
Golfers are notorious spenders, so if you are a golf pro or have a great golf swing or putting ability then you could teach adults.
74. Personal Trainer
If you love health and fitness then you can take some courses to become a personal trainer.
You could do sport specific muscle-building regimens, or exercise programs for seniors, or for fitness for those with disabilities, and more.
There are lots of niche possibilities here.
Making and Creating Physical Items
75. Homemade Food Products
Do you make a tasty salsa or jam? Does everyone ask you for the recipe? Perhaps you could make some batches to sell.
You could try to sell at a farmer's market or even just put an ad on Facebook saying you are having a pop-up sale in your front yard on a certain date. (Then ask some friends and family to comment on it…hopefully get your post in front of more eyeballs and generate interest.)
Other Food Items to Sell –> pesto, soups, dried soup in a jar, dried fruit, beef jerky, candied salmon, special cookies, fresh fruit popsicles in the summer, homemade ice cream, chili, etc…
76. Make Crafty Things
If you are good at arts and crafts then you have many side hustle opportunities! You could sell your items at farmer's markets, craft sales or at local shops. Plus, you can offer your merchandise to the whole world via sites like Etsy or Amazon Handmade.
Does your city have Christmas craft fairs?
Can you sell Americana homemade items on the 4th of July weekend?
77. Organize Painting Nights
If you are a good painter and can teach these skills to others then you could arrange painting nights. Combine it with some wine and you're sure to get some interested people. Coordinate it with a local winery or pub and you can cross-publicize each other.
In States where cannabis is legal for recreational use I've heard of people organizing "Puff and Paint" nights. (You'll probably get some bonus cross-sells on snacks and appies too 🙂
78. Welding Side Hustle
Welding could be classified as a service if you're hiring out your abilities, but you could also use your welding skills to make metal items.
If your items are small and fairly lightweight you could probably find buyers online through sites like Etsy.
Brainstorming welding side hustle ideas:
decorative window security bars
wind chimes
outdoor table bases (then finish with a nice stained lumber top 🙂
fence gates
Build Your Welding Side Hustle into your Own Online Empire Opportunities
The opportunities I listed further above in woodworking are pertinent for welding too. You could create an online audience and then find a way to answer their questions and serve their needs.
If you have specialty welding skills, like welding stainless or aluminum, then perhaps you could create an online course. There are lots of side hustle opportunities if you are a skilled welder.
Below are more physical side hustle business ideas that I'm not really sure how to categorize. 🙂
Maybe one of these side hustles will intrigue you and start you on your way to side hustle success.
79. Grow plants and seedlings then sell
I recently saw a post on Facebook where a lady was selling some plants from her home. She had a backyard greenhouse and was selling small plants and seedlings. If you have a green thumb (or the desire to be learn) this could be something you might love.
At my previous house there was a fast growing, hardy succulent plant that we called "Hens and Chicks."
I needed to remove it from a section of my yard so I dug it up, put small plants into garden pots (not pretty pots just the standard plastic ones) and I sold them for $3 each.
Some people sell them for a lot more than that.
80. Organization Services
Do you see organization opportunities where others see a mess? If you are at good organizing and helping others declutter then you could list your services as an organization specialist. To show your "portfolio" have pictures of your own clean, tidy and organized house.
You could start small by niche'ing down to garage organization or closet organization, or RV organization.
81. Sewing Alterations and Hemming Services
Can you sew a straight line? If so, you can probably sew better than the majority of people. Put an ad on Craigslist or other classified site and see if you get some work.
Sewing Niche Ideas –> tent repairs in summer, sew warm baby hats, sew baby sun hats, funky dog clothes, zipper repairs
82. Mobile Hair cutting Services
Check with your local jurisdiction to see whether you need certification but perhaps you could start giving haircuts to people who can't get out to a barbershop or salon very easily.
Take some photos of haircuts you've done and post to Facebook saying you'll travel to houses. Obviously safety first. And be very careful about going into strangers' houses.
83. Pet Sitting and Dog Walking
If you have the space and love pets, you may want to check out Rover.com to see if there are any pet sitting opportunities in your area.
And if you like going for walks why not bring a dog along and get paid for it. Post your dog walking service to Facebook and see what happens. Or put some paper flyers at the local dog park and pet stores.
84. Martial Arts and/or Personal Defense Instructor
Are you skilled in the martial arts? There may be opportunities for you to make some side hustle money. You could start by offering free demonstrations or classes at your local college and see if it blossoms into paying customers. You'll have to find a place to teach them, but if the weather is good, teach them in the street or in the park.
85. Be a Local Tour Guide
Do you know all the best spots in your city?
If you're willing to share these great insights with tourists you could make some good side hustle money by taking them on tours.
Or you could even create an Insider's Guide and sell it from your website.
You could niche down and do what you love. Do you love to mountain bike? Then take tourists on your favorite trails. You could do the same for hiking, pub crawls, snorkeling, photo scavenger hunts, etc…
86. Soap-making
A lot of people are becoming more aware of the products they apply to their skin. And they want more natural products with less chemicals.
This is where your soap-making company can really step up. And it'll stimulate your creative side because you'll be able to experiment with different scents, attractive packaging, and even your farmer's market display.
Plus, there is a huge opportunity for you to sell your products online. You could create your own website and sell items from there, or sell on Etsy and similar marketplaces. Remember if you own your own website then you own the digital "land."
87. Homemade Natural Ice Pops or Ice Cream
You could make your own real-fruit ice pops and sell them at the beach or local farmer's market. Buy or make a frozen treat bike and you'll have a cute mobile side hustle.
88. Real Estate House Stager
If you know what looks good you could offer decluttering and staging services to real estate agents. It might require some capital to buy and store good furniture, but perhaps you could work with what you already have?
89. Laundry Services – Mobile Pickup
Some people hate doing laundry or just don't have the time. You could offer a dirty laundry pick-up, then you wash, dry and fold it, then return it the same day. It's convenience you're offering so don't be charged to ask for a good amount of money.
90. Child Care / Baby Sitting
If you have free time and you're good with kids then you could do some child care.
We usually think of baby-sitting as something only teens do. But there are a lot of moms who would love to have someone pick there kid up from school and hang out with them until 5:30 or so.
If this fits into your schedule you could consider an after-school program.
91. House Cleaning
You could offer house cleaning services and do something to set your business apart from the others.
Maybe you use natural environmentally-friendly cleaning products. Or maybe get a super quite vacuum that allows you to work even while babies are sleeping so you can cater your services to tired, new moms.
Or you could go contact local AirBnB hosts and see if they need cleaning done between guests.
Many hosts charge a cleaning fee as part of their rate so in a sense they are getting paid to cover your cleaning service.
If you're wondering how to scale a house cleaning service business check out this episode of the Side Hustle Nation show.
92. House Painting
If you are a skilled painter then you could offer interior or exterior painting services. Brainstorm any niches you can think of. Perhaps you specialize in painting front doors. "Is your front door a bore? Then check out Pete's Painting."
93. Kitchen Cabinet Refinisher
Getting a whole new kitchen can be expensive.
If you are decent with tools you could offer kitchen cabinet refinishing services.
You could paint the cabinet doors, or somehow change their veneer, and also offer counter-top refinishing services.
There are products on the market now that allow to you completely change the look of your counter without replacing it.
94. Construction Clean-up Crew
You could try offering an after-hours construction clean-up service. There is so much wood waste on a construction site you could probably make the wood into something and sell those by-products. Contact a local general contractor and see what they need done. Can you help them in any way? Be of service.
95. Chimney Sweeper
I think this would be seasonal work – probably most calls in the fall – but it could tie in well if you also sell firewood. And you could also offer Christmas light installing as well (see below).
96. Tree Pruners
If you aren't afraid of heights and have good knowledge of trees (and the proper insurance) then you could offer tree pruning services.
97. Put up Christmas Lights
I think this would be a great side hustle for someone that already has a job installing or cleaning gutters, or chimney sweepers.
They likely already have the ladders and equipment and the home owner would provide the lights.
I've just listed three side hustles in a row need a ladder. So if you have a ladder and are fine with heights you could bundle your services.
98. Sell Free Range Eggs
Are you allowed to have chickens where you live? If so you could consider selling free range chicken eggs. They regularly sell in my town for $5 and up per dozen.
99. Sell Dog Hair-lined Bird Houses
Now this is a totally wacky one I thought of a few years back but I've yet to validate it. We used to have a Malamute dog that shed hair like crazy! I thought if we collected her hair, made it into mats, and "insulated" the inside walls of a bird house with it, it might keep the cats away.
If anyone has done this, and if it worked to deter cats, please let me know. 🙂
100. Rent out Children's Party Supplies like Bouncy Castles
I heard about this on an episode of the Side Hustle Nation podcast. When I first heard it I dismissed it because this isn't something I'm interested in, but you might be.
You could even tie it in to party planning, and hosting zero waste children's parties.
101. Run Errands for Seniors and for those who are home bound
If you are a nice compassionate person there are side hustle opportunities helping to care for the elderly and others who are home bound.
And I don't mean in direct patient care, but instead there are side hustle opportunities such as picking up groceries for them and running errands.
Put a paper flyer with tear-off slips onto bulletin boards at your local seniors housing developments, doctor's offices and pharmacies.
102. Window Washing
You could make window washing into a good side hustle business. Businesses usually want you to come either before they open or after they're closed so your availability will depend on your day job.
It doesn't require much equipment and with experience you'd get pretty efficient at it.
Once again, if you have the ladder I think you could cross-sell other services like gutter washing and Christmas lights installations.
103. Start a Gutter Cleaning side hustle
Another side hustle that ties in well with window washing is cleaning gutters.
Drive through neighborhoods with a lot of trees.
Trees dump a lot of stuff into gutters like leaves, pollen, branches, etc…
Slip your business card or brochure into the mailbox of houses with large trees out front or back.
104. Public Speaking
Are you really knowledgeable about a subject that others want to learn more about?
You could try putting on a presentation and see what the reception is like. Start small and then learn from the experience.
Was your information too advanced, or too boring? Could you make it more interesting?
I recently received $100 honorarium for doing a public presentation to a group of retired folks.
It took hours to prepare the slides and practice the talk, but I could replicate it over and over if I wanted to (to different audiences).
*Limitation of Doing Physical Work*
A limitation of doing physical work or crafting physical products is you only get paid when you are the one putting the time in.
So you are trading your time for dollars.
It took me about an hour to create each of the four raised garden beds I mentioned above and I made $30 per garden bed.
So I made $120 off that project. Pretty sweet considering the wood was free.
But now that I've sold those garden beds I can't make any more money off the beds themselves, BUT because I created some information and content around those garden beds I can essentially continue to get paid for them into the future.
If my blog post dedicated to those garden beds brings in website traffic then there is money-making opportunities.
Even if you are a physical worker like a carpenter, landscaper or painter, don't underestimate the revenue potential from online 'stuff'.
GreenGeeks has an impressive sale on right now for website hosting. Check it out if you're interested in setting up a website for your side hustle.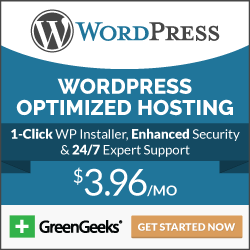 Start your own Business that provides a service or physical item but don't do the work yourself!
I have yet to find a service or product that entices me enough to try this.
But the idea is that instead of you going out mowing lawns for hours, you create a company that gets the contract to mow the lawn for $40 but you hire someone and pay them $20 to do it.
You'll have to deal with paying employee taxes, finding the right employees, and finding the work. Or you could just concentrate on finding the work and then hiring a sub-contractor to do the actual labor. That way you pay them as a business expense and they'll have to worry about remitting their own taxes.
Of course check with your local taxation authority. They have A LOT of power so make sure you know what you're doing.
Remember any side hustle money you bring in isn't all yours. The tax man will still want his portion so make sure you set that aside and do not touch it.
Summary of these Side Hustle Ideas
I really hope you have found a side hustle business idea that helps improve your situation.
There is a side hustle out there for everyone if you want to work for it.
I'm sure I missed about a thousand side hustle ideas, so if you have a good one, please comment below.
As my website name suggests (Learn Along With Me) I am always learning more about the best side hustle ideas so I'll update this list when I find more ideas that could help you.
Thank you.
Tim from LearnAlongWithMe.com
You May Also Like:
Want a blog of your own? One that ranks on Google? Check out my review of the RankIQ software for bloggers.