Are you sick of waking up tired, grumpy and sore after a poor sleep in your camper? You're not alone…it's a common complaint. In this article we'll look at 15 things you can do to sleep better in your RV.
These tips to get a good night's sleep in your camper will help you feel more refreshed and get you in the mood for a great day of camping.
This article contains affiliate links. If you click a link and buy something I may receive a small commission at no extra cost to you. As an Amazon Associate I earn from qualifying purchases. For more information please see the Disclosure page.

How can I sleep better in my RV?
RV parks can be distracting places. And no one wants to spend their camping trip grumpy and sleep deprived: too many sleepless nights can ruin a trip.
So below are some tips and things you can do to help get a good sleep in your RV. Because with a better sleep you're in a better mood to enjoy the day.
The main goal of these tips is to create an optimal environment inside your RV that is conducive to getting a great night's sleep.
This means limiting outside distractions, having a comfortable sleeping space, and other tips to get a good sleep.
Get a Comfy Mattress Topper
If your RV mattress is in decent shape, but it isn't quite right for you, then a mattress topper may be what you need.
There are a variety of mattress toppers out there such as foam mattresses and even air mattresses. Adding these to your existing mattress is a quick and easy way to make your bed more comfortable.
You can get the memory foam mattress topper shown above by Linenspa in a 2-inch thick or 3-inch thick version. This is a popular choice for RV'ers with RV short queen sized mattresses.
Unsure what size your RV mattress is? Check out our article on RV mattress sizes.
Replace your RV Mattress if it's worn and unsupportive
Let's face it, stock RV mattresses aren't known as being the most comfortable mattresses in the world. In fact, getting a new mattress is one of the first things many RV owners do when they buy a travel trailer or other RV. Out with the old and in with the new.
So if your RV mattress feels like you're sleeping on bricks or pokey springs, it's time to upgrade to a better mattress.
You need proper support to get a restful sleep. This is particularly important for people with back issues. You don't want to wake up in pain because of a poor mattress.
Before you pay the money to get a new mattress though it is important that you measure your RV bed frame or current mattress to ensure you get a properly sized mattress.
Ideally you want to lay on the mattress before you buy it to make sure it's a comfortable mattress for you. Or at the very least make sure the mattress can be returned if it isn't the right mattress for you.
*Check out our article on Things to Know BEFORE buying a new RV Mattress. *






Use Good Pillows
Did you stock your RV with old linens and pillows you had around the house? Well, those old pillows may not be the right pillows for you anymore.
So having a good supportive pillow that is right for your sleeping style – back sleeper, side sleeper – is important.
RELATED ARTICLE:
RV owners snatch up these RV organizers…check them out.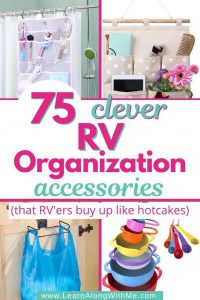 Wear a Sleep Mask
If light pollution is a problem at your campsite, a relatively easy fix to help you get a better night's sleep is wearing a sleeping mask.
You can't shoot out the campground lights but you can block them out with a sleep mask.
Some people don't like the feeling of wearing a mask to bed, but if you're fine with it, toss a sleep mask in your camping gear. They're a quick way to block out the light so hopefully you can get a better quality sleep.
Install Blackout Curtains
Too much light flooding into your bedroom can cause difficulty falling asleep. So you can wear a sleep mask as mentioned above, or you could put up blackout curtains over your RV bedroom windows.
A sleep mask can work well if you're the only one with difficulty sleeping, but if you and your partner are distracted by the amount of light streaming in your bedroom, it's a good idea to get some blackout curtains.
(The longer days during the summer months can mean you want to sleep before the sun sets.)
Make sure you measure your RV windows before ordering your RV blackout curtains so you get ones that'll fit well.
Darken your Bedroom
Wearing a sleep mask or installing blackout curtains are options to create a nice dark sleep environment. And another way to do this turn off any night lights or other light sources inside your RV bedroom.
And if you have a TV in your RV bedroom, turn it off.
Wear Ear Plugs
Blocking out light helps eliminate one sensory disturbance, now we need to turn our attention to another sense: hearing.
If your campsite is in a noisy area – such as near the highway or high traffic areas – you may want to get some ear plugs.
They'll decrease the noise level and can make a huge difference for light sleepers distracted by noises.
And when you're used to sleeping at home you become accustomed to the sounds of your house and neighborhood. When you're camping, there will be strange sounds that startle you or grab your attention.
(You'll want to make sure you feel safe and secure in the campground. Ear plugs may help you sleep, but they also decrease your awareness of what's happening around you.)
Use a White Noise Machine
To help block out the sounds of the campground some campers choose to have a sound machine in their RV bedroom.
These devices emit white noise that provides a background sound that some people find soothing. They are commonly used for babies to help them sleep. You can even get ones with rechargeable batteries for when you're boondocking.
If you don't want to pack a dedicated sound machine, you can also get white noise apps on your phone.
Control the Climate in your RV
Most people sleep better in a cool – yet still comfortable – environment.
If your RV is too hot you may have to run an air conditioner before you go to bed, or follow the other tips in this article about how to cool your RV.
Some RV owners like to have a fan in their bedroom. Fans can help cool you and their whirling sounds can help block out campground noises.
Conversely, if you're camping during chilly nights you may need to warm up a bit.
Some RV owners keep a knitted hat, flannel sheets, a sleeping bag and/or a down comforter in their RV just in case the nighttime mercury dips too low. It is better to have them and not need them than vice versa.
Select your campsite well (if possible)
Different campsites within the same campground can have vastly different levels of noise pollution or distractions.
For instance, the front of the campground may border a main road – making it easy to find the place – but the traffic can be hard to sleep through. Meanwhile, the campsites at the back of the same park may be quiet and peaceful.
It can be tricky if you've never been to the campground before, but have a look at the park on Google maps or another overhead view. Are there main roads or railways nearby? Being on the opposite end of the park from these noises may make it tolerable.
Stabilize your RV Better
If you are a light sleeper you may be awoken by the slightest disturbance – such as the swaying of your RV from strong winds or as your partner rolls over in bed.
So make sure you properly stabilize your RV to prevent rocking and swaying.
There are a lot of RV stabilizers that you can install yourself, but if you don't want to tackle a project like that, contact your local RV dealer to check their rates.
To see some of the different RV stabilizers, click here.
Use Lavender Essential Oil
There is an aromatic chemical terpene in lavender called linalool that is used in aromatherapy to promote relaxation and calmness.
Using a lavender essential oil as a pillow spray or in a diffuser before bed may help you get a better sleep.
Get some Exercise
You have probably heard the saying "Begin with the end in mind" from author Stephen Covey's "The 7 Habits of Highly Effective People". It is usually used when referring to self-improvement or business.
But did you know you can use this philosophy when it comes to sleep too. It means keeping the end goal of getting a good sleep in mind while living your day.
Make choices during the daytime that'll help you get a better sleep at night.
And this includes getting some physical exercise.
Exercise has been shown to improve sleep and conversely, a good sleep leads to less daytime sleepiness and more daytime activity. (Reference)
So work some physical activity into your camping trip and get some exercise. (Just not within an hour of bedtime [reference], or even further from bedtime if you know it stimulates you too much.)
Want some inspiration on what to do while camping?
Check out this article on physical activities you may want to try while camping.
Limit Alcohol
Many people may roll their eyes at this. Heck, for many people camping = drinking.
But alcohol can disrupt your sleep. It may help you fall asleep, but it isn't restful sleep, and it may result in frequent awakenings and bathroom breaks in the middle of the night . (Reference) When people quit drinking one of the first things they notice is their improved sleep.
So if you drink alcohol, don't over-indulge.
Do some Calming Activities before Bedtime
If you've ever talked to a doctor about sleeping troubles they likely told you about improving your sleep hygiene.
And no, this isn't making sure you're clean before bed.
It involves setting up a healthy routine to promote getting a good sleep.
One component of sleep hygiene involves winding down before bed, doing a calming activity, and avoiding stimulating activities like playing on your phone or watching TV. (Don't check your email or Facebook as the last thing you do before bed!)
Think about when you're putting a baby to sleep. You set up a routine, calm them down with soothing activities and then put them in bed. You don't rile them up, stimulate them with TV, then put them in their crib expecting them to sleep. So don't do it to yourself either.
For more helpful sleep hygiene tips, click here.
Plus, check out our article on 35 Things to Do while Camping. (Some of them are fun and stimulating but others are relaxing.)
I hope these tips on how to get a better sleep in your RV have helped you.
If you take these steps to:
make your RV bed more comfortable
if you darken your RV bedroom
block out disturbing light and noises,
and follow the sleep hygiene tips
…you'll have done a great job of improving your chances of getting better sleep.
Up Next:
17 ways to keep your RV Cool
6 Things to Know Before Buying a New RV Mattress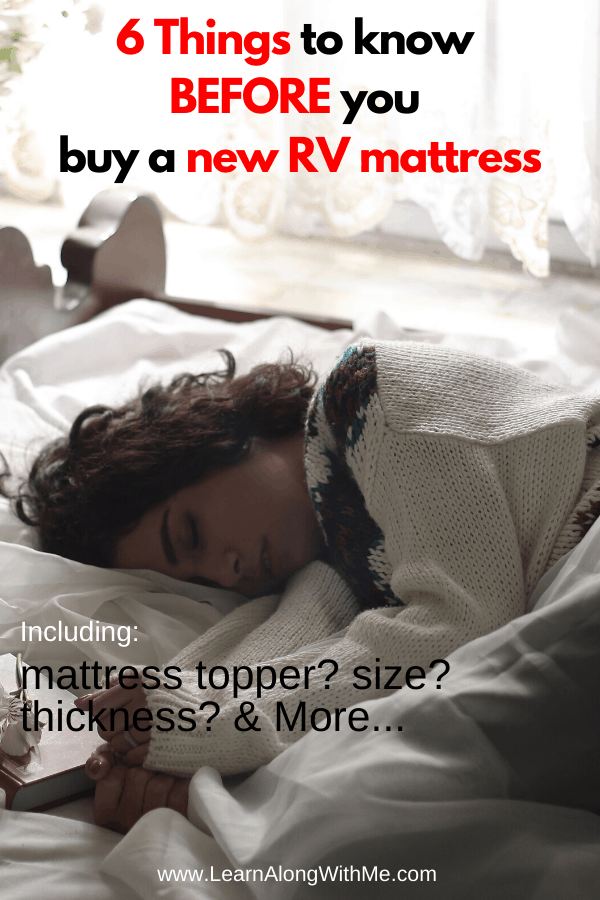 Plus, you may also like:
61 smart RV Storage Ideas [get your RV organized this weekend]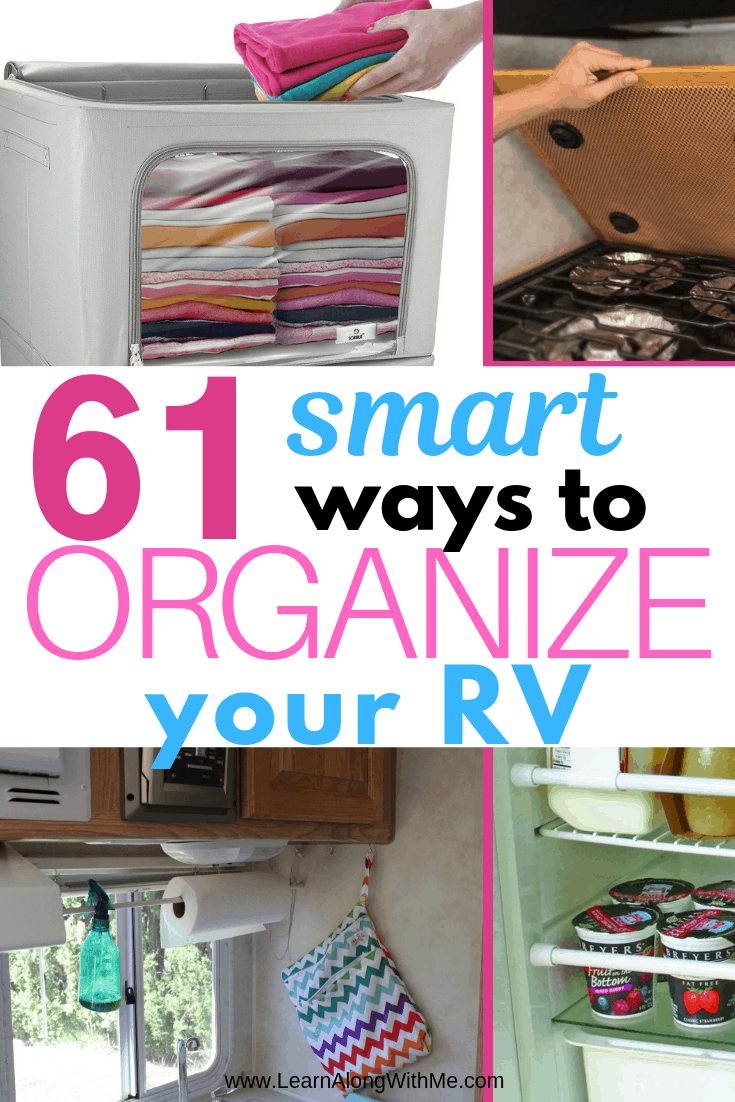 Tips on How to Keep Mice out of your RV