Do you love campfires and want some cool campfire accessories? You're in luck because in this article we feature 33 awesome campfire accessories to ensure you have a blazing good time.
Some of the accessories include:
accessories for campfire cooking
campfire coffee accessories
campfire safety
and miscellaneous campfire accessories (some fun ones!)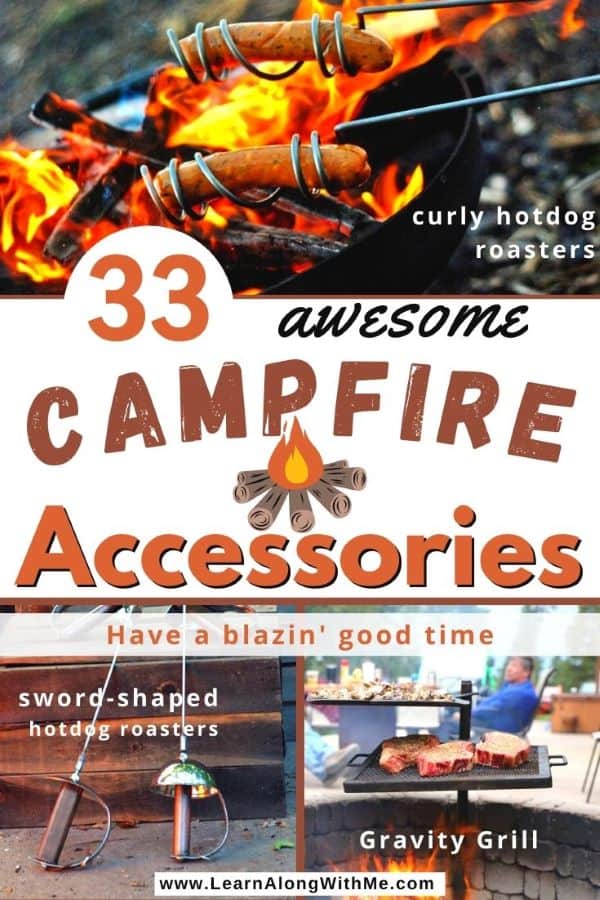 This article contains affiliate links. If you click a link and buy something I may receive a small commission at no extra cost to you. As an Amazon Associate I earn from qualifying purchases. For more information please see the Disclosure page.
33 awesome Campfire Accessories
In this article we'll separate the campfire accessories into sub-categories:
campfire accessories for food
campfire coffee options
campfire accessories for safety
miscellaneous campfire accessories.
Campfire Accessories for food
In this section you'll find some interesting campfire accessories for cooking food above the flames or coals.
1) Marshmallow tree (by Rome Industries)
With this unique marshmallow roaster you can cook multiple marshmallows at once (or if you're like me, burn multiple marshmallows at once).
It popular and available on Amazon.
But I've heard some campers claim it was heavy, and if you're cooking over an enclosed fire ring, only the marshmallows on the end could be placed over the flame. If you're buying this for an adult who cooks over an open campfire, they'll likely be happy with this unique campfire accessory.
2) S'More to Love Roasting Reel
Are you wondering, what is this thing? (I was.)
It's pretty clever… when you turn the reel it rotates the roasting end so your marshmallows will cook evenly.
The metal fork can extend up to 20-inches to ensure you stay away from the hot flames. And the metal end is removable for easy storage and cleaning. It can even go into the dishwasher which is a great feature considering how sticky and messy roasted marshmallows can be.
It is available on Amazon …will this be a hit with your kids or grandkids?
3) Grandpa's FireFork campfire roasting stick attachments (2-pack)
These are handy attachments that turn any stick into a marshmallow roasting stick. They are small and compact. Easy to bring camping. Then you just find a new stick at your camping site, put one of these on your stick and you're ready to roast.
If the link to Amazon doesn't work, you can see it on REI.com by clicking here.
Don't get that terrible campsite again…keep track of your camping trips.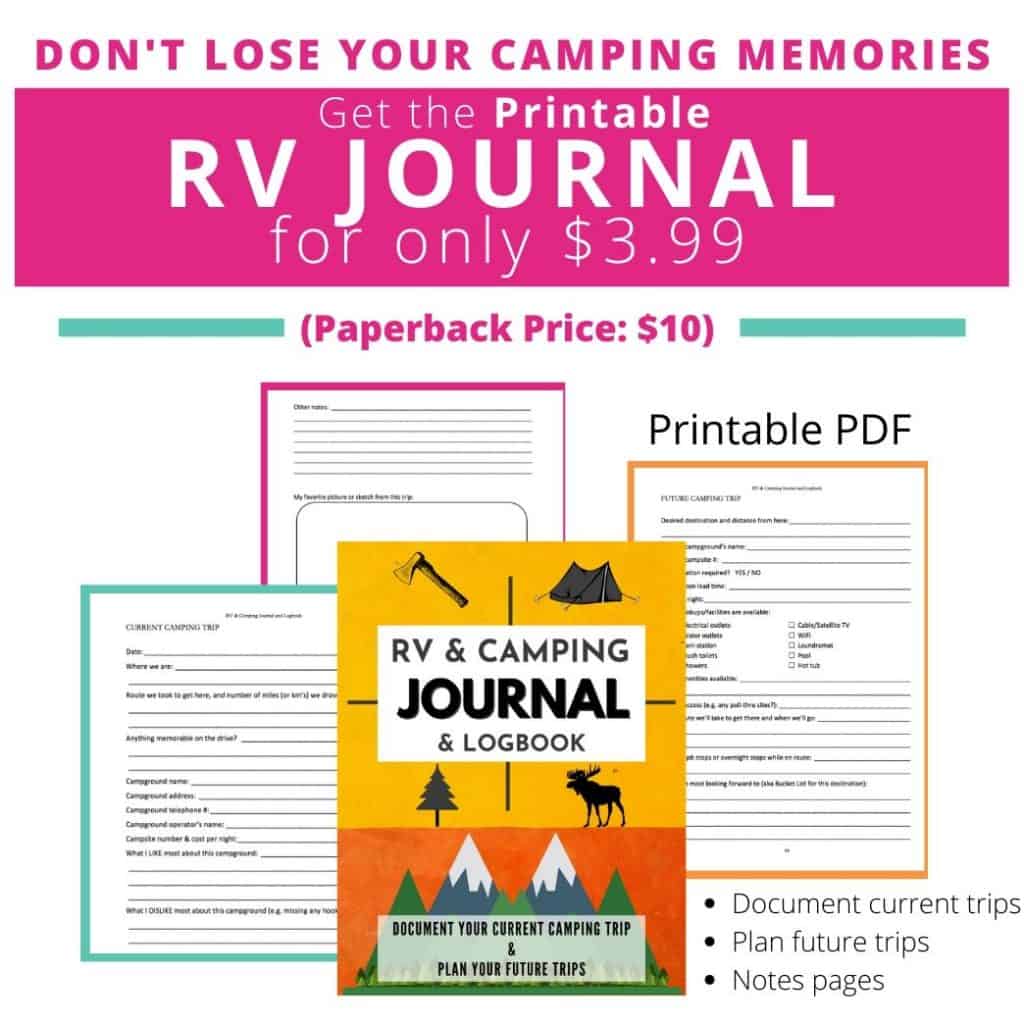 4) Campfire Popcorn popper Extension Handle (for JiffyPop etc…)
If you want freshly popped popcorn while camping, there is a tool for that.
This product is intended to hold "over the heat" popcorn products like Jiffypop (shown below).
The long extension handle ensures you are farther from the flames, but you'll probably still want to wear heat resistant gloves while handling and be careful.
Jiffypop will burn if it isn't shaken, so try to gently shake the Jiffypop using the extension handle. If you don't feel the Jiffypop sits firmly enough inside the circular ring of the extension handle, you could try wrapping some wire around the Jiffypop handle to the extension handle.
Do you want to try some campfire popcorn?
Click here to see more details.
5) Sword-shaped campfire roasting sticks (on Etsy)
Want to get the attention of your fellow campers? Check out these sword-shaped hotdog roasters. They'll allow you to be Zorro or Inigo Montoya right at your campsite.
Click here to see these cool campfire sword roasters on Etsy.
6) Curly hotdog roasting sticks (on Etsy)
These are cool-looking stainless steel hotdog roasters that have hardwood handles. They are almost 3-feet long (34-inches), and the curly design is intended to prevent your hotdog from sliding off into the fire.
They come as a 2-pack of handmade roasters and are available on Etsy.
7) Cowboy Kabobs – extra long roasting skewers (on Etsy)
The long stainless steel blade of these skewers – called Cowboy Kabobs – will allow you to make up lots of different campfire foods.
What kind of culinary variety will this bring to your campsite?
Click here to check out these extra-long skewers on Etsy. (Made in the USA product)
Wondering what you can cook on a stick or skewer in your campfire? Check out this article "Campfire Cooking with Stick" by the National Parks Service.
8) Tripods for cooking on campfire (stainless steel tripod by Stansport)
A tripod for cooking on a campfire like this one from Stansport allows you to adjust the 18-inch grill up or down to change its height above the fire. You can place a Dutch oven on it (shown further below), or a campfire coffee maker.
Will this campfire tripod work for you? You can see more details on Amazon.
9) Campfire swing grill set
What is a campfire swing grill set? Well, you place it over the campfire and then can use the adjustable grill, or the various lengths of metal hooks to get closer or farther from the flames as required.
You can hang kettles from the hooks, place a dutch oven on the grill, or cook your food directly on the grill.
It is a versatile camp kitchen accessory that is sure to get some attention from your friends and fellow campers.
Click here to see size of this set from Bruntmor.
10) Portable, folding stainless steel campfire grate (by REDCAMP)
This stainless steel grate folds out and stands above the campfire coals to provide a level surface to place your cast iron pans, coffee pots or Dutch ovens (but not all at once because it isn't that big).
I realize the top product looks a little Photoshopped, so the picture below shows just the actual grate itself.
If you want a campfire grate that is foldable and that you can bring with you to your next campsite, click here to check this out.
11) Campfire rotisserie (by Grizzly Spit)
Are you having a big family gathering around the campfire? A battery-operated campfire rotisserie like this one from Grizzly Spit will allow you to cook large cuts of meat over the flames while rotating the meat for even cooking.
Looks pretty cool doesn't it.
The manufacturer claims it'll run up to 20 hours on 2-"D" batteries. The horizontal spit bar is 3-feet long (36-inches) and is stainless steel.
It's well-rated with lots of reviews.
Wondering what else to do while camping besides cooking?
Check out these 35 things to do while camping for inspiration.
12) Spider Frypan with Whitfield Handle (on Etsy)
This unique-looking frypan has 4-inch high legs that allow it to sit above the campfire coals.
The bottom of the frypan is 7-inches: so good for some eggs and campfire breakfasts. And this would be good if you don't have a campfire grill to set a regular frypan upon.
Click here to see details of this spider frypan on Etsy. (opens in new window)
13) Cast Iron Dutch Oven for campfire (made by Lodge)
Imagine the cowboy stews and campfire recipes you'll be able to cook up with this cast iron Dutch oven by Lodge.
The Lodge company is a made in the USA company that has been making cast iron since 1896! So they know what they're doing.
Lodge makes quality cookware. This is their highly-rated 6 quart Dutch Oven.
14) Dutch Oven Lid Lifter (by Lodge)
Are you worried about how to get your hot Dutch oven out of the coals? Here is the answer. The company, Lodge, which also makes the Dutch oven shown above, makes a handy lid lifter to help manouver your Dutch oven and lift the lid.
It is also popular and really well-rated on Amazon.
15) Swiveling Campfire Gravity Grill & Skillet Combo (by CanCooker)
After you drive the stake into the ground you can add the skillet and grill attachments to the pole, and adjust their heights and placement relative to the fire to control temperatures.

But dinners aren't the only thing you can grill up with this campfire accessory…
Below is a picture of the Gravity Grill and Skill combo being used to cook up a yummy breakfast.
It is available on Amazon if you want more details.

16) Telescoping Hotdog Roasting Sticks
These are telescoping hotdog roasting sticks that are pretty cool because you use your thumb to rotate a little knob at end of the wooden handle which causes the fork to spin.
This will allow you to rotate your hotdog or marshmallow for more even cooking.
Check out their current rating.
17) Cast Iron Campfire Pie Irons
There are lots of pie irons out there. This is a popular one from Coghlan's. People use them to make sandwiches or "bush pies" over the campfire.
When I saw one of these at a local sporting goods store I was surprised how small they are. "That can't fit a sandwich," I thought.
But I read that it makes a sandwich, but without the crust. And remember to use butter or cooking spray because they said it'll stick.
18) Cast Iron Campfire Waffle Maker (by Rome Industries)
Do you want something other than bacon and eggs for breakfast on a camping trip?
Check out this campfire waffle maker by Rome Industries.
Below is a picture showing the inside of the waffle-making surface.
I've never seen one of these in action but it looks appealing. And considering you can get some good ready-mix waffle mixes, it should be easy to pack with you and then prepare on site.
(There can be a big difference in price between these online giants, so if you're interested in this product you should check both sites.)
19) S'more Maker (by Coleman)
S'mores are a classic campfire staple, and this campfire S'more maker is made by the classic camping company, Coleman.
If your family loves S'mores, check this out.
You can purchase it on Amazon or at many local camping stores.
20) Heat Resistant Gloves
If you're campfire cooking you're sure to encounter some hot tools. These gloves are claimed to provide protection up to 932-degrees Fahrenheit (yet I'd still be very careful). Plus, they're long so they provide some wrist and forearm protection.
I haven't personally tried them, so I can't vouch for them but click here if you want learn more about them on Amazon.
Campfire Coffee Options
In this section we'll look at some campfire coffee options that you may not have thought of.
21) Melitta Pour Over Coffee Cone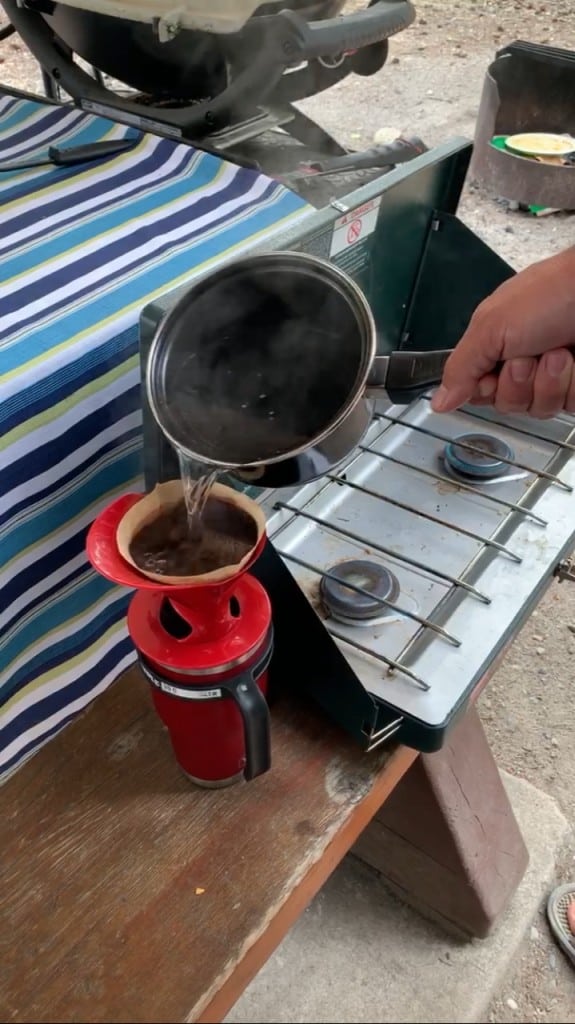 This is my brother-in-laws preferred method of making camping coffee.
It is lightweight and easy to use.
He heats up the water over a propane cookstove, but you can use a campfire kettle then pour the hot water into the coffee cone.
I guess my family isn't the only one who likes this campfire coffee option…it is quite popular on Amazon.
22) AeroPress Portable Coffee & Espresso Press
We have one of these at home and love it, and it's portable so it can be brought camping.
You make a shot of espresso by adding the hot water and coffee beans into the cylinder, and then you press down with the plunger. Then to make a coffee you just add more hot water to your cup.
It is less acidic and not as bitter as drip coffee or French-press coffee.
If you want to try a new option for brewing coffee I recommend you check this out.
See more details of the AeroPress.
Campfire Accessories for safety
Before you ever start a campfire it is extremely important that you are prepared to put it out – completely out. Check out Smokey the Bear's Campfire Rules about Maintaining and Extinguishing a Campfire.
23) Shovel (folding camping shovel by REDCAMP)
Smokey the Bear says you need a shovel if you have a campfire. This one is compact and folds small, but that also means the handle is really short. (If you have the room in your vehicle or RV you could bring your long-handled shovel from home.)
It has a serrated edge on one side of the spade to act as a saw, and a pick axe part for helping dig.
Check them out at your local sporting goods store, or you can see this one by REDCAMP on Amazon.
24) Bucket to douse the embers
Smokey the Bear says you need to pour water onto the campfire embers until you no longer hear a hissing sound: really drown them.
You could use a large cooking pot to douse your fire, or you can get a collapsible water bucket like the one shown above. This collapsible bucket is available on Amazon.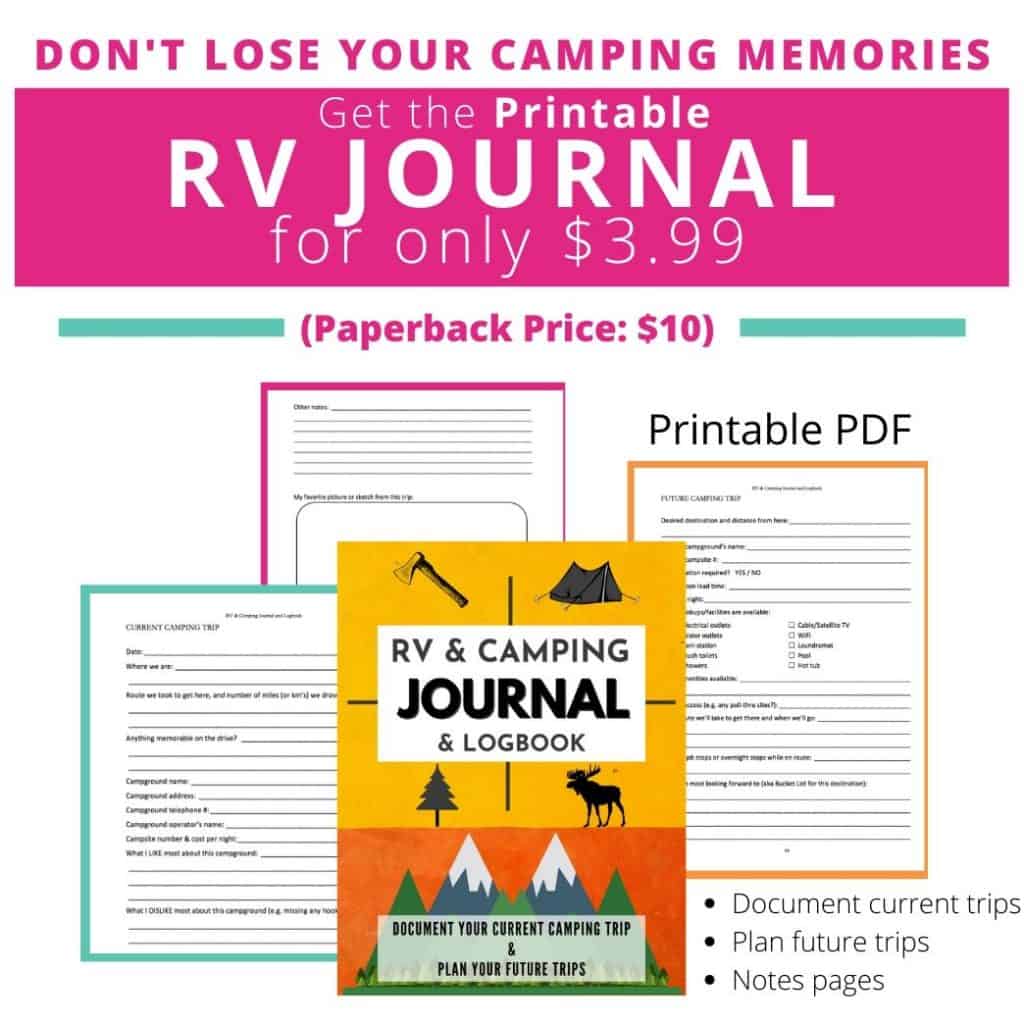 25) Flashlights
When you're having a campfire on a dark night, staring into the dancing flames, your eyes can have trouble adjusting to the dark if you need to walk back to your RV or tent.
Stumbling around in the dark at a new campsite – waiting for your eyes to adjust – could lead to falls.
Having a flashlight will help. I like flashlights that you can easily turn on with one hand…because my other hand is usually carrying stuff or holding my dog's leash. These flashlights have a push-button switch at the base of the handle.
You can get packs of flashlights at most stores. The ones shown above are available on Amazon.
Miscellaneous Campfire accessories
26) Campfire Coloring packets
Want to add some colorful dazzle to your campfire? Toss in a packet of these campfire color-changers.
You toss the whole packet in to a wood-burning campfire to create colorful campfire flames.
I wasn't able to determine if these packets are made of plastic. The skeptical side of me doesn't see how burning plastic is a good thing, so as a precaution, I wouldn't cook over these flames.
If you want to see more details about the campfire color changers, click here to see them on Amazon.
27) Fire starter pouches
These are fire-starting pouches by QuickSurvive that will last up to 10 minutes.
They do not combust on their own…you have to put a flame up to them, but then they catch fire and will help light your kindling and wood on fire.
You can continue to light fires with paper, or DIY fire-starters, but if you want a proven product to help you light fires in almost any weather condition, check out this popular firestarter on Amazon.
28) Electric Arc Lighter
These arc lighters look really interesting.
They do not burn a fuel – in fact they are flame-less! They use electricity to create an electric arc. And it is rechargeable using a USB outlet.
And they are windproof so they should help you light a campfire in less than ideal conditions. (Just be careful that it isn't too windy to have a campfire…you don't want the wind to blow an ember and start a wildfire.)
29) Campfire poker stick (expandable)
Most of the time you can use a green stick to poke the fire and adjust logs, but if you want a telescoping campfire poker, check out this one from Coghlan's.
30) Log Tongs (to move firewood)
These metal log tongs allow you to grab and move firewood in your campfire without just jabbing them with a stick.
They are quite popular on Amazon if you want to learn more about these log tongs.
31) Kindling firewood splitter
This cast iron firewood splitter allows you to cut campfire kindling without even using an axe!
You place your dried firewood through the top metal ring, it sits on the metal splitting wedge, and then you smack down on the top of the wood with a hammer or blunt end of an axe.
They claim it's a safer choice for splitting kindling than chopping towards your feet with a hatchet.
If you want a safe way to split kindling from small pieces of firewood (it can't be wider than the top ring), you'll want to check this out.
32) Campfire blowing tool – "BetterThanBellows" (on Etsy)
Campfires need oxygen to burn and blowing on your fire can get it burning better. But have you ever blown on a fire then felt really light-headed? What a bad place to faint. This blowing tube still requires you to blow on the fire, but at least it keeps you away from the flames.
It is available in different lengths. Click here to see options and details on Etsy.
33) Portable Propane Fire pit by Outland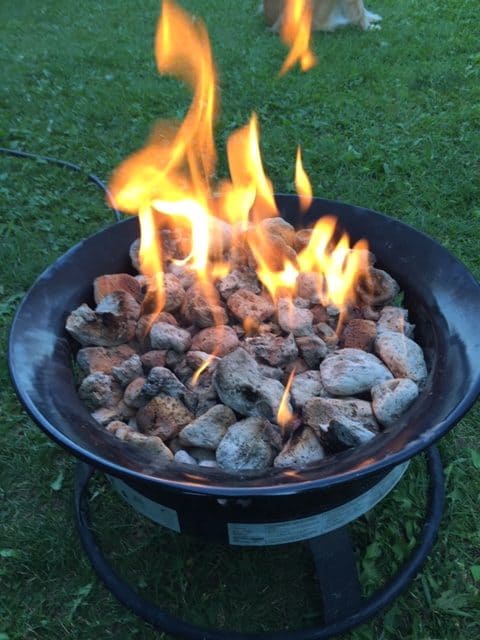 I know this isn't exactly a campfire accessory, it is more of a campfire alternative.
But a portable propane fire bowl (also called a firepit) have some nice advantages over a wood campfire, but some downsides too.
We set up ours in our backyard using our barbecue's 20-pound propane tank, and we love having it. (We usually place ours on our brick patio, but I put it on the grass for this photo.)
Pros
no campfire smoke to smell up your clothes
easy to start
easy to control height of the flames
no flying chards of burning wood
easy to extinguish
you may be able to use it if your area has an open campfire ban (check with local jurisdiction first)
no need to hunt for firewood or buy expensive bundles at campgrounds
Cons
does not have the pleasing crackle of wood campfire
you may miss poking and prodding the fire like you do with a campfire
it is another thing to pack with you camping
you could run out of propane and be far from a refilling station
doesn't seem to throw off the same heat as a campfire when you're sitting around it
ambience not quite the same as a campfire (my opinion)
If you want an easy to set up and easy to extinguish fire, check out the Outland fire bowl. We've really enjoyed having ours so far. (We've had it over two years now.)
For my Outland FireBowl review, click here.
I hope you've enjoyed this big list of campfire accessories.
Which one did you find most intriguing?
(I think the most unique one I discovered was the sword-shaped hotdog roasters.)
Up Next:
9 handy CAMPING SHOWER IDEAS (get clean while camping)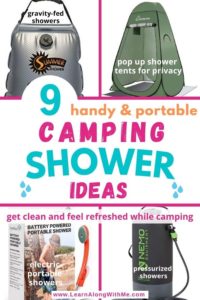 75 clever RV Organization Accessories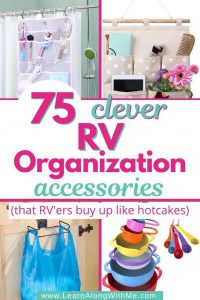 Plus, check out:
Camping Words – A Fun Word Scramble for Kids
Hiking Gear to get you started [get out and explore around your campsites]