Do you like tent camping, but would prefer to sleep off the ground? If so, check out these 15 popular camping cot options to get you off the ground and into a good night's sleep.
We'll look at:
single person camping cot options
double camping cot options
queen size camping cots
and more…
This article contains affiliate links. If you click a link and buy something I may receive a small commission at no extra cost to you. As an Amazon Associate I earn from qualifying purchases. For more information please see the Disclosure page.
15 popular Camping Cot options to get you up off the ground
If you want a cot for camping there are some things to consider before you purchase one.
For instance:
Do you need a cot for one person, or 2?
How much do you weigh? (You'll need to select a cot that can safely hold you.)
How much space do you have to store your camping gear while you're not camping?
How much space for gear do you have in your vehicle you take camping?
How far from your campsite do you park? (A heavy cot can be difficult to pack around.)
How comfortable do you want your cot? (You may want to get a sleeping pad for extra comfort.)
How easy is it to set up? Can you do it yourself?
1) Cabelas Camping Cot with Organizer (Bass Pro Sports)
This is a camping cot from Cabela's that measures 26-inches across…so it's a pretty narrow cot…a single person cot for sure.
But what's cool about this cot is the hanging fabric organizer along the side of the cot.
It's got a variety of pockets for storing your stuff like books, glasses, water bottle and more.
Weight capacity = 300 lbs.
If you want a single person cot, and you like to keep stuff organized, check this out.
2) Coleman Trailhead II Camping Cot (military camping cot)
This basic camping cot – they call it a military camping cot – is the Trailhead II cot from Coleman.
The inner sleeping area is about 29.5-inches wide (inside the rails), and it'll hold up to 300lbs. They say the maximum height of the sleeper is 6-feet, 2-inches. (Taller than this and they'll be laying on the top and bottom rails.)
I haven't had the pleasure of assembling one of these, but it sounds like it can be tricky…the last bar can be a bugger to lock into place.
Luckily here is a link to a YouTube video where a man shows the "trick" to getting the last horizontal bar installed. (Hint: you stand the cot up vertically to get more leverage.)
3) Cabelas Big Outdoorsman Camping Cot
This cot from Cabela's is rated to hold up to 400 pounds (which isn't the strongest on this list), but they call it the "Big Outdoorsman" because it is wider than most single person cots.
It measures 40-inches wide. [Their cot with the organizer (shown earlier) is only 26-inches.] So this is Cabela's version of an oversized camping cot.
It folds up and can be stored in its included carrying bag. It weighs about 32 pounds, so it isn't exactly light, but as long as you're not backpack camping, it should work for most people.
4) Teton XXL Oversized Camping Cot
The company TETON Sports makes camping cots in a variety of sizes. This is what they call the Outfitter LE. It's still a single-person cot, but it is an oversized camping cot!
It is 40-inches wide. (That is bigger than a twin size mattress.)
And because it is 85-inches long, it is a good option for tall people too.
Just remember, the larger the cot, the more room it'll take up inside your tent.
Like some of the other cots on this list, this one can be a bit tricky to set up the last short bar. Teton makes it easier though by providing a little red pivot bar to help get that last bar locked into place.
Below is a YouTube video where a man and his son do a great job of showing the set-up of the Teton XXL camping cot.
It is rated to hold 600 lbs…but some purchasers say it sags in the middle with way less load than that.
5) Woods Instant Standard Camping Cot (Canadian Tire)
If you're a Canadian, or visiting Canada to camp, you can get this single-person camping cot at Canadian Tire (a big store chain in Canada). It is 26-inches wide, so a pretty narrow cot.
The thing about reviews on Canadian Tire's website is that the reviewers are notoriously hard and unforgiving. Sure Canadian people are supposed to be nice, but they don't go easy on reviewing products.
And despite this, this camping cot still has 4.2 stars out of 5 on the Canadian Tire website. (Of course this could change in the future.)
If you want more details on this cot, click here.
6) Queen size Camping Cot and Air Mattress (by Coleman)
This queen size camping cot by Coleman has a steel frame that can hold up to 600 lbs.
And it comes with an air mattress and battery-powered air pump to help make you even more comfortable. (Sometimes the supporting bars of a cot can dig into your back, but not if you have an air mattress.)
After deflating the air mattress, the steel frame folds up and can be stored in a carrying bag. The bag even has two wheels so you can roll the folded cot around. Remember it is a steel frame, so it weighs about 42 pounds.
Most complaints about this queen camping cot don't involve the frame itself…most complaints are about the air mattress not holding air. This honestly seems to be a complaint with many air mattresses. You may have to top up the mattress with air before you hit the sheets at night. And if bad came to worse, you could always scrap the mattress and use a foam pad on top of the frame.
If you're looking for queen size camping cot for two people, check this one out.
I've listed a few retailers for you to check prices and I do suggest you check the different prices….the differences can be significant between the retailers.



7) Ozark Trail Camping Cot Walmart (single person cot)
If you're looking for a rather inexpensive, single person cot that is still well-rated, check out this Walmart camping cot. It is made by Ozark Trail.
This is a low rise camping cot: it sits only about 8-inches off the ground. That's still enough to keep you off the uneven ground and you'll have more headroom in your tent.
This is for one person – it measures only 25-inches wide, and is easy to fold away and to set up.
For its price, and low profile size, you could buy one for each member of the family.
Weight capacity is 300 lbs for this cot.
Will this Ozark Trail camping cot work for you?
8) Lightweight Camping Cot (good option for backpackers)
If keeping things light while camping is important to you, here is a low-profile camping cot that weighs less than 5 pounds. (Yet it can hold up to 275 lbs.)
It folds down into a bag and measures about 17-inches by 6-inches once taken apart and folded. Nice and compact.
It doesn't lift you high off the ground, but it does elevate you enough to stop you from sleeping directly on the ground.
So if you want a lightweight camping cot that won't break your back OR the bank, check this MARCHWAY camping cot out.
It's a good option for backpackers or for those that have a car and limited space for gear.
Other lightweight camping cots include:
9) Ozark Trail Adjustable Camping Cot (Walmart)
This is the single-person adjustable Ozark Trail camping cot. The head of the cot lifts up or down. This could be a good option for people with hiatal hernia or GERD and need to sleep with their head elevated.
I don't know why the product photo shows a guy setting it up outside in the leaves, but if you notice, it has wide feet to help distribute the weight.
It folds up and has carrying handle so you can pack around this 23-pound cot.
It has a 300 lbs weight capacity.
10) Coleman ComfortSmart Folding Camping Cot (cot for shorter people)
The pioneer in camping equipment Coleman makes this folding camping cot.
This ComfortSmart cot comes with a removable foam sleeping pad to enhance comfort, and it has coil springs that attach the sleeping surface to the steel frame. This is for shorter people…they suggest for people 5-feet 7-inches tall or less.
The potential downside to this cot is how bulky it is once folded. It folds in half creating a big rectangle about 2-feet by 3-feet in size. You'll have to keep this in mind because it'll take up space in your camping vehicle, and it'll take up space at home in between camping trips.
In fact, many people say this is great for a spare bed at home, but it can be a little bulky for camping.
Of course, if you have lots of room in your camping vehicle, and you have lots of room to store it at home, then this can be a really comfortable camping cot for you (if you're 5-feet 7-inches or less).
11) Kids Bunk Bed Cot for Camping (Disc-O-Bed)
Do you go camping with two young children? Disc-O-Bed makes this innovative kids bunk bed cot designed for kids 7-12 years old.
What's cool is that you can use them as two separate individual camp cots, or stack them up as bunk beds.
Plus, you can make them into a little couch/bench for sitting on during the day time.
If you want an innovative kids bunk cot for camping, check this out.
12) Folding Camping Cot for Single Person (by ATORPOK)
This is a folding camping cot I came across on Amazon.
It is well-rated, and at just under 16 lbs, it isn't exactly lightweight, but it weighs less than some of the other options in this list. And it'll hold up to 450 pounds. (That's a solid cot.)
It folds up into a rectangular shape and fits inside the included carrying bag. (Much like folding camping chairs do.)
The sleeping surface is a 600D polyester material. Though it is strong, it doesn't have any real padding, so you may want to put a foam camping mattress on top of this.
13) Kamp-Rite Oversized Tent Cot
Last summer I saw one of these at a local campground. I'd never seen one before that.
We camp in a pop up camper, but seeing this cot tent inspired me to write this article. Such a neat innovation.
This is the "oversized" version of the tent cot made by Kamp-Rite. The bed portion is 30-inches wide by 90-inches long.
So if you're camping solo, instead of having to pack a tent and a cot, this is both in one unit!
I haven't personally set one of these up, but judging by how well-rated they are, it seems people really like them. (And apparently easy to set up too.)
And if you want to just use this as a cot inside a larger tent, you can do that too. Plus, lots of people use these for truck camping: they set it up right in the back of their pickup tent.
Weight Capacity is 350 lbs.
14) Double Camping Cot (folding camp cot by Outsunny)
Here is a 2-person double camping cot made by Outsunny.
Though it is a double sized cot, it is not heavy duty.
The weight capacity for this cot is 300 pounds. So it isn't for a big couple. It is more appropriate for a smaller couple, or an adult and their young child.
There is a bar right down the middle of this cot, so it isn't appropriate for one person to spread out across. Unless you put an air mattress or foam sleeping pad atop this frame.
If you don't exceed the weight capacity, and you want a double camping cot that folds down into a rectangular bag, you may want to check this out.
15) Kids Camping Cot for Toddlers
The company Regalo makes this kids camping cot. It is pretty small – only 4-feet long – so it is best suited for preschoolers or toddlers.
It's weight limit is 75 pounds.
It folds up small, but it doesn't come with a carrying bag anymore. You'll need to wrap a rope or Velcro strap around it to keep it closed. And some people complain it isn't very comfortable so you may want a foam pad for your little one to sleep on (especially if they're fussy sleepers).
If you want more details on this toddler camping cot, click here.
Did you find a camping cot that'll fit your needs?
We currently have a pop up camper, so we're already sleeping up off the ground, but if we go back to tent camping, I'm going to have a camping cot on my wish list.

Do you have a camping cot that you swear by?
Up Next:
9 well-rated Portable Stool options (great options for camping and shore fishing)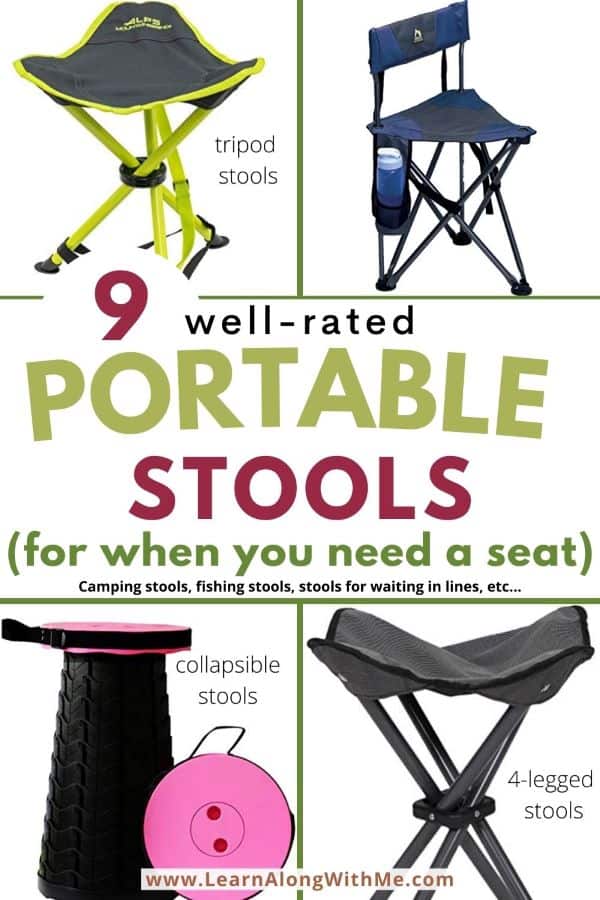 11 popular Camping Fan Options to help beat the heat