Are you looking for a trash can for your camping trips or to put in your RV? In this article we'll look at 15 camping trash can ideas including:
a collapsible trash can,
bathroom trash cans for your RV
kitchen trash cans
and some other RV garbage can ideas
Buckle up…this might get trashy!
This article contains affiliate links. If you click a link and buy something I may receive a small commission at no extra cost to you. As an Amazon Associate I earn from qualifying purchases. For more information please see the Disclosure page.
Most of these camping trash can ideas are for RV's and trailers, but some are applicable for non-RV camping too.
Scroll through them all and see what'll work for you.
RV Garbage Can Considerations – make sure it'll fit your space
Before you rush out and buy a trash can for your RV, make sure you measure to see what will fit your space.
The picture above is from my sister's 5th wheel trailer. You can see they have one trash can and other other is used for cans and bottles (to return for refund).
In order to fit their space, they needed to make sure any garbage can would be short enough to allow the fridge to open above it.
So make sure you buy one that'll fit your space.
15 Camping Trash Can Ideas
Collapsible Trash Can from Coghlan's (Deluxe Model)
The camping company Coghlan's makes this pop-up garbage can that you could also use as a recycling bin, or even storage container (if it didn't have garbage in it first).
This collapsible trash can is their "Deluxe" model and features some grommets on the bottom of the can so you can secure it to the ground using tent stakes.
These should help keep it upright during windstorms and from bumps from clumsy campers.
Plus, it has a couple clear little pockets where you could tuck extra garbage bags or labels (if you're using it for storage).
You can probably find this at your local outdoor store, or you can CLICK HERE to see it on Amazon.
Collapsible Recycling Bin (made by Stansport)
This pop up bin from Stansport isn't specifically marketed as a recycling bin, but because of its blue color it would be perfect for campsite recycling.
It is 2-feet tall once you "pop" it up.
You may be able to find it at your local camping store, or you can…
CLICK HERE to see it on Amazon.
Pop up Recycling Container with RV design (by Camco)
Here is a colorful pop up container made by Camco that could be used for recycling or garbage.
Heck, a lot of people even use it as a pop up laundry hamper! It is very versatile camping trash can.
It has a zippered top to help prevent flies from getting at your garbage.

Trash-Ease – Portable Trash Bag Holder
This trash bag holder made by Trash-Ease is super cool because it slides onto tables and counters, and like the picture below shows, maybe even your barbeque!
It is designed to hold 13 gallon trash bags.
Want to see how much other people like this?

Portable Trash Bag Holder (by Wakeman)
This is a pretty cool idea. You can set this up at different heights depending on your needs.
It would be a good option if you have some people at your campsite and they're having drinks. Get them to toss their cans or bottles in here when they're finished so you can return them for a refund.
This particular version says "Recycle" on the lid but you could use it for whatever you want. Or buy separate ones for recycling and for garbage.
CLICK HERE to see more details.
Bathroom Trash Can with Lid for your Camper (Foot pedal activated)
The company simplehuman makes this oval bathroom trash can with a lid that is foot pedal-activated.
So as seen in the picture above you step down on the foot pedal to raise the lid.
This is a fairly compact trash.
Trash can dimensions — 8-inches wide, just under 11-inches deep and just over 12-inches tall when the lid is closed. When the lid is open it measures 21-inches tall.
Will this fit in your RV bathroom?

Bathroom Trash Can with Lid (Button Activated)
Here is an interesting trash can that has features I've never seen before. It is a slim trash can so it'll probably fit in your camper bathroom next to your toilet. (It's under 6-inches wide!)
You push a button on the top to open the lid.
And as seen in the picture below you can put two separate garbage bags into it.
This might work in your RV kitchen too, where you could put a composting bag on one side (for food scraps), and have a garbage bag on the other side.
Pretty cool design, that other people really seem to like.

Ultra Slim Trash Can (no lid, but its a 2-pack)
This basic, ultra slim trash can from mDesign is only 5-inches wide! It is 10-inches tall.
It should fit nicely next to most camper toilets or under your sink cabinet.
Since it comes as a 2-pack, you could use one as a garbage can and the other as storage for cleaning supplies or for recycling.
CLICK HERE to see this popular trash can on Amazon.
Hanging Collapsible Trash Can (made of silicone)
Here is a clever trash can. It is a collapsible trash can made of silicone that can hang from your kitchen cabinet doors – as long as they're thinner than 0.78-inches (19.8mm).
So before you fall in love with this idea, measure the thickness of your camper cabinets.
It actually comes as a 2-pack. And you get a little scraper with it to swipe the garbage off your counters and into the bins.

Over the Cabinet Door Garbage Bag Holder (by Lynk)
The company Lynk makes some quality kitchen organizers. And they also makes this handy hanging garbage bag holder.
It has foam padding so it shouldn't scratch your cabinet doors.
It'll fit onto cabinet doors up to 0.75-inches thick.
And because you can easily move it, you could have the bag hanging inside the cabinet most of the time (and out of the way), and then hang it on the outside if you're cooking and need easy access. You could put composting bags on it, or recycling bags too.

Over the Door Trash Bag Holder (by mDesign)
Here is another RV trash can idea that hangs garbage bags from your cabinet doors.
It is a similar idea to the one shown above, but slightly different styling.
Click here to see this trash bag holder on Amazon.
Collapsible Trash Can that can hang or stand on the floor
This is a collapsible trash can that squashes together front to back (not up and down like many others).
You can hang it from most kitchen cabinet doors, or you can expand it and stand it upright on the floor.
It is a pretty versatile garbage holder.
Will this work as your RV trash can?

Cabinet Mounted Trash Can (by Camco)
Camco – one of the leaders in RV accessories – makes this cabinet door-mounted RV trash can.
It does require screwing it into your cabinet door. (Keep that in mind.)
You can get it in the 5-quart size as shown above, or you can get it in the smaller 3-quart size.
Sliding Garbage Tray for inside cabinet
Do you hate the mess that you find inside the cabinet where you have your garbage can? (People miss the trash can and then don't pick it up.)
Well, a slide out garbage can will hopefully solve this. You just slide out the can instead of blindly dumping garbage into a recessed space.
But it may be a little tricky finding one that'll fit inside your RV kitchen cabinets.
This particular one by Household Essentials will fit inside a cabinet that is at least 10-inches wide and 18-inches deep.
Go measure your RV cabinets…will this work for you?
Behrens 6 Gallon Trash Can (Galvanized) [at Walmart.com]
I saw this 6 gallon trash can on Walmart.com and it had a really good price compared to some other online retailers.
So I've provided a link to see it on Walmart's website.
You could use it as a garbage can, but you could also use it for food scraps, storing your dog's food while camping, or for recycling.

Small Kitchen Compost Bin for your RV Kitchen
If you're going on short camping trips and you have a composting bin at home (or curbside pickup) why not save your food scraps while RV camping.
Diverting food scraps from the landfill helps reduce methane-production in garbage dumps. So if you do your part when at home, do it while camping too.
This compact compost bin has a lid to prevent flies and smells, and it is small enough to fit in a RV kitchen cabinet or hang from a cabinet door.
CLICK HERE to see more details.
I hope you've enjoyed this list of RV and camping trash can ideas.
Since many RV'ers and campers try to be eco-friendly as well, these collapsible trash cans and other garbage can ideas could be used to store recycling as well.
Up Next:
9 portable Camping Shower Ideas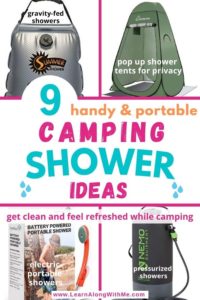 21 clever RV Kitchen Storage Ideas to maximize your small space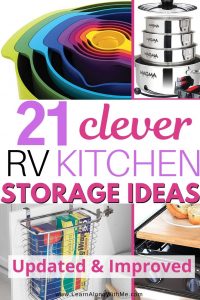 13 proven RV Paper Towel Holder Ideas