if you camp at a popular campground chances are good that you'll have neighbors on both sides. And since campground owners want to maximize their money-making potential, they often cram campers together like sardines. In this article we'll look at some campsite privacy ideas to make your site more like a private retreat and less like you're on display.
This article contains affiliate links. If you click a link and buy something I may receive a small commission at no extra cost to you. As an Amazon Associate I earn from qualifying purchases. For more information please see the Disclosure page.

How to make a campsite more private? – List of Campsite Privacy Ideas
To make your next camping trip in the great outdoors feel a little more great, here are some ways to make your campsite more private.
Most of these privacy ideas involve visually blocking off your campsite, or a section of your campsite from prying eyes.
And to be considered good for camping these privacy options need to be lightweight, portable and quick to set up.
If someone has a seasonal campsite for a few months or a permanent site then can look at more permanent privacy solutions.
Be careful with the options that require guy lines and stakes securing the product to the ground. You may want to have some reflective ribbon to tape onto the guy lines so people won't trip over them.
Let's have a look at the privacy ideas.
1) WallUp! Outdoor Privacy Wall
The company WallUp! makes this portable privacy screen that is free-standing and supported by pegs you hammer into the ground. You see it behind the couple in the photo above.
It has folding poles, like tent poles, that support the fabric. It is an impressive 6-feet tall by 12-feet wide.
​Setup is quick and for the most part easy, but some people claim it doesn't hold up too well to wind.
So to help stabilize it more, some campers will pack extra tent stakes and rope to create guy lines from the top of the wall to the tent stakes in the ground.
2) String up a Privacy Fence Screen
You'll commonly see these fabric privacy screens strapped to chain link fences to make them more private, but you can also bring these with you camping and string them up as privacy screens. (It's shown on a fence above, but just imagine it strung up at a campsite.)
It is like a tarp but these are a breathable mesh fabric that will allow some wind to blow through.
You'll need to bring some extra bungee cords and rope then analyze your site to see where you can safely set up this screen.
The screens have metal grommets along the sides and three at every corner so it gives you some options for stringing them up.
You can get screens like this in a variety of heights and lengths. So you should be able to find an option that suits you.
Click here to see the available sizes and colors.
3) Put up a Roll of Artificial Hedges
​Rolls of plastic hedges have become really popular ways to make a deck or balcony more private.
And more campers are using them to create privacy screens between their campsite and the neighbors.
Just keep in mind these rolls are intended to be strapped every few inches to a sturdy structure like a deck railing, so you'll need to get creative at your campsite.
Instead of just connecting a rope to the four corners of the roll and then tying those ropes to things at your campsite, you'll be better off taking a different approach.
String two ropes between two trees. One rope up top and one rope at the bottom. Then clip the artificial hedge roll to these ropes. So the ropes are supporting the privacy screen, and you're not just yanking the four corners of the roll.
You can find these at most hardware stores, but if you want more information on this popular faux ivy roll, click here.
4) Get an Expandable Privacy Screen
​These are another type of product that have become a really popular way to add privacy to fences, balconies and deck railings.
​Heck, I've even seen some pharmacies selling these because they're so popular.
But they don't have to be reserved just for the home.
Since they're lightweight, portable, and "sort of" self-supporting, you can use them to add privacy to your campsite as well.
They are plastic leaves attached to an adjustable willow framed structure.
Below is a picture of the back of the product so you get an idea of what it's like.
When folded compact, this measures just 11-inches wide and 47-inches long. So it isn't tiny, but it should fit into most vehicles and especially if you are an RV'er.
Bring some extra bungee cords and rope with you camping so that you can tie this to something like trees, poles, or your camper.
Just keep in mind, the wider you stretch the product, the shorter it becomes and the more spread out the leaves get. This means less privacy for you.
So you're generally better off using two of them side-by-side compared to using one fully stretched out.
When fully extended this lattice fence can stretch out to 10-feet across, but it is only 22-inches tall at this length. So unless you plan on just crawling around your campsite, this isn't ideal.
5) Install a Beach Fence around a section of your campsite
This product fits in the criteria of being lightweight (about 5 pounds), portable and quick to set up, but where it may fall "short" is that it is a short fence. It is only 32-inches tall.
They are designed to provide privacy while laying on the beach or sitting in low-profile chairs.
But if you have low camping chairs, or if you want some privacy for young kids to crawl around then this may work for you.
​It comes with a 6 wooden dowels that you have to pound into ground, and since it is designed for sand, this would only work well in nice, soft-soiled grassy sites or sandy campsites.
If you want to add some color to your campsite and provide some low privacy, click here to check this out.
​



The company "erda" makes a slightly taller windscreen made of recycled plastic bottles. It is 42-inches tall (3.5 feet), so you won't be completed obstructed while sitting behind this windscreen, but it does provide a bit more privacy.
​6) Pop Up Screen Tent with Privacy Panels
We have a Coleman pop up screen room which I really love to help keep the bugs off our food while eating, but what it doesn't have is sidewalls or privacy panels.
The quick set-up screen room shown above by Cabelas DOES have sidewall panels that you can raise to let the sun shine in, or of you can drop the panels for privacy and protection from the wind.
So with a screen room like this, you can eat your food without being bugged by flying insects AND it has the sidewalls to block nosey neighbors.
I haven't tried this particular screen room, but there are lots of reviews on the Bass Pro Shops website for you to check out.
7) Camouflage Netting
Camouflage netting isn't just for hunting or the military.
Camo netting provides an excellent solution for privacy in any outdoor setting. It's lightweight, easy to carry, and can be draped over trees, bushes, or tied to a pole.
Just bring some rope or bungee cords and you'll quickly be able to create a private space right at your campsite.
You can likely find some at your local military surplus store, or you can click here to see this roll of camo netting on Amazon.
​8) Hang a Sheet or Privacy Screen on your existing screen room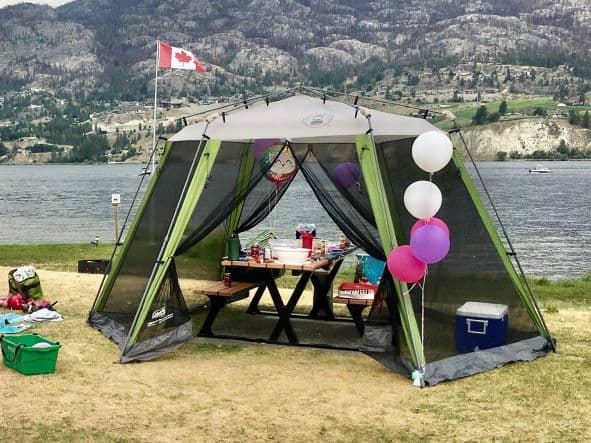 We have this Coleman screen tent that we use for camping. We place it around the campsite's picnic table so we can eat without being harassed by wasps.
But it doesn't have privacy walls or wind flaps.
I haven't tried it yet, but it makes sense that I could clamp or somehow affix a sheet to one side of the screen room to act as a privacy screen.
This may be a great option if you already have a pop up screen tent that you love, but it lacks privacy.
​
9) Portable Room Dividers
I'm a little skeptical about this option but that is because it is almost always windy where I live.
But portable room dividers are lightweight and foldable, making them an option for campsite privacy. They can be set up quickly and used to create separate areas within your campsite.
The problem with them though is that most are designed for indoor use.
Even this product which claims it can be used outdoor can still blow over quite easily in the wind.
To help protect yourself and fellow campers you'll have to get creative on how you can attach guy wires to the top of this divider to stabilize it.
(I think I'd be nervous that it is going to blow over onto someone's head.)
​
10) Portable Wind break for camping
Camping windbreaks are lightweight and designed to provide privacy and block the wind. They can be set up around your campsite to create a private space and shield you – and your campfire or camp stove – from the wind.
This windscreen comes with guy lines and pegs for secure anchoring. It offers campers a way to create a private space and protect against gusts of wind at their campsite.
But that being said, it is hard to find a well-rated camping windbreak online. I've shown this one above so you get a sense of what a windbreak is, but this one from Amazon is just over 4-feet tall and customers claim it isn't very sturdy.
It seems like it is best reserved for a place that gets very little wind at all. Pretty strange because they consider it a "wind break".
11) Outdoor Privacy Curtains (with grommets on top and loops on the bottom)
Outdoor privacy curtains are lightweight, easy to hang, and can be attached to trees or poles. They offer privacy and can be quickly set up and taken down as needed.
I honestly think this would be a little strange to see at a campsite, but it could be done.
Buy some outdoor curtains with large metal grommets that you could easily thread a rope through and tie the rope taut between two trees.
In the product photo above, the company makes it look like they have grommets at the bottom as well, but upon further reading of the product description, it says they have metal grommets at the top and fabric pockets at the bottom (not grommets).
So you can still put a rope through the bottom so it won't flap in the wind, but there aren't bottom grommets on this particular curtain.
Would this work for your campsites?
12) Camping Hammock with Bug Net and Rain Fly
A camping hammock with a bug net and rain fly can provide a private and comfortable space to relax.
They are lightweight, portable, and offers protection from insects while allowing you to enjoy the outdoors.
So no, this won't obscure your whole campsite from fellow campers, but it does provide you some privacy during an afternoon siesta.
The camping hammock shown here is a popular and well-rated product from FIRINER.
13) Outdoor Pop Up Privacy Shower Tent
Camping shower tents are compact and lightweight, providing an enclosed space for privacy at your campsite.
They can be set up quickly and provide a private space to change your clothes or take a shower.
There are a gazillion of these on these market. The one above by ropoda is tall (83-inches to the top) so it should work for most people without them having to bend over.
Plus, this model has a removable floor. You could remove the floor if you want to put a porta-potty, or put the floor in if you want a place to dry your clothes.
This isn't an option to make your entire campsite private, but it does provide a private space to do the things that require the most privacy.
RELATED ARTICLE:
Check out these Camping Shower Ideas for other ways to get clean while camping.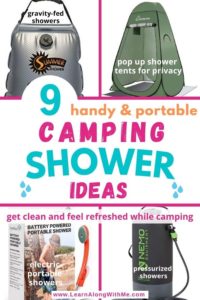 14) Set up your RV or Tent opening away from neighbors
Analyze your campsite. Is there a way you could use your vehicle or tent as a privacy screen?
Park your RV or set up your tent to obscure your neighbor's view of your site.
Try to do this before you set-up so you don't realize later, "Jeez this guy next to me can see everything I'm doing."
It is easier to do this at the start then have to tear down, rearrange and set back up.
Remember to check campsite regulations and guidelines before setting up any privacy structures. Respect the environment and ensure that you leave no trace when dismantling and moving your privacy setup.
With some planning ahead and bring some extra rope and bungee cords you should be able to make your campsite more provide which should help make your trip more relaxing and refreshing.
Do you have a great campsite privacy idea that you'd like to share? If so, please comment below.
Up Next:
You may like these Camper patio ideas and outdoor camping living space options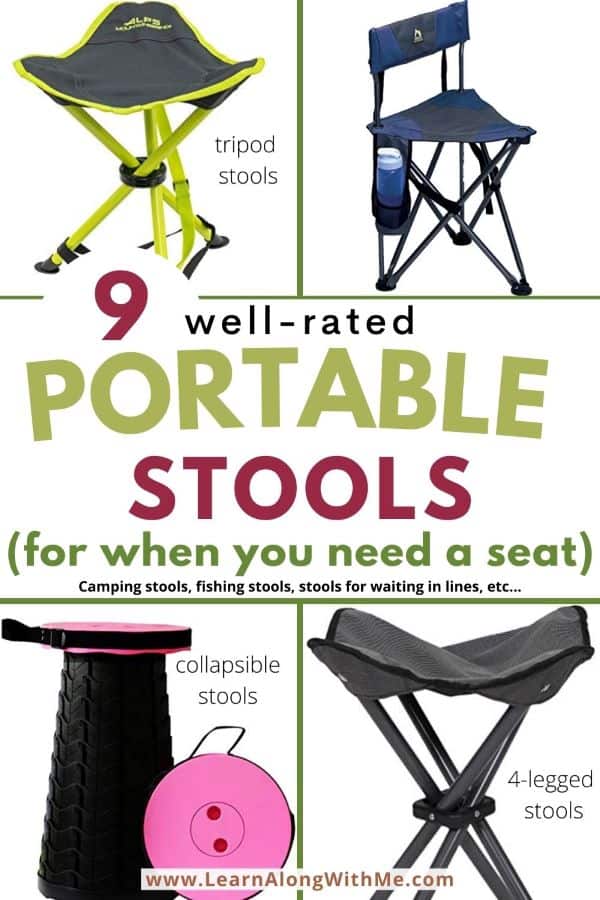 Check out some of the best Portable Stools that are great for camping, hiking and fishing