In this article we'll help you find the perfect piece of canoe decor for your home or cabin.  We feature a concise list of 17 charming canoe decor ideas to help you bring a sense of adventure and wilderness to your home.  
This article contains affiliate links. If you click a link and buy something I may receive a small commission at no extra cost to you. As an Amazon Associate I earn from qualifying purchases. For more information please see the Disclosure page.
17 charming Canoe Décor Ideas 
Let's see if one of these canoe decor ideas will work for you.

Canoe Wall Décor
In this section I found 5 pieces of canoe wall decor that you may like. (These particular ones were found on Amazon or Etsy, but you may be able to find similar ones at your local retailers.)




1) Metal Sign Canoe Décor  
I found lots of canoe signs on Amazon that said "Canoe Rentals" but I think I like this one with the bear the best.
It is an emboseed metal sign that is quite large…it is 28-inches high and just under 27-inches wide. It could look good on your porch above the patio chairs.
2) Canoe Wall Clock with Swinging Paddle Pendulum
Isn't this a charming canoe clock…the paddle swings like a pendulum.
This is a popular product…but will it suit your home's decor?

3) Lake Rules Hanging Sign
Here is a cute hanging wall sign that would be perfect for a lake house.
4) Metal Canoe Wall Décor Welcome Sign  (Etsy)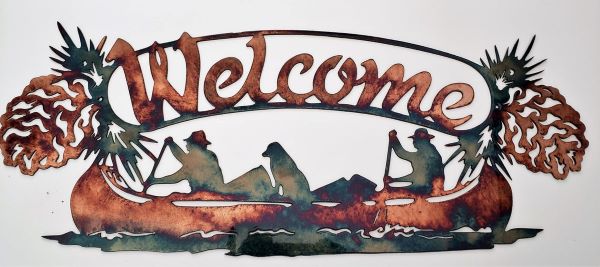 I found this canoeing Welcome Sign on Etsy. It is made by the Etsy seller "MetalDecorStudiosUSA."  They are a well-rated shop with lots of positive reviews and sales.
This would look great mounted on the wall just inside your cabin or lake house…or outside just above the front door.
5) Canoe Wall Décor – another great metal art piece from Etsy
Here is another charming metal wall art piece that I discovered on Etsy. It features a canoe, tree line and a meandering river.
The seller – ShinySpike – offers this artwork made from mild steel or aluminum. They suggest you get the aluminum version if you want to hang this outside because the aluminum won't rust.
Would this work on your walls? If so…
Click here to see more details and the size.
6) Canoe Shower Curtain 
This is a beautiful scene printed onto a cloth shower curtain. So you'll still need a plastic curtain behind this canoe shower curtain.
But your guests won't be able to use your bathroom without commenting on this cool bathroom accessory.
7) Cute Bears in Canoe Coaster Holder
Here is a cute tabletop coaster holder featuring a mama bear and her 2 cubs out for a leisurely paddle in a birch bark canoe. (It is actually made of resin…not real birch bark.)
Will your guests get a kick out this cute coaster holder?
8) Wooden Canoe Decorations  
These cute wooden canoe decorations are 11-inches long. These replicas will look great on your fireplace mantle or perhaps on your canoe bookshelf.
Do you like the look of these?

Canoe bookshelf Ideas 
Here are some canoe bookshelf ideas that I came across.
9) Upright Canoe Bookshelf (Etsy)
I found this amazing looking canoe bookshelf on Etsy.
It looks like a showpiece and would be the center of attention for any room.
CLICK here to SEE MORE PICTURES of this Canoe Bookshelf.
(As of writing this, the Etsy seller KoblinCrafts doesn't have any sales listed on Etsy. So do your due diligence before ordering.)
10) Canoe Bookshelf (Walmart.com)
I was actually a little surprised to find this on Walmart.com
Looks beautiful…a good way to add charm to your cabin. It is just one bookshelf but the photo above shows it from various angles.
Click here to see more details.
11) Horizontal Canoe Bookshelf (image from Flickr)
This is such an awesome bookshelf. This photo is called "Grizzly Peak Station Bravo" and is by KGSImaging on Flickr.com
It is apparently a park ranger's office. I don't know where this canoe bookshelf came from but it is going to inspire a lot of people.
12) Canoe wine rack 
Here is an interesting canoe wine rack that I found on Amazon.
CLICK HERE TO SEE MORE PICTURES of this canoe wine rack.
13) Canoe Wine Bottle Holder 
This canoe wine bottle holder would make a nice eye-catching countertop or tabletop display. 
14) Canoe Paddle Wine Bottle Holder  (Etsy)
This is a charming paddle wine bottle holder that would be perfect for a wine lover's lake house or cabin.
I think technically it is a boat paddle, but it'll still look awesome on your wall. You get 2 of the paddles in a set.
This product is handmade from hickory wood and the wine bottle holders are made from copper.
If this will work for your place…
15) Canoe light fixture  (Etsy)
Isn't this thing incredible!
Just imagine this hanging over your table at your lake house, or above the pool table.
It is a 6-foot long, handmade canoe chandelier that is made in the USA by the Etsy seller CanoeModelKits. 
The shop has multiple reviews too, so you can click to read what other people said about these unique canoe light fixtures.
There are lots more picture on Etsy, and I highly encourage you to check them out.
16) Canoe Cribbage Board
This is perfect for unplugging and unwinding after a long day at the cabin. Play some Crib with your friends or family using this canoe cribbage board.

17) Canoe Throw Blanket/Tapestry with Woodsy Look
This tapestry is 50-inches wide by 60-inches tall.
Would this look good thrown over your favorite chair at the cabin?

I hope in this list of 17 charming canoe decor ideas you've found one that'll work for your home, lake house or cabin.

I think the canoe chandelier would be awesome, and I like the metal welcome sign too. Which one do you like?
Up Next:
11 charming Fall Porch Decor Ideas