If you're planning a road trip, or if you're just tired of having an unorganized vehicle, you'll want to check out these car organizers to help tidy up your vehicle, and car accessories for extra peace of mind. (They are all popular, well-regarded products.)
This article contains affiliate links. If you click a link and buy something I may receive a small commission at no extra cost to you. As an Amazon Associate I earn from qualifying purchases. For more information please see the Disclosure page.
Car & Trunk Storage Organizer by Drive Auto Products
This organizer box can be used on the seats, or in the trunk. It comes with securing straps to keep it in place. So if you're driving around tight corners it won't slide around in your trunk.
What's cool is that it's collapsible and can be used in "half-mode" or "full mode." It is a very versatile car organizer.
Will it help get your trunk organized? (Click here for more details on Amazon.)
Hanging Trunk Organizer by YoGi Prime
Here is another popular trunk organizer but this one from YoGi Prime has a different purpose: it aims to free up trunk floor space. It hangs from the back of the seats. So it can be used in the trunk (or rear section) of most hatchbacks, SUV's and minivans.
Plus, it can be used as a back seat organizers. You simply hang it from the back of the front seats.
–> CLICK here to see more details on Amazon <–
Drop Stop – The Car Seat Gap Filler
The marketing may be a little "infomercial-ish" but people do seem to love the Drop Stop.
Just the other day I dropped a credit card down the gap beside my car seat. What an annoying problem. It's cool to see there is a solution.
Portable 12-Volt Tire Inflator
Having a portable 12-volt air compressor in my trunk has saved my bacon a couple times. Once after having the joy of a blown tire while driving on the highway I discovered my spare tire was flat. But my little air compressor came through. I don't own this exact model (I bought mine at Canadian Tire), but this one from EPAUTO is popular and would be good to have in the trunk.
If you don't already have a little air compressor, you should get one. The enjoyment of your entire road trip could depend on it. Click here to check this one out on Amazon.
Sun Shades to Prevent a Hot Car and Steering Wheel
Maybe I'm a little naive, but I didn't know this style of sun shade for vehicles existed. I was only familiar with the accordian-style "tin foil" ones that never stay in place. Apparently these stay in place real well and do a good job of reflecting the heat from the sun away from your car.
This 2-piece sun shade set from SHINEMATIX comes in three different sizes. They have a sizing chart on Amazon so make sure you get the right size for your vehicle.
To prevent a hot and crispy car during this summer's pit stops check it out today.
Dead Battery Jumper / Portable Power Pack
Sometimes when you need a jump start, there just isn't anybody around.
With this lithium battery pack from Audew you can not only jump start a dead battery, but you can also use it charge phones and devices. Super convenient.
Such a versatile unit would be worth having for a road trip…just in case.
Click here to see more details on Amazon.
(Note: I used to have another brand of car jump-starter here, but I don't think it is listed on Amazon anymore so I've replaced it with this one.)






Glove Box Organizer by High Road
Is your glove box a mess? Do you have to shuffle through loose papers and manuals just to find your insurance papers?
This glove box organizer from High Road can help you with that. It has multiple pockets and compartments to help you keep all the essentials together. Great for a business person who needs to log mileage and keep receipts.
CLICK here to see more details on Amazon of this glove box organizer.
Expandable Clothes Rod by High Road
Not everyone will need a clothes rod in their car. But if you spend a lot of days on the road – especially for business – you should check this out. It'd be great if you're driving to a wedding or school reunion too.
It expands from 35-inches to 59-inches long so it'll fit most vehicles. Will this car accessory help you?
It is available on Amazon.
Headrest Hook Hangers by EldHus
These headrest hooks are super convenient for hanging grocery bags or purses. This particular product from EldHus comes in a 4-pack and is available on Amazon.
So if you're sick of your grocery bags opening up and spilling food onto the car floor, you should check this out.
Cup Holder Phone Mount
A phone mount like this fits into your vehicle's cup holder and locks into place with an expanding base. (Remember driving requires your focus…don't text or play around on your phone while driving. Keep your hands on the wheel and focus on driving.)
If you think this will help you, you can click here to see more details on Amazon.
Back Seat Organizer for Kids
This back seat organizer for kids has multiple pockets (including a spot for a tablet).
If you have kids and you want to help keep their mess somewhat contained, check out this product today. And it helps keep little feet off the back of your seat.
CLICK here to see more details on Amazon.
I hope you've enjoyed this list of 11 car organizers and car accessories that might help you get your vehicle organized and tidy.
Hopefully at least one of these ideas will enhance your road trips or daily commutes.
Thank you,
Tim from LearnAlongWithMe.com
Up Next:
7 clever accessories eating in the car (yes, really)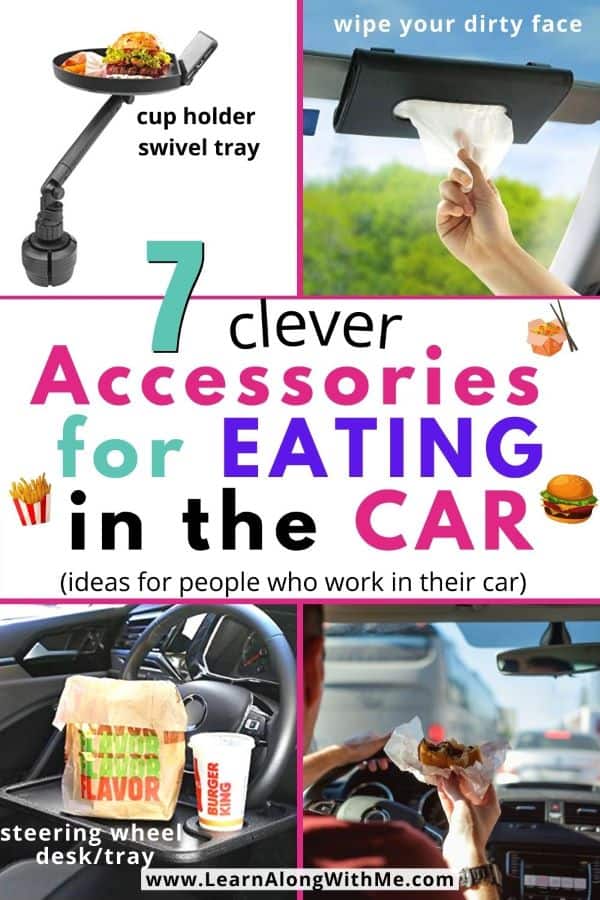 If you want to see other car organization ideas, check out this article here.