Is your chain link fence just too short? Luckily there are ways to make your chain link fence taller. In this article we'll look at 7 chain link fence height extension ideas.
Will one of them work for you?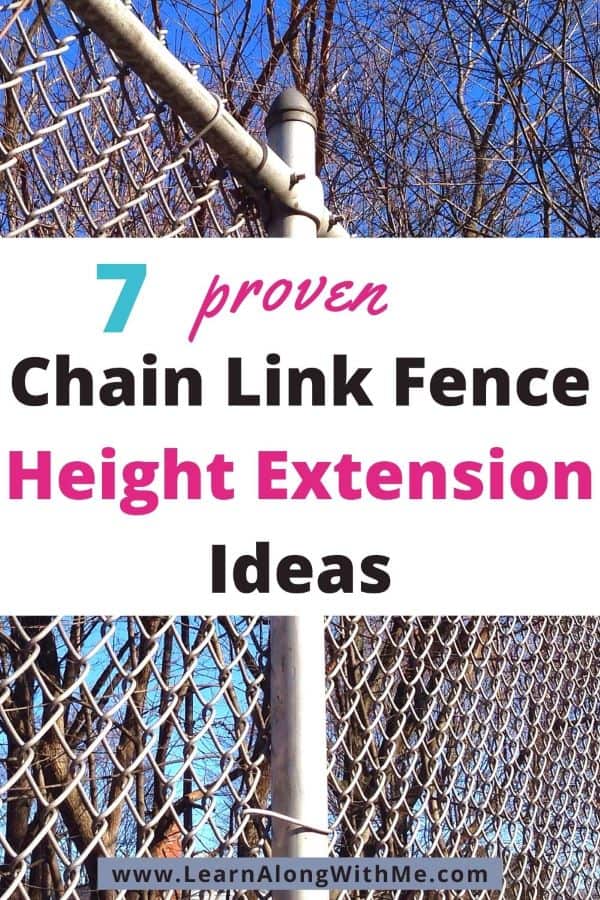 This article contains affiliate links. If you click a link and buy something I may receive a small commission at no extra cost to you. As an Amazon Associate I earn from qualifying purchases. For more information please see the Disclosure page.
7 Chain Link Fence Height Extension Ideas
Let's look at the different fence height extension ideas to add some height to your chain link fence.
1) Fence Post Extenders
Do you have already have chain link fence posts in the ground, but they aren't tall enough?
Well a way to add height to your chain link fence is by making the fence posts taller using fence post extenders. As you can see in the picture above, you slide the fence post extender over top of your existing post.
Then once your posts are taller you can either remove the existing, shorter chain link and replace it with taller chain link to match the new height of the posts, or possibly just add a strip of chain link above your existing chain link and fasten them together.
You may be able to find these fence post extenders at your local hardware store, or you can click here to check on Amazon.
2) Chain link fence height extension poles
These poles clamp to the top rail of your existing chain link fence.
Just make sure you measure the diameter of your top rail because there are two different sizes of these poles.
There are:
Once you clamp these on to your top rail you can install the chain link to these poles.
What's cool is that you can mount them straight up to simply make your fence taller, or you can angle them to deter jumping dogs or climbers.
3) Extend-an-Arm Height Extension for Barbed Wire
Do you want to add some height to your chain link fence for security reason?
These chain link fence height extension arms clamp to your existing top rail and provide a structure to hold barbed wire for added height and security.
If you want some height more for privacy than security, I wonder if you could run some barbless wire along these arms and then use that as a trellis framework for climbing vines like ivy? (But looking at the photos it looks like the barbs may be what keeps the wire in the arm slots.)
CLICK HERE to see details on Amazon.
4) Barbed Wire Extender for Chain Link Post
This is a similar idea to the one above – where it'll let you add barbed wire above your chain link fence – but these extension arms attach to your fence posts…not your top rail.
This is sized to fit over top of 2 3/8" fence post and have a 1 5/8" top rail slide through the circular opening.

5) Slip Taller Fence Posts over Existing Chain Link Fence Poles
While researching this article I came across an interesting option to make your chain link fence taller.
It involves taking down your existing chain link, top rails and bottom rail (or tension wire), but keep your fence posts in place.
Then you buy some taller fence posts that are wider in diameter and slip them over top of your existing posts.
This way you don't have to dig new holes or pour concrete…you simply slide the new ones over top of the old.
Then you'd have to buy and install new taller chain link fence and accessories.
I found this option at this article. I don't know if the integrity of the metal on metal would affect the durability of the fence? If you're going to do this option you may want to bounce it off a fencing professional first.
6) Inexpensive Option using PVC pipe to increase height of a Chain link fence
This YouTuber shows us a cheap way to extend fence height. He slipped some PVC pipe over top of his fence posts to add some height.
PVC pipe won't provide the stability of metal, but it will provide a cheaper option to make your fence taller. (And it is easy to cut too.)
7) Add height using other fencing supplies
The YouTuber in this video took some metal fence posts (that are intended to go into the ground) and she zip tied these to her existing chain link fence. Then she secured chicken wire fencing to her clever height extenders. She claimed it only cost about $100 and it helps keep her Doberman Pinscher in her yard..
It just shows with a little ingenuity there are lots of ways to make your chain link fence taller…it really just depends on your budgets and the fence's purpose. (Is it to keep a dog in? To keep other people out? Or some other reason?)
I hope these 7 chain link fence height extension options have helped you.
Will one of them work for you?
Before you choose a fence height extender you'll have to consider some variables such as cost. If you're looking for a cheap way to extend fence height then the PVC pipe slipped over your fence posts is an inexpensive option.
But when you're budgeting, keep in mind that once you add some height to your fence, you'll still need to add some fencing to your fence height extenders.
And you'll have to consider whether you want to add a fence height extender to your actual fence posts (like in options 1,4 & 6), or do you want to secure extenders to your top rail?


Up Next:
Chain Link Fence Privacy – 8 ways to add privacy to a chain link fence
How to fix the bottom of a chain link fence – 11 proven ways to fix that gap at the bottom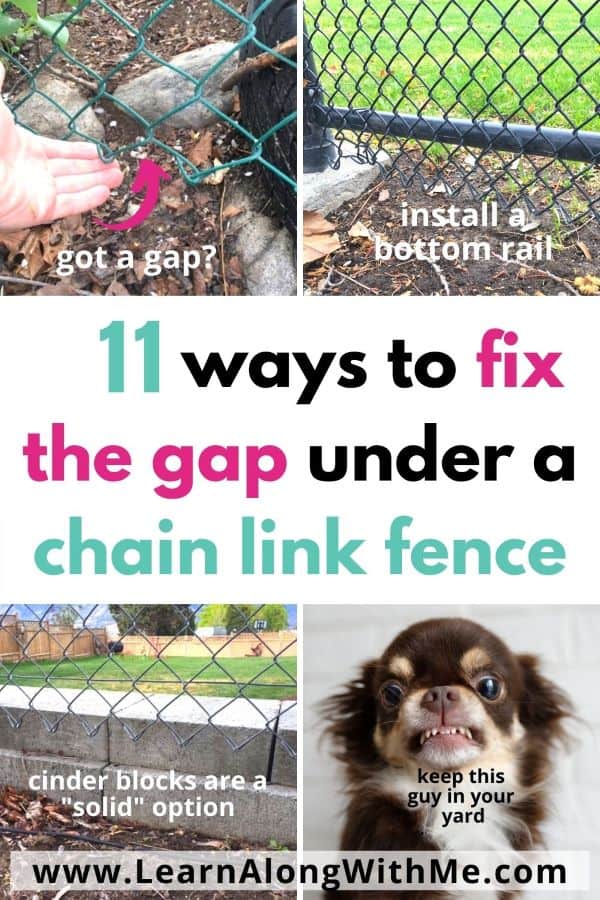 9 awesome Fence Toppers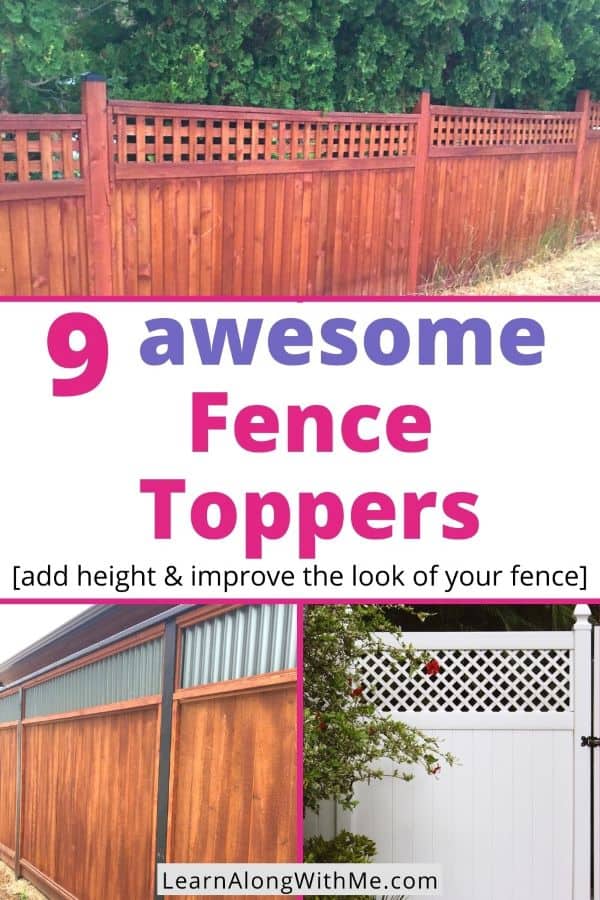 Plus, check out:
Is your chain link around a pool? If so, you may like, 13 refreshing Pool Canopy and Pool Shade Ideas