Is your closet a disaster? If you need some ideas how to organize your closet – you're in the right place. This article contains 53 clever closet organization ideas and closet storage ideas.
This article contains affiliate links. If you click a link and buy something I may receive a small commission at no extra cost to you. As an Amazon Associate I earn from qualifying purchases. For more information please see the Disclosure page.
Hanging Closet Organizer Ideas and Clothes Hangers
A hanging closet organizer is a great way to instantly provide great storage and organization solutions – without tools!
These types of closet organization ideas are great for renters who don't want to put holes in the walls.
Below I list various hanging closet organization ideas that could help you finally get your closet organized.
Squiggly S-Shaped Clothes Hanger for Pants
These cool, snake-looking hangers are great way to hang your pants and keep them organized.
There is a spot to hang 5 pants per hanger, and you get 3 hangers per pack.
So buying this one 3-pack from DOIOWN will allow you to hang 15 pants.
If you hang 5 heavy pairs of pants (like jeans) on one hanger it may start to sag a bit and the pants slide off. (See further below to see a different pants hanger style.)
Click here if you think these could help you get your closet organized. (See on Amazon.)
Metal Non-Sag No-slip Pants Hanger
This design builds upon the "S-type" pants hanger shown above, but address some of that design's deficiencies.
It is supported on both sides so it is less likely to sag under the weight of heavier pants.
And there is a non-slip foam padding on the pant rails to stop your pants from sliding onto the floor. It is a well-designed pants storage idea for your closet.

Space-saving Clothes Hangers
The manufacturer of these space-saving clothes hangers claims you can save 80% closet space by using this vertical clothes hangers.
I haven't run the test to verify this, but I do have similar ones in my closet, and yes, they do allow you hang a lot more clothes.
My complaint – a small complaint – is that I feel it makes it slightly harder to flick through my shirt to pick one out. But if lack of closet space is your issue then this will help.
I honestly don't know who manufactured the ones I have. But the ones shown in the product picture below are made by HOUSE DAY and are available on Amazon.

You can also get similar space-saving clothes hangers in metal. Click here to check out a popular metal hanger on Amazon.


Or you can make your own like the DIY solution shown below…








DIY Closet Organizer Ideas – Use Aluminum Can Tabs to Increase Hanging Space
This is a clever DIY solution to increase hanging space in your closet.
You can use the tabs from soda or beer cans to give you some extra clothes-hanging potential.
Need something to listen to while organizing your closet? Listen to some awesome books with a free Audible Trial. (Click the image below.)
Plastic Vertical Hanging Clip for clothes hangers
This product has the same idea as the other vertical hangers mentioned above, but a slight difference.
The other hangers with "eye-holes" requires you to thread your clothes hanger through the opening. This may not seem like much…but it's a bit annoying.
This one has little hooks instead of eye-holes so you can simply set the hanger atop a hook.
Click here to see more details on Amazon.
Hanging Closet Organizer Shelves with side mesh pockets
Hanging shelves (like the ones shown above made by StorageWorks) are a great closet organizer because they instantly give you more storage options.
Do you have sweaters you don't want to hang? Then great, you can put them on a shelf.
You can even tuck your underwear in the side mesh pockets.

Hanging Closet Storage Shelves with 3 Drawers
There are a lot of different designs for hanging closest organizers.
They have the same concept, but with some varied features.
The product shown above is another hanging shelf, but this one has 3 drawers that slide into the shelves, and dividers on the upper shelves.
This product shown above is made by MaidMAX. (It's the organizer holding the fox toy in the picture above.)

3-Shelf Hanging Closet Organizer (2-pack)
What's cool about this hanging organizer is that each piece can be used individually as a 3-shelf organizer…OR you can zip them together to make a 6-shelf unit.
This product is made by StorageWorks.
Click here to check it out on Amazon.
DIY Closet Organizer – Shower Rings to Hang Scarves
This is an easy DIY solution to organize your scarves.
Clip the shower curtain rings to a clothes hanger and then slip your scarves through the plastic rings.
But if you've ever done this yourselves you probably encountered an annoying problem...
The shower curtain rings slip and slide along the clothes hanger.
All the scarves slide to one side.
Well an easy way to fix that is use bread bag clips.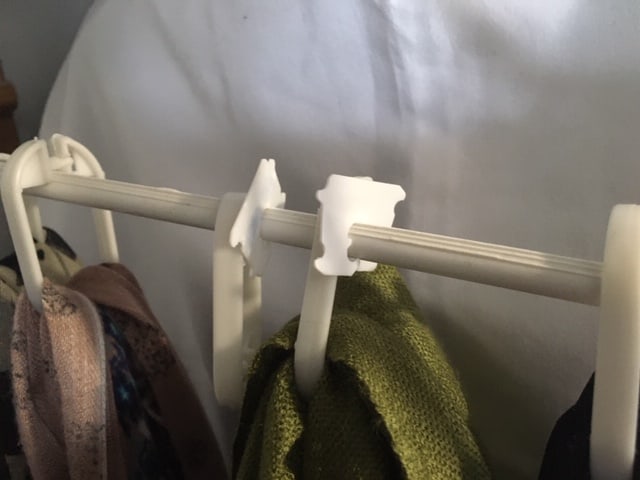 DIY Acrylic Purse Shelf
Do you have a lot of purses that you don't want just stuffed in a drawer?
If so, and if you're handy, check out this DIY tutorial from "Polished Habit.com" where she walks you through step-by-step instructions on how to make these cool shelves.
I've never worked with acrylic sheets before but its got my brain working…what other storage solutions could I make from acrylic?
DIY Belt Hanger (easy!)
Here is a simple DIY belt hanger.
All you need is to screw some 'cup hooks' into a wooden clothes hanger.
Hanging Jewelry Organizer for your Closet
Clothes aren't the only thing you can hang in a closet.
Thanks to unique organizers like the one shown above, you can even hang your jewelry!
I don't really like the beige color on this one, but its Amazon product page says it is available in different colors.

Add a Second Hanging Closet Rod to your closet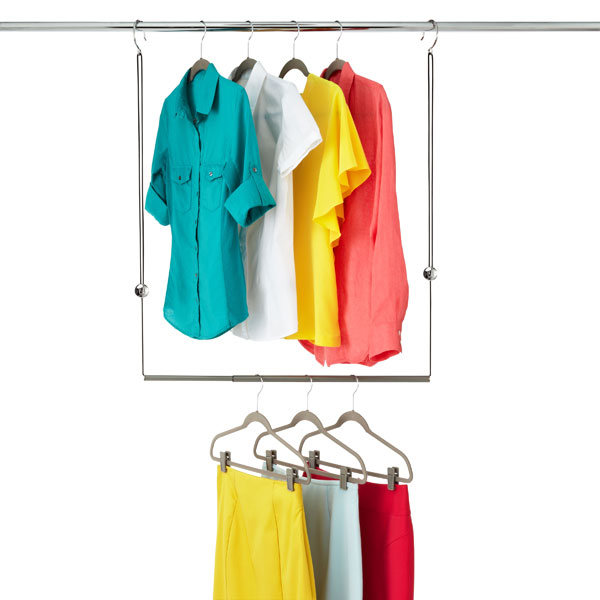 Now that you've stuffed your closet rod full of hanging organizers, you may need another closet rod!
Check out this cool hanging closet rod from The Container Store. They call it their "Umbra Dublet Closet Expander."
I was uncertain about what those silver circles were on the hanging pieces, but they're an adjustment control.
You can move the second rod up or down from 28″ to 51."
And it even expands side-to-side as well. Pretty cool closet organizer.
This closet organizer was featured in the June 2016 issue of "Real Simple" magazine in their closet organization article.








Hanging Closet Shelves (Closet Maximizer)
Here is another clever hanging closet organization product. This is the 'Closet Maximizer' from ClosetMaid.
It can hang from wire racks or closet rods, and is adjustable.
It adjust from 42-inces to 52-inches wide, and extended up and down from 66-inches to 74-inches.

Hanging Closet Cubby Organizer by Rubbermaid
It can be a little tricky to get a sense of what you can accomplish from this product photo.
But the unit hangs from a shelf above your existing closet rod.
(It doesn't come with the upper shelf, you need to already have one to attach to.)
This hanging closet cubby organizer has two hanging towers (4 shelves on each tower for storage), and it has an additional hanging closet rod that connects the two towers.
If you really want to see this "in action" I suggest you check it out on its Amazon page for more photos.
Hanging Cubby Organizer with Hanging Closet Rod
It's easy to see how this product by Whitmor could really help improve your closet organization.
There are 4 fabric shelves (or cubbies) and a closet rod below it that'd be great for hanging pants or short shirts.
Hanging Shoe Organizers
If the bottom of your closet is cluttered with shoes and sandals a hanging shoe organizer may be what you need.
There are LOTS of hanging shoe organizers out there.
The reason I'm showing this one is because it has large shelves, and it shows it storing mens shoes.
So often they show a "shoe organizer" stuffed with tiny little shoes and flats.
CLICK here if you want more details on this hanging shoe organizer on Amazon.
Baseball Cap Hanger (Clips)
Here is an option to hang up your baseball caps.
But I bet you could use it for other items too.
What do you think?
It is the black piece and clips in the picture below. It attaches to the horizontal piece of a clothes hanger using Velcro (hanger not provided).
Hanging Stuffed Animal and Toy Holder
If you have young children you can use a hanging stuffed animal holder like the one shown above.
I don't remember where we got this from.
But here is a link to a similar item on Amazon (not exactly the same, but similar).
Storage Boxes, Drawer & Shelf Dividers
There are a lot of different ways to improve closet organization by compartmentalizing clothes and accessories.
Below are some examples of storage boxes, cubes, drawer dividers, shelf dividers and more…
Compartmentalized Clothes Organizers
Maybe "compartmentalized" is too fancy a word…but that's what they do.
And you can use them in various ways:
in a dresser drawer as a drawer divider
on a closet shelf to store underwear, sock and accessories
or even as 'under the bed' storage
Regardless of how you use them, most folks like these organizers.
And don't worry if you don't like the "Aqua" color…they come in several different colors and patterns on Amazon.
"Granny Says" Fabric Storage Bins
These attractive fabric storage bins are popular and available on Amazon.
Can these storage bins help you get organized? If so, click here to check them out on Amazon
Clothes and Blankets Storage Bags
If you rotate your wardrobe between seasons or if you store blankets in your closet, then you may want to look into a zippered storage bag like the one shown below.
And you literally can "look into" these bags because they have a clear front so you can actually see what you put in there.
The bags shown below are a popular product made by "Anyoneer" and are available on Amazon.
Storage Cubes (open top)
Storage cubes like the ones shown below are a great way to store your clothes that you access every day.
There is no top on them so you don't have to fiddle with a zipper.
I use cubes like the one below.
They are great for underwear, t-shirts and accessories.
I set the cubes on the homemade closet shelves I made (easy DIY project). In this article I explain how I built them and included a video.
The cubes shown below come in a 6-pack and are 12-inch cubes. They are available on Amazon if you want to see more details.
Colorful Closet Cubes for Kids
Your closet organizers don't need to be boring.
There are some colorful closet cubes that are way more fun than boring grey or brown.
Below are some Disney Princess cubes that are available on Amazon and come in a 2-pack. They are 10-inch cubes.
Or if your children prefer Paw Patrol you can get these cool cubes featuring the pups.
Click here to see the cubes on Amazon.
Get Creative with your Storage Baskets and Bins
Who said you can only use cubes in the closet?
We use a cute wicker basket for our daughter's socks.
It's a fun storage idea for a toddler.
Wire Shelf Dividers for Wooden Shelves
A shelf divider for wooden shelves – like the one shown below – helps to keep your sweaters from tumbling over and keeps your shelves tidy.
Click here to see more details on Amazon.







Clear Shelf Dividers
These are some nice refined clear shelf dividers from The Container Store.
On the product page on The Container Store website there are a lot of customer-submitted photos.
Looks like a lot of clothing stores use this product to achieve a "clean" look.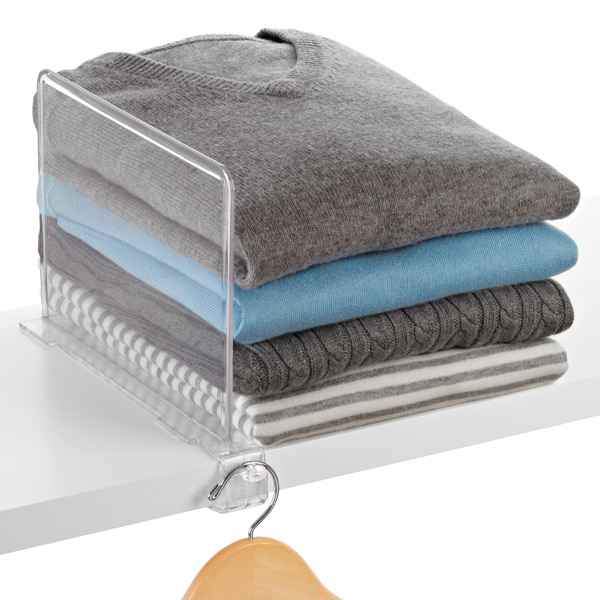 Extra Wire Rack Closet Shelf (Expandable)
I've used something similar in my kitchen cabinets to store extra coffee mugs, and you can buy these for your closet too!
The picture below is the "Expandable Closet Shelf" from The Container Store.
It expands from 22-inches to 43-inches.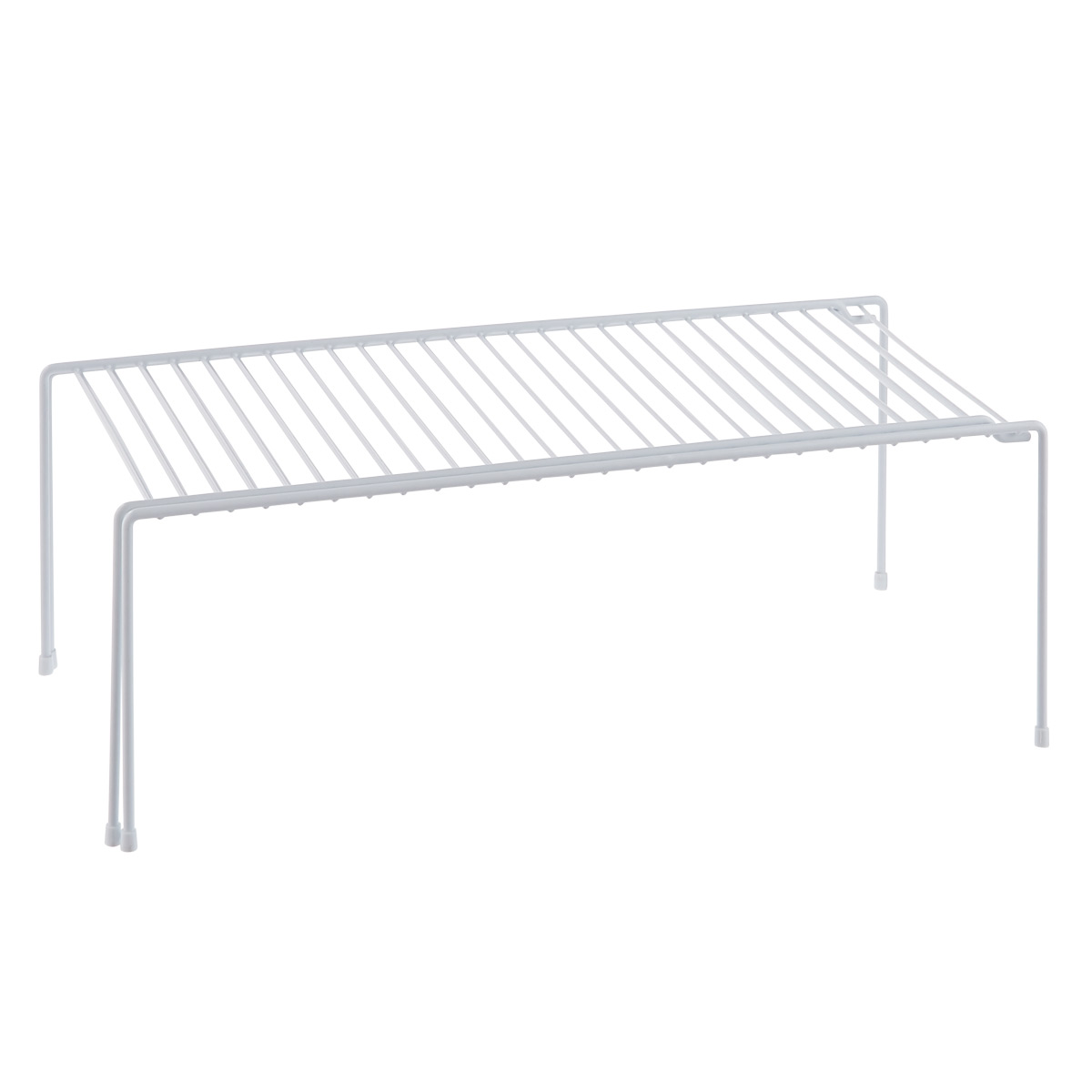 Bamboo Tie Organizer box
Here is an attractive tie organizer box made from bamboo that looks awesome.
Click here to see this tie organizer box on Amazon.









DIY Closet Organization Tip – Labeling
Do you rotate your seasonal clothes or have kids clothes in a variety of sizes?
Here is a trick I learned from Family Handyman website to make your own erasable storage labels.
Place pieces of colored masking tape on a tote or storage box.
Put clear packing tape over top of the masking tape.
Then use dry erase markers to write the box's contents.
Simply erase when you change out the contents.
In the picture below it is shown on a clear tote (which you can see inside), but it works really well for opaque boxes or totes.
Closet Systems and Closet Organization Kits
If a simple hanging closet organizer is not enough for you, then you may need to look at a complete re-haul of your closet.
You can check out these closet organization kits.
Most of them have installation videos on their Amazon products page, or on The Container Store website.
I'll highlight closet systems from 3 large companies: RubberMaid, ClosetMaid, and the Elfa system from The Container Store.
Configurations Closet System by Rubbermaid
Rubbermaid makes a closet system that allows you to customize the height of the shelves. You can use it in "reach-in" closets or "walk-in" closets.
It requires some tools and installation.
But they have a video on their Amazon product page, and it looks easy to install. They have step-by-step instructions.
This particular Configuration kit shown below is for 3 to 6-foot kit.
This means it requires at least one wall that is 3-feet wide.
If you think this could help you get your closet organized, click here to check it out on Amazon.
A potential negative drawback to this system (for some people anyway) is that the shelves are only 12-inches deep.
So they may not be deep enough to store totes or larger bins.
You may need to DIY your own solution to remedy this, or look at garage shelving systems which generally have deeper shelves to accommodate totes.









SuiteSymphony Closet Organizer System by ClosetMaid
The closet organization system shown below – made by ClosetMaid – is for closets 7-feet wide up to 10-feet wide. (But can be customized…see further below.)
I know it can be hard to tell by the product photo above exactly what you get when you buy this sytem.
So below is a photo of the system without clothes on it.
It comes with the vertical tower of 3 drawers, and shelves, plus it comes with 3 expandable closet rods (30-48 inches), and 3 shelves that go above the curtain rods.
Look at all the organization and storage possibilities!
What if I have a closet narrower than 7-feet wide?
The product listing page on Amazon claims that you can make this system to fit in a space smaller than 7 feet.
You would need to cut the top shelves and closet rods to fit your smaller closet.
Or you could just look into buying a smaller system.
For more information, click here to see the product on Amazon.
There are a lot of different sizes and models of the SuiteSymphony by ClosetMaid so just make sure you carefully order the one you want.
The Container Store's Elfa Collection
Another major player in the closet system world is The Container Store and their "Elfa" closet system.
Below is a picture of the "Elfa Classic 4-Foot Closet in a Box."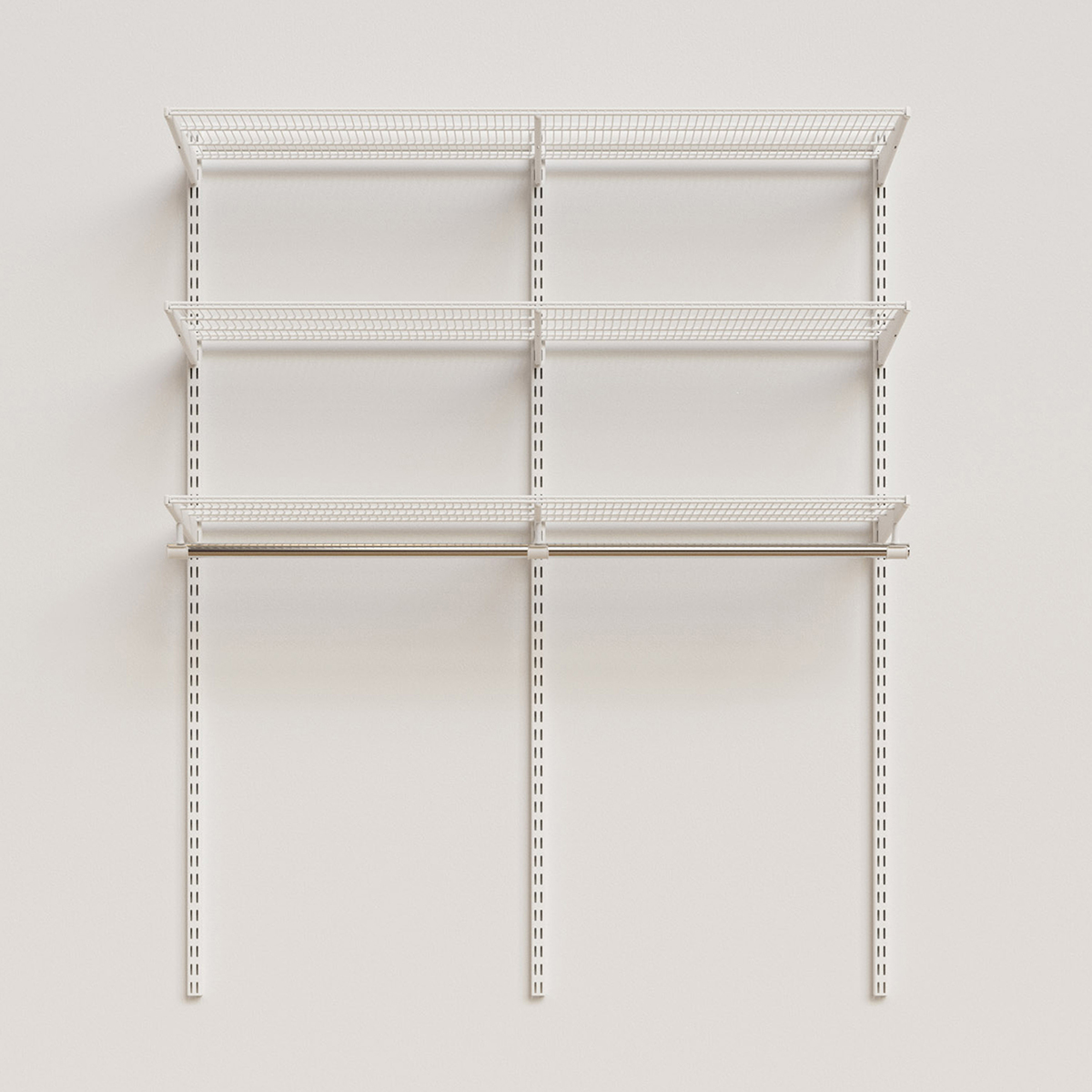 Above is a bare-bones version of what Elfa can be or do for you.
The Elfa system is extremely versatile.
And there are Elfa sets that'll match your style and needs.
For example, if you want a more complete closet organization solution check out the Elfa Decor 5-foot Birch and White Reach-in Closet Set.
It has shelves for storing totes and baskets, closet rods for clothes, and it even has a shoe shelf and gliding shoe rack.
If you aren't sold on the color, don't worry, there are other color combinations on the website.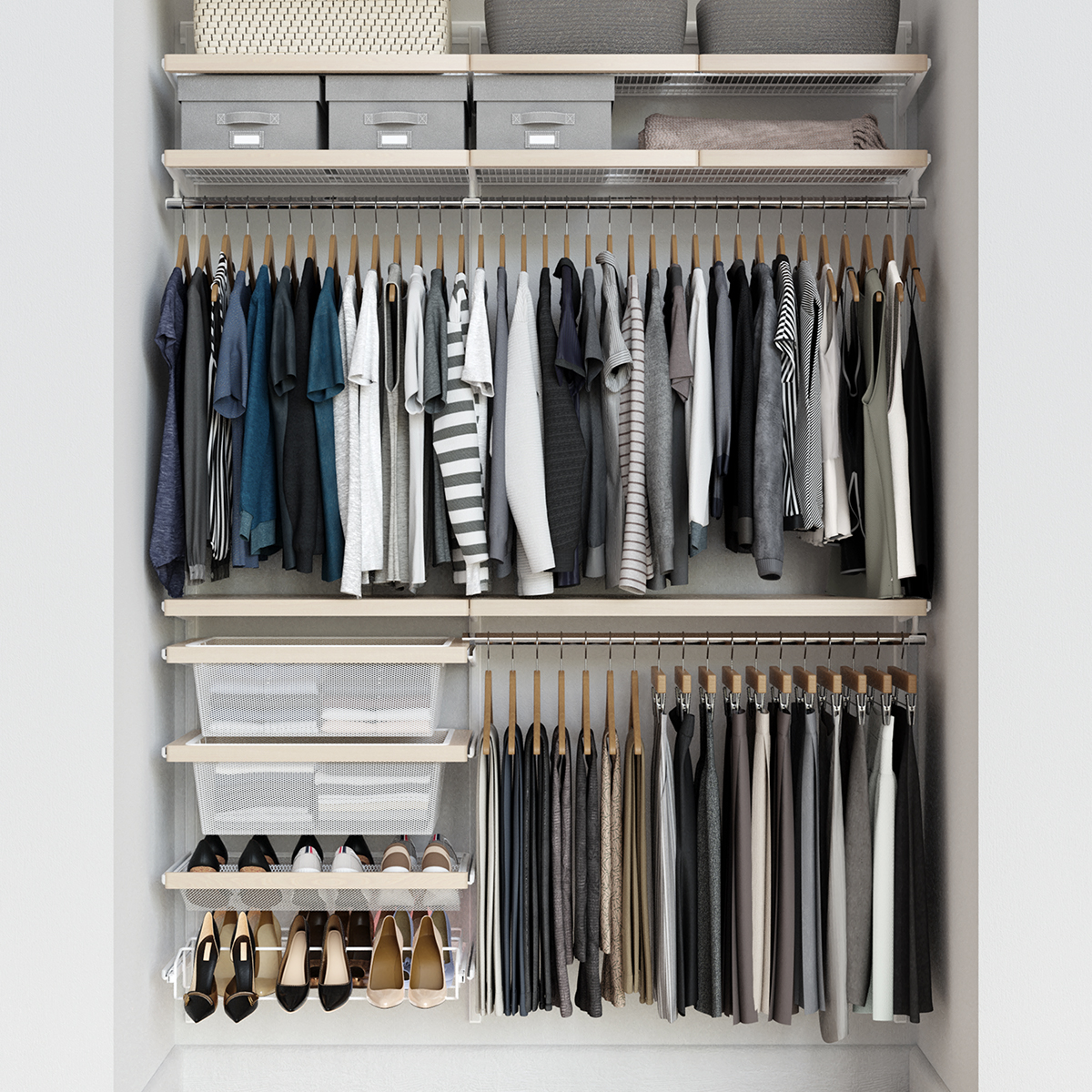 Vacuum Storage Bags
You may not immediately think of vacuum storage bags as a closet organization idea.
But for people that don't have a dedicated linen closet…they absolutely are.
They are a great space-saving solution for blankets, duvets, pillows and "out of season" clothes.
But the problem is finding a good one.
I don't know if its the product, or I just buy a bad batch, but the vacuum storage bags I've bought from Walmart don't last. (Air seeps into them and they expand.)
If you want to try some vacuum storage bags to save space, check these ones out on Amazon.
Laundry Hampers, Baskets and Organizers
Many of the closet organizers I've already mentioned above do a great job at organizing CLEAN clothes.
But what about your DIRTY clothes?
Does the bottom of your closet look like a dumping ground of mismatched socks and dirty shirts?
Check out these dirty laundry solutions.
Hanging Laundry Hamper
Hanging laundry hampers like the one shown below (made by Household Essentials) is a great way to free up some floor space in your closet.
In the product photo below it is hanging from a door knob, which is an option, or you can hang it from your closet rod.
Click here to see details on Amazon.
Hanging Laundry Hamper 2-Pack
Here is another hanging laundry hamper and this one comes in a 2-pack.
It has breathable mesh fabric and stainless steel hanger.
This set is available on Amazon.
I don't have space on my closest rod to hang a hamper, so it wouldn't work for me. But…
Would this work for you?
Slim Laundry Hampers
I like the look of these laundry hampers.
They are slim so you may be able to get a couple of them on your closet floor: buy a white one for dirty white clothes, and a dark one for your dirty color clothes.
This would help make laundry duty go more efficiently as well.
Closet Door Organizers
We currently have old-school bi-fold closet doors so most of these "behind the door organizers" won't work for us.
But will they work for you?
Shoe Organizer (multi-pocket organizer)
Hanging shoe organizers are extremely versatile home organizers.
In fact, I wrote a whole article about their various uses.
And when it comes to closet organization you can use them to hang;
shoes
slippers
jewelry
kids toys
socks
rolled up belts
rolled up underwear
and more…
Click here to see details of this hanging shoe organizer on Amazon.






Over-the-Door Shoe Rack
Finding adequate shoe storage is a problem for a lot of people.
If you are in this category too, then check out this over-the-door shoe rack made by Whitmor.
You can use it to store headbands, running shoes and even wigs.
Elfa Door Shoe Rack (The Container Store)
This is a shoe rack system available at The Container Store. It is part of their Elfa collection.
It comes with over the door hooks to hang it from a 7-foot door.
We don't have The Container Store where I live, so I haven't seen these in person, but from what I've read, they are solid and well-built.
Click here if you want to read further details about this shoe storage option.
Over-the-Door Shelving System
This adjustable wire shelving system is from ClosetMaid.
It is very versatile and you can actually use it in just about every room in the house.
It can mount to a wall, or hang over a door.
And it comes in 12-inch wide OR 18-inch wide sizes.
The assembled height is 77-inches tall.
Even if you do hang it from your door, you should still put some screws into it to stop it from swinging when you open the door.
Would this work in your closet? (Perhaps for shoes or purses?)
Over-the-Door 4 Pocket Organizer
This is a convenient 4-pocket over-the-door organizer with clear window on the front so you can see what's in it.
A lot of folks use this in their nursery, but it would work well in a closet too, if you had a standard door (not a bi-fold).
You could stash your socks and underwear in here, rolled-up belts & scarves, and more…
If this could help you, Click here to check it out on Amazon.
Hanging Strip for Hats
I know a lot of guys have a big baseball cap collection.
These strips hang over the door and each strip has room for 9 hats.
You may be able to use it on the outside of bi-fold closet door, but it would work on the inside of a regular closet door.
Click here to see more details on Amazon.
Wall-Mounted Closet Organizers and Shelves
Do you have "wasted" wall space on the sides or back of your closet?
The following wall-mounted closet organizers will help provide you with lots of closet organization ideas.
Wall-mounted Shoe Storage and Shelves (Container Store)
This intense shoe organization system is the "Elfa Decor 2-foot Shoe Wall" from 'The Container Store.'
I'd say this is more for a serious shoe person.
It isn't a cheap unit, but if you have lots of shoes, and you're tired of having them scattered throughout your house, check this out.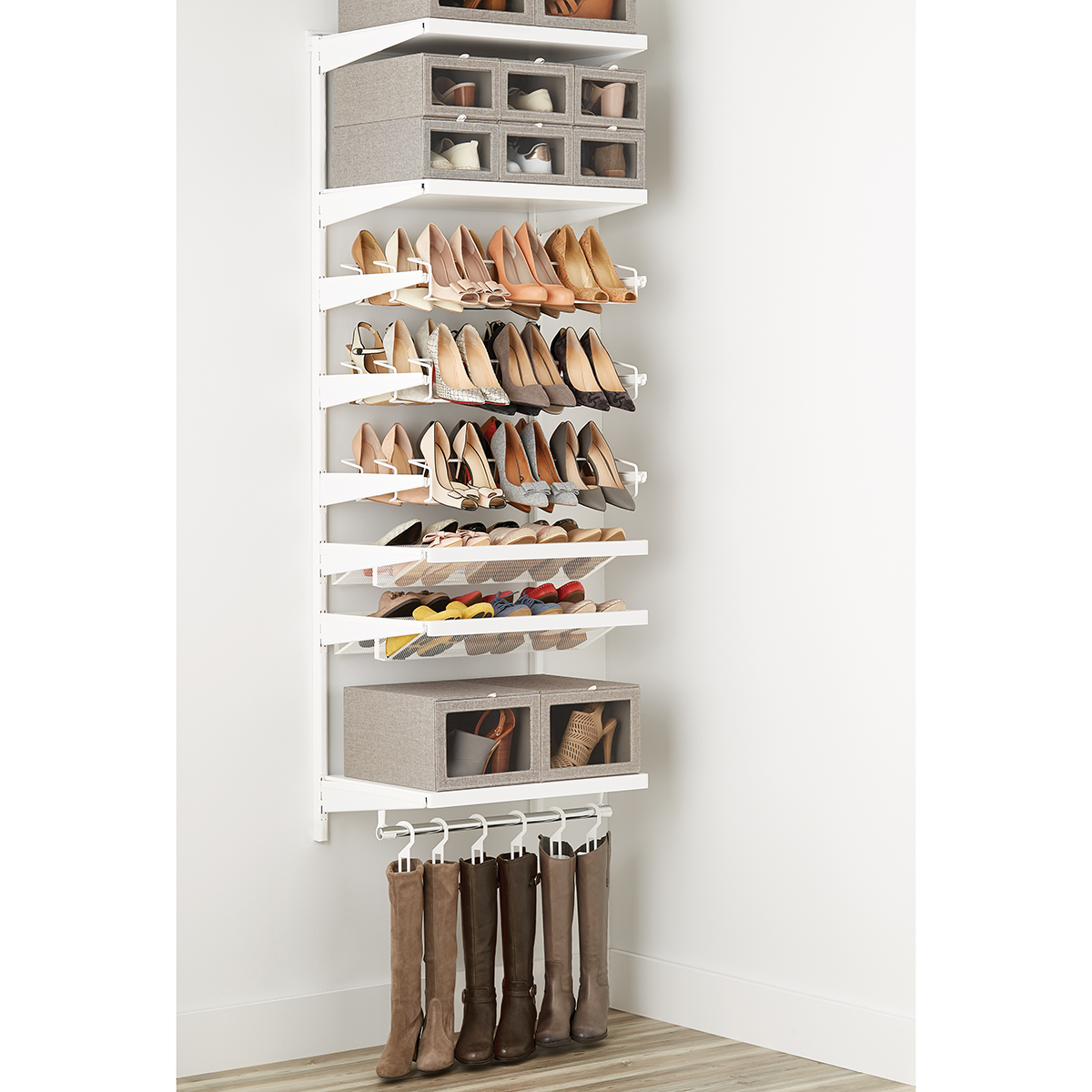 Wall Shelving System
The three companies I listed above in the "Closet Systems" (RubberMaid, ClosetMaid and the Elfa Collection from The Container Store) have basic shelving systems too that can be used to fasten to the side wall of your closet.
The shelving system shown below is the Elfa Classic 2-feet Basic Shelving system from The Container Store. (Though its name is the "2-feet" system, which is 24-inches, the product description claims it is intended for a 27-inch space.)
What is cool about this shelving system is that you can order it with 12-inch deep shelves, 16-inch deep shelves and even 20-inch deep shelves.
Those deep 20-inch shelves would be perfect for totes and baskets of 'out-of-season' clothes.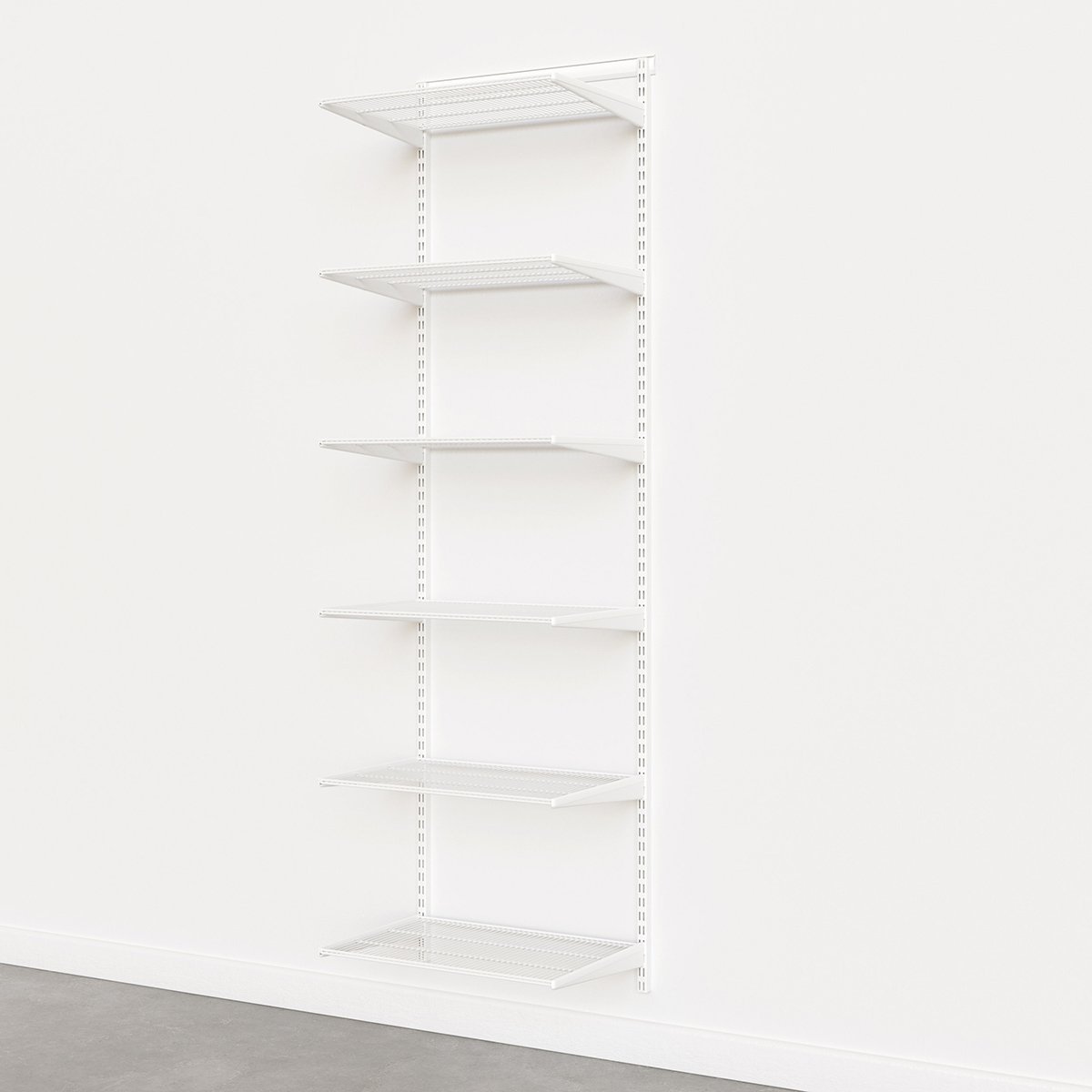 DIY Closet Shelves
I've built a few easy DIY closet shelving systems over the years.
Here is a video I put together describing how I install DIY closet shelves.
Add a Second Closet Shelf
You can get extra closet storage by adding a second closet shelf above your existing closet shelf.
This will allow you more space to store baskets, bins and boxes.
Now the teddy bear has lots of room to stretch out and play.
Closet Floor Organization Solutions
Do you have wasted space below your hanging clothes?
In this section I'll feature some closet floor organizers.
Perhaps one of these could help you organize your closet and get the clutter off your closet floor?


But first…
Measure up from the floor to the bottom of where your clothes hang.
Write down this measurement because you'll want to make sure any floor organizer will fit in this space.
Free-standing Organizer with Shelves and Bins
This product has 3 fabric shelves (which can hold 10 pounds each) and 2 fabric bins.
It is 31-inches tall, almost 33-inches wide and 12-inches deep.
If you placed this on the floor of your closet, would it help organize your closet?

You could even use the two fabric bins as your laundry hampers.
This product shown above is the Amazon Basics brand.
CLICK here if you think this will work for you.
Cubby Organizer with Drawers
Here is another free-standing closet organization idea.
It is a closet organizer with 16 cubby holes for storing items (like shoes) and 4 drawers.
Plus, there is a shelf along the top for additional storage possibilities.
Click here to see more details on Amazon.







9 Cube Cubby Organizer
This 9-cubby organizer by Neaterize is available on Amazon.
It comes with all 9 of the fabric baskets.
When it is assembled as shown below it is 3-feet wide, 31-inches tall and 12-inches deep.
Would this fit in the bottom of your closet?
Modular Wire Storage Cubes
These are very cool and versatile organizers.
You can make them into various configurations.
Check out the "sports balls" cube in the picture below. It has an open top. You can make them into "dump" bins to toss items into it.
What can you do with these cubes?
You can:
use it to store shoes
use it as a laundry hamper (in the dump bin)
store books and binders
store records (LP's)
use as shelf for sweaters
use as a shelf for cubes
and lots more…
Stackable Shoe Shelves (ClosetMaid)
The shelves shown below are 24-inches wide and are stackable.
The product photo shows 3 different units (2 stacked on top of each other and one beside them).
It is a popular on Amazon. Click to see why.
5-Drawer Fabric Organizer
This is another well-rated organizer that may help you tidy up the bottom of your closet.
It is just under 31-inches tall.
The fabric drawers would provide a nice place for you to store sweaters, bed sheets, underwear, socks and more.
Plus, room permitting, there is a shelf on the top that would hold baskets, bins or totes.
Click here to see details on Amazon.
Put a Dresser in your Closet
If you don't want to install shelves in the side of your closet, perhaps you could fit a tall-boy dresser like the one shown in the picture below.
Conclusion
Thank you for checking out this huge list of closet organization ideas.

There are lots ways to improve organization in your closet and they can range from real cheap (soda can tabs) to pricey (extensive closet systems)…
But you need to analyze your needs.
What will work for you?
If you have any tips or ideas that I should add to this list, please let me know by commenting below.
Thank you.
Tim from LearnAlongWithMe.com
Check Out: