Whether you're setting up a home coffee bar, or an office coffee bar, you'll love these 29 great coffee bar accessories.
You're not going to need ALL these accessories – because some of them may be accessories for equipment you don't have – but scroll though them all because one of them may be perfect for you.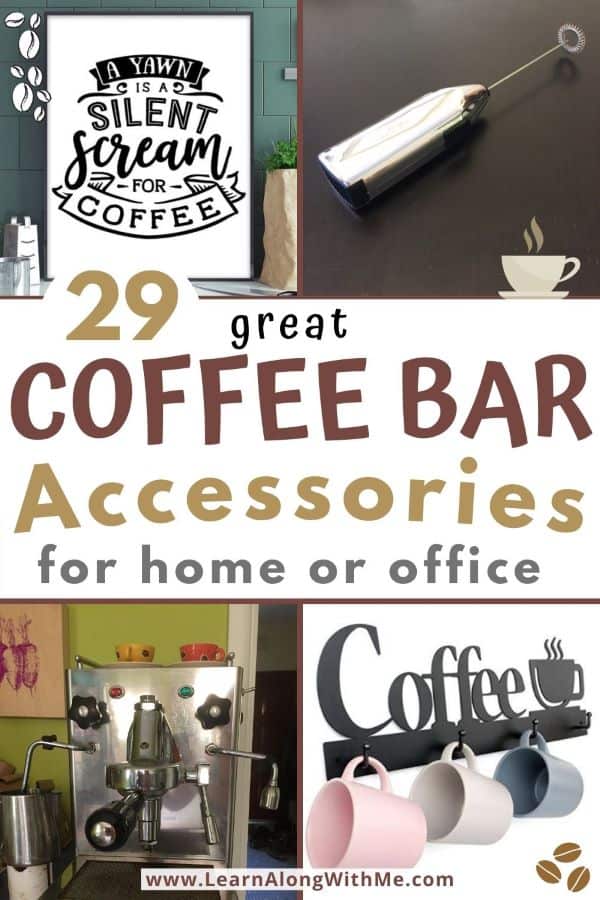 This article contains affiliate links. If you click a link and buy something I may receive a small commission at no extra cost to you. As an Amazon Associate I earn from qualifying purchases. For more information please see the Disclosure page.
29 Coffee Bar Accessories
Let's start the list of accessories for your coffee bar whether it's in your home, your office or an AirBnB.





1) Keurig Coffee Maker – the K-Mini Plus
Keurig makes a small, compact coffee maker called the K-Mini Plus.
It is only 4.5-inches wide!
This is a good option:
if you don't have a lot of room on your coffee bar (this Keurig is narrow and less than 12-inches deep)
you want a quick, hands-off cup of coffee (no grinding, tamping, or excessive cleaning required)
you don't need to make a full pot of coffee
The "Plus" version of the K-Mini has a removable water reservoir so you can bring it over the sink to fill it. And it has the added benefit of being able to adjust the strength of the coffee.
Does this sound like it might work for your home or office coffee bar?

2) Rotating Storage Tower for K-Cups
Here is a nice "showy" way to display and store your K-cups for your Keurig machine. This is a nice addition to an office coffee bar, or even a hotel's continental breakfast bar.
This version of the k-cup tower will hold 35 K-cups.
Click here to see size of this tower.
If you have a Keurig, check out our article on K Cup Storage.
3) Espresso Machine
If you are an espresso lover you'll want to have a good espresso maker. We've had inexpensive espresso machines before, but we weren't happy with the result.
My sister on the other hand invested in a good espresso machine. Her and her husband bought a quality Isomac espresso machine about 15 years. (Isomac is an Italian company that has been making espresso machines for over 40 years.) The upfront cost isn't cheap, but the espresso is fantastic, and it is still going strong all these years later.
I don't know if their older model is still available, but you can click here to see a different model of Isomac on Amazon.
If you're in the market for a more residential espresso machine, the Breville BES870XL is a popular choice.
Below is a picture of the Breville BES870XL – the Barista Express model. I haven't personally tried this machine, but check out the reviews if you're interested.
4) AeroPress Coffee Maker
We bought an AeroPress coffee press a few months ago, and I love it.
We actually got rid of our Breville Cafe Roma once we got the AeroPress. (I personally think it makes a better shot of espresso than the Cafe Roma so we ditched that espresso machine and freed up some counter space.)
It makes a smooth, non-bitter shot of espresso in just a few simple steps. (Add more hot water to the shot to make an americano style coffee.)
It is easy to use.
I'm not the only one who likes it…

5) Coffee Bar Mat
Making and pouring coffees and espressos can get a little messy sometimes. But instead of getting drips on your countertop, you can catch the drips with a coffee mat like this one from S&T.

6) Sliding Coffee Maker Tray
If your coffee bar is located under an overhanging cabinet, it can be tricky pouring the water into your coffee maker.
But this tray is a clever coffee bar accessory that solves that problem.
You put this base under your coffee maker and it allows the machine to slide forward so you can fill the water reservoir and prepare the coffee. Then slide it back.
You may be able to find one like this at your local retailers, but if not, here is a link to the one above on Amazon.
7) Coffee Grinder
Coffee aficionados say that a burr coffee grinder is superior to a blade coffee grinder.
Above is the picture of our Cuisinart Conical burr coffee grinder.
I have been happy with it and it has grind adjustment which is good, but the one downside to it is static.
After you grind your beans it is best to wait a few minutes or else the beans are very staticy and don't pour out of the chamber very well.
Click here to see details of the Cuisinart Burr Grinder on Amazon.
8) Coffee Grinder Cleaning Brush
A soft bristled brush like this should do the trick to help clean a burr coffee grinder.
9) Coffee Grinder Cleaning Tablets
I didn't even know these existed before researching this article. They are cleaning tablets (also called grinder cleaning pellets) that you use to help keep your coffee grinder nice and clean.
Click here to see more details on Amazon if you have a clogged or dirty coffee grinder.
10) Milk Frother Wand
A small handheld frother wand (like the one we have in the picture) is a quick and easy way to froth up milk.
It isn't the same as steaming milk with an espresso machine because this frother wand doesn't heat the milk, but it aerates the milk by adding air bubbles to the milk to make it nice and foamy.
Easy at Home version of StarBucks' vanilla steamer using a frother wand
To make a kids drink similar to StarBucks' vanilla steamer you fill a coffee cup half full with milk, then heat up the milk in the microwave for 20-30 seconds until warm, add a small amount of vanilla syrup, and then froth it with this tool. You'll have a tasty vanilla steamer that costs pennies instead of dollars.
I bought our frother wand at a local store, but if you can't find one in your area, click here to see a popular milk frother wand on Amazon.
11) Milk Frother and Warmer
If you don't want to use a microwave to heat up your milk, and you don't have a steamer on your espresso machine, check out this milk frother and warmer by miroco. It has both features. So it warms your milk and froths it up.
Just imagine the lattes you could make with this thing.
It is a popular milk frother that you can find on Amazon.
12) Airtight Coffee Container
If you want great tasting coffee you have to have good beans and you have to store them properly.
According to the experts at the National Coffee Association you should store your coffee beans at room temperature in an airtight, opaque container.
So even though a glass coffee jar may look cool, it is not opaque.
The airtight coffee container shown above is made by MOICO and is available on Amazon if you can't find it at your local stores.
13) Flavored Syrups for Coffee
We don't get too fancy with this, but we do have a bottle of vanilla syrup at home to make our version of a Vanilla Steamer.
Other popular flavors include:
hazelnut
caramel
vanilla (sugar free)
Did you know you can buy a variety pack of Starbucks coffee syrups? Click here for details.
14) Coffee Bar Decor (Funny artwork on Etsy)
There are lots of great coffee bar decor ideas out there….usually emblazoned with funny coffee quotes.
Your local retailer may even have some coffee-related art or prints, or you can find some good ones like the one shown above on Etsy.
Below are some funny coffee signs I saw on Amazon.
15) Coffee Mugs
There are millions of styles of coffee mugs out there. There is a style to fit anyone's taste.
You can get matching, plain coffee mugs for a modern look or you can have an eclectic collection to show off your personality.
Plus, you can get a coffee mug that says darn near anything or features logos and pictures of almost anything too.
Want a funny mug that proclaims your hatred for Mondays – yup, they got that.
Want a Pink Floyd coffee mug – yup, lots of those available.
If you like the look of the mugs in the picture above click here for more details.
16) Cream and Sugar Set

Cream and sugar are the most popular additions to coffee, so why not have a cute set for your coffee bar.
This glazed ceramic set is available on Amazon if you want to have a closer look.









17) Coffee Towels (aka Tea Towels)
Little spills happen. Heck, big spills happen sometimes too.
Why not get a cute coffee towel to wipe them up and adorn your coffee bar. (They make great, functional coffee bar decor.)
18) Coffee Spoon Holder (also works as Tea Bag drop)
How cute is this little coffee spoon holder. If you take cream or sugar with your coffee and use a spoon to mix it around then why not get a little holder like this puppy one.
This is made by the Etsy seller FaeGartenClay.
Click here to see more details.
19) Set of Coffee Spoons (long handled)
You could get a set of long-handled coffee spoons for your coffee bar. (And then place them on the cute puppy coffee spoon holder!)
[These remind me of the spoons you get in milkshakes at restaurants.]
20) Espresso Tamper

Your espresso machine likely came with a tamper.
But if it didn't – or you lost or broke yours – you can get new espresso tampers. They come in various diameters to fit different diameter portafilters.
This one shown is actually double-ended with a 50-mm tamper on end, and a 55mm tamper on the other end.








21) Espresso Tamper Mat
These silicone mats help keep your tamper off the table and the silicone is easy to clean.
22) Espresso Portafilter Tamping Stand
This little tamping stand provides a surface to rest the portafilter while you're tamping down on the coffee beans. And there is a also a circular spot on top to rest your tamper until its next use.
Click here to see more details of this portafilter tamping stand on Amazon.
23) Portafilter Wall Rack (the Portakeeper… available on Etsy)
Instead of having your espresso machine's portafilter cluttering up your countertop, you can hang it on the wall with this portafilter wall rack. It is called the Portakeeper and is available on Etsy.
Click here to see more details of the Portakeeper.
24) Coffee Thermometer
When we bought an Aeropress the manual says that to make an optimal cup of coffee the temperature should be 80-degress Celsius. (Remember water boils at 100-degress Celsius, so it is less than a full rolling boil in your kettle.)
This article claims that the best temperature for frothing milk for a latte is in the 55-65 degrees Celsius range (139-149 Fahrenheit).
A beverage thermometer like this one should help you keep your drinks in the optimal range.
25) Coffee Bar Cabinet
You need something to put your coffee bar on right, and coffee bar cabinets are a popular option. It is nice having a closed cupboard to put some items out of sight and to reduce the clutter on the countertop.
I think it would be good to find a coffee bar cabinet with drawers though. So you could keep little things in the drawers. We actually have a dresser in our kitchen for most of our coffee supplies. My sister also uses a dresser for her espresso machine.
26) Coffee Bar Table with storage shelves
Coffee station tables are another popular choice for coffee bars.
Some people prefer to put their coffee bar on a table and set it in a corner of the room. This is a unique rack because it has a counter top to put your coffee machine on, and it has storage shelves underneath for your coffee bar accessories.

27) Coffee Organizer Stand for an Office Coffee bar
If you're buying some office coffee bar accessories then you may want to get a coffee organizing rack like this one. (To reduce waste you'll want reusable coffee mugs instead of disposable.)
28) Instant Coffee Cooler (to make iced coffees)
Do you love iced coffees on a hot day?
This product – the HyperChiller – claims it can drop your beverage 130-degrees Fahrenheit in a minute.
So you'll be able to whip up some ice coffees quickly!
Click here to see more details on Amazon.
29) Coffee Mug Hanger
This hanger is not only cool coffee bar decor, but it is also functional: it helps keep your coffee bar countertop clear. This is a set where you get the one hanger shown above that says "Coffee" and you get two additional hangers that don't have any words. So you get a total of 12 hooks for your coffee mugs.
Click here to see more details.
I hope you've found some ideas you like in this list of coffee bar accessories.
Will any of these work in your home or office coffee bars?
Up Next:
17 proven K Cup Storage ideas
35 proven small Kitchen Organization ideas