Do you want a cozy, relaxing outdoor patio? A good place to start is getting some comfortable patio furniture. Get some inspiration from this list of 15 outdoor patio furniture ideas and patio accessories.
This article contains some affiliate links. This means if you click a link and buy something, I may receive a small commission at no extra cost to you. Please see my Disclosure page for more information.
Updated with new photos March 2021: this article previously featured some embedded public Instagram photos that I thought I could use, but I believe I was mistaken so I have removed them. Instagram is still a great source of patio furniture ideas though. Check it out.





Lets start the list of Outdoor Patio Furniture Ideas
Enjoy the pictures of patio furniture…hopefully you'll find some ideas for your patio.



Adirondack chairs
Adirondack chairs are a classic, relaxed outdoor seating option.
1) Wooden Adirondack chairs
Wooden Adirondack chairs provide a classic inviting look to your patio. But being made of wood means they will require maintenance.
Local craftsmen in your region may make and sell wooden Adirondack chairs. But if you can't find them locally, you can actually purchase them on Amazon. (This surprised me a bit because I still don't think of Amazon for furniture.)
Below is a picture of the Adirondack chair I refinished last spring. I sanded it, then applied a wood stain to bring back its charm. Just goes to show wood needs maintenance, but if you don't let it decay, you can revive it.
2) Adirondack chair made from Recycled Plastic
Plastic patio furniture may lack the natural vibe of wood, but it is available in some fantastic, bright colors.
I was pretty excited when I found these. There is a company called C.R. Plastic Products that makes Adirondack chairs from recycled HDPE plastic (recycling number 2).
Each chair is made from the plastic of over 500 recycled milk jugs. And they come in lots of colors. Click the picture below to check them out.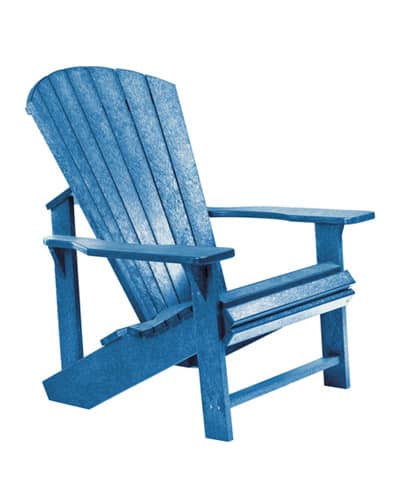 If you are concerned with plastic waste, and utilizing recycled plastic options, I highly suggest you check out C.R. Plastic Products.
3. Comfy Outdoor Sofas and Love Seats
Most retailers have an outdoor furniture section during the Spring and Summer. So there are lots of choices out there. If you check out Instagram, there is a hashtag dedicated to patio furniture. (And it's crazy how cool some peoples' patios are!)
[I used to have a couple examples below, but I've decided to remove them. You can check out some cool patios on Instagram you can click here. ]
What you'll find with patio sofas is:
Large, overstuffed, comfy pillows
Variety of colors and styles (from bold patterns and colors to muted neutrals)
Easy clean, durable materials (or at least they should be – check before purchasing)
4. Bistro Table and Chair set
If you have limited space and want a quaint little seating area, a bistro table set may be just what you need. Just imagine the intimate dinner or drinks you can share with your partner.
Check out this Bistro table set available on Amazon. This bright yellow, steel table and two chairs sure looks good.
Other Outdoor Articles you may Like:
5. Swinging or Gliding patio benches
If you have a porch with sturdy overhead supports, you could get a swinging bench like the one shown above. (Or you could make one if you're handy.)


But if you are looking for some furniture for your patio (with no overhead structures), then you could check out these gliding love seats.
The one shown below is available for sale on Amazon and is quite popular.
6. Rocking chairs
Is there a more relaxing scene than gently rocking on your porch or patio in your rocking chair sipping an iced tea?
You can get wooden rocking chairs which have a classic appeal, but they do have some drawbacks. They require sanding and re-finishing every couple years.
Or you can get plastic or composite rocking chairs that won't fade, chip, or require painting.
Below is an example of rocking chair called Presidential Rocking Chair by Polywood. It is available for sale on Amazon.
(Make sure you check the measurements. Some people said it was smaller and lower than they expected.)
And C.R. Plastic Products makes a "Porch Rocker" rocking chair made from recycled plastic. Check it out on their website. It is good to see a company doing something to extend the usable life of plastics.
Rocking Bistro Set
This looks so relaxing. It is a set of two rocking chairs and one glass-top table. I came across it on Amazon.
You can get more details on its Amazon page.
Makes you want to kick back with a glass of iced tea and rock the afternoon away.







7. Benches with Storage
I love double-duty furniture.
Benches with storage underneath provide a great space for you to put seat cushions, gardening tools, kids toys or even your outdoor blanket.
Most of your local stores will sell a bench with a built-in storage compartment, but if you can't find one locally, there is a popular bench on Amazon (shown above).
[It doesn't come with cushions so you can adorn it with whichever cushions you want.]
8. Outdoor Pallet Furniture
If you're a DIY-type person you could make yourself some outdoor pallet furniture. Below is a photo of some stacked pallets used as chairs and as rolling tables. (When I use pallets I look for ones marked "HT" which stands for heat treated, and not chemical treated.)
If you're wondering how to make patio furniture out of pallets, check out this tutorial from the website Instructables.


Outdoor Patio Table Ideas
Is the highlight of your summer day sitting on the patio and enjoying a delicious meal? There are a lot of patio table options and you'll see several below.
Remember to choose an outdoor dining table and chairs to fit your needs. Do you really need a dining table that fits 12 when you've only ever had 4 people at your house? Probably not.
9. Rectangular Patio Table
In the porch above they have a large wooden rectangular table and lovely globe lights strung overhead.
Some accessories like a table cloth and different color seat cushions can really change the look of a patio table. You can convert the plainest patio table into something colorful and vibrant with just a tablecloth.
Check out these 7 DIY Patio Table Makeovers.
10. Round Patio Tables
Round patio dining tables are another popular patio table idea. They may fit into irregularly-shaped patio spaces better than rectangular tables.

Patio dining tables can also come with glass tops. Just be careful you don't smash the glass when you're setting down a beer bottle!
How to Clean Patio Furniture
A lot of people ask how to clean patio furniture, so I've collected some good resources for you.

How to Clean Chalky Plastic Patio furniture
If you have plastic patio furniture then you probably know that annoying dusty, chalky stuff that gets on your clothes.
According to this article on Hunker.com you can clean your furniture, and prevent this from happening again. (Hint, it involves wax.)
Awesome Patio Accessories
The accessories listed below are ways to either make your patio look amazing, or feel amazing (e.g. water misters on a hot summer day!). These are ways to immediately make your patio more cozy and comfortable.
11. Water misters to cool down
It is great getting outside in the summer and enjoying the patio, but some days it is too scorching.
Luckily you can purchase water misting systems that attach to your garden hose tap, or you can purchase a dedicated misting system.
Here is a link to a popular water mister on Amazon made by HIRALIY.
12. Fairy String lights for a whimsical look
Fairy string lights are tiny little lights on a string: think miniature LED Christmas lights.
Pretty awesome.

If you can't find good outdoor fairy string lights at your local retailer, you can check them out on Amazon.







13. Globe string lights
These are also like Christmas lights but – as the name suggests – they have a small globe around the lights.
They can instantly make your outdoor space more appealing and festive.
14. Landscape Lighting
You can buy solar lights and solar spotlights that stick into the ground and then you point them at the landscape details you want to accentuate. You can point them at a rock wall, ornamental grasses, trees or other interesting details around your patio.
There are so many solar light options now to make your yard look amazing and provide a fantastic view from your patio.
15. Fire Pits or Propane Fire Bowls
Humans have been gathering around and gazing at fires for thousands of years.
Installing a safe fire pit or fire bowl on your patio can immediately enhance your outdoor space. But make sure you follow all the manufacturer's instructions and have fire suppression equipment nearby.
Propane Fire Bowls
Last spring we bought an Outland firebowl. We like it because it is quick to set up, your clothes don't smell like smoke, and it is super easy to put out.
Below is a picture of the popular 21-inch fire bowl made by Outland.

I hope you've enjoyed this list of outdoor patio furniture ideas and patio accessories to help make your patio more relaxing and welcoming.
But if your patio feels more like a fish bowl than a relaxing outdoor retreat, check out this article on 19 Privacy Fence ideas.
And if you want to add some beautiful, low-maintenance perennial plants to your yard, check out this article.
You can create an amazing outdoor patio area, and these outdoor patio furniture ideas will go a long way toward getting you there.
Enjoy your patio!
Up Next:
How do I add privacy to a raised deck? (create your own private retreat)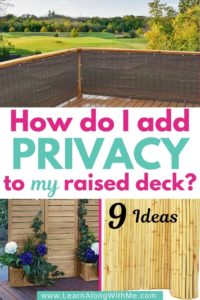 7 Inspiring DIY Patio Table remodels
17 top Expandable Faux Privacy Fence Ideas [stretch out one of these fence panels to gain the privacy you want]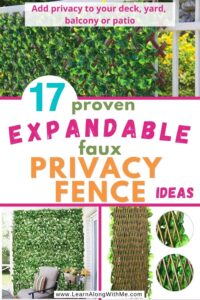 7 awesome Adirondack Chair Accessories