Regular daybeds can be a great option for small bedrooms, and a daybed with storage is even better. Then you can really make the most out of your small space and help you get organized.
But a daybed with storage isn't just for small bedrooms. They make a great addition to spare rooms, offices and living rooms too…pretty much any place you want the convenience of a couch by day and a bed at night.
In this article we'll look at 13 great examples of daybeds with storage including:
Twin daybeds with storage, then…
some Full size daybed with storage options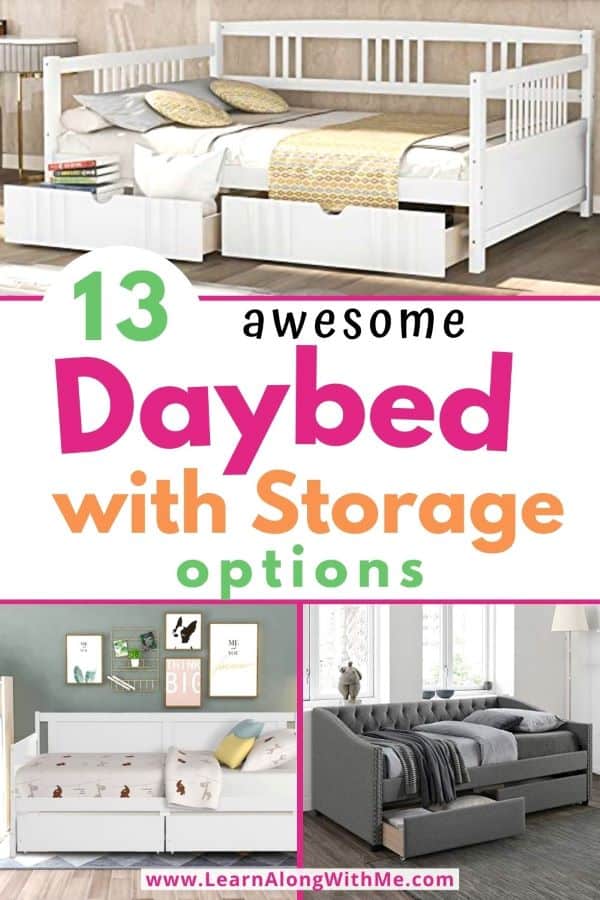 This article contains affiliate links. If you click a link and buy something I may receive a small commission at no extra cost to you. As an Amazon Associate I earn from qualifying purchases. For more information please see the Disclosure page.
Can you use a Daybed with a trundle as storage?
Yes. There is no rule that says you have to put a mattress on a trundle bed frame. Instead, you could put down a smooth piece of plywood and use this surface to hold totes, bedding, shoe boxes, etc…
Sure it will take a bit of work on your part, but you'll have great slide-out storage area under your bed.





Let's start the list of Daybeds with Storage…

1) Grey Upholstered Daybed with storage drawers
Doesn't this grey daybed from the company Harper & Bright Designs look fantastic?
It features two roll-out drawers that slide on wheels.
This fits a twin-size mattress which is not included. And you don't need a box spring because the wood slats of this daybed frame support your twin mattress.
What I like most about this daybed, is that it looks very much like a couch. It would look at home in your living room.
2) White Daybed with storage (twin sized)
This white daybed with storage drawers by the company Mera has a light and beachy look to it. (Like it belongs in a lake house or ocean-side home.)
Potential Downside: The frame is made of pine wood and you'd think it would be sturdy, but some people say it isn't as sturdy as they'd hoped for. And it's tough to say if this would stand up to regular, daily use by kids.
It is still well-rated, but this is something for you to think about…where would you be using this daybed?
3) Metal Platform Daybed with Storage Space underneath
You'll notice this daybed by Jurmerry doesn't directly have storage drawers or anything like that…so why is it on this list? Well, I've included this twin-sized daybed because it has 12-inches of space under the frame to allow for storage totes, shoe boxes, etc…
Plus, since it has a metal frame it can support up to 660 pounds.
4) Twin Platform Daybed with Storage Space underneath
Here is another metal platform daybed that has ample room underneath for storing totes, toys, etc…
In fact, this one has even slightly higher clearance off the floor than the other daybed mentioned above. This one has 14-inches of space between the floor and the side rail. You should be able to find storage totes that slide under here.
Please note that it doesn't come with the mattress or those cute round pillow rolls. You need to put your own twin mattress on here and then any throw pillows you may want.
What I like about this is that even though it is a metal frame it has the upholstered backrest. Should make it comfier to lean back against. It makes it look more like a sofa than some of the other options.
This may be a little too formal looking for a kids bedroom but it could look good in a spare room.
5) White Daybed with Storage Drawers (Twin Sized)
I like the simple look of this daybed. It would look good in a kids room, a spare room or even a living room. You can add some colorful or patterned throw pillows and blankets to achieve your desired look.
It features two slide-out drawers on wheels and a wood slat mattress support. (The mattress isn't included.)
The frame itself is pine wood and the side panels are made of MDF particle board.
I've included this one on the list because it is currently very well-rated on Walmart.com
Do you like the look of this one?
(This was just one of several daybeds with storage I found at Walmart.com)








6) Twin Daybed with Bookcase and Trundle
Wouldn't this twin daybed be great in a kids room. It features a bookcase along the back side (long side of the mattress) that could store your child's books and hold a reading lamp.
There is a pull out trundle bed underneath that would be perfect for sleepovers.
Or you could put a piece of smooth plywood on the trundle frame and use it for additional storage.
It only has the one side – along the back – and doesn't have side arms like most daybeds, but I guess they still consider it a daybed since you position the long side of the mattress against the wall. (And not the usual "head" of the bed against the wall.)
Want more details?
7) Twin Daybed with Trundle (could use as storage space)
Here is a simple, yet attractive twin-sized daybed that would go well with lots of different styles of bedrooms.
It does have a trundle bed frame underneath, but as I mentioned at the start of this article, you could use this trundle frame to hold shallow storage notes. You don't have to use it to hold a mattress. You can use it for storage instead.
8) Black Daybed with Storage Drawers
Would a darker daybed go better with your style?
Check out this black daybed with three storage drawers underneath. The drawers are built into the frame of the bed, and not free-standing.
There is beadboard style paneling on the sides for some extra charm.
Do you like the look of this one? Want more details?
Can you get a full size daybed with storage?
Yes, there are companies that make full size daybeds with storage. You don't have to settle for a twin size mattress. The larger, full daybeds are good options for adults that need a little more room: either for themselves to spread out, or for bed partners.
So far in this article we've looked at variety of twin-size daybeds, but now we'll look at some full daybeds with storage.
9) Full Size Daybed with Storage Drawers
This full size daybed with the two storage drawers is great for adults that don't have a lot of room in their bedroom or studio apartment. I really like how it looks like a couch. It would look good in a living room.
This is made by the company DHP. This is their tan colored model in the "velvet" finish. (They have other colors and a linen covering if you don't like velvet.)
It is a well-rated daybed with lots of reviews.
Are you curious about this one?
10) Wooden Full Daybed with two Drawers
I like the look of this one. And I like how the side arms have curved shelves up top. This would be perfect to hold a reading lamp , a phone, your glasses, etc…
This is made by Harper & Bright Designs, and you can get it white or espresso color too.
11) Full Daybed with Trundle (that you could use for storage instead)
This daybed looks like it would belongs in a cozy cottage. It is a full size daybed frame with a pull-out trundle bed underneath.
But you could use the trundle bed frame as a support to store totes, bedding, clothes, etc… you don't need to put a mattress on there.
On Walmart.com it doesn't have a lot of reviews, but the ones it does have are really positive.
12) Full Size Metal Platform Daybed
This metal platform daybed is the "Victoria" model from DHP. It has metal scrollwork that will add elegance to your room, and even has metal slats to support the full-size mattress (mattress not included).
I've included it on this list of beds with storage because of the room underneath the platform. It has about 15-inches of clearance between the bed and the floor, so you should be able to store a lot of stuff under here. Then you can buy a bed skirt to hide it.
13) White Full Daybed with Storage Drawers
This is a popular daybed from the company Harper & Bright Designs. It has a wood frame, with a vertical slat design on the arms and backrest.
There are two pull-out storage drawers underneath.
I think this is nice looking, but you'd need several throw pillows to place against the backrest if you're going to use it as couch. (The same can be said with the metal beds I mentioned above.)
Will this work for you?
CLICK HERE to see more details on Amazon.
I hope you've enjoyed this concise look at 13 daybeds with storage that would make a great addition to your bedroom, spare room or main living space.
They can be a convenient way to provide seating, storage and a sleeping space in one handy piece of furniture.
Other Ideas to Organize your Bedroom
If you want something larger than a full size daybed…
check out our article on Queen Daybed options.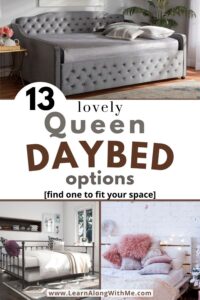 You May Also Like:
13 handy Over Bed Storage Ideas
9 well-rated Bedroom Storage Chest Options (great "out of sight" storage)