Do you love the warmth of the summer sun but you don't want to get fried on your deck or patio? In this article we'll look at 15 ways to mount an umbrella to your deck so you'll have some shade to enjoy the summer days. And these umbrella mount ideas will minimize the risk of your umbrella blowing away in the wind.
We want to avoid fly away umbrellas!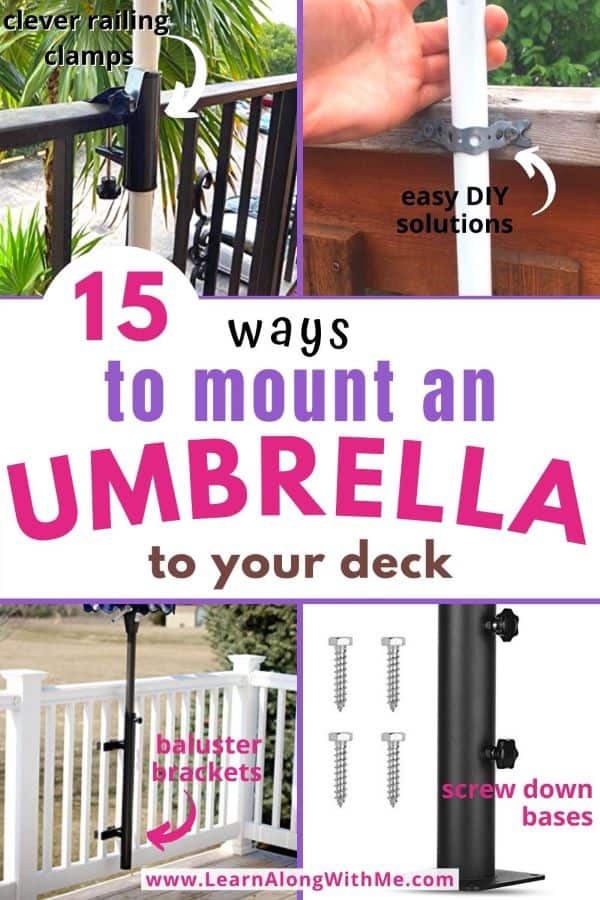 This article contains affiliate links. If you click a link and buy something I may receive a small commission at no extra cost to you. As an Amazon Associate I earn from qualifying purchases. For more information please see the Disclosure page.
Disclaimer: These umbrella deck mount ideas will help you secure your umbrella to you deck but there is no guarantee that your umbrella won't tip over if its windy. So if you're not outside, or if you're expecting winds, then put down or take down your umbrella as a safety precaution.
15 Umbrella Deck Mounting Ideas
In this section we'll look at 15 umbrella deck mount ideas that includes ways to secure your patio umbrella to your deck railing or floor.
Which one of these ideas will work for your deck?
1) Large Square Umbrella Base Plate (with screw holes)
This umbrella base plate is about 2-feet square made of steel with a powder-coated finish.
What is good about this particular base is that it has the 4 holes in the corner so you could screw this plate into your wooden deck for extra support.
PROS
wide base to help stabilize your umbrella
fits a variety of umbrella diameters
CONS
its large footprint means you can't have your umbrella pole flush to your deck rail because the base would overhang the edge of your deck
2) Umbrella Deck Mount Base with small footprint
This metal umbrella base has a small footprint…just less than 5-inches square. So it won't take up much room on your deck. And it has 2 knobs to tighten against your umbrella's pole. This will prevent it from spinning in the breeze like a lady twirling her parasol.
You screw the lag bolts into your wooden deck to secure the base.
Click here for more details of this small umbrella deck mount.
A small deck mounting base for your umbrella – like the one above – helps you avoid deck overhang.
3) Half-round Umbrella Base
Here is another way to avoid deck overhang.
This is a popular, half-round umbrella base made of plastic resin, and it has a concrete base to help secure the bottom of your umbrella.
It is designed with small spaces in mind.
You could place the flat edge directly up against your deck railing and then use other hardware to secure the pole to the deck railing (ideas on how to do this listed below).
4) Adjustable Deck Umbrella Mount Stand
This umbrella deck mount stand can be adjusted so that you can tilt your umbrella up to 45-degrees either right or left.
The manufacturer claims the umbrella hole diameter is 1.75-inches so make sure your umbrella pole has a diameter less than this or it won't fit inside the tube.
PROS
sturdy metal base once screwed into your deck
adjustable

CONS
there is no knob to tighten against your umbrella pole (so umbrella may spin in the tube)
the tilt adjustment is done with a bolt and nut, so it isn't a quick adjustment

Regardless of what umbrella deck mount base they have, some people still like to have a way to stabilize the umbrella pole higher up.
They want it secured to the deck, but also stabilized on the pole – either by going through a table or secured to a deck railing.
Below are some ways to secure your umbrella pole to your deck railing.
5) Umbrella Deck Clamp for Deck Railing
Here is a clever patio umbrella clamp from EOSS. You stick your umbrella pole through the vertical tube and then you screw the clamp tight against your deck railing.
(You can also use it to clamp an umbrella to your picnic table too.)
The manufacturer points out that your umbrella needs to be less than 1.4-inches in diameter, and your deck railing needs to be less than 2.3-inches thick.
Will this umbrella deck clamp work for your umbrella and deck?
RELATED ARTICLE You May Like:
Want a more private deck? Check out these Deck Privacy Options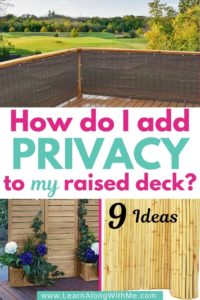 6) Adjustable Umbrella Deck Clamp
This stainless steel umbrella deck clamp is similar to the one already shown, but this one can be adjusted so you can clamp horizontally or vertically.
Will this umbrella deck clamp work for you? (Would it give you extra peace of mind?)
7) Rail EZ Umbrella Mounting System
The Rail-EZ umbrella mounting system is a movable way to secure your patio umbrella to your deck rail. It clamps to most deck railings so you can enjoy your day while still being in the shade.
What's cool about the Rail EZ is that the umbrella hole is adjustable so it'll hold varying sizes of umbrella shafts.
And you can even use this clamp to hold things like Tiki torches, bird feeders, or even TV's.
Below is a close-up picture of the device itself.
8) Umbrella Brackets for Deck Balusters
See those black brackets in the photo above? Those tighten around your umbrella pole and around your deck's balusters to help stabilize and secure your umbrella.
It is available in two different sizes:
Just make sure your deck balusters (aka spindles) are not wider than 2.5-inches.
9) Baluster Umbrella Stand
Here is a popular, no-tools required way to secure your patio umbrella to your deck railing's balusters (the vertical spindles).
The manufacturer LOVE YOUR DECK states that it will work on balusters that are between 0.75″ to 2″ thick, and if the balusters are spaced 2″ to 7″ apart.
Here is a picture of the patio umbrella holder without an umbrella in it.
This umbrella mount has a super high rating with lots of reviews. People rave about how easy it is to install.
10) U-bolts to secure umbrella pole to deck railing
Some people come up with DIY umbrella deck mount solutions such as using U-bolts to secure the umbrella pole to a deck post or railing.
(Sorry I don't have a good picture for this yet. But below is a picture showing a U-bolt so you'll get the idea.)
11) Umbrella Deck Clamp by Railhookz
Railhookz makes this popular umbrella clamp that helps you secure your umbrella to the vertical balusters of your deck's railing.
But note in the picture that the deck balusters are quite thin. The manufacturer states this will only work on balusters (aka spindles) that are less than 2 & 1/8″ wide. So quite narrow.
Carefully check the product description and measure before ordering.

12) Small Umbrella Clamps for Deck Railing (Walmart)
This umbrella clamp from Walmart is intended for smaller sun umbrellas with about 1-inch tube diameter. They claim it can be mounted either horizontally or vertically.

13) Use Metal Hanger Straps to secure your umbrella pole
Here is an easy DIY solution to secure your patio umbrella to your wooden deck railing.
I suggest you put some foam inside your metal hanger straps so that it doesn't scratch the paint off your umbrella pole causing rust.
You could also use the metal hanging strap to secure a length of pipe to your deck balusters, and then insert your umbrella's pole through the pipe.
14) 3-D printed Umbrella Deck Mounting Brackets
This resourceful person on Reddit decided to 3-d print their own umbrella deck railing brackets.
Here is a link to a 3-D printed umbrella clamp that someone uploaded to Thingverse.com (It isn't exactly the same as the picture above.)
Check it out if you want to try and 3-D print your own DIY umbrella mounting bracket.
15) Get a Patio Table to help secure your Umbrella
Our glass-topped metal patio table is showing its age but what I like about it is that it has this metal circular ring to help secure our umbrella.
We still have to use a base with the umbrella, but this ring helps stabilize the umbrella and prevents it from smashing against the glass top.
Get a Side table with an Umbrella hole
This is a cool idea. This outdoor side table has a hole in the top to help stabilize your umbrella.
I don't have one of these, so I'm not sure how to weigh down the base. (If you have one, let us know.)
If you're looking for some new patio furniture and you need some umbrella mount ideas…check this out on Walmart.com








I found this article that has tips on how to secure an offset cantilevered umbrella to your deck if you want some more info on that particular topic.
Getting some shade on your deck or patio can make the difference between having a comfortable outdoor living space, and having an intolerable, sun-scorched waste of space.
I hope one of these 15 umbrella deck mounting ideas will help you have a "cool" summer.
Make the most of the space you have and enjoy your outdoor time.
Do you want some ideas for shade in your yard? Check out these Backyard Shade Ideas
Up Next:
How to add privacy to a raised deck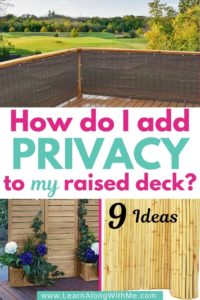 15 cozy patio furniture ideas & accessories
13 refreshing Pool Shade Ideas