Our bedroom was an ugly cluttered mess with squeaky floors, old carpet, and terrible green paint. I wanted to give it a makeover. But I wanted to do it on a budget. This is how I did my DIY bedroom makeover for $500.
Well, $500 or less was my goal. Keep reading to see if I succeeded…
This article contains affiliate links. If you click a link and buy something I may receive a small commission at no extra cost to you. As an Amazon Associate I earn from qualifying purchases. For more information please see the Disclosure page.
Before the Bedroom Makeover
Looking beyond the mess of scattered clothes, you'll see the mint green paint and old carpet.
The carpet wasn't exactly terrible.
But the worst thing about it is the sub-floor underneath it squeaked every time you stepped on it.
It was crazy loud…wake my girlfriend up from a dead sleep kind of loud. So I needed to fix that.
Below I highlight some of the big things I did on remodeling the room.
The "After" pictures are near the end of the article.
First, remove everything from the room
The morning of the first day was spent emptying the room.
Getting all the furniture and clothes out of the room.
And yes, I had to get my dog to leave the room too.
You can see by the picture below she wasn't too happy about that.
Then the next thing I did was remove the old baseboards and trim around window and doors
I used a pry bar and a hammer to remove the old baseboards and trim.
I wasn't worried about breaking it because I planned on installing new trim.
Pull up old carpet and the foam underlay
Once the baseboards were removed I was able to pull up the old carpet. (I was able to re-use the carpet for a spare bedroom which was a bonus.)
Then I pulled up the form underlay that was beneath the carpet.
All of this was quick… it goes surprisingly fast.
But the time-consuming part is still to come.
What takes the longest is getting on your hands and knees and pulling up all the staples that attach the foam to the plywood floor, and pulling up the carpet tacks.
That finished off the first day of my bedroom DIY makeover.
At the end of Day 1 my expenses were still $0. No money spend yet.
Patch Holes in the wall with Drywall mud
On day two I put drywall mud onto the scratches and holes.
I had the mud from a previous job so I didn't need to put any new money into this.
I definitely do not have a great technique when it comes to "mudding".
But my lackluster skills were enough to do the trick.
Because the drywall mud has to dry 24 hours before I can sand it down, the rest of my day was filled with getting rid of the annoying squeaking sound of the sub-floor.
When they built my floor, which is on second level of my house they just used nails to nail the plywood down into the floor joists.
But over the next 45 years those nails started to come loose.
So every time you stepped on the floor the plywood squeaked against the nails and the underlying floor joists.
So I bought a box of 2 inch floor screws and screwed close to 150 of them into the floor along all the joists.
This stopped the squeaking.
The box of floor screws cost me $13. (Total so far $13)
Sand the drywall putty then paint the walls
After I sanded down the drywall patches I was able to start painting.
We chose a grey color.
I got a great deal on latex paint from Home Hardware. (A Canadian hardware store.)
I bought 2 gallons of paint at $20 each, so $40 in paint.
Total cost so far is $53.
I did several coats of paint.
(I think I painted 3 coats of the paint to effectively cover up the green.)






After painting I began the flooring
I purchased 10mm laminate flooring from the Rona Hardware Store.
(I bought the flooring after I bought the paint. This was a mistake… see my note further below.)
The flooring was on clearance so I made sure to buy enough to finish the room.
Laminate flooring cost = $370
Foam underlay cost = $30
Total so far = $453
So I'm already into the renovation for $453.
I was getting really close to my $500 budget already!
I could have got even cheaper laminate flooring by going with thinner 8mm flooring.
But for me, it is easier to work with 10mm flooring.
It doesn't sag so much when I'm trying to install it by myself.
Quick Note on the Flooring
The flooring was the most expensive part of the DIY bedroom makeover.
In order to come in under budget (or close to it), you'll have to choose your flooring carefully.
I shopped around for a long time (during the planning stage) to try and find flooring we liked that would still put us under budget.
I didn't do a great job matching the flooring color with the paint color.
I bought the paint before I bought the flooring.
In retrospect, I should have bought the flooring first, then picked a color that better matched it.
Oh well. It is a learning experience.
Below is a picture of the flooring during installation.
I used pieces of laminate flooring against the walls as spacers. (Because remember, laminate flooring like this is a "floating floor" and not nailed or glued down to the sub-floor.)
Installing the new baseboards and casing around window and doors
I knew I wanted nice new white baseboard trim.
New baseboards always "pop" against a freshly painted wall.
Below is a picture of me starting the baseboard installation process.
I chose a 3.5″ tall baseboard for the floor trim.
It was primed MDF board (Medium-density fiberboard). I put a couple coats of white paint on it. I used a "Velvet" paint.
Perhaps I should have used semi-gloss for better "wipeability"?

I used my mitre saw to cut the 45-degree angles for the corners, and used my nail gun to shoot 18-gauge brad nails into the baseboards.

The baseboards cost me $55 (I bought a bundle of 10 lengths).
The small jug of white paint for the baseboards cost me $5.
Total paid so far: $513
(I'm over my $500 budget! But just keep reading…there is more!)
I bought the blue 18-gauge nailer (seen in the picture above) for this product.
But I didn't like it.
It wouldn't sink a nail into the baseboards even after adjusting the depth gauge. So I borrowed my friend's Bostich finishing nailer.
It worked way better and only left a small indent that was easy to fill with putty.
If you don't have an air nail gun yet, I suggest you take a look at Bostich. You can find them on Amazon and check it out for yourself.
I think it will be my next tool purchase.
You can even buy a combo with an air compressor and three air tools.
Window Casing (window trim)
For the window trim I chose a slightly smaller 2.5″ wide trim.
I wanted the window trim to be smaller than the baseboard trim.
I was going to try a different style of window trim – like a craftsman style – but the remodel was dragging on.
So I just decided to stick to what I know: the 45-degree angles at the corners.
Some of the corners weren't as tight as I like so I used some drywall putty to fill in the gaps.
Then once the drywall mud dried, I sanded it off, and then the corners looked smooth and tight.
I used this same bundle of 2.5″ trim to finish around the closet doors and bedroom doors.
Window Casing cost me $55.
Total so far = $568
(Getting higher above my budget…)





Other DIY Bedroom Makeover things I did…
Change the outlets and new electrical outlet face plates
I changed the electrical outlets to be the "decorator" style.
And I put on the new white decorator face plates. What a difference just changing the outlets can make.
I had some outlets and the face plates left over from a previous job. So it didn't cost me anything extra.
For you, doing the this switch isn't expensive. You could change most bedrooms' electrical outlets and face plates for less than $10. (Unless you have a massive bedroom and tons of outlets.)





Caulk the baseboards and trim
One of the most nerve-wracking jobs for me during this entire process was caulking of the baseboards.
I had already done so much work, and it looked so good.
I could screw it all up by having a messy caulking job. That is a lot of pressure.
The job doesn't look like professional did it, but it also doesn't look like a monkey did it. (I hope it doesn't anyway!)
Caulking the baseboards helps to hide the small gaps between the baseboards and the wall and floor.

Caulk cost = $3
Total in so far = $571





Change the overhead lighting
After all the work in the room it looked really good.
But there was still a giant eyesore dangling from the ceiling.
After shutting off the breaker to the light, I removed the old fan.
I replaced it with a flush-mount LED light instead.
Because we recently got a high-efficiency central air-conditioner we didn't use the overhead fan anymore.
So I replaced it with just a regular light.
Cost of the LED flush-mount light = $8
Total paid so far = $579

(Over budget, but I had a pleasant surprise still…)

After the DIY bedroom makeover
Above is a picture showing the room after the new paint, new flooring, new baseboards, new window trim and new electrical outlets and face-plates.






Below is a picture of the room with the bed back in.
To give it a distinctive style I decided to make a headboard from leftover building materials. The laminate was leftover from a different floor, and the white trim was leftover from this bedroom makeover.
To see my blog post on how I built the DIY headboard using laminate flooring click here.

The bedroom looks more like a hotel room now.
And believe it or not, that is the look I wanted.
I have such good sleeps in a hotel, and the rooms are uncluttered.
That is something we need to work towards: to maintain a clutter-free bedroom.
Budget Suprise
Usually when you get a surprise concerning your budget it means you've gone way over your budget.
In this case, I got a pleasant surprise.
I was able to return some boxes of flooring I didn't need.
When I purchased the flooring I wanted to make sure I had enough to complete my room.
So I ended up buying extra.
After I returned the extra boxes of flooring, I got $80 back.
Refund = $80
Total cost of the renovation = $579 – $80 refund…
Total cost of the renovation = $499


You got to be kidding me.
I was just happy to be close to budget, and when I was under budget I almost couldn't believe it.
I'm very happy with the result of my DIY bedroom makeover.




Other DIY Bedroom Makeover Ideas
For our bedroom I decided to:
Install new flooring
New paint
Install new baseboard trim
Install new window trim and trim around the closets and door
Replace old electrical outlets with new ones
Replace old electrical face plates with new white, modern ones
Remove old ceiling fan and replace with a flush-mount LED light
Things you could do for your room:
Get new artwork for your walls
You may find cool artwork at your local secondhand store.
And Etsy has lots of great art for sale too.
The art prints shown below are available on Etsy. We haven't bought them yet, but they sure look cool. (The product description says they come unframed.)
New Bedroom Furniture
To instantly change the look of your room without having to do all the labor like I did, you could get new bedroom furniture.
I actually really like the bedroom nightstands shown in the picture above (the Etsy art print photo).
If you prefer the "floating" style of nightstands, check out this one shown below.
It is sold on Etsy by a maker named "Urbansize."
Add some houseplants
Adding some nice green houseplants to your bedroom will help make it look more natural and "real."
If you want some ideas on what houseplants will help improve your indoor air quality, check out this article.
Get new bedding (easy way to change the look of your room)
New bedding can quickly and easily change the look of your bedroom.
Do you like the Boho style? If so, check out 19 stylish Boho bedding ideas for your room.
I hope you've enjoyed this look into my DIY bedroom makeover.
Do you have any stories from your own bedroom DIY makeovers?
Or tips to share with other readers.
We look forward to hearing them.
If you have a small bedroom you may like these 13 space-saving small bedroom organization ideas.
Or if you need help organizing your teen girl's bedroom, check out this list of teen girl bedroom organization ideas.
Thank you,
Tim from LearnAlongWithMe.com
You May Also Like:

How to Paint old wood Paneling
13 Lovely Queen Daybed Options (yeah, you can get a daybed in a queen size!)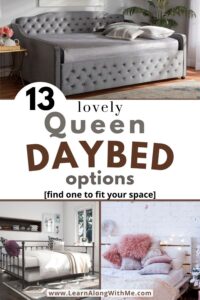 Daybed with Storage — 13 awesome options to add storage and seating to your room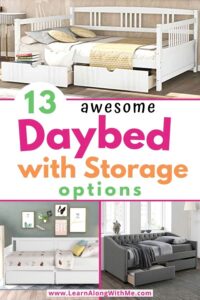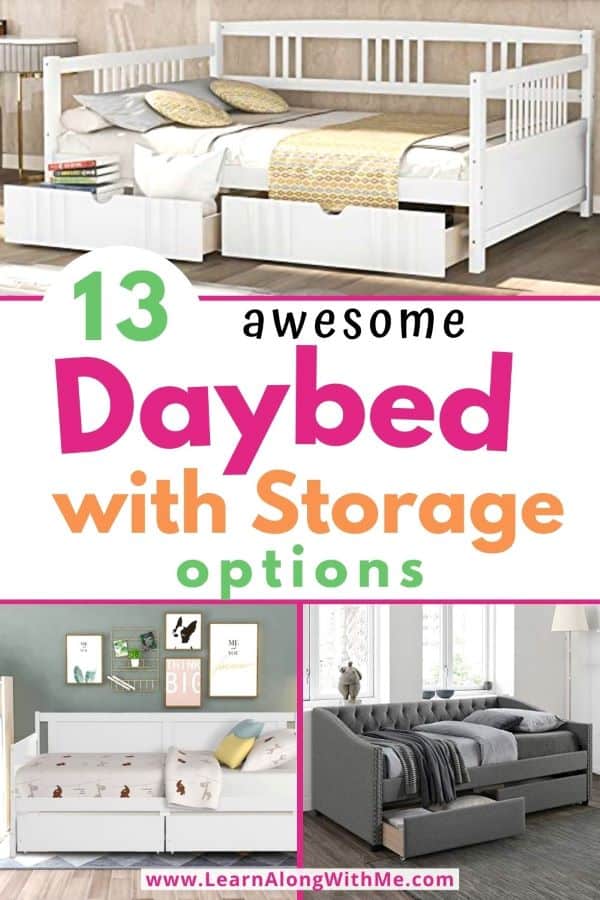 9 well-rated Bedroom Storage Chest options [store your stuff out of sight]