Want some inspiration for a DIY entryway wall organizer? If so, you'll want to check out what I came up with.
Having a neat and tidy entryway is our goal. Our vertical coat stand is jumbled mess so I thought I'd build a farmhouse coat rack.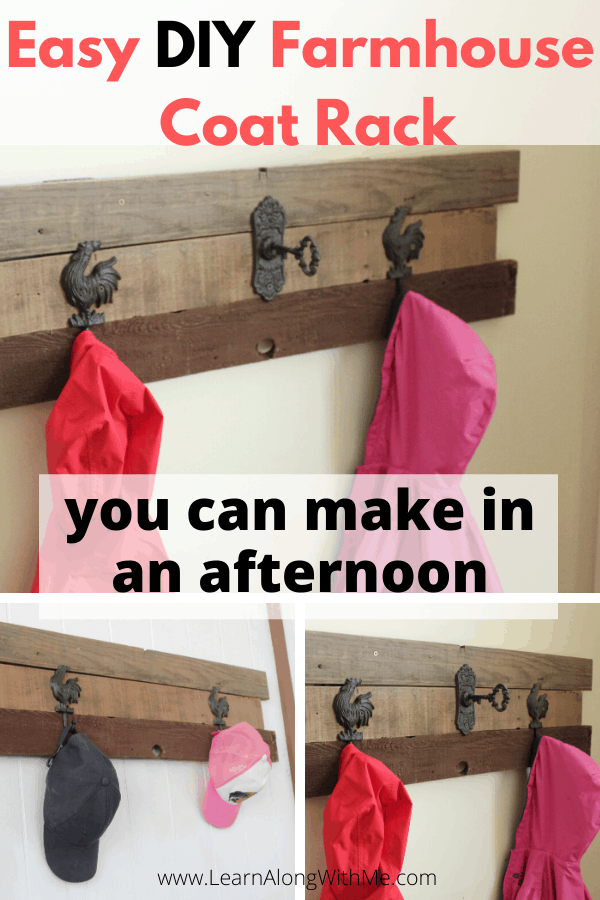 This article contains affiliate links. If you click a link and buy something I may receive a small commission at no extra cost to you. As an Amazon Associate I earn from qualifying purchases. For more information please see the Disclosure page.
You're probably wondering:
Do I need special skills or tools?
It requires only basic hand tools like a handsaw and a screwdriver.
No power tools required. You can cut the boards with a handsaw and then sand them down with sandpaper or a sanding block. And you can screw the hooks into the boards with a screwdriver.
You could make this DIY entryway wall organizer in a few hours and have an awesome handmade coat rack to proudly show off.
My idea was to buy 3 farmhouse coat hooks and then design several different looks of farmhouse coat racks.
Sounds catchy doesn't it…. 3 hooks for different looks.
But what happened is that my girlfriend liked one of the coat racks so much she told me to stop there and put it on the wall.
I'm happy with the result and it was a super easy DIY entryway organizer.
I bought three coat hooks from a local retailer, and they're so awesome. Two roosters and one skeleton key hook. And I used old rustic fence boards.
DIY Entryway Wall Organizer Look #1 – 3 farmhouse coat hooks on one rustic Board
This is the simplest coat rack I made.
Just screw the hooks into your piece of wood, then mount the wood to the wall. Done.
The piece of wood was an old fence board that was destined for the landfill. I gave it new life.

Look #2 – 2 matching coat hooks on 3 rustic boards
I liked this one. It could be made even more compact if you wanted to.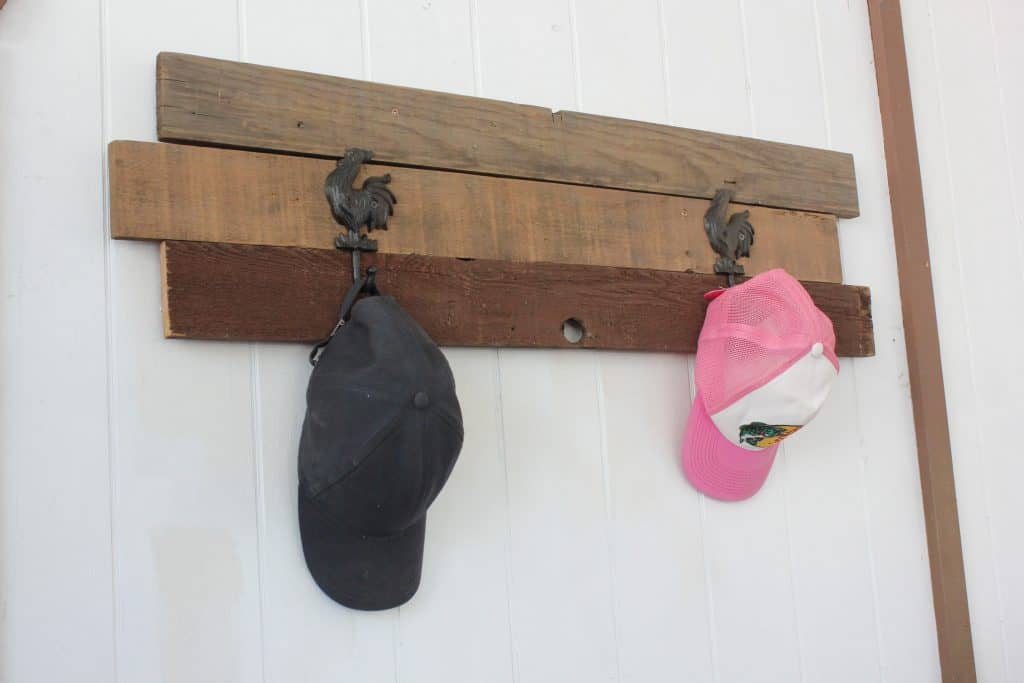 Because it only has two coat hooks though it isn't as robust of an entryway wall organizer as we hoped for. We need something with more organizing capability.

Look #3 – 3 Coat Hooks with 3 rustic boards (reverse pyramid shaped)
This one had room for improvement. It would have looked better if I'd screwed the hooks into the middle board instead of the bottom board.

DIY Entryway Wall Organizer Look #4 – 3 Coat Hooks on three rustic boards – staggered design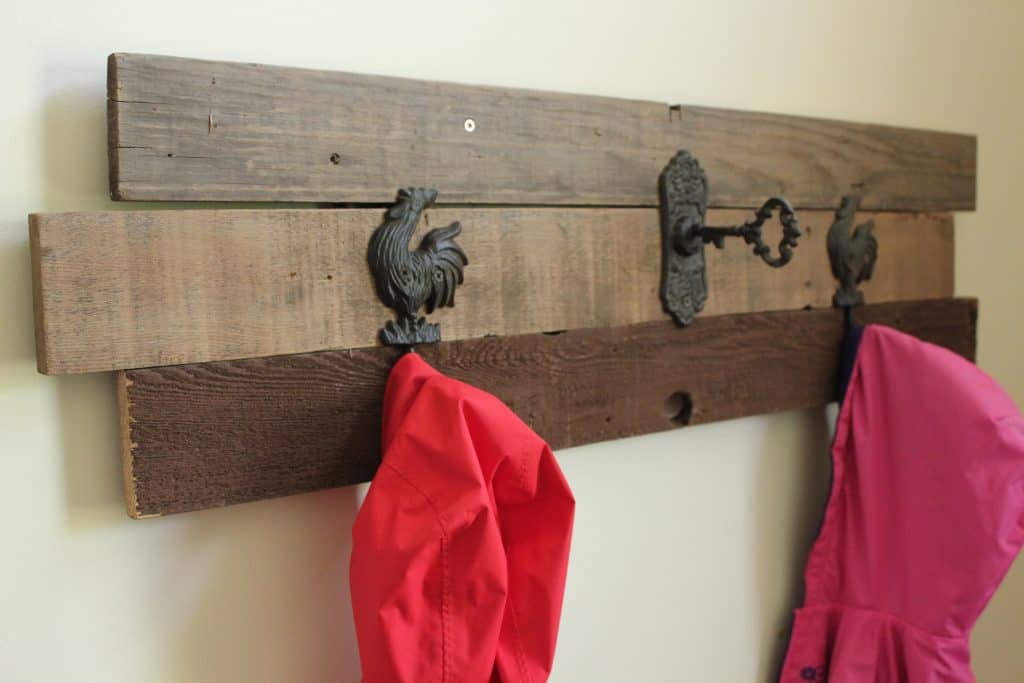 Which one did we go with? (the winner is….)
Look #4
I wanted to keep going and try white-washing the boards for a good farmhouse look, but my girlfriend said she really liked Look #4 as is.
I'm not going to argue with her. 🙂
And having a functional and good-looking coat rack that I made feels pretty darn good.
What if I can't find cool hooks in my local area?
If you don't have a local retailer that sells awesome coat hooks like these ones, you can check out some options on Amazon.
These industrial pipe hooks on Amazon are cool. I think they'd go well if you had a modern house.
Here are some bent railway tie hooks to give a cool rustic vibe to your entryway.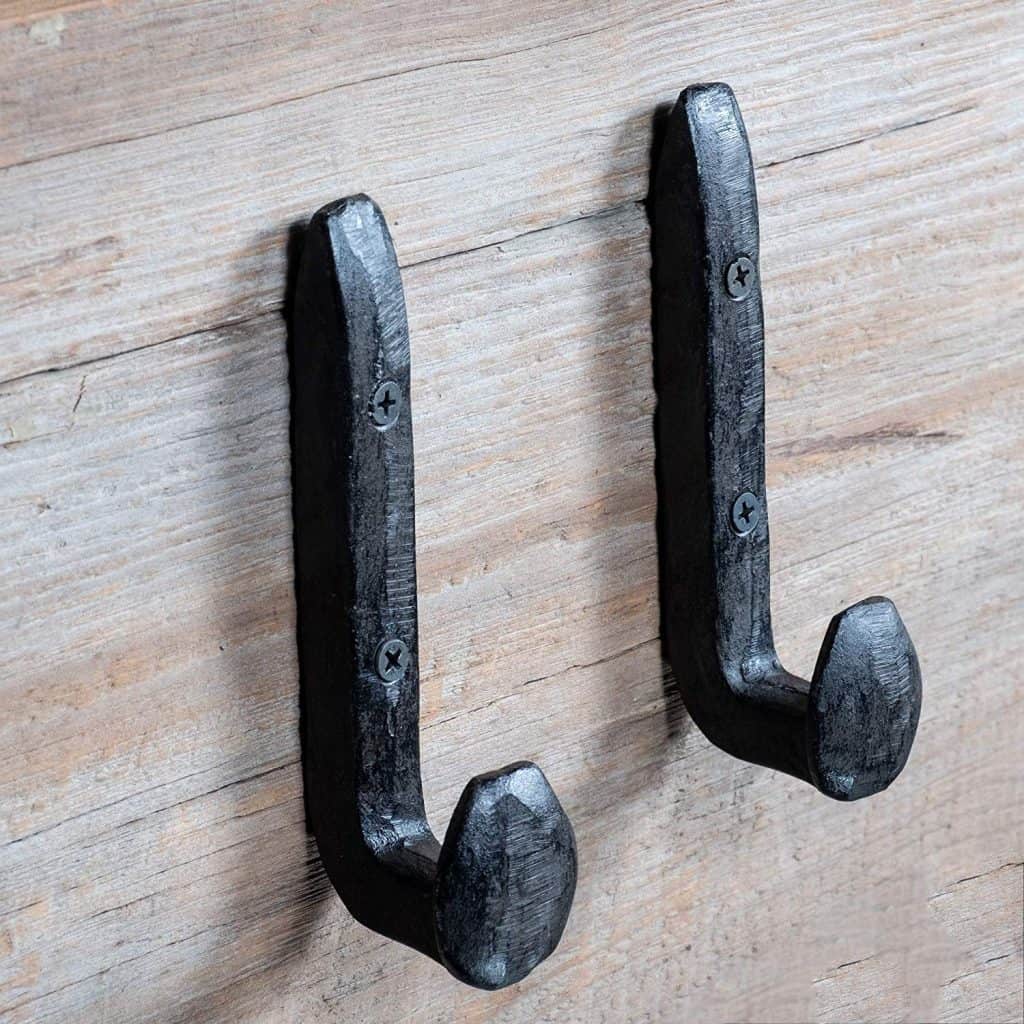 Looking for something a little more elegant? I came across these curly antique-looking coat hooks on Amazon.

Summary
Making my own farmhouse coat rack from coat hooks and old boards was very easy, yet rewarding. It was cool being able to make something to help organize my entryway and get stuff off the floor.
It looks good, and it serves a purpose.
I think I'm going to keep experimenting with more designs and make more coat racks though because it's pretty addicting seeing something come together so quickly and easily.
I hope you've found some inspiration to make your own coat racks.
Thank you.
Up Next:

13 great Shoe Rack and Shoe Storage Ideas
Handy Entryway Organization Ideas to get organized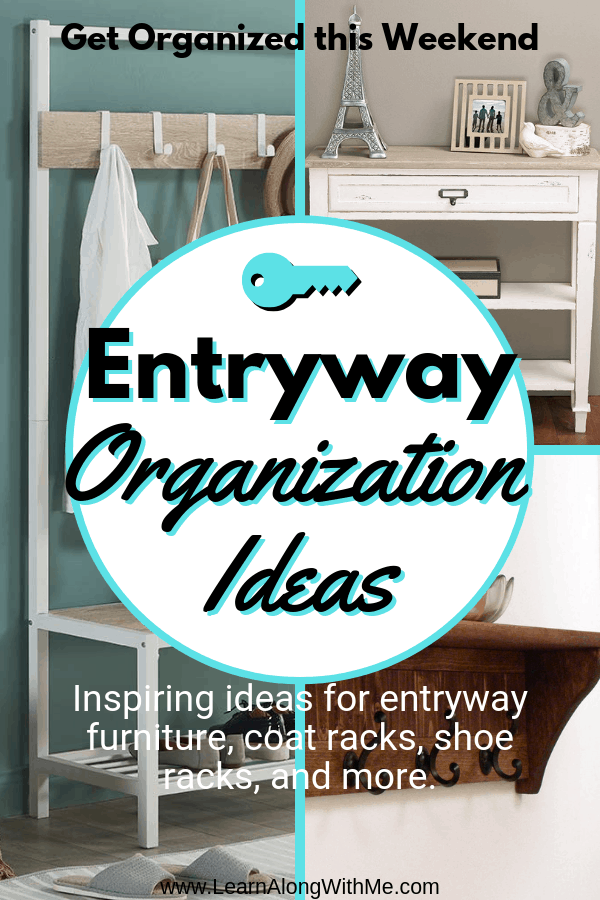 25 handy Hat Storage Ideas [great options if hats are cluttered your entryway]