Do you have dog toys scattered throughout your house? In this article we'll look at 19 dog toy storage ideas to help contain your dog's toys. (As a pet parent I know how pet supplies and toys can quickly add up.)
At least one of these ideas should help you out.
This article contains affiliate links. If you click a link and buy something I may receive a small commission at no extra cost to you. As an Amazon Associate I earn from qualifying purchases. For more information please see the Disclosure page.

How to store dog toys? – List of Dog Toy Storage Ideas
Below are a variety of ways to store dog toys.
Because there is such a difference in size of dogs, and hence their toy size too, your needs will differ from other dog owners.
For instance, owners of a smaller dog may only need a small basket to store the little dog's toys.
But large dogs may have bigger toys that need a bigger storage solution.
And does your dog have a lot of toys? If so, you'll need to get a bigger storage option (or get rid of some of the toys).
Hopefully at least one of these options will help you out.
Scroll through them all to see what'll work for you.
1) Cleaning Dog Toys before Storing them – something you may not have thought of
A note on cleanliness: dog toys can carry a variety of germs like bacteria and mold. This article states that pet toys are the 7th "germiest" things in your house.
This article from Hills Pet website states you can use a water and vinegar 50:50 solution to clean hard dog toys. Give them a scrubbing, rinse them with clean water then let them dry.
And to help prevent your dog's toys from getting moldy, make sure you let plush toys dry before storing them. If you have a slobbery dog you probably encounter these wet toys regularly.
You can wash plush dog toys by hand using that same 50:50 water and vinegar solution, or you can put in the washing machine if you have a pet friendly laundry detergent like Seventh Generation Laundry Detergent.
2) Get rid of unused toys (declutter)
Does your dog have toys they no longer chew or or play with?
Before you go and buy a storage solution for all your dog's toys, ask yourself if they need all those toys.
Go through their toy collection and declutter.
You can keep their favorite toys and get rid of the ones they ignore.
3) A Dog Toy Box
Kids have kept their toys in toy boxes for years, so why not dog toy boxes!
This particular dog toy storage box is made of Baltic birch wood by the company MPI Wood. They lightly sand the wood prior to shipping it to their customers, and you can choose to leave it natural-looking or stain it or paint it yourself.
This product photo does a decent job of showing the toy box, but you should check out the customer-submitted photos on Amazon. Very cool.
Will this work to contain your furry friend's toys?
4) Small Fabric Dog Toy Storage box with a lid
The company Geyecete makes these foldable dog toy storage boxes with a 2-piece lid.
The separated lid corresponds to the separate compartments within the box.
Some people store dog clothes in one compartment, and toys in the other.
Just note, this isn't big though. So you won't be able to store lots of dog clothes in here unless you have a small breed.
You'll be able to fit quite a few toys in here though.
It measures 17-inches wide, 12-inches deep and 10-inches tall.
5) Dog toy storage bin with 3 handles
I like how this fabric storage bin has three handles.
You can carry it by the two side handles, and the front handle allows you to easily pull out the bin if you store it under your coffee table or side table.
It doesn't have tons of reviews yet – and I think they'd sell more if it had a dog decal or something on it – but the three handles is cool.
6) Dog Toy Organizer / Feeding Station
Furniture dedicated to the dogs! Who knew.
You can get this piece of furniture that features a slide-out tray for the dog food bowl and water, two shelves for storing stuff, and a pull-down cabinet that you could use to store dog food or dog toys.
If you choose to store dog food in the cabinet, you could put your dog's toys in little baskets and place them upon the shelves.
Obviously not everyone will have room for this option, but it sure looks cool.
Check current rating on Amazon.
7) Cotton Rope Storage Basket
This is a cute storage basket made of cotton rope and the pawprint and "dog toys" text is embroidered into the basket.
It measures 15-inches wide and about 10-inches deep, and 9-inches tall.
It's an attractive way to store your dog's toys.
8) Dog Toy Storage Bins (canvas material)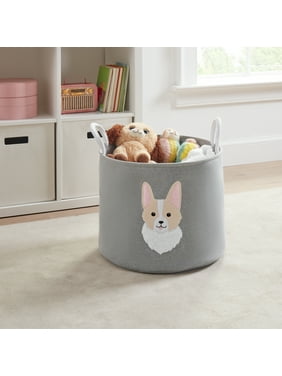 Doesn't this Corgi basket look cute!
It is a canvas fabric basket with a wire rim around the top to help keep the circular shape. It is marketed as a toy organizer for children, but some people use it to store their dog toys instead.
It sits just over 14-inches tall and just under 18-inches in diameter.
It can fit a lot of dog toys in here.
Would this work for your dog's toys?
Click here to see more details at Walmart.
9) Inside a Storage Ottoman
Do you already have a storage ottoman in your living room or bedroom?
If so, is there room inside it to store your puppy's toys?
If you do choose this option, make sure the toys are dry before tossing them in. You don't want mold to grow and stink up your furniture.
10) Wooden Crate (Etsy)
Many retailers sell plain wooden storage crates, and they work well to store a variety of things including dog toys.
You could go with a plain option, or buy a cute wooden crate like this from the Etsy seller KuntzKreationDesigns.
You can get this crate stained in a few different colors to match your home's decor.
Click here to see more details on Etsy.
Want to DIY a wooden dog toy storage crate… with a twist? Check out idea #18 below.
11) Metal Dog Toy Bin
The company Spectrum Diversified are known for making high-quality wire baskets.
This basket is their product that has truly gone to the dogs – featuring cute paw prints on the metal sides.
It isn't a huge basket. It is just under 13-inches wide, but it'll work well to hold a variety of dog toys.
Plus, the wire design will allow airflow to the toys and help dry off saliva-coated toys before they stink too bad.
12) In a Wall Basket
If you want to free up floor space, you can put your dog's toys in a wall-mounted basket like the one above.
This wire, farmhouse-style basket is made by Spectrum Diversified. (The same company that makes the paw print wire basket above.)
I realize the product photo shows it being used to store other things, but you could use it to store dog stuff too.
Do you have wall space for an option like this?
13) Dog Toy Basket (plastic wicker)
A wicker basket can work well to store dog toys.
And since you can get baskets in different sizes, you should be able to find a size that fits your needs.
This particular basket is plastic wicker…not a traditional plant-based wicker material.
You could place the dog toy basket on a shelf, inside some cube furniture, or under a side table in the living room.
Some people like having a removable fabric liner in the interior of the basket that they can take out and wash if needed. This one from the company "Bone Dry" does not have a liner but you could wipe it down to clean it.
14) Fabric Storage Cube (Walmart)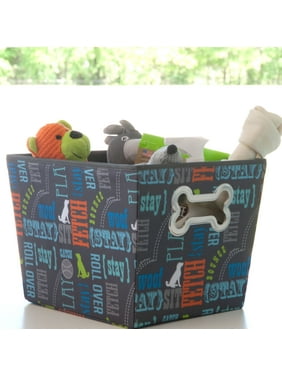 Do you have an IKEA KALLAX unit or similar cube storage furniture?
If so you can get a fabric storage cube like this one, and dedicate it to your dog toys.
15) Collapsible Storage Bin – Cube (Amazon)
I came across this cute foldable storage cube on Amazon. It is marketed as a storage cube for kids toys, but since they claim it is mold-proof, I think it would work well for dog toys too.
This is a 13-inch cube, so it should fit well into an IKEA Kallax unit, or similar sized cube furniture.
I think this might be the cutest option on this list. (Just remember to dry the toys out first before tossing them in.)
16) Over the Door Shoe Organizer (with mesh pockets)
Do you want a handy way to take advantage of wasted space?
A hanging shoe organizer like this can work well to store SO MANY different things.
And a dog owner can use one to store their dog's toys.
This option may work better if you own small dogs because larger dogs may have bigger, longer toys that could stick out of the pockets too much.
This particular organizer has mesh pockets so it is breathable which is a good thing when it comes to storing moist dog toys so they'll dry out.
17) Dog Toy Storage Container (Bark Box Felt Storage Bin)
These felt containers from Bark Box can work well to store plush toys, other chew toys, and doggie tennis balls.
Then it is up to you to find the right place to store it in your home.
Some people store them in the laundry room and only take out a couple toys at a time, while others keep them in the living room so the dogs can have easy access to their toys thanks to the flip-down front section.
This is a well-rated product with lots of reviews.
18) DIY Dog Toy Storage Crate Hack
I mentioned earlier that you can get wooden crates at most stores now a days.
Well, in the YouTube video below the woman hacks a wooden IKEA KNAGGLIG box and creates a cool dog toy storage crate.
Check it out.
19) Plastic Containers (like totes)
Dog toy storage doesn't have to be fancy or expensive.
Plastic containers like small totes can work well to hold dog toys, but you will want to avoid putting on the lid, or at least make sure the toys are dry.
You don't want to put wet toys into a non-breathable compartment because they could get moldy.
To make it more obvious that tote is for your furry friend, you could stick some dog stickers on it, or label the tote with your pup's name.
Thank you for checking out this list of dog toy storage ideas.
Hopefully you found a storage solution that'll work with your dog's toys.
Just remember to let wet toys dry out before putting them away and to periodically clean the dog toys as suggested by this pet care company.
You May Also Like:
Get your main room organized with these Living Room Blanket Storage Ideas