Are eco-friendly office supplies important to you?
Many people try to have an eco-friendly home, and make attempts to be zero waste at home.
But at work – where they spend 1/3 of their lives – they may not be so eco-conscious. Lets try and change that.
This article contains affiliate links. If you click a link and buy something I may receive a small commission at no extra cost to you. As an Amazon Associate I earn from qualifying purchases. For more information please see the Disclosure page.




Here are a list of ideas and tips and items to make your office more eco-friendly.
Paper
Try to use less paper
Print less frequently if possible
Use the both Sides of paper
If you have to use paper, buy paper made from 100% recycled paper or non-wood sources.
Recycled Paper
Click here to see this recycled paper on Amazon.
Non-wood sources of paper
The paper shown below is 95% fiber from sugar canes…not trees.
Is your office considering some non-wood sources of paper?
If so, you may want to check out this product.
Click here for more details of this 95% sugarcane paper.






Eco-Friendly Website Hosting Company
When I made a conscious effort to try and be more environmentally friendly with my business I looked closer at website hosting options.
I wanted to become a …

I decided to go with Green Geeks. They are online website hosting company that buys 3 wind energy credits for every 1 amperage of energy they use to run their facilities.
They say they're the World's Most Environmentally Responsible Web Hosting company.
I do like that about them, but what really sealed the deal for me was the free website migration.
I had my website hosted on another provider for a few years and I wanted to make the change.
But I didn't want to pay a lot of money to move the site from one hosting provider to another.
If you are interested in migrating your website from your current hosting provider to a GREEN provider, then check out Green Geeks.
The link below will take you to Green Geeks, and if you decide to switch to them (as I have) then I'll earn a small commission. (So it helps support my site too 🙂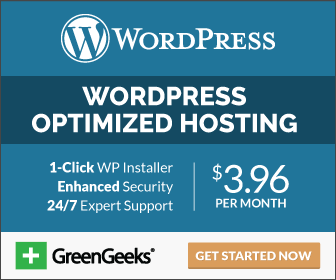 Check out my post on Why I switched to GreenGeeks.
Pens and pencils
There are a large variety of eco-friendly pens and pencils.
Eco-friendly writing options include:
pencils made from recycled newspaper
pens made from recycled plastic
Pens made from bamboo and other non-plastic sources.
The cool-looking pencils below are made by Sprout. 
The end of the pencil has a seed capsule that you put into the ground and plant once the pencil is used up.
And you can see by the engravings on the shaft of the pencil what each pencil will grow.
Do you see how it says "Basil" or "Forget me not"?
Those are the herbs and flowers that those particular pencils will grow.
Pretty cool! I haven't used them yet myself because I still have lots of pencils left over from my kids' school supplies.
But when I need new pencils I'm going to check out these cool pencils.
Click here to see details of the Sprout pencil on Amazon.





The pencils below from Dixon claim to be made from wood scraps.
They say this results in less wood waste.
If you want more details, you can click here to see on Amazon.
The pen shown below is by a company called Onyx. (You'll see that company a few times on this list. Making eco-friendly office stationary seems to be their "thing.")
The body of the pen is made from bamboo (a quick-growing, fibrous plant that is more grass than tree and grows much, much quicker than a tree).
The packaging is also made from recycled material and they say the ink is made from soy.
Check out Onyx's bamboo pen on Amazon.





I have an absolute glut of pens still at home that I've "accumulated" over the years, but once they're gone I'll look into this pen a little further.
It looks both eco-friendly and refined at the same time.
Other Stationary (Erasers, rulers, etc…)
Erasers made from Recycled Rubber – the erasers below are made by Onyx and they contain recycled rubber…which is cool but the main diss against the product right now though is that they're packaged in some plastic wrap.
Bamboo Ruler (not plastic or sourced from tree wood)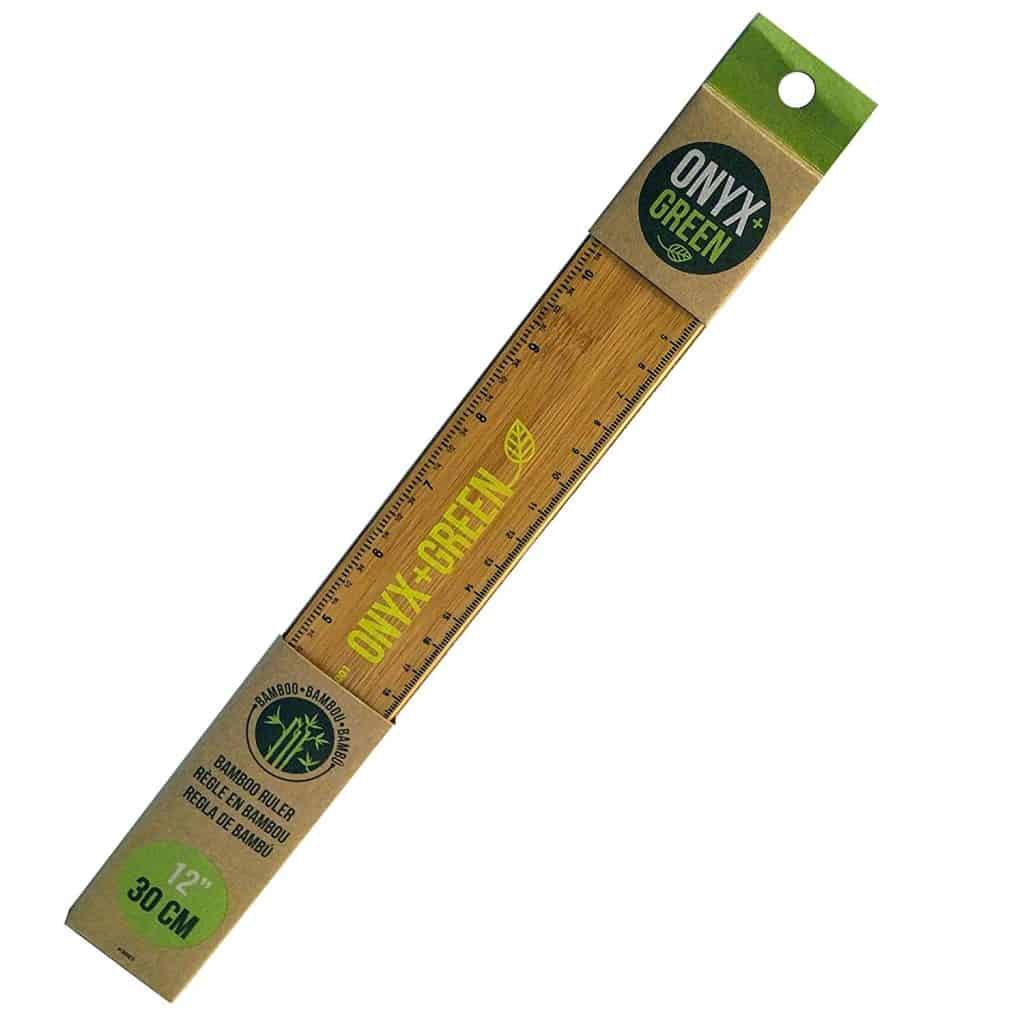 Need a new ruler? Click here to see this ruler on Amazon.








Office Organization
Organize Paper Clutter
This steel mesh vertical organizer shown below can help you get your papers in order. It isn't made of cheap plastic either.
I'ts made of commercial-grade steel to help ensure a long life at your office.
It is available on Amazon if you want more information.
The organizer shown below looks pretty cool because not only does it have the vertical organizers (5 slots), but it also has a slide-out tray for your pens, pencils, erasers, etc…
Check out this cool office organizer on Amazon. Will it work for you?







Bamboo Desktop Business Card Holder
How sleek does this thing look! Add some refinement and luxury to your desktop.
It'd look great on your desk if you meet with customers right at your desk. (Or you can use it to prop up your phone if required.)
See more details about this card holder.







Add a recycling bin to all the rooms.
When I started my previous job they didn't have a recycle bin!
It was so simple to get one, and this helped us divert tons of plastic from the landfill.
I don't have an exact measurement but it was probably 2 cubic feet of plastic waste that was saved from landfill daily.
Lunch Room Ideas
Put a recycling bin in the lunch room. And a bin for returnable soda cans and bottles.
Put reusable washable hand towels (a.k.a. napkins) on the lunch room table.
If your office isn't very colorful and you don't like the ones above, then check out the hardy black cloth napkins below.
Perhaps this is more fitting for your office space.
Try to establish weekly rotation of volunteers to take them home and wash them, or just do it yourself if you need to take the lead.
If you want some additional waste to reduce lunch box waste you may like this article.  







Getting to work.
Commuting and idling in traffic jams is a large contributor to greenhouse gas emissions.
So getting to and from work is a great way to use eco-friendly transportation options.
Does your work have a bike rack?
A former coworker of mine regularly rode 16 km to, and from work daily. He would take his bike seat off and lock up the bike to help prevent bike theft.
And my brother-in-law who lives in the rainy Pacific Northwest rides his bike to work rain or shine.
When you live in the Pacific Northwest you have to expect rain, so he plans and prepares for it by having adequate rain gear for biking.
And make sure that you are properly illuminated so cars can see you. If you do any cycling in the dark or in the rain then make sure you're visible.
Curious about this high visibility vest for biking? Click here to see more details.



Maybe this is your year to start riding to work? (Or how about your week or day? Got to start somewhere right )
Public Transit
Does your local mass transportation services go near your work?
Look into whether a bus or train can get you to work.
I know many folks that use public transportation commuting time to either get personal work, job work or side hustle work completed. Basically it makes them more productive.
Plus on the way home it provides a way for you to relax and let the pressures of the day slipped away before you go home to your family.
You no longer have to white knuckle it in traffic jams anymore.
I hope this post inspired you start looking around your office and finding some ways you can make it more eco-friendly.
This could be:
Eco-friendly office supplies
Eco-friendly office organization ideas
Or even just eco-friendly ways to get to work
Thank you for checking out this article. I appreciate it.
Plus, check out:
14 Eco-friendly School Supplies (great for back to school)


15 green and sustainable Kitchen Swaps that you can make