Is your entryway a cluttered mess? This article highlights 17 inspiring entryway organization ideas and storage ideas because the entryway of your house provides the first impression of your house's interior.
Join me as I learn about ways to organize a front entrance.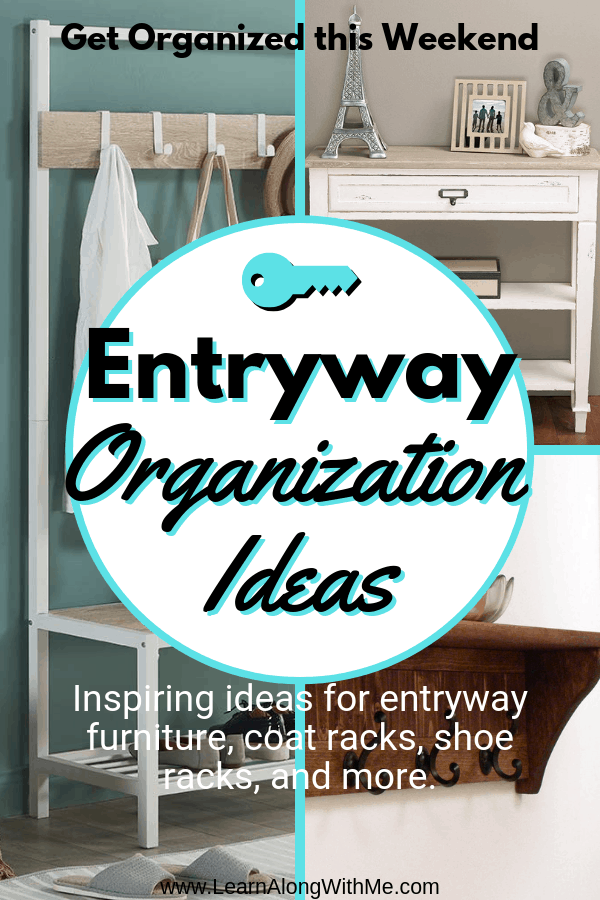 This article contains affiliate links. If you click a link and buy something I may receive a small commission at no extra cost to you. As an Amazon Associate I earn from qualifying purchases. For more information please see the Disclosure page.






List of Entryway Organization Ideas
To help organize the front entryway there are a variety of options.
You can get furniture like entryway benches, entryway console tables, storage chests and even make an entryway closet.
You can also get shoe racks and coat hangers combined into one unit.
Plus, there are great ways to maximize your wall space by hanging coat racks, hat hooks, and even storage shelves.
In the article below I'll show you some examples of these items that I came across. Do any of them suit your home and fulfill your family's needs?






1) Small One-Drawer French Console Table
There are lots of options for entryway furniture.
But you should ask, does it fit in your space?
And does it fit your decor?
I found this cute one-drawer and two shelf french console table on Amazon where it is quite popular.
Would this work in your home?

2) Shoe Rack / Bench
Do you trip over your family's shoes when you come in the door?
I have a whole post dedicated to shoe racks (click here to see it) because I have the same problem.
What is nice about this shoe rack is that it has a bench on top so you can sit down to take off your boots or shoes.
Just be careful, this bench seat has a weight capacity of 198 pounds…so you'll need a sturdier option if you weigh more than that.
Click here to see more details about this shoe rack bench.
3) Entryway Storage Bench
I like the little cubby holes in this entryway bench. You could stash your shoes, gloves, hats, and more in these cubbies.
The weight capacity for this bench is 240 pounds, so it is heavier-duty than the one shown above.
If you put a nice white wall-mounted coat rack above this you'd have a great one-two punch for entryway organization.
See here for more information about this entryway bench.
4) Shoe Rack and Coat Hanger in One Unit (Like an entryway organization power couple)
There are lots of options out there for combination units, where there is a shoe rack and and coat hanger in one.
The black metal and wood unit shown above is a popular option on Amazon if you think this will suit your home.

Below is another shoe rack coat hanger option.
This white metal with light oak bench below has a nice simple look. And it isn't too bulky.
5) Entryway Organizer – Wall mounted key hooks and Mail pocket
A wall-mounted organizer like this helps keep junk (keys, mail, knick-knacks) off of your flat surfaces.
If you put a table by the front door, how quickly will it become a dump pile? Did you say right away?
Me too!! Having it up on the wall would help.

6) Entryway Cubby Shelves with Hooks
I like the look of this entryway shelf organizer. This particular coat rack with cubby storage and shelf is 5-feet wide so it is quite a big unit. You can buy shorter versions too, and in different colors.
If you want to see other options you can click here.
7) Umbrella Holder / Shoe Rack
If you live in a rainy city you'll likely have an umbrella. More likely you'll have multiple umbrellas!
This bamboo shoe rack has an umbrella corral on the side so they'll always be within easy reach.
Not everyone will need an entryway organization rack like this, but if you need a place for umbrellas, you may want to check this out.
Want more shoe rack ideas?
Check out our article on: 13 awesome Shoe Rack Ideas
8) Storage Chests
Do you have room at your front entryway for a storage chest?
We unfortunately do not.
I'd love to toss stuff in there and have it out of sight, but we just don't have the space.
This storage chest shown above could be used as a toy chest as well: it has soft close hinges.
I think you'd want to avoid tossing damp items in there though.
They'd get all musty. So make sure your soggy mittens or damp scarves dry off before piling them in here.
9) Farmhouse Console Table (with drawers)
If we had the space, I'd love to get an entryway table with drawers.
Then I could get a drawer organizer, and throw stuff in there, instead of emptying my pockets onto a table-top.
This one above is a popular choice on Amazon.
It is 4-feet wide. It's way too big for our small split-level entryway, but would it fit your space?
This one looks cool because it has the shelf at the bottom too.
You could put some baskets or bins down there to stash mitts, hats, scarves, etc…
Variety of Coat Racks – more great Entryway Organization Ideas
There are so many coat rack options out there!
You can pretty much get a coat rack to match any hobby or lifestyle (hunting, camping, farming, cat-lovers, etc…)
Coat racks, and basically any wall-hangers, are great way keep clutter off the floor: they are great entryway organizers.
Couple them with a shoe rack and you're on your way to having a nice, clear front entrance.

I discovered most of the coat racks below on Etsy.
Man, that place is a cornucopia of awesome coat racks!!
These might not match your home decor, but some of these would make pretty gifts.




10) Metal Antler Deer Coat and Hat Rack
This is a great piece for your cabin or woodsy home.
It won't go well in all houses, but if you already have some rustic, woodsy decor, this would look awesome.
11) Mountain Coat Rack
12) Rustic Coat Rack
I also found this wood coat rack on Etsy.
The seller has lots of good ratings, and this wall-mounted shelf with coat hooks looks well made.
There are some great user-submitted photos were purchasers of this product snapped their own pictures and uploaded them.
Check them out by clicking here and then scrolling down.
13) Piano Keys Coat Rack (great housewarming gift for musicians)
This is a clever coat hanger. The black keys flip down to act as coat hooks.
You can get more details on this product by clicking here to see it on the creator's website, PracticallyWood.fi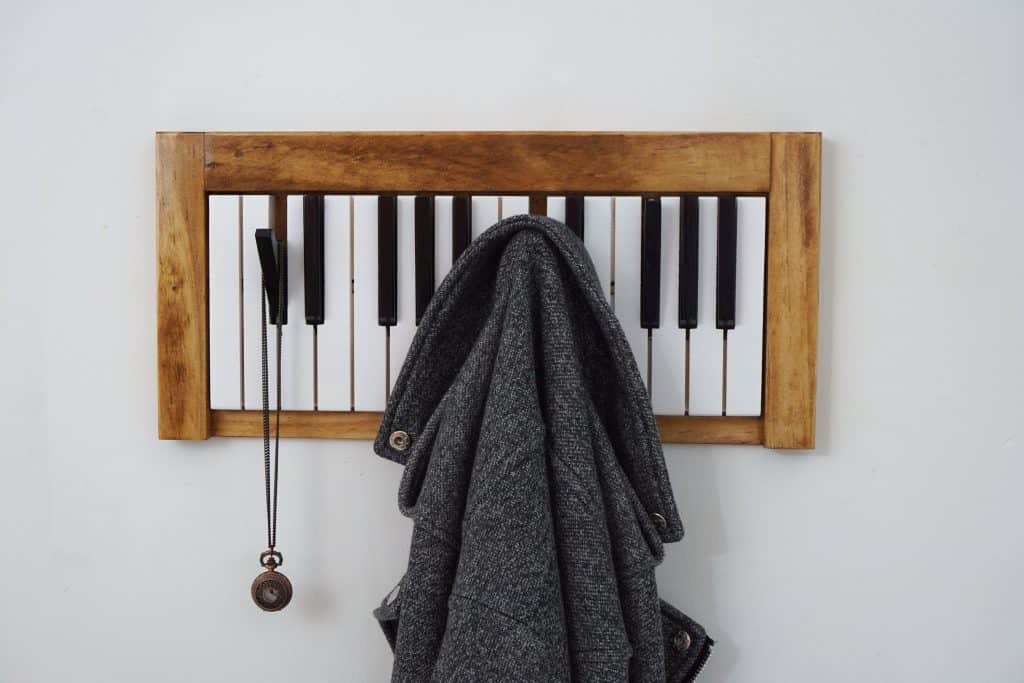 14) Beach House Coat Rack (for Bikinis and Trunks)
This would be so awesome in a beach house or next to the pool. (I don't have either of those things but I can dream. 🙂 )
15) Hockey Lovers Hockey Stick Coat / Hat Hook
I gotta get this for my sister she has two little ones in hockey and her youngest will likely be playing soon.
Do you have a hockey lover in your family?
Want more Hat Storage Ideas? Check out our article with lots of solutions.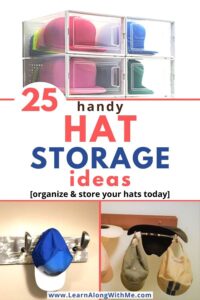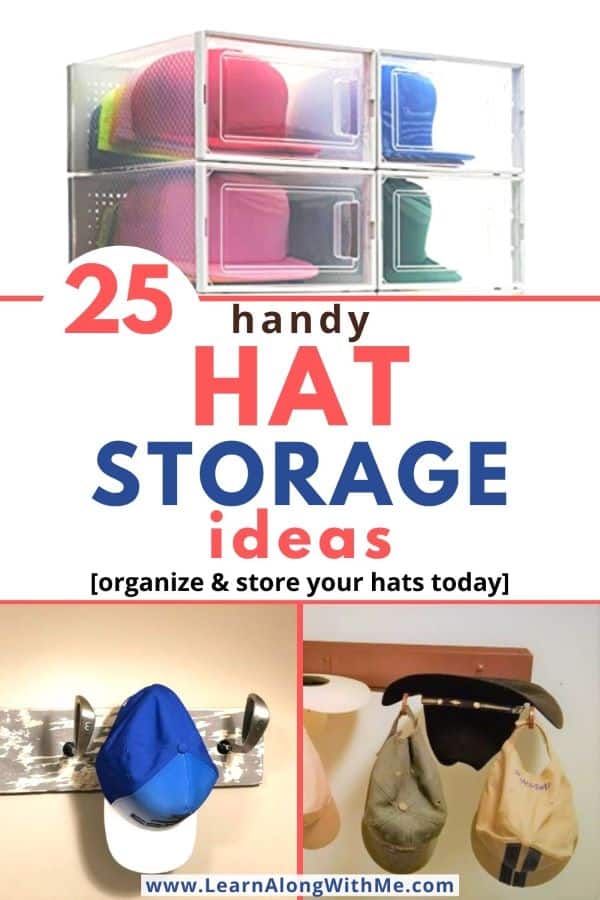 16) Coat Racks / Hat Hanger for Sports Fans
If you don't like the Patriots – just take a deep breath – I've just shown this one as an example.
This seller on Etsy, named "tomshangups" has lots of different football teams (like the Eagles, Saints, Bears and more), and baseball themed coat hangers too.
You can get the Dodgers, White Sox, Red Sox, Tigers and more.
17) DIY Farmhouse Coat Rack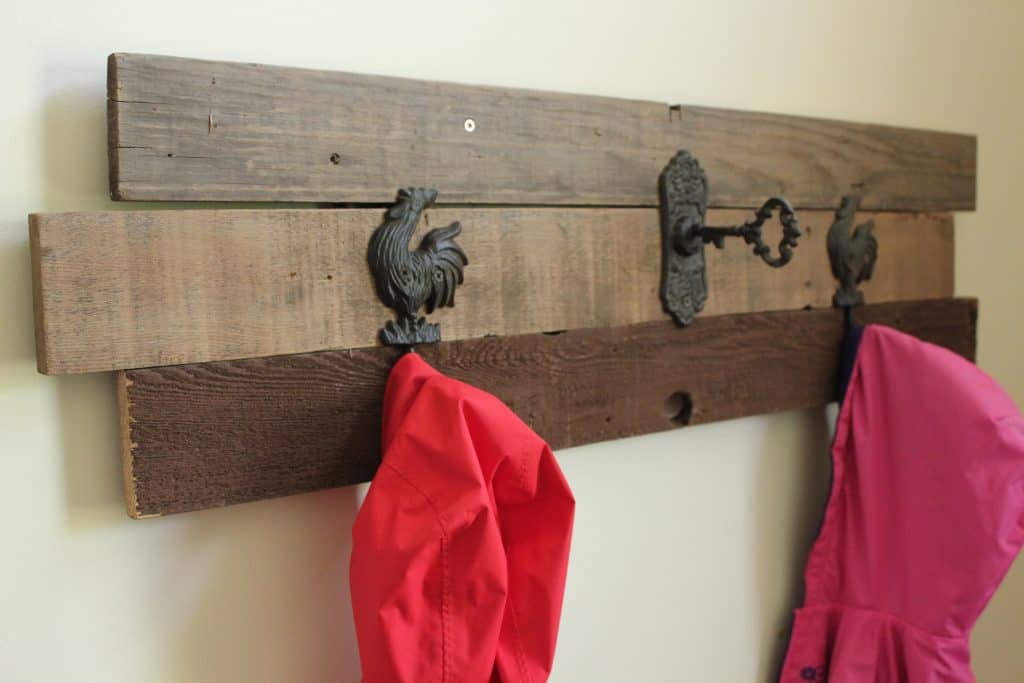 This is a picture of the DIY farmhouse coat rack that I built. It was a quick woodworking project and it helped organize our front entryway.
Click here to see more on this DIY farmhouse coat rack.
Thank you very much for checking out these 17 handy entryway organization ideas.
I really appreciate your time, and I hope you've found some inspiring ideas.
Other Home Organization Articles
25 handy Hat Storage Ideas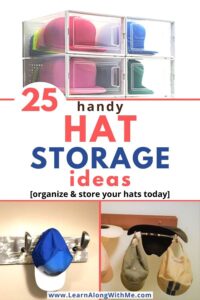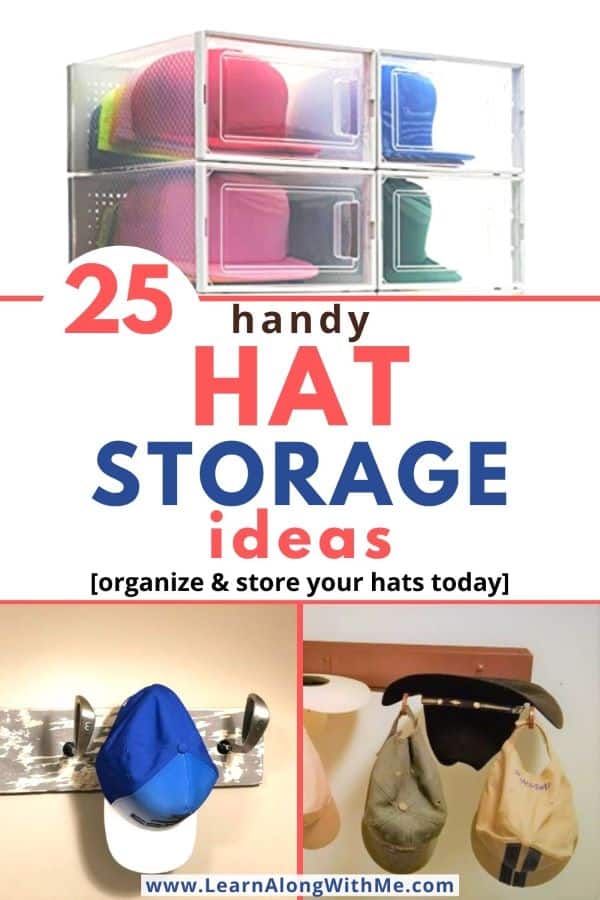 13 awesome Shoe Rack Ideas (helps to get your entryway organized)