Baskets can be a great way to organize your things. But you don't need to settle for ugly plastic bins. In this article we'll look at 11 stylish storage baskets available on Etsy. They are both attractive and super-handy organizers.
These Etsy Storage Baskets will include some:
Felt storage Bins & Baskets
Fabric storage baskets (like linen and canvas)
Wooden storage baskets
and more…
This article contains affiliate links. If you click a link and buy something I may receive a small commission at no extra cost to you. As an Amazon Associate I earn from qualifying purchases. For more information please see the Disclosure page.
11 stylish Etsy Storage Baskets to help you organize your stuff in style
You can use baskets to store a variety of things in every room in your house.
These Etsy storage baskets are so good-looking that you'll want to have them on display.
Let's start the list of stylish storage baskets that you can find on Etsy.com
Will one of them work for you?
1) Linen Storage Basket (by Tingsshop on Etsy)
Aren't these cute looking fabric baskets?
These have linen on the outside and a heavy cotton liner.
They are handmade by a small Canadian company, and this product has over 30 reviews for it and lots of positive buyer comments.
2) White Rope Storage Baskets (by MojostudioDesign on Etsy)
You can buy the small, medium or large white cotton rope basket separately, or you can buy them as a set.
They are handmade by an American company – Mojodesign Studio – and they would look good as an insert into an Ikea Kallax unit, or similar cube shelving system.
Do you like the look of these?
3) Jute Woven Storage Baskets (by ChloeAndCottonBasket on Etsy)
Do you have cube organizers in your house? Are you looking for something more than just the standard fabric storage cubes?
The Etsy seller named ChloeAndCottonBasket make these woven jute baskets designed to fit into most cubby organizers that have opening 13″X13″X15″
Click here to read some of the reviews of these jute storage baskets.
4) Macrame Rainbow Storage Basket (by MakinitRainbow on Etsy)
Isn't this a cute little basket.
This small basket has a boho styling that would work well on a nightstand as a catchall.
It is 10-inches wide and 6.5-inces tall.
Do you like the Boho look?
If so, check out these Boho bedding options to instantly change the look of your bedroom.
5) Wooden Storage Basket for Fruits & Veggies (by TreeLineWoodProducts on Etsy)
This small wooden storage basket is intended to sit on your kitchen counter and hold your fruits and vegetables. I guess you could put it inside a cabinet, but if you have something so nice, you'll probably want to display it on your counter.
It isn't very big. It measures 12-inches wide, 5-inches tall, and 9-inches deep. So it won't take up a lot of room on your counter and it'll provide a place to put fruit and other items that are probably strewn across your counter already.
Will this work in your kitchen?
If not, you can get it in different colored finishes. (There is a drop box on the Etsy product page that says "Select a Finish".)
6) Felt Storage Baskets (by MagdecorShop on Etsy)
Imagine how cluttered the shelf-top in the picture above would look if they didn't have those baskets. There would be books and bottles all over the place.
And look how tidy it looks with that stuff "contained" in those baskets. So good right.
Do you have cluttered surfaces that would look better if you have some nice baskets?
These are felt baskets with leather handles made by the Etsy seller Magdecor Shop.
You can buy them as a set of two baskets, or buy them individually.
7) Customized Lettering on a Felt Storage Basket (by BaublesbyReDpants on Etsy)
This is such a cool idea.
You see the picture above where it says "Dog Coats" and "Mittens and Gloves"? You can order these felt storage baskets to say whatever you want on them. The Etsy seller – BaublesbyReDpants – will embroider your personalized text onto the basket!
Just imagine how cool these would look in your home.
And if you don't like this dark charcoal color, they also sell a nice light grey basket.
8) Wooden Storage Basket for your Bathroom (by BrownDogFarmhouse on Etsy)
Do you want to add some rustic charm to your bathroom? Check out this wooden storage basket by BrownDogFarmhouse on Etsy. It has rope handles on the sides.
Unfortunately the seller doesn't list the dimensions on the product…so it is hard to tell how big it is. It looks like it'll store at least a couple towels though.
9) Tiered Wooden Storage Basket Shelf (by BirdieDesignCompany)
Here is a different style of storage baskets. Instead of being freestanding baskets, you mount this three-tiered unit to your wall.
It would work well to hold towels in the bathroom (as shown above), but it would also work well in the kitchen for fruits, veggies and snacks. Plus, you could use it to hold books and other items next to your bed in lieu of a nightstand.
Will this work in your home?
10) Customizable Canvas Storage Baskets for your Closet (by A Southern Bucket on Etsy)
Do you have shelves in your closet? Are they as organized as you'd like them to be?
If not, check out these canvas storage baskets made of unbleached canvas with black woven cotton handles. They are made by the Etsy seller A Southern Bucket.
And you can get the text on the baskets personalized. So if you need a basket dedicated to accessories, socks, or bikinis… you can have the seller write that onto the basket for you. A clever and attractive closet organization idea.
These would make a good closet sweater bin too.
If you want more ways to organize your closet, check out our article jam-packed with 53 clever closet storage ideas.
11) Seagrass Baskets for Small Item Storage (by rymds on Etsy)
Do you have a lot of small items cluttering up your bathroom counter?
Some seagrass baskets like these ones (by rymds on Etsy) provide an attractive and convenient way to organize the counter surfaces in your bathroom.
They come in either the small size or the large size. Neither of them are huge, so they shouldn't look out of place on your counter, or on your bathroom shelves.
Will these help make your bathroom look tidier?
If you need help organizing your bathroom…these articles will help you:
Baskets can help keep "like items with like" and they can be a great way to reduce the clutter on a surface. Just having your stuff in a basket instead of strewn across a counter will make the room look tidier.
Did you like one of these Etsy storage baskets?
And please let me know if you click a link and find one of the products is no longer available. (Sometimes Etsy sellers shut down their shops so the link won't work, and I'd appreciate your input if you come across this. Thank you.)
Up Next:
13 Entryway Shoe Storage Ideas (and other shoe rack ideas)
11 stylish Square Storage Ottoman options (keep your stuff organize and out of sight)
13 awesome Daybed with Storage options – seating, sleeping and storage in one piece of furniture! Yes Please.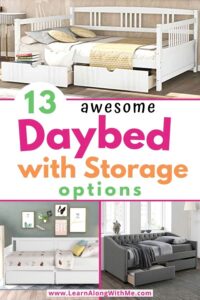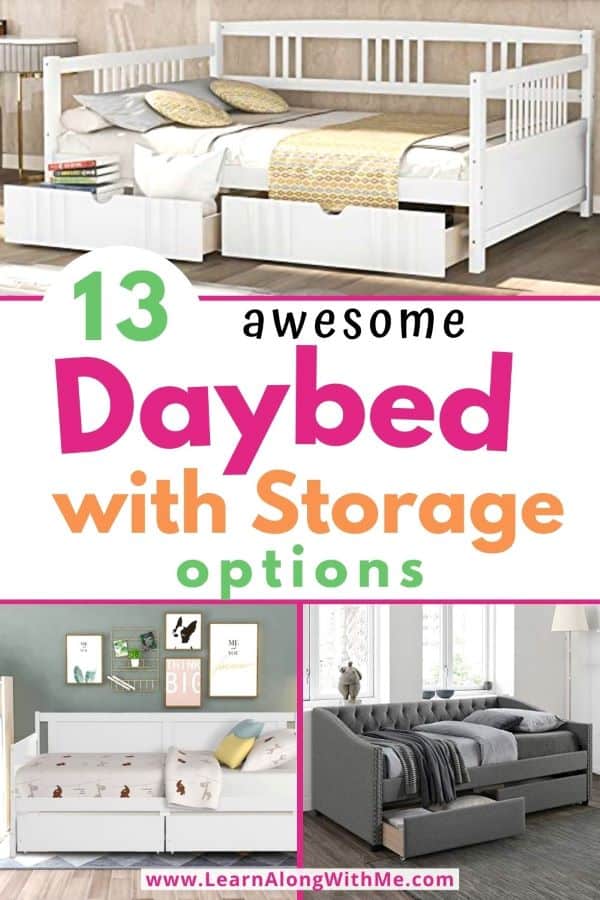 Plus, check out:
13 lovely Queen Daybed Options [excellent daybeds for adults]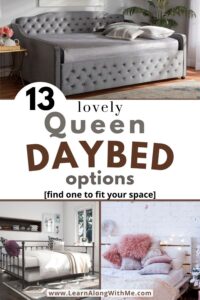 Handy Over Bed Storage Shelves [and other storage ideas for above your bed]
Farmhouse Coat Rack – an easy DIY option that I made in an afternoon