These expandable faux privacy fence ideas will give you privacy around your yard or deck without having to build a complete privacy fence. Which one will work for you?
This article contains affiliate links. If you click a link and buy something I may receive a small commission at no extra cost to you. As an Amazon Associate I earn from qualifying purchases. For more information please see the Disclosure page.
17 proven Expandable Faux Privacy Fence Ideas
Whether you're needing an expandable privacy fence to cover your chain link fence, deck or patio, one of these 17 ideas should help you.
But scroll to the bottom so you don't miss the one that may be perfect for you.
Things to keep in mind about expandable faux privacy fence ideas:
you don't need to fully expand them…you can adjust to fit your needs
generally the farther you expand them the more sparse they look
most can be tied or zip-strapped to an existing structure to add privacy
Expandable Faux Ivy Privacy Fence (Amazon)
This artificial ivy fence made by Garden Land is available on Amazon.
They sell it in a couple different colors. The brighter green on the right side is their "Green" color, and I believe the section on the left is their "Dark Green" option.
The green version has leaves that are just over 3.5-inches wide (so a nice broad leaf). The Dark Green option has smaller leaves that are just under 3-inches wide.
Below is a picture showing the back of the artificial ivy panel, and it shows how it is expandable. It has an accordion-like structure back there. It expands to almost 120-inches wide (10-feet), but you can adjust it to fit your needs.
CLICK HERE to see more details of this faux ivy privacy fence on Amazon.
4 Pack of Expandable Privacy Screens
What's cool about this privacy fence, is that it comes as a 4-pack. So you can get 4 of the expandable panels and when fully expanded, each one measures over 2.5-ft tall by 9.75-ft long.
So you could tie a few of these together to make an impressive privacy wall of fake plants.
I'm not a botanist, but those don't look like artificial ivy leaves, do they? That's how they're described on the Amazon product page. Regardless, they are still a popular, highly-rated expandable privacy fence. And they've got some white flowers to break up the monotony of the green.

Expandable Privacy Panels with Green Leaves and Purple Flowers
Do you want something besides just a wall of green?
These panels come with purple flowers on them for a decorative touch.
It is made by the same company (DOEWORKS) as the panel with white flowers shown earlier.
The accordion style backing is made from real willow branches.
CLICK HERE to see more details on Amazon.
Expandable Faux Privacy Fence with Yellow-tinged Leaves
I like how these UV-resistant leaves have some yellow on them. It adds some variety.
This also has a real willow frame that can expand up to 10-feet wide.

Dark Green Faux Ivy Privacy Fence
In the picture above it shows this artificial ivy product being used to add some privacy to a raised deck. You can just tie or strap it to your deck's railings or balusters.
When it is expanded, it doesn't provide complete obstruction, but it does enhance privacy.
Click here to see more details of this Dark Green Faux Ivy privacy fence
Red Expandable Faux Maple Privacy Fence
I like how "different" this one is. Most of the others are artificial ivy, and this one has faux maple leaves. And the others are green, whereas this one is an eye-catching red.
This is a popular product on Amazon, but unique enough that you don't see it in everyone's yard.

Expandable Faux Privacy Fence Lowe's NatraHedge option
This expandable panel is available at Lowe's.
What is cool is that it has artificial ficus leaves instead of the usual ivy leaves. This particular product doesn't have a willow stick structure. Instead it has brown plastic tubes on the accordion-like backing.
There are a lot of positive review, and customer photos on Lowes.com
Expandable Faux Privacy Fence with LIGHTS
How cool is this! This expandable privacy screen comes with a string of 113 LED lights strung around the panel.
The lights are solar powered.
This could give a nice ambience to your deck or yard while providing some privacy from your neighbors.
You can find this product on Amazon.

Expandable Faux Privacy Fence Home Depot option
This is an artificial ivy expandable fence that is available at Home Depot.
It says it can expand to up to 10.5-feet wide, but it doesn't give the height once it is fully expanded. It does show a picture on HomeDepot.com of it fully extended beside a pickup truck, and once expanded it was about the height from the ground to the bottom of the truck.
Click here to see more details.
Expandable Gardenia Leaf Greenery Fence
This very highly-rated expandable privacy fence has faux gardenia leaves instead of the usual artificial ivy.
And the structural backing for this product is actually bamboo poles (not willow or plastic).
It measures 9-feet wide by 20-inches tall when fully expanded. Or it contracts to be just 2-feet wide by 50-inches tall.
There are some really impressive-looking customer photos on Amazon.

Artificial Laurel Leaves Expandable Privacy Fence
This is similar to the other expandable fences we've already seen, but this one has faux Laurel leaves.
And its quite a dense-looking screen which should provide good privacy.
You can get it in a 1-pack, 2-pack, 3-pack or 4-pack.
Want to see what others say about this?
Click here to see more details…
Faux Ficus Privacy Fence
Here is another product that has faux ficus leaves. This one looks pretty lush.
Seeing this fake plant screen so close to the chairs reminds me about bugs.
Bugs are usually not attracted to fake plants as much as the real thing, so hopefully you won't have to be swatting as many wasps away if you have an artificial plant fence or privacy screen.

Faux Sweet Potato Leaves Privacy Screen
This particular product doesn't look very dense…I don't think it would do a great job at obstructing your neighbor's view, but put over top of a wind screen, or as a fence topper it could work well.
I've included it because it has fake sweet potato leaves instead of ivy or laurel. Just something a little different.
Make your own Expandable Faux Privacy Fence
The company GLANT sells this expandable willow accordion frame that you could use as the base to make your own expandable privacy fence.
You could use it as a trellis to let real plants grow over, OR you could attach fake plants to the poles to get your desired look.
Click here to see more details on this expandable frame.
Artificial Wisteria Vines
You could attach artificial wisteria vines like this to the frame structure shown above and create your own amazing expandable privacy screen.
It could look really good surrounding a raised deck.
These are really popular for weddings and outdoor gatherings.
Click here to see more details on Amazon.
Artificial Ivy Vines (to make your own privacy screens)
Are you DIY-type of person?
You could take artificial ivy vines like this and wrap them around an expandable fence frame to create your own expandable faux ivy privacy fence.
OR…you could use them to "thicken up" your current privacy fence to make it more obstructive and provide more privacy.
These are super popular on Amazon.
Expandable Faux Privacy Fence Walmart Option
Do you prefer to shop on Walmart.com? This is an expandable screen with plastic ivy leaves and a wood frame.
The close-up photos of this product look good. The leaves look realistic (in the photos anyway).
It doesn't look very dense, so it isn't going to provide 100% privacy, but perhaps you could thicken it up with some fake ivy vines shown above.

Thanks for checking out the article. Which of these expandable privacy fence ideas will work for you?
You May Also Like:
9 ways to add privacy to your raised deck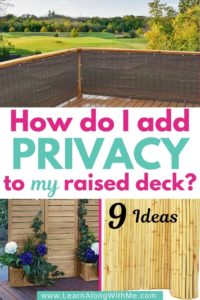 8 proven chain link fence privacy ideas
Artificial Hedge Wall – (another great way to add privacy to your deck or patio)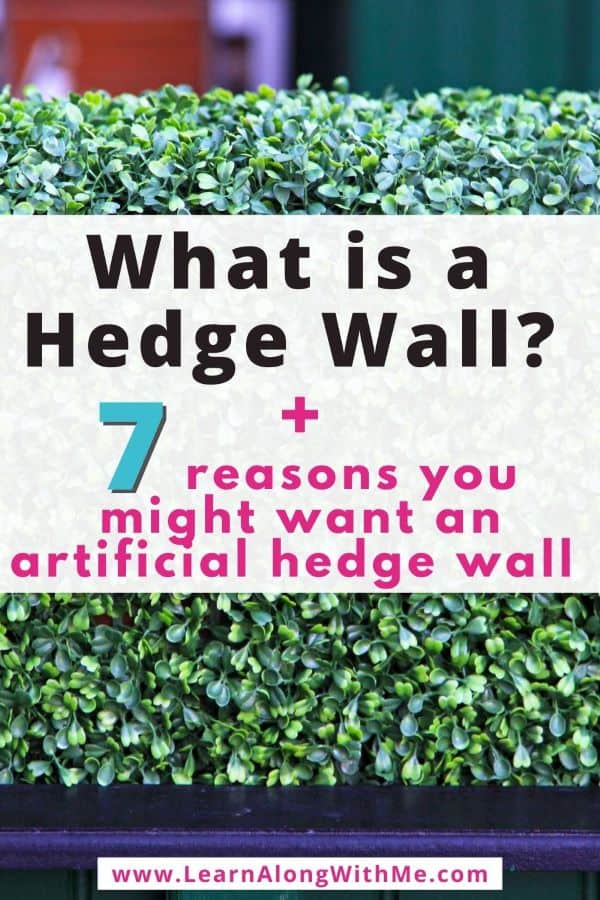 9 awesome Fence Toppers [to improve the look and add height to your fence]