Fall doormats are a great way to improve your fall porch decor. In this article we'll look at 13 great fall doormat ideas that'll help you welcome in the crisp, autumn season including:
some cute fall doormats
lots of pumpkin door mats
and more…



This article contains affiliate links. If you click a link and buy something I may receive a small commission at no extra cost to you. As an Amazon Associate I earn from qualifying purchases. For more information please see the Disclosure page.





Note: this article has been updated to include more options. So it has more than just 7 fall doormat ideas.
List of fantastic Fall Doormat Ideas
Having a fall themed doormat in front of your door will make your porch more attractive and help keep dirt, grass and leaves outside, and not in your house.
You are not going to like all of the fall doormat ideas below, but hopefully at least one of them will have you "fall"-ing in love with it.
1) Pumpkin Coir Welcome Mat (Amazon)
This 18-inch by 30-inch outdoor mat made of coir features colorful pumpkins and a simple message, "Welcome" written in a lovely script font. It is simple, yet effectively captures the essence of fall.
It is quite popular and available on Amazon.
2) Welcome Pumpkin Truck Doormat (Amazon)
This pumpkin truck doormat is made of coconut coir and has a layer of PVC on the bottom that acts as a non-slip surface.
I like the vintage vibe of this mat with the old truck loaded with pumpkins. It has a nice "farm feel" to it. If you want to check out more details on Amazon you can click here.
3) "Hey There Pumpkin" Welcome Mat (Etsy)
I discovered this cute welcome mat on Etsy. It is sold by the OliveCreativeCompany.
If you want to see more pictures of this mat in people's homes, click here to view the product page on Etsy, and then scroll down to see the reader submitted photos. So cute.
Hye, Can you guess what made our list of Fall Porch Decor Essentials? (Click here to see if you were right!)
4) "Happy Fall Y'All" Welcome Mat (Etsy)
Here is another great welcome mat for sale on Etsy. This one is made by MonkeyflyMemories. It is made from coir, and has a latex backing to prevent slipping.
5) "Hello Fall" Welcome mat with Bicycle and Colorful Leaves (Amazon)
In the fall when the air is crisp I love getting out and going for bike rides.
This outdoor mat with its vintage bicycle and colorful leaves is a delightful looking fall doormat.
It is made by Elrene Home Fashions and is available on Amazon.
6) "Thankful, Grateful, Blessed" Welcome mat (Amazon)
This 18"x30" door mat is made from natural coconut fibers and has a non-slip backing.
It is available on Amazon if you want to see more information about this nice fall doormat.
7) "Welcome to Our Pumpkin Patch" with Customized Last Name (Etsy)
This unique door mat can be customized to have your family's last name painted on it.
It is sold by RKO Creative on Etsy.
It is a great way to add a personalized touch to your fall front porch decor.
8) "Autumn Leaves" Fall doormat
This popular and well-rated fall doormat has a natural rubber backing to help prevent it from sliding around your porch.
If you want to get a fall doormat that has a design other than pumpkins…
…maybe this'll work for you?
9) Welcome Doormat with Cute Pumpkins
This cute fall doormat has a rubber backing and low-profile polyester fabric on the top.
It measures 17-inches by 29-inches, and can be used inside or outside.
But if you want a wider doormat, you can also get this design on a 17-inch by 47-inch version. (Click here for details on this wider version.)
10) Fall Doormat with cute owl design
Here is another cute fall doormat. This one features some owls among the letters that spell F-A-L-L.
It is a low-profile mat to try and prevent tripping on it. And it has a rubber backing to prevent slipping.
This is another popular option. (Do you love owls?)
11) Black & White Buffalo Plaid Outdoor mat
This one doesn't have the normal colors of fall porch decor, but a black & white buffalo plaid doormat like this will look great with your other, more colorful fall porch decor.
12) Cute "Boo" Halloween Doormat
There are a lot of great Halloween outdoor mats, and since Halloween is in the Fall, this cute Halloween doormat has made the list.
It is popular and well-rated with lots of reviews.
Do you like the look of this cute ghost doormat?
13) Trick or Treat Halloween Doormat
Most people don't immediately think of the word "cute" when they're describing a bat, but this striped "Trick or Treat" doormat featuring bats and spiders, is a really cute doormat.
It measures 29-inches wide by 17-inches tall…and only about 1/4-inch thick (low profile).
Conclusion
Which of these fall doormat ideas do you want to grace your front step?
Remember that even though these are outdoor mats, they still recommend that you try to minimize their exposure to weather elements like rain, snow, and excess wear and treat.
But if you are placing these under a covered porch, most of the weather elements will be blocked anyway.
Up Next:
9 Delightful Fall DIY Wreath Ideas (for you to make this weekend!)
7 lovely Fall Front Porch Decor Essentials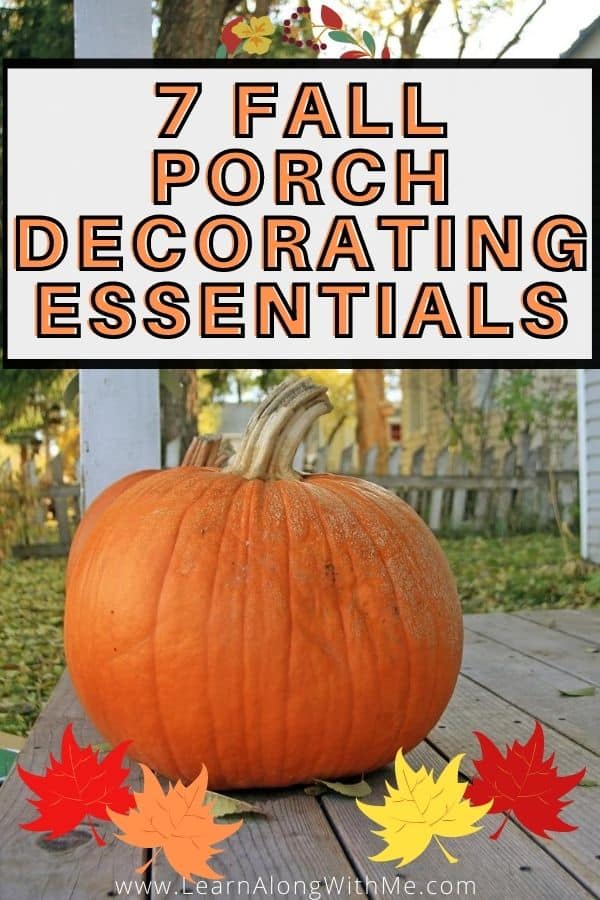 And if you're ready to end the year off right, check out these 7 Healthy Habits to Adopt this Fall