Are you ready to create an amazing fall porch display that'll have your neighbors asking you for decorating advice? In this article we'll look at 7 lovely and inspiring fall porch decor essentials: elements that'll truly make your porch display stand out.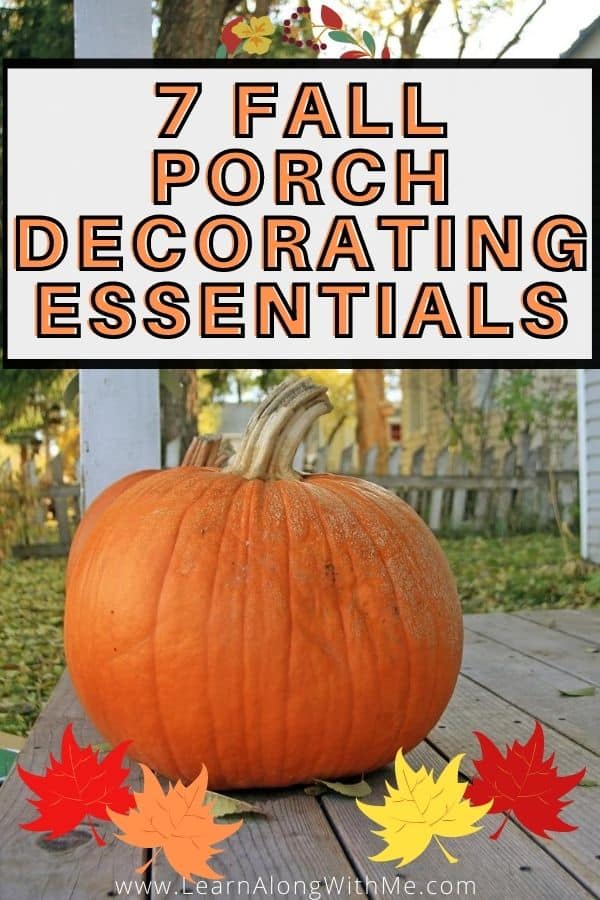 The 7 essential fall porch decor elements we'll look at in this article are mums, pumpkins, porch signs, scarecrows, wreaths, hay bales, and corn stalks.
You don't have to use all 7 of these fall porch decor essentials at one time. But mixing and matching these fall elements will help you achieve a stunning fall porch display.
And keep in mind, it's all about the colors: orange, yellow, and red.
This site is reader supported and this article contains some affiliate links. This means if you click a link and buy a product I may receive a small commission at no extra cost to you. For more information please see the Disclosure page.
Fall Porch Decor Essentials #1 – Mums flowers
In fall we think of falling leaves, harvest and the end of the growing season. But it doesn't have to mean the end of beautiful floral displays… thanks to hardy mums.
Mums are a great colorful addition to your fall porch display. In fact, in many of the photos featured in this article you'll spot some mums.
Here is a good example from Instagram of blooming mums positioned on the front porch.
Fall Porch Decor Essentials #2 – Pumpkins and Gourds
Hard to go wrong when you use pumpkins as a front porch decor element. Check out the picture below from Instagram where the homeowner uses pumpkins and some lights to create an amazing front porch display.
Here is another good example from Instagram of using pumpkins for a splash of color on the front porch and steps. (The mums look good too.)
And if you don't want real pumpkins you can get cute wooden pumpkins like the ones below (sold on Etsy by SweetKiwi Studio).
Is your skin ready for the dryness of winter?
Fall Porch Decor Essentials #3 – Signs and Welcome Mats
A great place for hand-made decorative signs is Etsy.
I found this cute pumpkin "Welcome" sign on Etsy by a maker named SheilaSmithDesigns. Very cool.


In the Instagram photo below I like how they have the Pumpkin Patch sign hanging above the porch swing. So your porch signs don't have to just lean against your house.

If you want to try and make your own fall porch sign, check out the YouTube video below.
Fall Porch Decor Essentials #4 – Scarecrows
Cute scarecrows can make a friendly addition to your fall porch decor display.
This scarecrow above is a picture of 'no sew' Scarecrow pattern that is available on Etsy.
Fall Porch Decor Essentials #5 – Wreaths
What is great about wreaths is that you can use the other fall porch essentials – like gourds, scarecrows and signs – to make an eye-catching wreath.
You can make your own wreath, or you can buy a pre-made wreath like this one below that is available on Amazon.
Check out the picture below for a lovely example of a beautiful fall wreath from the talented Lauren and Robert at blesserhouse.com
Want to DIY a wreath?
Check out 9 Delightful Fall DIY Wreaths you can make this weekend.
Fall Porch Decor Essentials #6 – Hay Bales
Below is a cute little fall display where the hay bale acts as the pedestal for the rest of the display.
Hay bales are closely related to element #7 below (corn stalks and dried foliage), but I believe it deserves a spot of its own because the size of a hay bale provides a good focal point to build the rest of your display around.
Fall Porch Decor Essentials #7 – Corn Stalks and Other Dried Foliage
This lovely photo I found on Instagram has a porch that gets a lot of things right. They have lots of pumpkins and gourds, a nice string of lights, and they have some tall, dried corn stalks. A lot of inspiring ideas in this picture.
Fall brings an end to the growing season and plant foliage begins to wilt and dry up. But that doesn't mean it isn't attractive.
Do you have any plants in your yard that you can collect the dried foliage to make an inviting fall porch display?
Here is another photo from Instagram where the homeowner uses corn stalks along the front posts.
Awesome Examples of Fall Porch Decor from Instagram
In this section I'll share with you some Instagram posts that show these fall porch decor ideas brilliantly.
In the photo below I like how she put the corn stalks all the way around the door. Very nice touch.
The porch above makes great use of plenty of pumpkins, a wreath on the door, corn stalks, a "Pumpkins" sign, and some mums too. Awesome fall porch decor.
I hope these 7 fall porch decor essentials have inspired you to create the fall porch display that you've always wanted.

Now when your neighbors ask you how you created such awesome porch display, you can tell them about how it is just a matter of mixing and matching these 7 elements.
You may also like this article on 11 Charming Fall Porch Decor Ideas.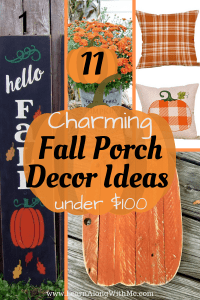 7 Festive Fall Decor DIY Ideas