Do you want to attract some birds to your yard? Well, the thing circling your yard can be a great way to hang your bird feeders. Yes I'm talking about your fence, and in this article we'll check out 9 great fence mounted bird feeder ideas.
Which one will work for you?
This article contains affiliate links. If you click a link and buy something I may receive a small commission at no extra cost to you. As an Amazon Associate I earn from qualifying purchases. For more information please see the Disclosure page.
Note about Bird Feeders
It is good to follow best practices when it comes to have bird feeders on your property. Such as it is important to clean your bird feeder…click here to see how often you should wash your bird feeder and other best practices.
9 great Fence Mounted Bird Feeder Ideas
Let's start the list of fence bird feeders.
1) Bird Feeder that Clamps to Fence top or Deck Rail
This product photo looks Photoshopped to me, but it gives you the idea of how this clamping bird feeder works.
One of the round circles is a plastic bowl for water, and the other is metal mesh to hold the bird seed.
They show it clamped to their deck, but it can work on the top of most fences too.
(Some experts say you shouldn't have bird feeders near your deck because spilled seeds could attract rodents.)
CLICK HERE to see size of this bird feeder.
2) Swiveling Metal Hanger for your Bird Feeder
This product is just the swiveling hook…not the bird feeder itself.
But this swiveling metal hook allows you to hang your favorite bird feeder from your wooden fence.
You screw the bracket into your wood fence and then simply hang your bird feeder from the hook.
This one is a really popular product on Amazon.

3) Old Man Face Bird Feeder
This old man face decoration is intended to be mounted to a tree, but I think it could work well on a wooden fence too.
The gaping mouth of this old man is shaped to hold bird seed. So it'll look like the birds are plucking seeds right out of his mouth.
Click here to see more details on Amazon.
4) Retro Faucet Bird Feeder
This looks like a cool bird feeder. It'll add a nice rustic touch to your fence.
The manufacturer says it is made from cast metal, and that the feeding plate is 6.5-inches in diameter. This is a fairly small plate that is best suited for smaller birds.
Keep in mind that open platform feeders like this have the seeds exposed to the elements. This should be okay if you have lots of birds eating from the feeder and therefore lots of seed turnover…but if the seeds get wet and then sit there they could rot.
5) Post Mounted Bird Feeder made of Recycled Plastic
I realize this isn't the most informative product photo…but it's a cool product. It screws down into the top of a fence mount.
This post mounted bird feeder is made in the USA from 100% post-consumer recycled plastic.
6) Tear-drop Shaped Fence Bird Feeder (Etsy)
The seller – Tapptastics on Etsy – claims this is made from a plant-based plastic.
It is hard to tell from the photo, but it is quite small and best suited for small birds. It is about 6.5-inches high. You can get it in brown or white.
CLICK HERE to see more details on Etsy
7) Small Fence Mounted Picnic Table (for squirrels or bird feeder)
This is probably better suited as a squirrel picnic table (the nemesis of many bird feeders), but some people use them as bird feeders too.
It includes a small 4-ounce stainless steel bowl so you'd only be able to toss out a small amount of seed at a time.
But it would sure look cute seeing your backyard birds hopping on this tiny tabletop.
CLICK HERE to see more details and pictures on Etsy.
8) Heart-shaped Fence Mounted Bird Feeder (Etsy)
Isn't this a cute little bird feeder.
This unique feeder is 3D printed from PLA plastic and is available from FilamentGifts on Etsy.
I think this would make a great birthday gift or Mother's Day gift for a bird lover.
9) Bird Feeder Pole with clamp (2-pack!)
This cool bird feeder has a clamp that you can attach to deck rails or the top of many styles of fences. It can clamp to rails that are up to 2.5-inches thick.
This particular feeder comes as a 2-pack! So you can place a couple of them around your yard.
You could hang some small hanging flower baskets from the hooks to add some more natural beauty.

I hope you've enjoyed this concise list of great fence mounted bird feeders.
If you wanted a DIY fence mounted bird feeder option, you could screw almost any flat-backed bird feeder to your wood fence post. You just may need to get creative on the mounting hardware…but I'm sure you'll come up with something.
Have fun feeding the birds and enjoying nature in your backyard.
Up Next:
15 ways to make your old wood fence look better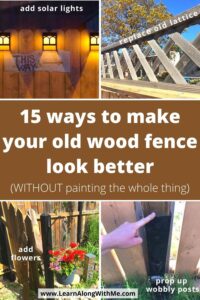 15 awesome Solar Fence Light Ideas (add ambience to your yard)
9 awesome Fence Toppers (to add height and make your fence look better)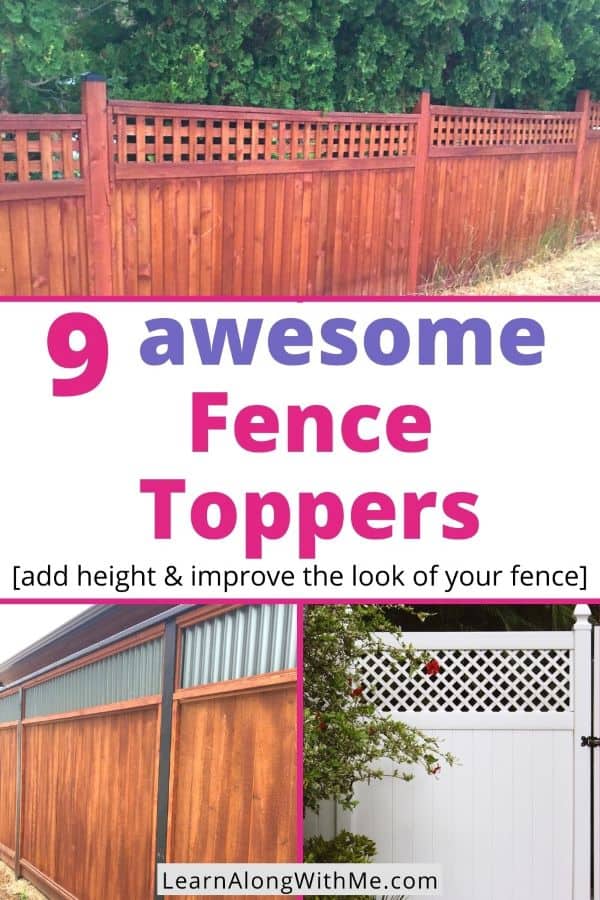 13 charming Welcome Yard Signs (make someone feel special when they pull up to your curb)