Is your fence looking plain and boring? Adding a fence topper can be a great way to make it look better, and add some height.
In this article I'll primarily concentrate on decorative fence toppers that'll change the monotonous look of your fence.
We will look at:
fence toppers for privacy
fence toppers to add style to an otherwise plain fence
fence toppers that add some height to your current fence
(So not things like adding barbed wire to the top of a chain link fence, or little statues on the top of a fence. I do have an article dedicated to how to make a chain link fence taller if that'll help you.)
Will one of these fence toppers work for your fence? (Scroll down to see them all.)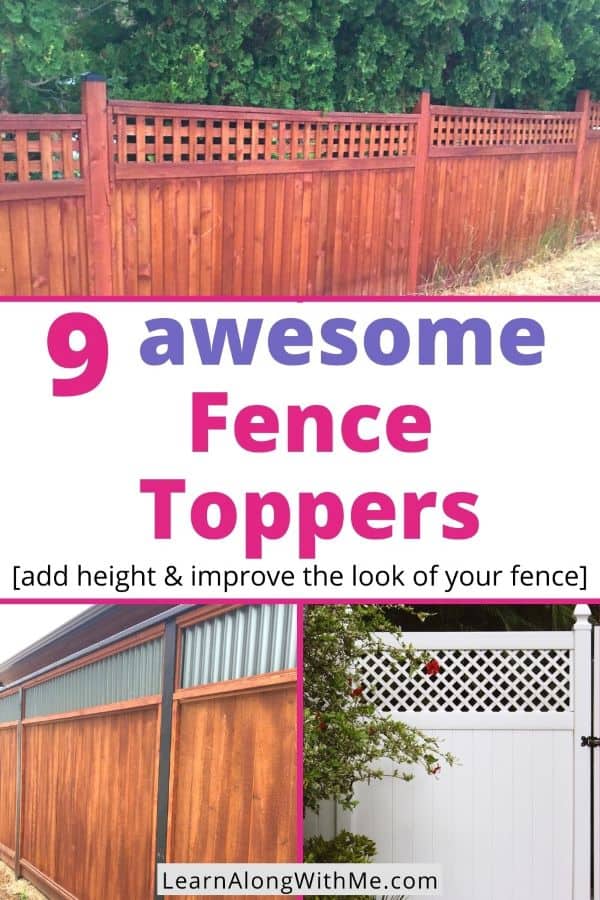 This article contains affiliate links. If you click a link and buy something I may receive a small commission at no extra cost to you. As an Amazon Associate I earn from qualifying purchases. For more information please see the Disclosure page.
Please note: this article features some Instagram photos that were publicly-uploaded by companies. If you are a company whose picture we have featured – and you don't want the extra publicity or to have your work featured – please let me know and I'll replace it. Thank you.
(And sometimes the Instagram photos take a few seconds to load…so be patient because they're worth it. 🙂
9 awesome Fence Toppers for Privacy, Decoration & Height
Some of these fence topper ideas provide the added benefit of giving more privacy.
While some of them will simply make your fence look better (which is a great goal too).

Just remember that many municipalities have height restrictions on fencing. And they may even have different height restrictions for front yard fence versus back yard fence or side yard fence. So before you buy and install one of these fence toppers, make sure you're not exceeding height restrictions for your area.

Some people call these types of fence toppers "fence extensions" or even "fence caps." But I'm going to try and stay consistent and just call them fence toppers.
So here we go…
A Lattice Fence Topper
A lattice fence topper is probably the most common fence topper you'll see on a wood fence. They seem to be everywhere in my neighborhood. And I've seen them on vinyl fences too.
Some people call these trellis fence toppers. (I generally think of a trellis as a framework for vines or other plants to grow on.)
We'll look at a couple of lattice fence topper examples below.
1) Diamond Lattice Fence Topper (aka diagonal lattice fence topper)
The lattice boards go in a diagonal direction creating diamond-shaped openings. I commonly see lattice like this for sale at my local hardware stores.
2) Square Lattice Fence Topper
In this style of lattice, the lattice boards are oriented vertically and horizontally to form little open squares (not diamonds like diagonal lattice).
It helps change the look… it reminds me of a Japanese garden.
Do you like this look?
Plastic Lattice Fence Topper
If you don't want the chore of having to repaint a wooden lattice fence topper in a few years, you could buy plastic lattice. (These are sometimes called a vinyl lattice fence topper because they are usually made from vinyl plastic.)
The downside is that the plastic lattice panels are usually only available in white. (You could buy spray paint for plastic to paint the white lattice, but then you're still having to paint it and it may flake in time revealing the underlying white.)

Your local hardware store probably sells 4'x8′ sheets of plastic lattice. you can cut it into 1'x8′ strips by using a jig saw or other saw.
And then you can build a simple wooden frame to mount the lattice to your fence as a durable, decorative fence topper.
Below is a picture of why I'll probably go with plastic lattice next time…
…this is the wood fence topper on my fence which is in bad need of painting or replacement.
3) Wood-Poly Composite Fence Topper with Designs (by Modinex)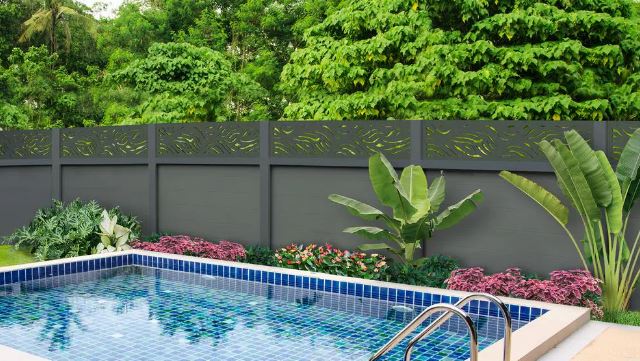 The company Modinex makes these fence toppers with various decorative designs. This particular design is their "Stream" design. It is available at Home Depot.
These panels are 16-inches high by 72-inches long.
This wouldn't work well with my fence because the posts are 8-feet across, and not 6-feet across.
But will this work for your fence?
4) Corrugated Metal Fence Topper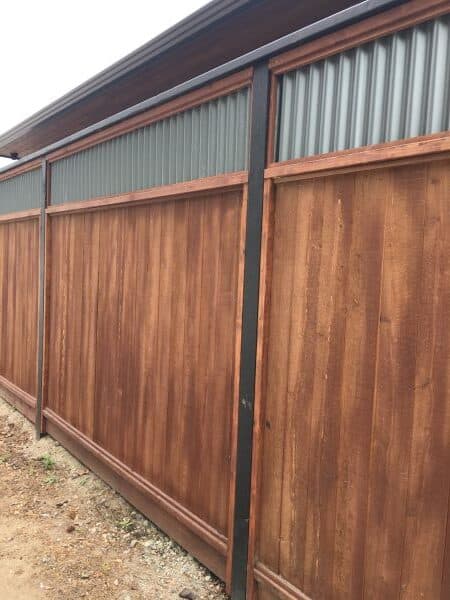 I love the look of this fence. I'd seen metal fences with a wooden fence topper, but this was the first time I'd seen a wooden fence with a metal fence topper.
Adding a section of corrugated metal to the top of your wooden fence could be a good way to make your fence really stand out (like this fence does).
This looks so cool it makes me want to try this on my fence.
It not only adds height to the fence but doubles as a fence topper for privacy too. You can't peek through solid metal.
If you're having trouble finding metal panels at your local hardware store, you could try reaching out to a metal roofing company.
5) Decorative Fence Topper Panels
I came across these awesome decorative fence toppers on Instagram.
These are made by the Australian company Deco View Screens. (Check them out and see if they ship to your area.)
The metal fence toppers shown below are – as you can probably guess by the flag – made by a Canadian company. This would look great at a lake house or cottage. (I don't know if they actually sell these pre-made though…check out their website.)
6) Recycled Timber Fence Topper
This is a fantastic idea and it looks awesome.
This builder – Tailored Timber – shared this awesome photo on Instagram. They used old boards (recycled timber) to create an amazing fence topper atop concrete wall. It adds some height. It looks good, and it provides some privacy for the pool. (WIN,WIN,WIN)
Do you have old boards around your house that you could use to create an eye-catching fence topper? If not, check out Facebook Marketplace or another second-hand site to get your hands on some.
7) Block Wall Fence Topper Ideas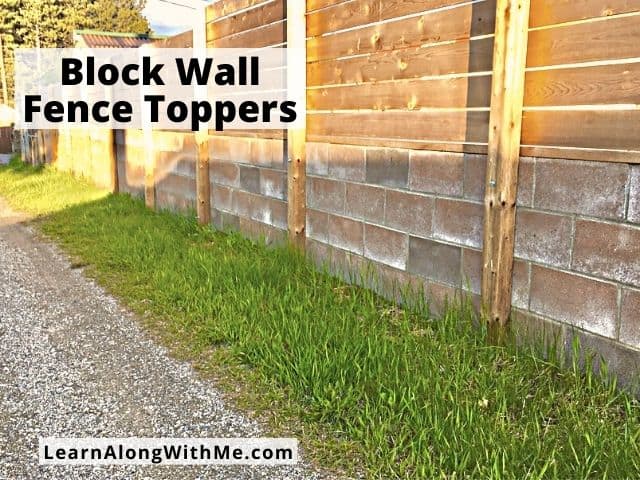 Above is a block wall fence topper that I came across. Now granted, this block wall isn't very tall, but this type of fence topper could be used on block walls of various heights.
They secured the 4×4 wood posts to the blocks and then screwed the horizontal wood boards to the posts. It made an effective privacy fence.
Below is a picture of a stunning fence topper that is built atop a low fence. It appears to be a block wall covered in stucco, but maybe it was brick.
Regardless of what the fence wall is made of, the builder did an incredible job with that wood fence topper.
Horizontal Wood Fence Topper on Concrete Wall
Above is another builder who shared some of the amazing work they did on Instagram.
You can see they metal brackets extending down the wall to help hold this redwood fence topper in place.
Vinyl Lattice Fence Topper for Block Walls
The company SnapFence makes this vinyl lattice fence topper kit that is designed to fit on top of concrete block walls.
The panels are 16-inches tall, and they sell a 24-feet long kit on Amazon that includes the lattice, posts, rails and connectors.
The vertical supports posts are spaced 4-feet (center to center).
If you want a kit longer than 24-feet, SnapFence also sells 48-foot and 72-foot long kits on their website.
8) Reed Roll Fence Topper
Unfortunately I don't have a great picture of this in action yet. But I think you can see the intent.
You can buy rolls of reed grasses like the ones shown above. These ones are 19.5-inches high. So just over 1 &1/2 ft high.
You can tie them to a wood structure, or other supportive structure atop your fence and zip-tie them in place.
It would be a quick way to achieve a fence topper that doubles as a privacy screen. (But you'd need that supportive structure in place already.)
9) Bamboo Fence Topper
This is a similar idea to the reed rolls listed above, but some people choose to use bamboo reeds as fence toppers.
You can buy a roll of bamboo fencing and then cut the roll into strips, mount it to a wooden frame atop your existing fence and you've got yourself a bamboo fence topper!
I haven't had the pleasure of having to cut bamboo yet, but this article states you need to put masking tape on the bamboo first before cutting it with a fine-toothed hand saw, table saw or circular saw.
Because they create the bamboo fence rolls with the pieces of bamboo very close together, these can act as a privacy fence topper as well.
Below is a photo from Instagram where this company installed some bamboo above a concrete wall. (It is a little taller than most of us envision a fence topper to be, but it looks good and it will work well for their client.) Good job PlantsHurray.
I hope you've enjoyed this look at 9 different options for fence toppers.
I will add to this list if I come across any great examples when I'm walking my city or on the internet.
Up Next:
7 proven Chain Link Fence Height Extension Ideas [make your chain link fence taller]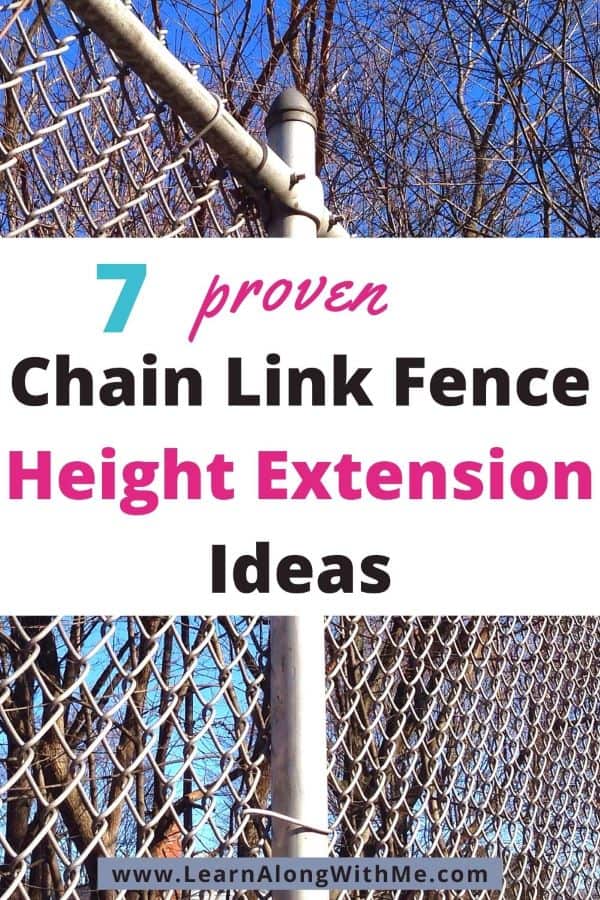 How to make a chain link fence private – 8 great ways
Top 17 Expandable Faux Privacy Fence Options