Do you want some more privacy while you're sipping your morning coffee on your porch? In this article we'll look at 13 front porch privacy ideas.
Most of these ideas do not involve blocking off your entire front porch. They're more about creating a section of privacy on your porch that feels secluded while the majority of the porch remains open, airy and inviting.
This article contains affiliate links. If you click a link and buy something I may receive a small commission at no extra cost to you. As an Amazon Associate I earn from qualifying purchases. For more information please see the Disclosure page.

List of Front Porch Privacy Ideas
Before air conditioning, people's front porches were a place to escape the heat of their homes and enjoy the cool evening breeze on their porch swing. It was a place for neighbors to chat and catch up on the day's events. (Reference)
This socializing is great, but not everyone wants their neighbors to see everything they do.
That is where these front porch privacy ideas come in.
Most of these privacy ideas still allow you to have an open, airy outdoor area, but will provide privacy by blocking neighbors' sightlines.
So most of the porch will still be open but you'll have a dedicated private space right outside your front door.
And as a side benefit, many of these ideas can be used to block an unsightly view that you're sick of looking at.
Note: many of these ideas are intended to give you privacy while on your porch. But some of these ideas will help keep your packages safe from porch pirates by making them unseen from the road or sidewalk.
Artificial Ivy Privacy Screen Roll
A roll of artificial ivy like this is a quick and easy way to make your porch more private by covering your porch railings.
The photo above shows it being used on a balcony but it gives you an idea of what it achieves.
Below is a photo of the roll.
You can buy taller rolls from this company that stand up to 78-inches tall.
For that height, you'll need to install some horizontal wooden frames between your porch posts to support the artificial hedge roll. Or you could stretch out wire or rope to support the top of the roll.
Click here for more information on these hedge rolls.
Get a Retractable Side Awning
I was used to seeing retractable shades that you pull down, but these are different. You pull these retractable awnings sideways.
So they can basically create a temporary privacy wall on your porch.
This particular awning by soges has a wall-mounted design so you mount the stationary end to the wall of your house or porch post.
Then you mount the other post into the floor of your porch or deck.
You pull the handle from the wall-mounted end to extend the awning and connect it to the floor-mounted post.
When you don't need this privacy screen up anymore you just detach it from the supporting post and retract the awning.
This is a great idea if you want to block the side view of your porch.
Click here for more information on this side awning.
Outdoor curtains
Outdoor fabric curtains are a great way to gain some privacy when you're sitting on the porch, then simply open the curtains up when you want to.
The product photo above shows it around a pergola, but picture them mounted around the perimeter of your covered porch.
Would this option work for you?
If you live in a windy area, you can even get some outdoor curtains that have an anchors at the bottom so they don't flutter in the breeze.
Pull-down Bamboo Shades
You can buy some pull-down bamboo roller shades and attach them to the ceiling of your covered porch.
​Lower the shades when you want some privacy or raise them to let some light in.
​Outdoor curtains and shades are a good option if you have plants on your deck because you can easily adjust the amount of light or shade your plants receive.
The bamboo shade shown above is from the company Radiance and you can get it in various sizes including a 6-feet x 6-feet option for good coverage.
Just note that you may need to combine this with another option that covers your porch railings if you want full floor-to-ceiling privacy.
Click here to see current price of this bamboo shade.
Lattice Panels
Installing lattice panels along the sides or front of your porch is a is a good way to gain some additional privacy.
You can get lattice panels that have smaller holes in it – which they usually call privacy lattice.
Lattice panels are usually made of wood or vinyl.
You can paint the wood ones whichever color you like to match your house, but the downside is that you'll have to paint again in a few years.
(And painting these can be a pain in the butt unless you have a spray gun or a bucket of patience.)
The vinyl lattice panels are available in several different colors with white being one of the most popular options.
The nice thing about the vinyl lattice is that it doesn't need repainting. The color may fade slightly though so keep that in mind.
This is a doable DIY project for most people because the vinyl lattice panels are easy to cut with just a hacksaw or handsaw.
​You can build a simple wood frame, measured to fit your porch, then screw the lattice to the screen frames.
Once you've installed your lattice privacy screens you can keep them as is, or use the lattice like a trellis to grow vines for added privacy and a nice natural look.
You may want to put some of the panels in front of your porch railings too if you want privacy in your seating area.
Strategically planted Evergreen trees
An evergreen tree planted to block a neighbor's sightline of your porch is a good long-term solution to gaining a more secluded outdoor space.
But unless you plant a large mature tree, you're generally going to have to wait a few years before the tree grows enough to fill in and block views.
And keep in mind that small trees grow into big trees.
So take the full, mature height and size of the tree into consideration when selecting a front yard tree so it doesn't crowd your house.
A Vertical Garden
Planting a vertical garden wall on your front porch can do triple duty:
it can block nosy neighbors from one side
it's a decorative element that brings natural beauty to a manmade structure providing a more intimate feel
depending on what you plant you could even get food right from your front porch!
The downside to this option – depending on where you live – is that it won't provide year-round privacy if you only plant annual plants.
​So for the spring and summer you may have a fantastic cascade of flowers and leaves blocking your neighbor's view, but come winter it will be barren.
(Then again, if you live in a place with a harsh winter, you likely won't be out chilling on your porch in the winter anyway.)
The vertical planter stand above is fairly short though – only 41.5-inches all. So it could help provide privacy while you're seated, but won't do much for you when you're standing. You may want to find a taller option.
Or you could go with an option like this 36-pocket felt garden wall below. You could keep in the planter in place even though there are no plants in it. The planter itself is about 39″x39″ so it would block some views.
Plant some tall plants
This is a similar idea to a vertical garden where you use plants to gain a little privacy, but in this option you plant tall plants in containers or in the ground near your porch.
Tall ornamental grasses are a great option.
Have hanging flower baskets
If you want a fabulous solution to gain more privacy and boost curb appeal, look into getting some hanging flower baskets.
Plant them yourself or buy baskets filled with trailing varieties of flowers and fillers so the greenery cascading over the side will block views and look amazing.
Plant a Living wall
You could try planting a "living" wall to obstruct your neighbor's view. Position some large flower boxes with a trellis structure attached (like the one above) along the side of your porch where you want the privacy.
Then plant some climbing vines and let them crawl up the trellis.
The planter above is cool because there is a slight overhang from which you could hang hanging baskets too.
Install railing planter boxes
Planting some trailing flowers and upright plants (like Dracaena) in a railing planter box is an attractive way to get some porch privacy.
Use multiple options together
Depending on your porch and sightlines, you may need to use multiple privacy ideas together.
You may need to use one idea to cover your porch railing and another idea to obscure above the railing.
Install a Privacy Fence
​Most cities have height restrictions on front yard fences – usually around 3-4 feet tall. So it is doubtful that a front yard privacy fence will provide your front porch with much added privacy. (It'll simply be too short.)
But, a tall privacy fence – like a solid board fence – along the side of your yard can help block your next-door neighbor's view of your porch.
Before you build a privacy fence make sure to check with your local municipality to ensure they allow the height and style of fence you have in mind.
Want some privacy fence ideas? Check out this article.
Cover up a Chain Link Fence for Privacy
A chain link fence is good for defining boundaries but it provides zero privacy.
If you have a chain link fencing along the side and front of your house, you can make up for this lack of privacy by putting some things on the fence to cover it up.
This will help to block your neighbor's view of your porch a bit (depending on where they're standing and the height of your fence).
Common ways to cover up a chain link fence include installing outdoor privacy screens, expandable faux ivy panels and privacy slats.
Our friends used an expandable fake hedge to cover up their chain link fence. It works well and looks good too.
For more information on chain link fence privacy ideas, check out my article dedicated to this.
​Related Articles:
​Want to boost your home's curb appeal? Check out these front walkway ideas to improve the look of your house from the street.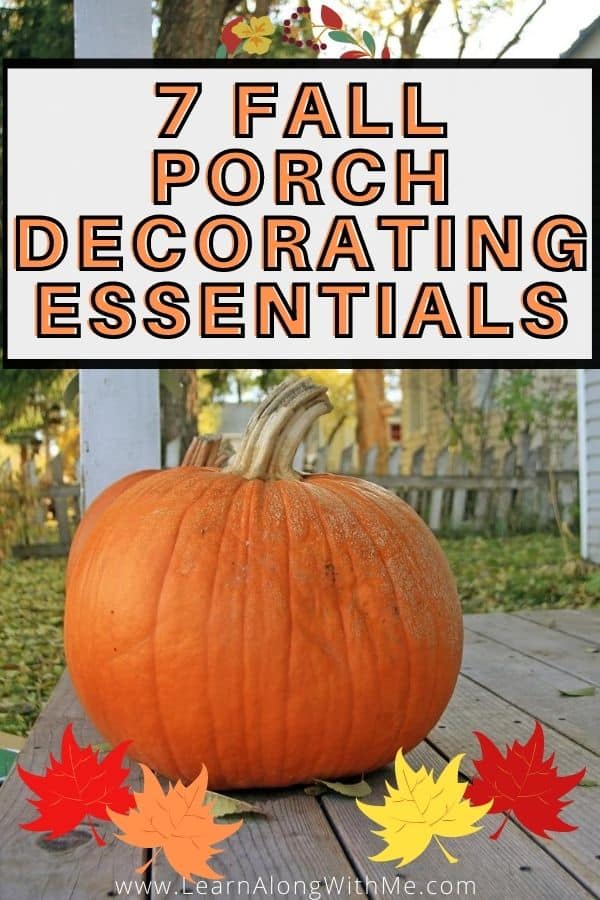 Check out these Fall porch decorating ideas for inspiration.
​Live in an apartment? Check out these Apartment Balcony Privacy Ideas
Thank you.
Tim from LearnAlongWithMe.com
Tim worked in construction for a few years before going to university. Then he worked as a community pharmacist for 10 years and now works as a full-time writer and online publisher. He has experience in several different, far-reaching lines of work.
"I sincerely hope you find the articles helpful and informative."
Tim from LearnAlongWithMe.com