Is your front walkway just a ribbon of trampled grass? It doesn't look very good does it. The beat-down grass can flatten your home's curb appeal. In this article we look at 10 beautiful front walkway ideas to boost curb appeal.
This article has some public photos from Instagram. If your photo is featured and you do not want the free exposure here please let me know.
Which front walkway idea is right for you?
This will require consideration of a few factors.
1) Do you or any family members have mobility issues?
Do you have family or friends with mobility issues that visit you?
If so, the rugged, uneven surfaces of natural pavers like rocks and flagstones may not be appropriate.
Canes or walkers may catch on the edge of the rocks.
We want to minimize the risk of falls.
And generally speaking, if you go with a rock or pebble pathway, the smaller the diameter of the rocks the easier it is to walk on.
2) Budget
Cheap, easy and long-lasting rarely go hand in hand.
If you are on a budget then some of these options like flagstone, bricks and concrete pavers may be too much money.
But that doesn't mean you have to settle for dirt.
Front Walkway ideas budget options: Some cheaper options include gravel, other crushed rock, mulch and wood planks.
3) Are you doing the work yourself?
This closely ties in with budget.
If you're having to pay for labor, then your budget for the actual materials shrinks considerably.
But if you don't know what you're doing, or cut corners, then even good quality materials won't save your shoddy work.
"Easier" front walkway options include laying down mulch, gravel and wood planks.
But regardless of what front walkway idea you go with, there is going to be some prep-work involved.
Don't skimp on the prep.
1) Stamped Concrete
I think having a quality stamped concrete walkway instantly boosts your home's curb appeal.
It can make your home look really high end.
And it is easy to walk on and easy to clean. Just sweep it off or spray it off with a hose.
Below is an Instagram photo showing a stamped concrete front walkway.
2) Small Rocks (Crushed rocks, gravel, smooth river rocks or lava)
You could use gravel if you wanted, and this would stand up to the foot traffic, but you may want something a little more decorative.
Most landscaping retailers sell a variety of crushed rocks classified by rock size. For instance, they may have 1/2″ granite, 3/4″ granite, or other rock of various sizes.
A benefit of small rock pathways is that you can get stones in lots of colors. So you can choose a color that'll work well with your yard.
Rocks will not blow away like lighter pathway options, and won't kick up dust like plain gravel pathways can.
Below is a photo from Instagram showing a crushed gravel walkway edged with larger stones.
The large stone edging looks good, but it'll also keep the small stones in the walkway (and not all over the yard).
If you want to try installing your own gravel or crushed rock walkway, check out this article from This Old House.








Lava rock can add a nice color contrast to the rest of your front yard.
But, similar to mulch (listed further below), I don't want to walk barefoot on lava rocks.
I know that isn't everyone's deciding factor for a front walkway, but it is something you may want to consider.
3) Tile Walkways
You are used to seeing tiles outside – such as around pools and on patios – but you may not be too familiar with tiles as a front walkway.
You could use large non-slip porcelain tiles that are impact resistant and if they do chip they are the same color throughout.
(Contrast this with ceramic tiles which are earthy-brown color on the inside and just coated with a color.)
And if you want to add a different eye-catching "pop" to the front of your house, you could go with a more intricate design like the Instagram photo below.
4) Bark Mulch Walkway
You're probably more used to mulch as something to put on your flower beds, but it can make a nice, inexpensive walkway too.
A mulch walkway can look really attractive when you first lay it down, but it does have some drawbacks.
One is that I wouldn't want to walk barefoot on mulch.
I don't always run around without shoes, but when I do, I don't want to step on mulch. (Others have no problem with it, but for me personally, no thanks.)
The second drawback to mulch is that it requires some maintenance.
It looks great when you first lay it down, but then it gets faded by the sun and starts to look worn and tired.
You can fix this by adding more fresh mulch over top or by stirring around your mulch (turning it over).
Mulch always requires some edging to keep it in place. If you don't have some type of containment on the sides it will spread out all over your front yard.
And mulch retains moisture. If it gets a lot of rain and soaks up that precipitation it could harbor mold.
The benefit to mulch is the price: it is a cheaper option.
The photo below is me cheating a little bit… it shows a mulch path, but this one is in a garden.
But it gives you the idea on what a mulch walkway could look like.
5) Flagstone walkways
What is flagstone?
Flagstone is a term used to describe any sedimentary rock that cleaves into flat layers.
Sediment is basically small chunks broken off, weathered and eroded from rocks.
And if you remember back to your Geology or Earth Science classes, a sedimentary rock is one that forms when pieces of this sediment get compacted together to form a solid rock.
Common flagstone varieties include: (reference)
Bluestone
Limestone (sedimentary rock formed primarily from sea shells)
Shale
Sandstone
Picture Examples:
Bluestone
Below is an Instagram photo showing a before picture on the left (when the homeowner had a concrete slab path), and the after picture on the right.
Looks awesome.
Limestone
Sandstone
Here is another photo from Instagram.
It's pretty cool this landscaping company helps homeowners re-purpose their sandstone sidewalk stones (sounds like the city is changing their sidewalks?), and helps make them into front walkways.
I love the look of a natural stone walkway with green ground-cover filling in the gaps. Irish moss or creeping thyme can look give it a nice cottage look.
6) Concrete Pavers with Smooth River Rock Edging
I discovered the following front walkway on Instagram.
I like contrast between the hard, flat geometric look of the concrete blocks and the rounded smooth river rocks.
I don't think I would have used the railroad ties as the edging, but it will do a good job of keeping the rocks in place.
7) Brick Walkway and Paths
According to this article on Hunker.com bricks do not retain as much heat as concrete.
This could be a good thing if you live in a warm area and want to reduce the risk of burning your bare feet on a summer day.
And a solid brick pathway gives a sense of permanence and quality.
That is why many luxury homes (like the one shown below) opt to have brick walkways.
Do you notice another technique that this beautiful home utilizes to create amazing curb appeal?
Symmetry
The whole design of the house is symmetrical and they've continued this with the front pathway and landscaping.
There is matching planters on each side of the brick pillars.
Below is another elegant brick path.
8) Colored Concrete Sidewalk with Brick edging
The house below beautifully utilizes the combination of colored concrete with brick edging.
9) Concrete Pavers
Concrete pavers are not just plain, rectangular slabs of concrete anymore.
Thanks to companies like Techo-Block and Unilock you can get pavers made of concrete, but they look like natural stones or brick.
Here is another Instagram photo showing a beautiful front walkway made from Unilock pavers.
Below is picture of newer product from Techo-Bloc called the Hexa 100.
It looks awesome.
10) Wooden Planks Walkway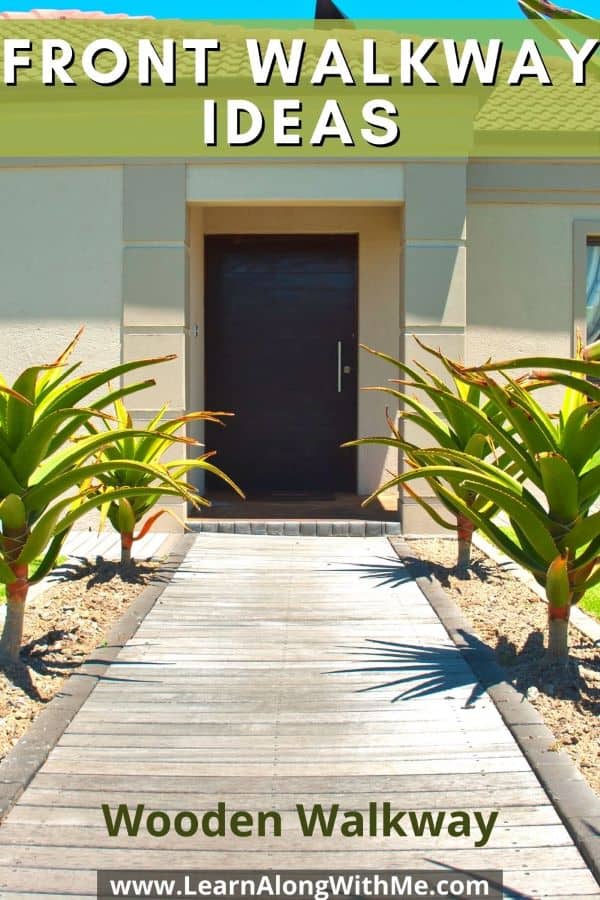 A wooden plank walkway can help give a home a real sense of warmth and welcoming.
But it won't last forever.
Depending on your climate and humidity, it may only last a couple years before it rots. (You see the wood walkway in the picture above is in an arid environment.)
You could paint the underside and edges of the board to help prevent moisture damage, but ultimately it will get damaged.
And if you paint the top of the boards they could get slippery. So be careful.
A natural alternative would be cedar. Cedar wood is moisture and and rot-resistant so it may hold up longer.
But cedar is more expensive than pine.
But it could be an easy, inexpensive front walkway idea to instantly change the curb appeal of your home.
Below is another example of a wooden pathway, but it's quite ingenious because she used pallet wood.
For more information on how she made the pallet wood path, check out her article here.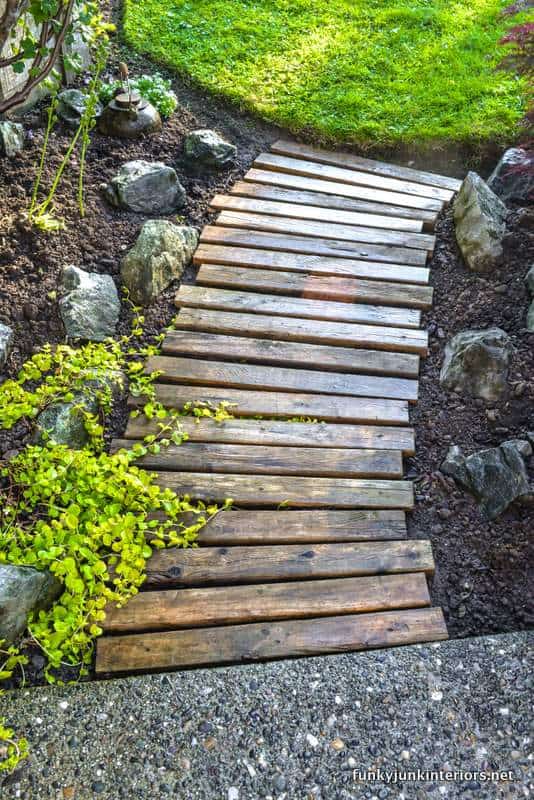 If you wanted the look of wood with the durability of concrete, you can look for some "wood look" concrete pavers.
Other Front Walkway Ideas
I love the look of the front yard shown below. It has a nice front walkway and beautiful front yard landscaping.
I love the natural look of the stone steps in the photo below, but also how they used symmetry with the ornamental grasses and shrubs to create this amazing front walkway landscaping.
I hope you've found some inspiring front walkways ideas.
Which look do you like best?
Let us know by commenting below.
Up Next:
7 "No-Mow" Lawn Alternatives to Free up your Time
And if you want to ad a little privacy to your yard, check out these 19 Privacy Fence Ideas.
If you have a chain link fence and you want to add privacy to it, here are 8 ways to add privacy to a chain link fence.
Thank you,
Tim from LearnALongWithMe.com